What is a Nespresso Machine? How to Use it And How do the Work?










All you wannn know about nespresso machines!

Nespresso Coffee Machines
Nespresso coffee machine brand is based in Switzerland, and it is a subsidiary of a well-known giant in the food and kitchen business, "Nestle". These machines brew espresso using coffee pods and are very convenient and simple to use.  
Nespresso is debatably not a real espresso, according to many coffee enthusiasts. Certainly, they are right to some extent, but the primary selling point of Nespresso is its convenience, in addition to delivering a drink with a rich and thick layer of crema.
Nespresso is a premium coffee machine brand with a billion dollars per year of revenue.  
How does a Nespresso Machine Work
Nespresso machines are not very old. Nestle patented the system of Nespresso in 1976. But the earlier machines did not look very compact and exquisite in design as they look now. They were just like a traditional Espresso machine with a large boiler and pumping system. 
In the preceding ten years, Nespresso made many changes to its existing design and made it capable of rolling out in the market of Japan, Switzerland, and many European countries in 1986. 
Who owns Nespresso
Eric Favre was the guy who initially came up with the idea of the Nespresso system. He noticed that one coffee bar in his vicinity was always full of customers and the taste of their coffee was also different and more pleasing than the other coffee bars in that area.
He decided to investigate why is it so, and he found that the brewing method of that bar was different from the brewing method of other coffee bars. He noticed that the Barista at that bar pumped the piston many times before releasing the coffee, while the other coffee bars did that only once.
This repeated pumping produced more pressure, resulting in greater oxidation of coffee beans, which eventually draws out more flavors from the coffee grounds and produces better crema. Favre introduced this repeated pumping system in the Nespresso machines.
Jean Gaillard was the marketing manager of Nespresso. He marketed Nespresso machines effectively and helped Nestle gain a vast customer base, from office to home consumers. In the 1990s, Nestle signed a contract with many coffee machine manufacturers like Siemens, Krups, Breville and De'longi, and  to expand its business all over the World.
Basic components of Nespresso machine
Nespresso machines just look like conventional coffee machines and have a very simple design. With Nespresso machines, you can easily brew your favorite cup of coffee in a matter of minutes. A typical Nespresso machine has 6 parts.
1. Water tank
In a water tank, you can store water for up to 3 to 8 cups of coffee. Some Nespresso machines have large water reservoirs, while some have a capacity of only one cup.
2. Lever/Head
Nespresso machines have a lever that opens the head where the capsules are placed.
3. Capsule Basket
Nespresso machines have a separate capsule basket where you can store 5 to 10 Nespresso capsules for future use.
4. Operating Buttons
Nespresso machines have a very simple interface with only a few buttons. Vertuoline Nespresso machines have only one button; they can detect the type of capsules and adjusts the brewing parameters according to it.
5. Drip Tray
Some Nespresso machines have two foldable drip trays and a removable one at the bottom. While modern Vertuo Nespresso machines have only one removable drip tray at the bottom.
6. Wastebasket
When you brew coffee, the used Nespresso capsules are automatically thrown into the wastebasket at the side of the Nespresso machine.
How to use a Nespresso machine
As mentioned above, Nespresso machines have a very simple interface, and they are very easy to use. You don't need to have Barista skills to brew a perfect cup of coffee with a Nespresso machine.
The original line Nespresso typically has separate buttons for Espresso and Lungo. While vertuoline Nespresso machines have only one button, they can read the barcode on the capsule and brew coffee according to it.
1. Add water to the Reservoir
Add filtered water to the water reservoir of the Nespresso machine.
Always fill the tank more than half so that the reservoir must have more water than required for one brewing cycle. 
If the water is less than required, you will not get the perfect-tasting coffee, and also might damage your machine.
Always add filtered water to the machine because normal water will cause the build-up of scaling and minerals inside the machine.
2. Put a cup under the coffee outlet
Adjust the cup under the coffee outlet; make sure to put it in the right place so that the coffee doesn't spill out.
Here the size of the cup is also important; some Nespresso machines allow you to put large travel mugs under the coffee outlet, while in other Nespresso machines, there's a place for only small cups.
3. Turn on the machine
 Turn on the machine by pressing the button.
The button will start blinking while the machine is heating up and getting ready to brew.
When the light stops blinking, move on to the next step.
4. Insert Nespresso capsule into holder
Open the head of the machine to put the capsule into the chamber.
The original Nespresso capsules are quite different from dome-shaped VertuoLine capsules.
Vertuo capsules rotate in the machine at some specific rpm, while in the original line machine, pressurized water is passed through the capsule. That's why they are different.
After putting the Nespresso capsule, ensure that the machine's head should be locked.
5)Brew your coffee
 Press the desired type of coffee (espresso or lungo) on a classic Nespresso Orignal line machine, and the machine will begin dispensing coffee in about 25 seconds.
The machine scans the size of the capsule in a Nespresso Vertuo, and you simply push the cup symbol to have the machine brew the correct amount of coffee for the capsule.
In contrast to traditional Espresso machines, this is how simple to operate a Nespresso machine. You don't have to worry about grinding beans, getting ready the portafilter, tamping the grounds, and pulling the shot. With Nespresso machines, you just have to push one button and your shot is ready.

WHAT'S SPECIAL ABOUT NESPRESSO MACHINES

Nespresso machines are undoubtedly the best choice for those who want their coffee at the ease of their home with minimal brewing efforts.
One just has to fill the water in the tank and push the button to get a freshly brewed shot of Espresso with a wonderful layer of crema over it.
1. Freedom to enjoy different types of coffee with a variety of Nespresso pods
Different people have different preferences when it comes to coffee. Some like it very intense and bitter, while others like it smooth and sweet. With Nespresso machines, you can easily find the coffee of your choice by trying different Nespresso capsules.
The capsules for Nespresso original line machines and Nespresso Vertuo machines are different. So, you must keep this factor in mind while buying capsules. Original line capsules are longer in shape, while Vertuo line capsules are smaller and wider. 
Nespresso Original line machines are compatible with both the 3rd party capsules and the Original capsules while Vertuo line machines are only confined to capsules manufactured by Nespresso with a special barcode imprinted on them (These capsules are comparatively expensive though).
Nespresso Capsules has a unique rating system from 1 to 13. 6 or below is considered light, while 7 or above is deemed to be strong and robust in taste.
9 to 13 level Nespresso capsules contain dark roast coffee grounds and are perfect for you if you are a fan of intense flavors. If you want your coffee to be smooth in flavor, choose light-roasted coffee grounds with a rating of 1 to 5.
You can also use your own coffee grounds in Nespresso by buying a reusable filter. However it's not recommended by me.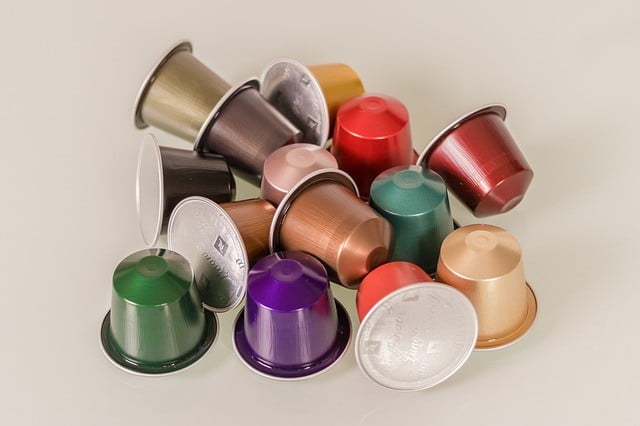 2. Consistency in the taste
In Traditional Espresso Machines, you have to control different brewing parameters like the choice of coffee grounds, grind size, tamping, water temperature, etc., to brew a perfect shot of Espresso. 
No doubt, you can get a better tasting shot with a traditional Espresso machine, but you have to be an expert at brewing for that. But if you are not an expert, then you will end up brewing a terrible shot of Espresso.
With Nespresso machines, you will always get a consistent and flavorful taste as there are no adjustable brewing parameters involved in it. 
You don't have to be an expert at brewing with Nespresso machines; you just have to push one button to get the same and consistent taste all the time.
Read a Detailed Comparison among Nespresso Vs Espresso Machines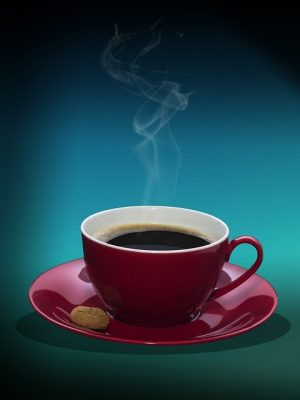 Traditional Espresso machines are very heavy and large. They need a special place in your kitchen, and it's very difficult to change their place after.
The best thing about Nespresso machines is their compact size and decent design. They can easily fit anywhere in your home, office, or room and looks beautiful. These machines are also very lightweight; you can easily shift them from your kitchen to office to room wherever you want.
The design is also very durable and sturdy and can easily last for a long time if maintained properly.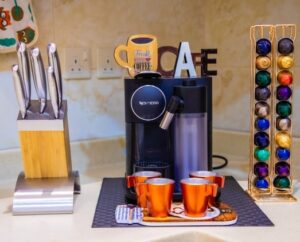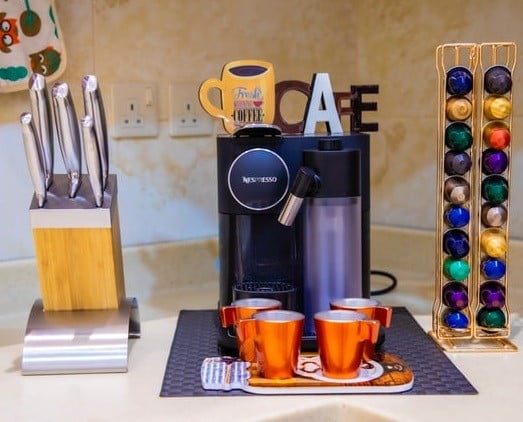 No coffee machine present in the market is as fast as Nespresso machines, which is also the reason behind their success.
Vertuo line Nespresso machines have only one button to start the operation. These machines work with unique barcode technology, which reads the code on the capsules and brews the Espresso, coffee, or Gran Lungo accordingly.
Original line Nespresso machines have separate buttons for brewing Espresso and Lungo. They are also very simple and easy to use.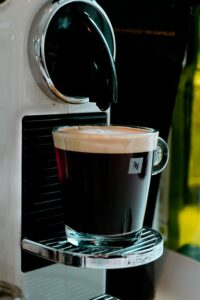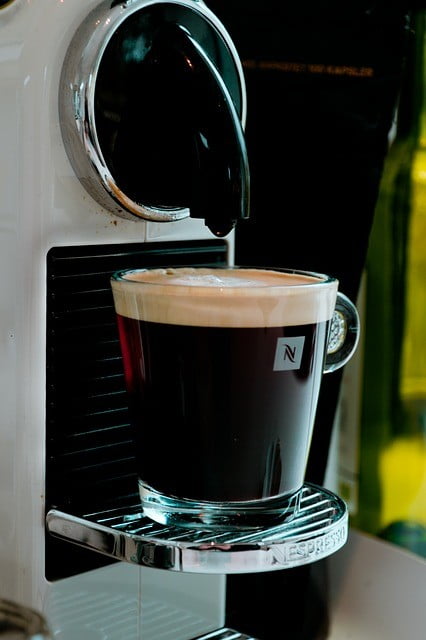 5. Available at affordable prices
Nespresso machines are considerably cheaper in price than traditional Espresso machines. You can get the most affordable Nespresso model for under 100 dollars, while some models may go up to 250 to 300 dollars.
Some people may argue that Nespresso capsules are more expensive than the coffee grounds present in the market. Well, they are right in their argument, but loose coffee grounds are not fresh and flavorful if you look closely. While Nespresso capsules are air-tight, which keeps the coffee grounds fresh and delicious for longer periods.
On the other hand, if you buy whole-bean coffee that remains fresh, you also have to invest in a good quality coffee grinder, which will cost you both time and money. 
So, Nespresso machines are perfect for busy people who value their time.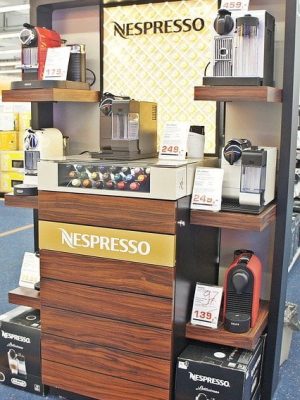 The best thing about Nespresso machines is that they are very easy to clean and maintain. Nespresso machines will inform you automatically whenever there is a need for descaling. And you can easily buy the specialized descaling solutions of Nespresso from their stores.
Nespresso also manufactures its own Aeroccino milk frother, which is convenient and easy to use.
With all these benefits, you might be wondering whether Nespresso machines are worth the investment or not.
Comparison of Vertuo Machines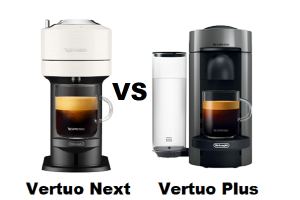 Nespresso Vertuoline series is the most convenient and advanced series of Nespresso brand. Read a detailed review and comparison of these machines.
Comparison of Lattissima One and Touch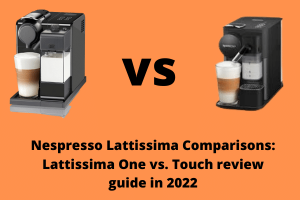 The Delonghi Nespresso Lattissima one and touch are both high-end machines with built-in milk frothers that make Cappucino and Latte in seconds.
Comparison Of Lattissima Pro and Plus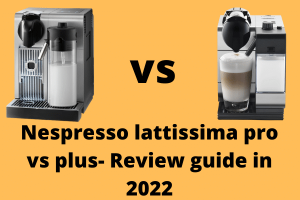 Delonghi Nespresso Lattissima Pro and Plus are excellent machines with built-in milk frothers. Plus is an affordable model, while Pro is more advanced.
Quietest Nespresso Machines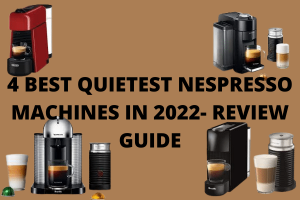 Nespresso Essenza Mini vs Plus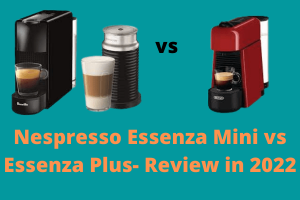 Essenza is a low-cost and budget-friendly series of Nespresso machines that prepare delicious espresso at the touch of a button.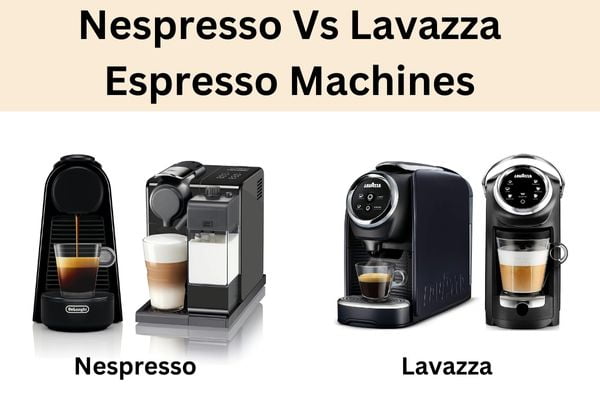 Lavazza is a better option if you are looking for a machine that is affordable and still prepares good espresso shots using coffee pods. However if you are looking for something premium and long lasting Nespresso is better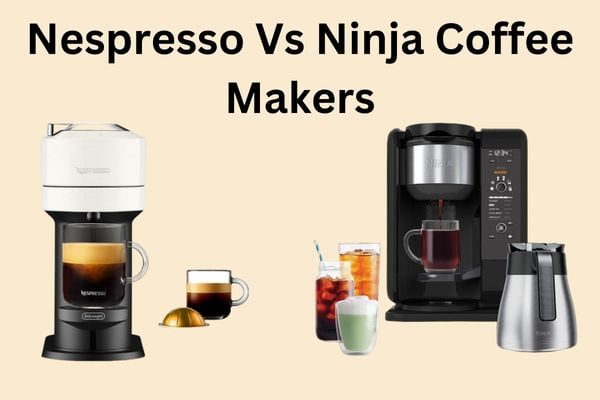 Ninja is a drip coffee system that brews coffee at normal pressure, while Nespresso brews Espresso-like coffee at high pressure. Here's a detailed comparison in both leading coffee machine brands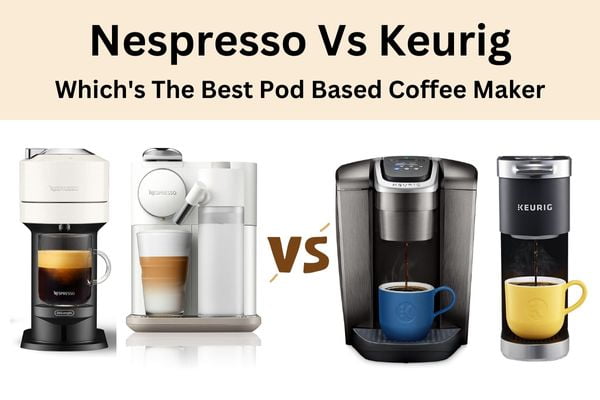 Both Nespresso and Keurig are big names in pod based coffee makers industry. The main difference is Nespresso prepares small and dense shots of Espresso while Keurig prepare regular and plain serving of black coffee
NESPRESSO Troubleshooting Guides
Nespresso Blinking Orange
Sometimes Nespresso machines start blinking, and it is very much complicated to figure out the possible reason, especially when these coffee machines have so many sophisticated pieces. 
Nespresso Machine Leaking
Many coffee lovers report that sometimes Nespresso machines starts leaking coffee or water. There are many possible reasons that cause your machine leaks and they should be fixed.
Nespresso White Light Error
Sometimes the Nespresso Vertuo Next won't brew coffee and just shows a solid white light. However, there are some reasons that cause this issue and you can easily resolve them. 
Nespresso Red and yellow light error
It occurs in Nespresso Vertuo Plus and Evoluo. The machine keeps showing red and yellow light and won't brew any coffee. See how to resolve this issue easily.
Nespresso Milk frother Not working
Sometimes Nespresso Milk frother stops working properly. There are some common troubleshooting issues that cause this error and fixing the problem is pretty straightforward. 
Nespresso coffee not hot enough
Unfortunately, you can't change the heating water temperature in most of the Nespresso machines. But there are some ways to fix and turn up the temperature if it gets very low.
How to Descale Nespresso Vertuo Machines
Descaling the coffee machine is mandatory for the proper working of the machine. Otherwise, the machine starts to malfunction and start preparing bad coffee. Here's how to descale vertuoline
How to get Nespresso out of descaling mode
Sometimes Nespresso gets stuck in descaling mode and won't brew any coffee. The descaling light won't go off even after descaling. Here's how to fix that issue.
How to empty Nespresso machine
If you go on vacation or if you move and would like to take your machine with you, it is recommended to empty the system of your Nespresso machine. Here's how to do it.
How to Make regular Coffee with Nespresso
Nespresso machines are popular for preparing rich and dense Espresso shots with a thick layer of Crema. However it can also easily prepare regular coffee.
How to Make Americano with Nespresso
Nespresso Machines don't offer Americano coffee drinks by default. But here's how you can easily prepare Americano using a Nespresso machine  
How to Get hot water from Nespresso
Sometimes we need hot water to prepare teas, oatmeal, soups, or various other purposes. In that case, you can use the Nespresso machine as a hot water kettle.
How Long does Nespresso Pods Last
Nespresso pods have a relatively long shelf life than coffee grounds because of specialized packaging. Usually, these pods have a best-before date of 1 year. 
Can you use Nespresso Pods twice
Yeah! Nespresso coffee Pods are convenient but they are also very expensive. You can use them twice but you have to compromise on taste  
Why Nespresso coffee taste burnt, bitter or bad
Nespresso coffee taste gets bad with time if you don't descale and clean the machine regularly. Besides cleaning, there are also some other causes of bad taste.