When it comes to buying a Nespresso machine, choosing between Breville and Delonghi, which are two of the top manufacturers might confuse you.
Both Breville and Delonghi manufacture the same Nespresso machines with almost the same functionalities but with slight variations in design.
There might be a question in your mind whether the difference is solely in the design, or whether the quality of the machines also varies between these two brands.
I will make a detailed comparison between Nespresso Breville vs Delonghi, talk about exclusive Nespresso machines from both brands and suggest what brand you should choose if you have the choice.
Who makes Nespresso machines?
Nespresso is a well-known brand of fully automatic pod-based Espresso machines and coffee capsules.
The Nespresso machines are not manufactured by the company itself. Nespresso only designs the brewing system and outsources the manufacturing to other brands like Breville and Delonghi.
You might have seen "Nespresso by Breville" or "Nespresso by Delonghi" labels on Nespresso machines. In the Americas and Australia, Nespresso machines are made by Breville and Delonghi, while in other regions, other brands like Krups, Siemens, and Magimix also manufacture Nespresso machines.
From the original Nespresso website, you will see machines with only Nespresso label, but they are still manufactured by third-party manufacturers like Breville and Delonghi.
What is DeLonghi?
DeLonghi is an Italian electronic appliance manufacturer founded in the early 1900s. The company has expanded in nearly all types of household electronic equipment from kitchen appliances to air conditioning and cleaning appliances.
Delonghi is well known for manufacturing standard bean-to-brew Espresso machines. Furthermore, Delonghi is an official Nespresso partner, manufacturing many different models for the brand.
What is Breville?
Breville is an Australian brand of kitchen appliances based in Sydney. Breville manufactures many kitchen appliances like toasters, blenders, and microwaves but it is popular for its heavy barista-styled Espresso machines.
Although Breville is well known for bean-to-brew espresso machines, but as an official Nespresso partner, it also manufactures pod-based espresso machines.
What is the difference between Nespresso Breville and DeLonghi?
There's almost no difference in the quality of coffee between Breville and Delonghi. Both brands use Nespresso brewing systems, use the same pods, and extract the coffee at the same temperature.
So we can say that no brand either DeLonghi or Breville is better than the other!
Also, the prices of Nespresso machines are the same regardless of whether Delonghi or Breville manufactures them.
The main difference between Nespresso DeLonghi and Breville is the design of the machines.
Again, the design is not substantially different, just slight differences in the head of the machine or the color scheme.
So, what machine you should choose when you have an option for Nespresso Breville vs Delonghi?
There is no easy way to determine what brand will be best since both brands have a good reputation in the espresso industry, so you will be satisfied no matter what brand you choose.
If you really want my subjective preference, I vote for Breville. Having used both machines, In my experience, Breville machines have better design and build quality than Delonghi Nespresso machines.
And also the customer reviews on Amazon for Breville Nespresso machines are a little better than Delonghi Nespresso machines. There is not a large difference though both brands have good ratings.
Again this is completely my subjective preference you might have a better experience with Delonghi Nespresso machines or you might have better criteria for judging the coffee machines.
Also Read: Best Alternative to Nespresso Machines in 2023
Nespresso Models manufactured by both Breville and Delonghi
Some of the Nespresso models are manufactured by both Delonghi and Breville. Here are some of the differences in models manufactured by both these brands.
1- Nespresso Vertuo Plus Delonghi vs Breville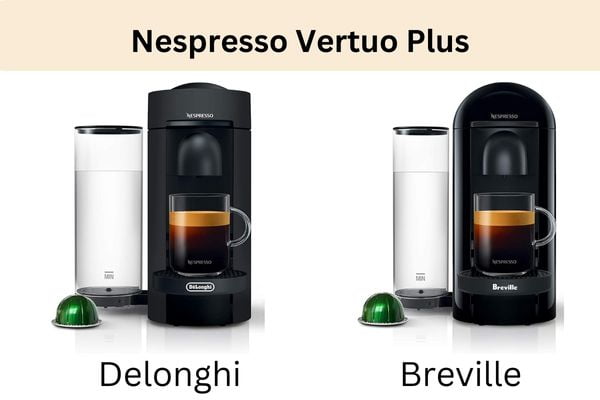 As a part of the Nespresso Vertuo line, these machines are only compatible with Nespresso coffee capsules.
In Nespresso Vertuo Plus, coffee is brewed using centrifugation technology, in which the capsule rotates at 7000 revolutions per minute.
Delonghi model has a little larger water reservoir with a capacity of 60 oz compared to the 40 oz of Breville. The good thing is the water tank of both these machines is adjustable so you can easily switch its position according to counter space.
Despite the brewing system and coffee quality being exactly the same, there is a major difference in their design. The Breville model has a round head, whereas the Delonghi model has a flat head.
In my opinion, the Delonghi model has a more aesthetic and decent look.
Delonghi model is available in three different colors: Black, Grey, and cherry red while the Breville model comes in only black color.
The Delonghi model on Amazon has more positive feedback, receiving around 13000 reviews and a rating of 4.7 out of 5. While the Breville model has around 2500 reviews with an average rating of 4.6 out of 5.
2- Nespresso Vertuo Next Dleonghi vs Breville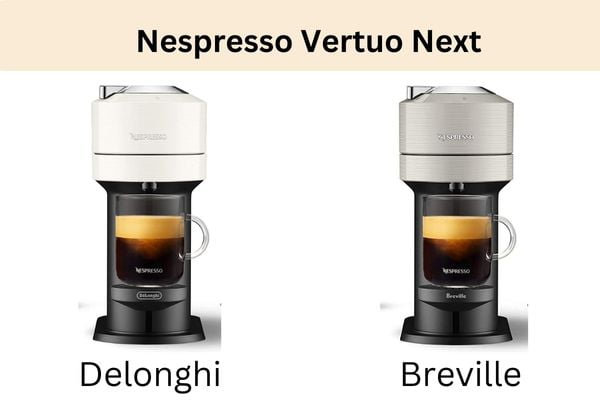 Nespresso Vertuo next is the latest model in Nespresso Vertuo line series. Same as Vertuo Plus these machines are only compatible with Nespresso coffee capsules and the coffee is brewed using centrifugation technology.
As far as taste is concerned, both machines offer the same taste and they brew various coffee sizes, including 5, 8, and 18 ounces of coffee and single and double shots of espresso.
The design and the dimensions of both these machines are also identical. However, there is a difference in the color scheme. Delonghi has 4 color options: White, Black, Chrome, and grey while Breville has 3 color options: cherry red, matte black, and light grey.
On Amazon, Customer reviews are a little better for the Breville model. Breville has almost 9300 reviews with an average rating of 4.3 out of 5 while Delonghi has 7500 reviews with an average rating of 4.1 out of 5.
Also read: Nespresso Vertuo Next vs Plus
3- Nespresso Vertuo Delonghi vs Breville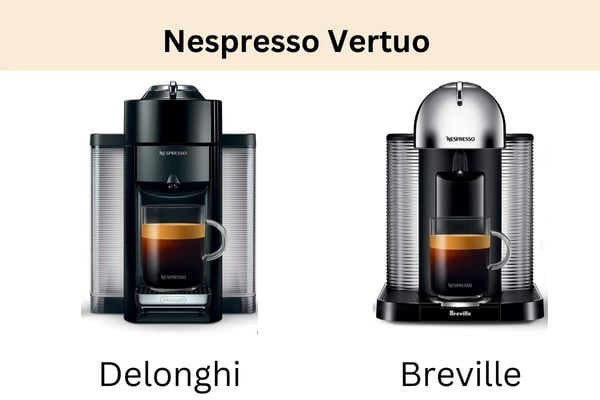 Nespresso Vertuo is the classic and oldest model of the Nespresso Vertuo line series manufactured by both Delonghi and Nespresso.
The water tank of Breville Nespresso Vertuo has a capacity of 40 ounces, while the used capsule container holds 12 capsules. While the water tank of Delonghi Nespresso vertuo is more spacious with a capacity of 54 oz and can hold 17 used capsules.
Both machines have a decent design with one difference. The Breville model has a dome-shaped head, whereas the Delonghi model has a flat head. In my opinion, the Delonghi model looks more adorable.
On Amazon, the Breville model has an exceptional rating of 4.8 out of 5 from more than 4000 users while the Delonghi model also receives a good rating of 4.7 out of 5 from 1000 users.
4- Nespresso Essenza mini Delonghi vs Breville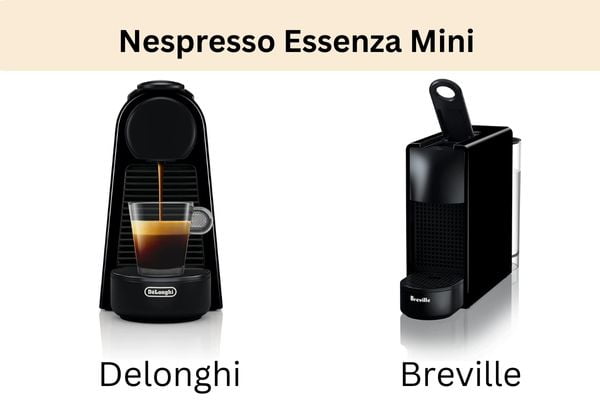 Essenza Mini is the entry-level Nespresso Original line machine with a portable and lightweight design.
There is no difference between the brewing system of Breville and Delonghi machines. Both machines heat up rapidly in 30 seconds brew at 19 bars and prepare lungo and espresso shots.
Breville and Delonghi, on the other hand, are designed differently; the Breville model is rectangular while Delonghi's model is pyramid-shaped, but the design of both is lightweight and portable.
The Breville and Delonghi models are both highly rated by customers, both receiving 4.7 stars out of 5.
5- Nespresso Citiz Delonghi vs Breville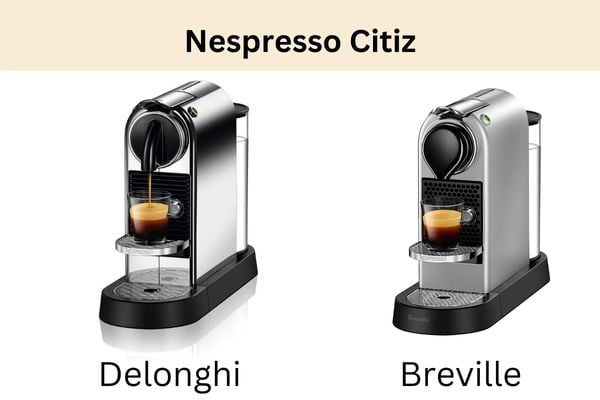 Nespresso Citiz is another sleek and compact machine in the Original line Nespresso manufactured by both Delonghi and Breville.
Both Delonghi and Breville model has a removable water tank with a capacity of 34 oz and both machines can brew Espresso and Lungo shots at the touch of a button.
In terms of design, Breville and Delonghi have slightly different spouts, apart from that both the machines are exactly similar.
6- Nespresso Pixie Delonghi vs Breville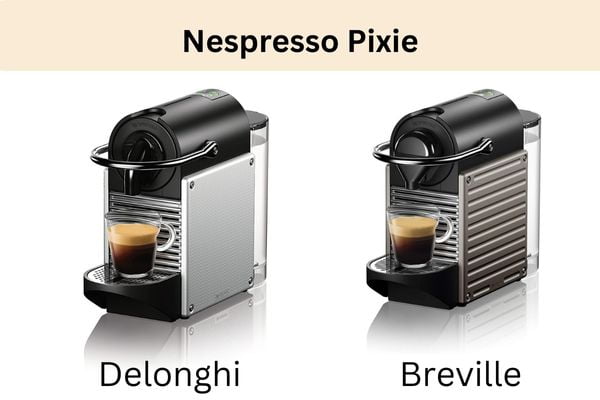 Nespresso Pixie is a part of the original line with compact and industrial design.
Delonghi and Breville models both brew espresso and lungo shots at 19 bars, have folding drip trays, and heat up in 25 seconds.
There are small variations in the design of both models otherwise both machines are exactly identical.
Exclusive Nespresso Models from Breville and Delonghi Nespresso
Both Delonghi and Breville also manufacture Nespresso machines that are unique to their brands. For advanced espresso machines with milk frothers, Delonghi offers the Lattissima series while Breville offers the Creatista series.
Nespresso Lattissima series From Delonghi
Delonghi Lattissima is an all-in-one fully automatic coffee maker that makes espresso shots, lattes, and cappuccinos with just a touch of a button.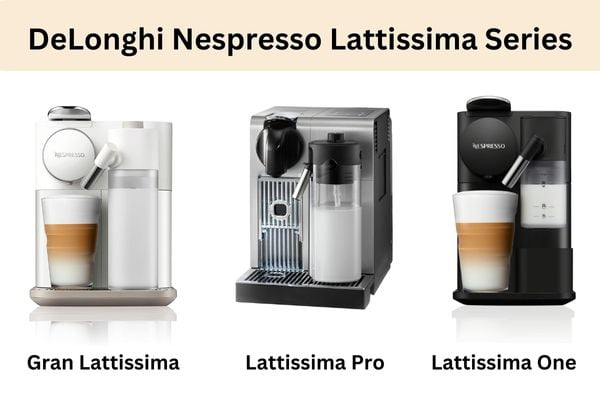 1- Nespresso Gran Lattissima
The Nespresso Gran Lattissima is the high-end model of the Nespresso brand and is undoubtedly the best pod-based espresso machine available.
The coffeemaker has a very neat and compact design and can prepare seven different types of espresso drinks.
Read a detailed review of Nespresso Gran Lattissima
2- Nespresso Lattissima Pro
Lattissima Pro features an amazing list of functions, including the ability to make lattes and cappuccinos in a matter of seconds.
The Lattissima Pro is stylish and easy to use. It has a touchscreen interface that makes it easy to monitor maintenance, enter cleaning modes, and reprogram settings.
Also Read: Nespresso Lattissima Pro vs Plus
3- Nespresso Lattissima One
Nespresso Lattissima is a compact and convenient one-touch Espresso and Latte maker. It's the most affordable machine in the Delonghi Lattissima series.
The Lattissima One has a simple single-serve fresh milk system that allows for the preparation of delicious milk and coffee beverages.
Also Read: Nespresso Lattissima one vs touch
Nespresso Creatista series from Breville
Like Delonghi, Breville offers a line of fully automatic Espresso and Latte makers called Creatista.
As compared to Lattissima models, Creatista machines have a much more solid design and look like traditional semi-automatic espresso machines. And also, the Creatista models are relatively more expensive than the Lattissima models.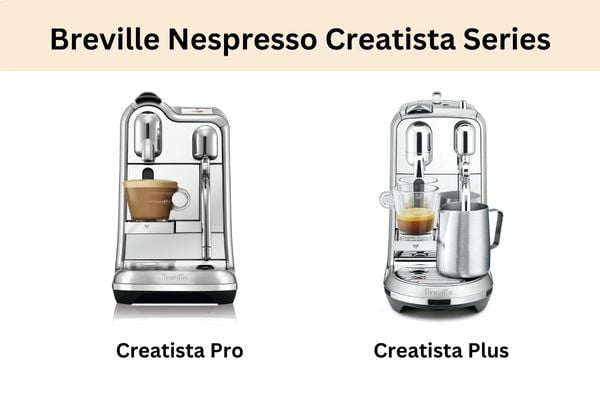 1- Nespresso Creatista Plus
Nespresso Creatista Plus Espresso Machine creates consistent, high-quality espresso drinks without any hassle.
It has a stunning design, heats up quickly, and brews consistently. The steam wand also automatically makes perfectly textured milk that can be used for latte art.
2- Nespresso Creatista Pro
Nespresso Creatista is one of the best model of Nespresso with milk frother but it comes with a heavy price tag.
This machine has an intuitively designed LCD control panel to guide you through every step of the coffee preparation, configuration, and maintenance process.
Its High-quality, robust design with a brushed stainless steel finish provides coffee drinkers with an exceptional drink flavor.
Nespresso Breville vs Delonghi | Which you should choose
Nespresso Vertuo Models, Essenza Mini, Pixie, and Citiz are manufactured by both Delonghi and Breville.
The taste and quality of the drink and the brewing principle of both brands are exactly the same and is originally designed and patented by Nespresso.
Design and color options vary slightly between these two brands.
The choice really comes down to your own personal preference for design and color options.
Nonetheless, if you want my opinion, I would recommend the Breville model since I love the design and build quality of the Breville machines.
FAQs
Which Breville Nespresso is best?
The best option in the Vertuo line is Nespresso Vertuo Plus by Breville, while in the original line is Nespresso Essenza Mini by Breville.
If you are looking for a high-end machine with all the milk frother functionalities then go with Nespresso Creatista.
Is the original line Nespresso better or Vertuo line?
Vertuo Line is the most advanced series of Nespresso with barcode and Centrifugation technology and offers both coffee and Espresso. However, the bad thing is you are only limited to using Original Nespresso Vertuo capsules.
Nespresso Original Line machines are compatible with Nespresso and 3rd party capsules. However, you are only limited to espresso shots with these machines.
The choice is yours!
Read a detailed guide on Nespresso Vertuo vs Original
Who is Nespresso owned by?
Nespresso is owned by the Swiss multinational food and beverage company Nestlé.
Nespresso was founded in 1986 and pioneered the concept of single-serve espresso pods for home use. After some years, Nespresso was completely acquired by Nestle.
Also Check out: