Nespresso vs Keurig has been in debate for a time now as they are the two dominant players in the Pod-based coffee maker industry.
Here is a quick showdown of Keurig and Nespresso
Buy Keurig if
You prefer plain and smooth regular servings of coffee
You are looking for an affordable option
You also want to prepare other hot beverages like hot chocolate, tea, etc.
You want the flexibility of choosing among a wide variety of coffee pods
Buy Nespresso if
You are an Espresso lover and prefer strong flavors
You are looking for a more fancy and durable option
You love Cappuccinos and lattes with strong and rich flavors
You want an environmentally friendly way to enjoy pod coffee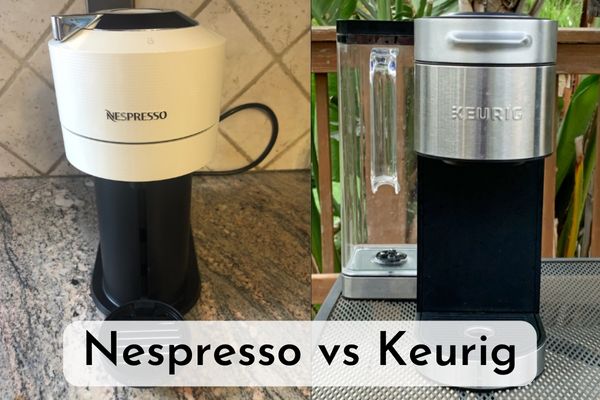 In the USA, Keurig is the second most popular brewing system after standard drip coffee makers, with 27 percent of American coffee drinkers using them. And Nespresso is the market leader everywhere except North America, especially in Western European countries.
Overview of Nespresso Machines
Nespresso brand is based in Switzerland, and it is a subsidiary of a well-known giant in the food and kitchen business, "Nestle". These machines brew espresso using coffee pods and are very convenient and simple to use.

Nespresso is debatably not a real espresso, according to many coffee enthusiasts. Certainly, they are right to some extent, but the primary selling point of Nespresso is its convenience, in addition to delivering a drink with a rich and thick layer of crema.
Nespresso has two lines of coffee machines Original line and the Vertuo line. The Original line machines work similarly to traditional espresso machines by generating high-pressure water to brew Espresso drinks only, while the Vertuo line machines use rapid-spinning brewing technology to brew both Espresso and regular coffee.
Nespresso is a reputable brand spreading across more than 80 countries around the World. It is estimated that more than 14 billion Nespresso coffee capsules are sold every year. Huge number, isn't it?
Nespresso offers a wide variety of machines ranging from entry-level machines such as the Essenza mini and Pixie to advanced models such as the Lattissima and Creatista series. Prices start at around 150 dollars and can increase up to 600 dollars for advanced models.
Here's a detailed guide on Nespresso Vertuo Vs original line
Pros of Nespresso over Keurig
Brew rich and intense espresso-styled coffee – A huge plus if you are a strong coffee lover.
Best for preparing Lattes and Cappuccinos – Some models have a built-in milk frother or you can buy a separate one in a bundle deal with any Nespresso machine
Extremely user-friendly and easy to clean and maintain
Nespresso has a dedicated recycling program – so you have peace of mind that you are not contributing to global waste
Cons of Nespresso
The machines as well as coffee capsules are very expensive
Vertuo line and Original line coffee capsules aren't interchangeable so it might cause confusion sometimes
Less variety of coffee capsules than k cup pods for Keurig
The Original line machines do not offer regular drip coffee. The Vertuo line does, however.
Overview of Keurig coffee makers
Keurigs are compact, and lightweight single-serve coffee makers and are very simple to use and operate.
Essentially, Keurig works in a similar way as regular drip coffee makers that are very popular in North America, but they are much more convenient and user-friendly.


Keurig uses k cups for brewing coffee. Unlike Nespresso, there are many brands that produce k cups for Keurig brewing systems, which means a wide selection of pods and a lower cost.
There are more than 25 million Keurig units being used in homes and offices across the United States with millions more being added every year. And more than 30 billion k cup coffee pods are used every year.
In the past 30 years, Keurig has launched more than 100 models, with more than 20 currently available on the market. Keurig models range from 100 to 250 dollars, with Keurig mini and Slim being the entry-level models with limited controls and Keurig Supreme and K café being the advanced models with many customization options.
Pros of Keurig over Nespresso
Machines are relatively cheaper than Nespresso
Coffee pods are available in a large variety and at a lower price
Pods are also available for other hot beverages like tea, hot chocolate, Cappuccinos, Lattes, etc. Most models also have an option for an iced coffee drink
Prepare smooth and plain coffee similar to drip coffee makers
Very user-friendly and convenient with a portable design – Best for small homes and offices
Cons of Keurig
The taste of coffee is weak compared to Nespresso
Pods are made of plastic and aren't recyclable in some communities
Can't make authentic Cappuccino and Latte with a rich and strong taste
Nespresso Vs Keurig | Side by side Comparison
Now that you know the basics of Nespresso and Keurig, let's get into detail about some factors that can help you decide which machine is right for you.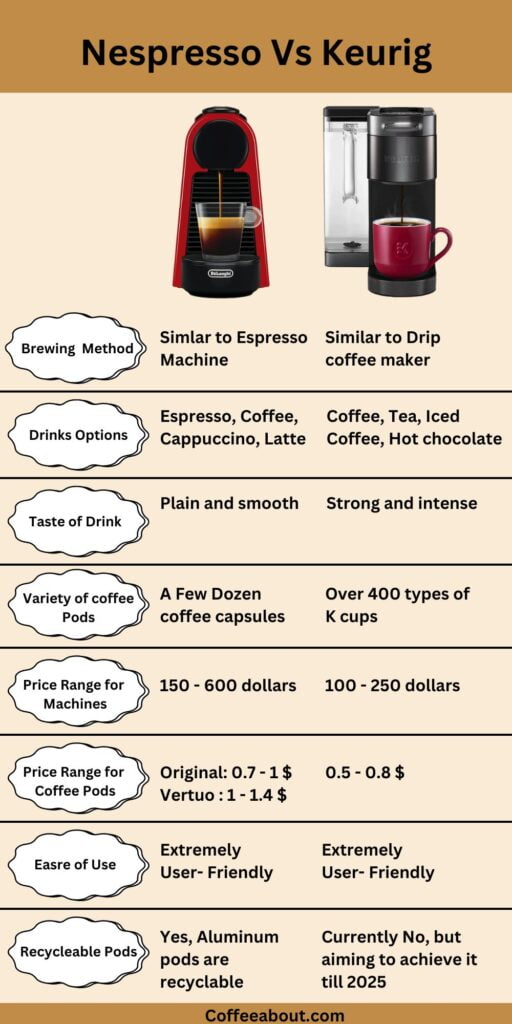 1) Brewing Method
Both Nespresso and Keurig are single-serve pod-based coffee makers but their brewing method isn't exactly similar.
Keurig works in a similar way as a traditional drip coffee machine.
You insert the pod in the machine, Keurig heats the water, the needles pierce the pod from the top and bottom and hot water passes through it to deliver the smooth cup of coffee. Sweet and simple!
Nespresso has a pressurized brewing system similar to a typical Espresso machine.
The Original line Nespresso features a 19-bar pump that forces hot pressurized water through the coffee capsules, producing a bold espresso shot with a rich crema.
In Vertuo line Nespresso, the capsule rotates at 7000 RPM to generate a pseudo-pressure to prepare a cup of coffee with a very thick and aerated crema layer.
Winner: Nespresso
In my opinion, Nespresso is better than Keurig as I love strong and robust Espresso drinks more than regular drip coffee from Keurig. If you are a fan of traditional pot coffee then you might like Keurig more. Overall! We can say it depends!
2) The Taste of Nespresso vs Keurig
Even though the taste is completely subjective, I haven't seen anyone who prefers Keurig over Nespresso when it comes to taste.
A cup of Nespresso coffee is reminiscent of espresso with a rich layer of crema with intense and mouthful flavors.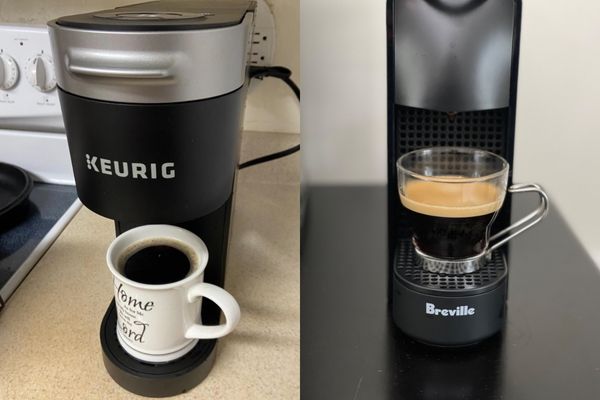 The best thing about Nespresso is you can make both coffee and Espresso in Nespresso machines while Keurig is only limited to plain coffee drinks.
The Vertuo line has separate coffee capsules for 8 oz coffee drinks and you can easily prepare Americano Coffee in Nespresso original line with a few extra steps.
Keurig coffee makers produce mild and mellow cups of coffee with subtle flavors. If you're seeking strong coffee experiences like Espresso, French press, or Turkish coffee, Keurig is not the ideal choice. However, if you enjoy regular pot coffee, you'll likely find Keurig to your liking.
The best thing about Keurig is that it isn't only limited to coffee drinks: you can also find pods for other hot beverages like tea, hot chocolate, etc and there are plenty of flavor options in coffee too, including hazelnut, vanilla, coconut, chocolate, etc.
Winner: Nespresso
In my opinion, Keurig delivers a weak cup of coffee, even weaker than traditional drip coffee makers. Only small serving sizes work well with Keurig. On the other hand, you can easily brew rich and strong espresso and a regular 8 oz serving of coffee with Nespresso easily. Also, milk-based coffee drinks like cappuccino and latte taste better with Nespresso.
3) Ease of use
Both Nespresso and Keurig are extremely user-friendly coffee machines.
All you need to do is insert the pod inside the machine and push the button with the desired serving size and your coffee will be ready in minutes.
Some models from Keurig and Nespresso include fully automatic built-in milk frothers for milk-based coffee drinks such as cappuccino and latte. These include Keurig K cafe and Lattissima and Creatista series from Nespresso.
The Nespresso Vertuo line has taken the ease of use to the next level. It automatically detects the type of coffee pod and brews according to it, so you just need to insert the pod into the machine.
Keurig and Nespresso both have straightforward cleaning procedures. Fill the water tank halfway with vinegar or descaling solution and half with water and run one or two brewing cycles. Cleaning Keurig coffee makers is relatively difficult as needles and pod holders get clogged sometimes and are hard to clean.
Winner: Tie
This round is more of a tie than a clear winner. But the Vertuo line Nespresso machine certainly has an edge in user friendliness and also Nespresso machines are easier to clean. Nespresso has an automatic capsule ejection system that adds to user-friendliness
4) Cost and the Variety in models
Keurig and Nespresso both offer different models ranging from basic models with limited features up to high-end models with multiple features.
The entry-level Keurig models, like the mini and slim, start at around 100 dollars, but these machines are limited in terms of customizable options, for example, you cannot change coffee strength, temperature, or serving size.
Keurig also offers high-end models such as the K-Supreme series with a lot of customizable features, the K-duo plus with both the single serve and carafe options, and the K Café with a built-in milk frother for preparing milk-based coffee drinks. These models cost between $200 and $250.
Nespresso machines are generally more expensive than Keurig. Entry-level machines, like Essenza Mini, Pixie, and Citiz, costs around 150 to 200 dollars and can only brew lungo and espresso drinks. Nespresso Vertuo models also lie in the same price range.
High-end Creatista and Lattissima series with integrated milk frothers are very expensive and range in price from 350 to 600 dollars depending on the model.
Cost of Pods
The recurring costs of Nespresso machines, especially the Vertuo line, are much higher than those of Keurig, as Nespresso pods are more expensive than the k cups.
An overview of the yearly costs for coffee pods from Nespresso and Keurig is shown below:
| Brand | Cost of one pod | Yearly cost for 2 cups a day |
| --- | --- | --- |
| Nespresso Vertuo line | 1.0 – 1.4 $ | 365 * 2 * 1.2 = 875 |
| Nespresso Original line | 0.7 – 1.0 $ | 365 * 2 * 0.85 = 620 |
| Keurig K cups | 0.5 – 0.8 $ | 365 * 2 * 0.65 = 475 |
Cost of Coffee pods of Nespresso and Keurig
Winner: Keurig
The Keurig coffee maker is not only more affordable, but the price of the pods is also significantly less.
Also using coffee grounds in Keurig is also very feasible and easy compared to Nespresso
5) Type and variety of Coffee pods
Keurig K cups are made of plastic and Nespresso capsules are made of aluminum. Both of these pods are sealed hermetically to ensure the freshness and quality of the coffee grounds inside.
Keurig and Nespresso coffee pods have different shapes and sizes and are not interchangeable, so Nespresso can't use Keurig pods and vice versa. The capsules for Nespresso's original and Vertuo lines are also different and cannot be interchanged.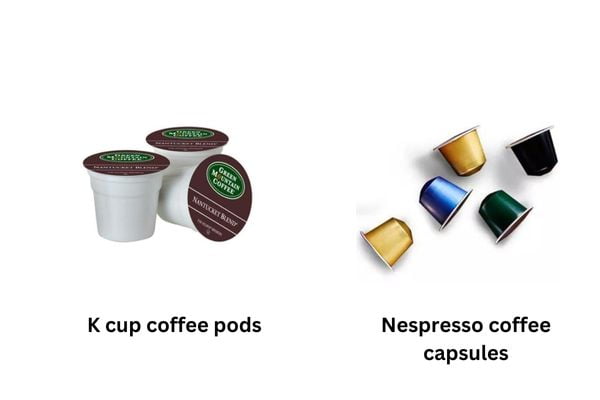 The Vertuo line capsules are protected by very strict patents and no other coffee brand can manufacture them which means there's only a limited variety available for Vertuo line pods.
The original line coffee capsules do not have strict patents, so many 3rd party manufacturers such as Illy, Lavazza, and Peets make coffee pods compatible with the Nespresso original line machines, so there is a wide variety of coffee pods available also at a lesser price than the Vertuo line.
The variety of coffee pods available for Keurig is far greater than what is available for Nespresso, with more than 400 types of pods available from 60 brands. You can make anything from tea to hot chocolate to latte with a variety of pods.
Reusable k cups are also available for Keurig machines so you can save some bucks while using your own coffee grounds.
Winner: Keurig
With the variety and flavors of coffee pods available; Keurig is a clear winner here.
6) Quality and Reliability
Regarding durability and reliability, Nespresso coffee makers are better than Keurig as they are made with better quality materials and have a more sturdy design.
Note: Nespresso doesn't manufacture the machines themselves but outsources them to other top brands such as Breville and Delonghi
Keurig coffee makers are also decently made, but owners of Keurig are more likely to experience issues than owners of Nespresso machines.
The fact is that both these brands are known for providing high-quality machines that can last around 3-5 years. If they were not, then they probably wouldn't be among the industry leaders.
Additionally, both brands offer a 1-year warranty that covers all technical faults.
Winner: Nespresso
Although both Keurig and Nespresso manufacture high-quality machines the design of Nespresso is somewhat sturdy and more reliable.
7) Sustainability and Environmental Impact
Using single-serve coffee pods is certainly not a sustainable way to brew coffee.
"Coffee pods are one of the best examples of unnecessary single-use plastics that are polluting our planet." – USAToday
The environmental impact of Keurig coffee pods has been widely criticized over the last few years. Fortunately, Keurig is taking action and is committed to making 100% of its packaging recyclable or compostable by 2025. In 2020, Keurig eliminated rigid polystyrene from its primary packaging portfolio.
Still, it is far from being fully sustainable, but you can reduce the impact by using reusable coffee pods and your own grounds. A cost-effective way to brew coffee that is also environmentally friendly.
On the other hand, Nespresso capsules are made of aluminum and can be easily recycled. With more than 120000 recycling stations around the globe, Nespresso strives to make recycling as easy as possible for its customers.
Winner: Nespresso
In general, Nespresso is more environmentally conscious than Keurig at the moment.
8) Appearance and Design
While the design is a completely subjective matter, I bet that just by looking at Nespresso's premium design one could easily say that they are more exquisite than Keurig.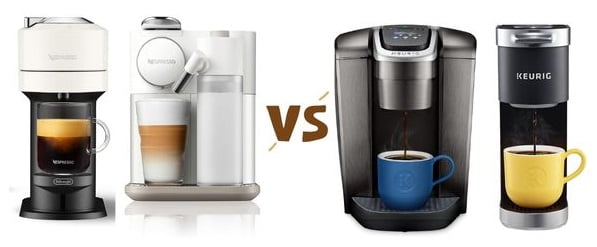 Winner: Nespresso
Keurig machines are entirely made of plastic and have a bulky appearance that isn't appealing. On the other hand, Nespresso machines are compact in size with a very stylish and modern look.
9) Some Extra Features
Here's the list of some extra features Nespresso and Keurig offer
Brew Sizes
Keurig coffee makers typically offer three to five brew sizes, with options ranging from 4 to 12 ounces.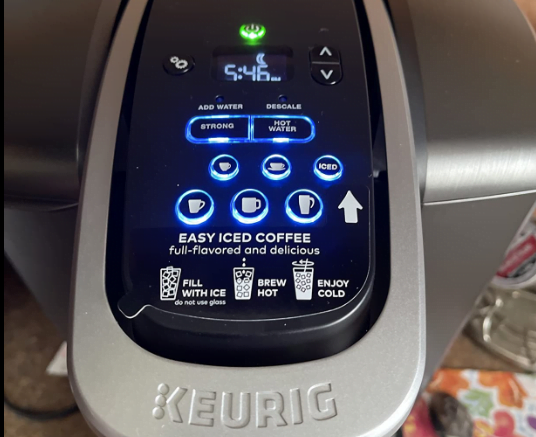 The original line Nespresso machines only offer single espressos (1.35 ounces) and Lungos (4.7 ounces), and the advanced models also offer one-touch cappuccino and latte drinks.
Nespresso Vertuo machines offer both coffee and espresso drinks. There are five drink options: single espresso (1.35 ounces), double espresso (2.7 ounces), lungo (4.7 ounces), coffee (7.7 ounces), and alto (14 ounces).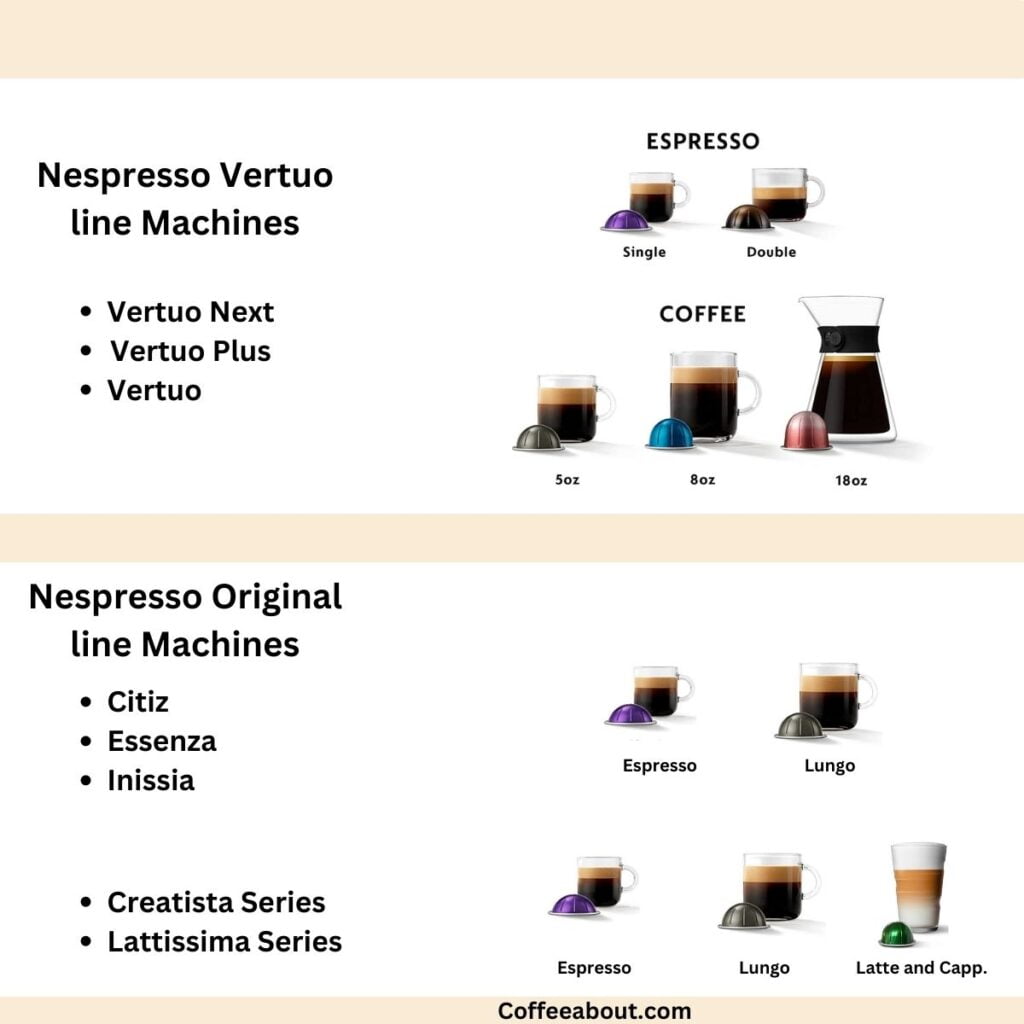 Adjustable parameters
Nespresso machines don't allow users to play with brewing parameters like coffee strength, brewing time, and water temperature same is the case with entry-level Keurig models.
In advanced Keurig models, like the K Elite and Supreme, you can adjust the strength from mild to robust and the temperature from lukewarm to extra hot.
Brew over ice
Keurig models (but not all!) include a feature called Brew over Ice that lets you make iced coffee. by adjusting the brewing parameters.
No Nespresso model has this feature. That doesn't mean you can't make iced drinks with Nespresso, you can make Freddo Espresso, which I believe has a richer flavor.
Also Read: How to make Keurig Iced Coffee
Capsule Ejection
Nespresso machines have an automatic capsule ejection system that automatically discards the capsule into the waste capsule container. In addition to saving time, this prevents your hands from getting burned while removing the hot capsules.
Descaling alert
Most Keurig and Nespresso models (but not all!) have an automatic descaling alert that lets you know when it's time for descaling.
Auto shut-off feature
Both Keurig and Nespresso offer auto shut-off that automatically turns off the machine after a few minutes of inactivity so you don't need to turn off the machine after every use. This not only saves you money but also protects the machine from electric shocks.
Final Thoughts
And that wraps up this epic battle between Nespresso vs Keurig! Now you know clearly whether the Nespresso is better or Keurig when it comes to convenience, cost, quality, and more.
So which single-serve coffee maker reigns supreme in your eyes? Let me know if you're Team Nespresso or Team Keurig after reading this comparison.
You may like to read:
FAQs
Does Nespresso coffee have more caffeine than Keurig?
Nespresso packs a much more concentrated caffeine punch than Keurig. An average 1.35oz Nespresso capsule contains about 60-80 mg of caffeine. Whereas a standard 8-12oz cup of Keurig coffee made with a K-cup contains 75-125 mg of caffeine.