For coffee lovers who need Espresso shots quickly and conveniently, single-serve pod espresso makers are the best choice. Both Nespresso and Lavazza are big names in the pod-based Espresso makers industry.
If you're looking for something premium and better quality, perhaps Nespresso is a better option, however, it's expensive for a pod-based coffee machine. If you need an affordable machine that still delivers a decent shot of espresso, then Lavazza is your best bet.
Specifications
Nespresso
Lavazza
Price
Nespresso machines are expensive
-Starting at 180 dollars
Lavazza machines are more affordable than Nespresso
-Starting at 150 dollars
Machine Variety
There is a range of Models of Nespresso machines available from entry-level to advanced cappuccino and Latte maker
The options of models in Lavazza are limited.
Pods Availability and Price
Being more popular Nespresso pods are easily available and cheap compared to Lavazza
Pods can be easily bought online.
Lavazza also has a variety of pods but it's limited compared to Nespresso and also a little more pricey.
Pods can be easily bought online.
Nespresso Vs Lavazza (Quick Comparison)
For a broader comparison let's go through Nespresso vs Lavazza in detail.
Brand Comparison Nespresso Vs Lavazza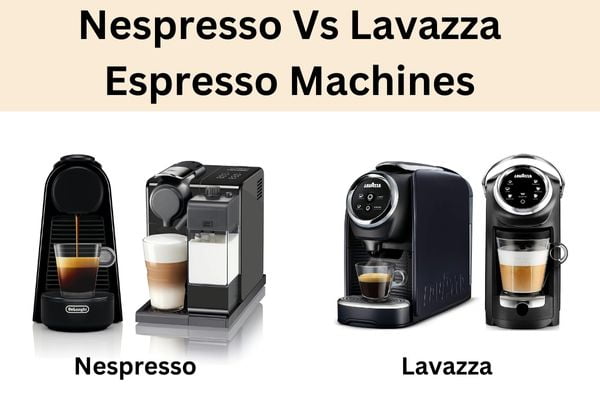 Swiss Engineer Eric Favre was the guy who initially came up with the idea of the Nespresso system. The enthusiast had the idea of designing a brewing system to pull espresso shots in minutes instead of spending a lot of time pulling espresso shots traditionally.
Nespresso was one of the first machines he launched at Nestle, but after a few years, he left Nestle and developed a new kind of pod-based espresso machine known as Lavazza, which does not require aluminum capsules.
So, both Nespresso and Lavazza were essentially initiated by the same person.
Nespresso
The Nespresso brand is well known for producing high-quality coffee machines and capsules.
Nearly 400 Nespressos are drunk every second according to estimates. Quite a huge number isn't it?
Nespresso has two lines of machines i-e the Vertuo line and the Original line.
The original line machines operate similarly to traditional espresso machines, using a pump system to generate pressure, and they can only produce espresso drinks.
Vertuo line machines have a more advanced centrifugation brewing system and can brew both Espresso and coffee drinks. However, their pods are different and relatively expensive.
Nespresso only designs the brewing system and outsources the manufacturing to other big brands like Breville and Delonghi.
A variety of Nespresso espresso machines are available, ranging from the entry-level Essenza and Pixie to the high-end Creatista and Lattissima series that brew cappuccino and latte.
Read a Guide on Best Nespresso Alternative Pod Machines
Lavazza
Although Lavazza has been in the coffee industry for more than 100 years, it is best known for its coffee beans and grounds rather than its coffee machines.
The Lavazza brand is one of the top Italian coffee brands, controlling almost half of the market share.
Having led the market in coffee beans, Lavazza now manufactures easy-to-use, pod-based espresso machines.
From an entry-level machine like the Lavazza Blue to an advanced Latte and Cappuccino maker like the Lavazza Expert, Lavazza has launched over 10 models of Espresso machines.
Similarities in Nespresso and Lavazza
Both Nespresso and Lavazza coffee machines look similar and operate on a similar principle.
Pod-Based Espresso Machines
Both brands use single-serve coffee capsules to brew a shot of Espresso. Each machine fits different types of coffee capsules.
Nespresso has two lines of machines the Vertuo and the Original line. Compatible capsules for these two lines are also different.
Convenience
Nespresso and Lavazza place a high value on convenience, and it's one of their primary selling points. Brewing a shot of Espresso using a traditional Espresso machine isn't an easy task you have to be an expert at using them and they are not beginner friendly at all.
With pod-based machines, you simply have to insert the coffee pod into the machine, press your desired shot button, and within seconds you'll have your espresso ready.
Difference in Lavazza Vs Nespresso
In general, both Nespresso and Lavazza operate on the same principle with a similar interface, design, and water reservoir, but there are some differences between them. Let's have a look at how these brands differ.
Taste
Taste is the number one concern for every coffee lover while buying a coffee machine.
There is always a debate about which company makes a better shot of espresso, Nespresso or Lavazza.
In my opinion, there isn't a major difference in the taste of espresso from either of these machines. They look identical, have similar temperatures, and there isn't a noticeable difference in taste.
For pod-based coffee machines, I believe that the taste solely depends on the type of coffee pod you use. There are a variety of pods available for both brands so you can choose the one that you prefer.
The Lavazza shot, however, seems to be more concentrated than the Nespresso shot, since Lavazza pods usually hold more coffee grounds than Nespresso pods.
Overall, there is no discernible difference in taste between either brand and I'm not inclined to give one brand a plus over the other for taste.
Price of the machines
There is a little price difference between Nespresso and Lavazza machines, but the difference is not a lot. You might have to pay 20 or 30 dollars for the Nespresso Essenza mini as compared to Lavazza classy mini which is a quite similar entry-level machine.
In advanced machines, Nespresso offers many models in its Lattissima and Creatista series for 400 to 600 dollars whereas the Lavazza classy expert is available for under 300 dollars. That's a considerable difference, I think.
Overall, Lavazza machines are quite affordable than Nespresso machines.
Lavazza coffee pods vs nespresso
As you probably know, pod-based drip coffee makers like Keurig and other similar systems use the same K cups.
Unfortunately, every pod-based espresso machine does not use the same Espresso pods.
Whether it is Lavazza or Nespresso, each brand manufactures coffee capsules compatible only with its machine. This causes availability problems sometimes especially if you live in the suburbs.
Due to Nespresso's popularity, there is a wide range of coffee capsules available and some 3rd party manufacturers also make coffee capsules for Nespresso's original line machines, making it easy to compare quality and price.
While Lavazza also offers many different types of coffee capsules, it is more limited than Nespresso.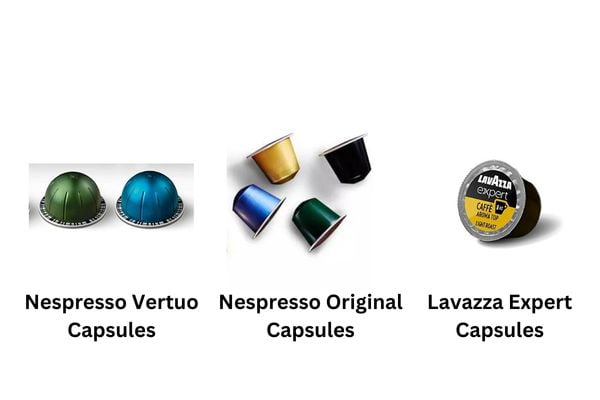 The Pros and Cons of Lavazza vs Nespresso
Things we like about Nespresso
Nespresso is a well reputable brand with quick and easy-to-access customer support.
Nespresso has a capsule recycling program so you have peace of mind that your used coffee grounds are not ending up in waste. Also, every Nespresso machine has a used capsule container so you don't have to dump the capsules in the waste.
Nespresso machines have an elegant and modern design, making them perfect for workplaces and homes.
Nespresso machines have an intuitive user interface, making them perfect for beginners.
Nespresso has a wide variety of capsules available for both Original and the Vertuo line. Original line Nespresso has even more variety as they are also compatible with 3rd party and reusable coffee capsules.
Things we don't like about Nespresso
Nespresso machines are expensive paying about 200 bucks for a pod-based machine is too much.
Most of us love smooth and sweet milk-based espresso drinks like Cappuccino or Latte but not all Nespresso machines come with an integrated milk frother (This can be solved by buying a separate Aeroccino Milk frother but you have to pay extra for it).
When compared with coffee grounds, Nespresso capsules are expensive to use for brewing espresso.
Also Read: Is Nespresso worth it
Things we like about Lavazza
Compared to Nespresso machines, Lavazza machines are cheaper and a great option if you have a limited budget.
Nespresso machines are often accused of being too noisy, Lavazza on the other hand operates very quietly, which is a perfect option if you're fussy about noise.
The Lavazza machines have a very small footprint and a very elegant design, making them ideal for small kitchens and offices.
The taste of espresso shots from the Lavazza machine is a little more (Not a lot!) concentrated than Nespresso machines and that's essentially because Lavazza coffee pods have more grounds in them.
Lavazza machines are quick and easy to use even a beginner can brew a perfect shot of espresso using them.
Things we don't like about Lavazza
There aren't many models of coffee machines to choose from.
Pods for Lavazza machines are only manufactured by Lavazza and flavor options are limited. Sometimes, availability is also an issue.
Lavazza coffee pods are made of plastic and they don't have any recycling program. Although they have partnered with 3rd party recycling programs like Terracycle but it's not as convenient as the Nespresso program.
Lavazza capsules are more expensive than coffee grounds and even more expensive than Nespresso capsules. So the recurring cost of maintaining the machine is high.
Entry Level Machines: Nespresso Essenza vs Lavazza Blue
Let's have a quick comparison between entry-level machines from Lavazza and Nespresso. Both these machines look quite similar and lie in the same price range.
Specifications
Nespresso Essenza Mini
Lavazza Classy Mini
Image
Drink Options
Espresso
Lungo
Espresso
Lungo
Compatibility
Nespresso original line and 3rd party compatible capsules
Lavazza BLUE & Expert Capsules
Water reservoir
20 oz transparent water reservoir
23 oz transparent water reservoir
Item weight
4.3 pounds
7.7 pounds
The dose can be programmed
Yes
Yes
Auto shut off Energy saving feature
Yes
Yes
Price
View on Amazon
View on Amazon
Machines with milk Frother: Nespresso Lattissima vs Lavazza Expert
While Nespresso has many models with milk frothers in Creatista and Lattissima series but they are all very expensive. Lavazza Classy plus has the huge advantage of being affordable.
Let's have a quick comparison of the Nespresso Lattissima touch and Lavazza Classy Plus.
Specifications
Nespresso Lattissima Touch
Lavazza Classy Plus
Image
Drink Options
Espresso
Lungo
Coffee 8 oz
Macchiato
Latte
Cappuccino
Espsresso
Lungo
Coffee 8 oz
Macchiato
Latte
Cappuccino
Compatibility
Nespresso original line and 3rd party compatible capsules
Works only with Lavazza Expert Capsules
Automatic Milk Frother
Yes
Yes
The dose can be programmed
Yes
Yes
Auto shut off Energy saving feature
Descaling Alerts
Yes
Yes
Item Weight
9.9 pounds
9.9 pounds
Price
View on Amazon
View on Amazon
Final Thoughts on Lavazza Vs Nespresso
I hope you have found this article helpful in understanding a comparison of Lavazza and Nespresso the two popular pod-based espresso machine brands.
Nespresso will be the best option for you if you don't have any budget issues because of its strong brand value, reliable build quality, quick customer support, and low coffee capsule costs compared to Lavazza.
If you are looking for a budget-friendly option then Lavazza will be a better choice. Lavazza Classy Plus is certainly the best and most affordable choice if you want a pod-based Cappuccino and Espresso maker with an integrated milk frother.
In terms of taste, there isn't much difference between these two brands and it comes down to what type of pod you are using, which Nespresso has more options.
Also Check out:
Faqs
Are Lavazza pods the same as Nespresso?
No, Nespresso pods are not the same as Lavazza Pods
The Nespresso Vertuo line is compatible with only Vertuo Capsules
Lavazza Machines is only compatible with Lavazza Expert capsules.
The Nespresso original line is compatible with Original capsules and 3rd party capsules.
Although Lavazza also manufactures capsules compatible with Nespresso original line.