Nespresso has become a favorite among coffee snobs who love espresso and milk-based coffee beverages for its convenience and ease of use, but many get confused among two Nespresso product lines i-e Nespresso Vertuo vs Original.
Nespresso Original line is a traditional line of Nespresso that brews espresso shots using pressurized pumps and coffee capsules. In 2014, Nespresso introduced the Vertuo line which uses centrifugal brewing technology to make coffee with a thick layer of crema, just like espresso. These machines are only compatible with Nespresso-patented capsules.
Choosing between an original Nespresso machine and a Vertuo machine can be a daunting task. This article delves into the pros and cons of each line to guide you toward the best decision for your coffee needs.
Overview of Nespresso Original Line
The original Nespresso line, established over two decades ago, is the most widely recognized among coffee enthusiasts. These straightforward machines employ the same pods to brew two espresso sizes: single espresso and lungo.
These machines have an automatic pump inside the machine similar to traditional Espresso machines that generates a pressure of 19 bars.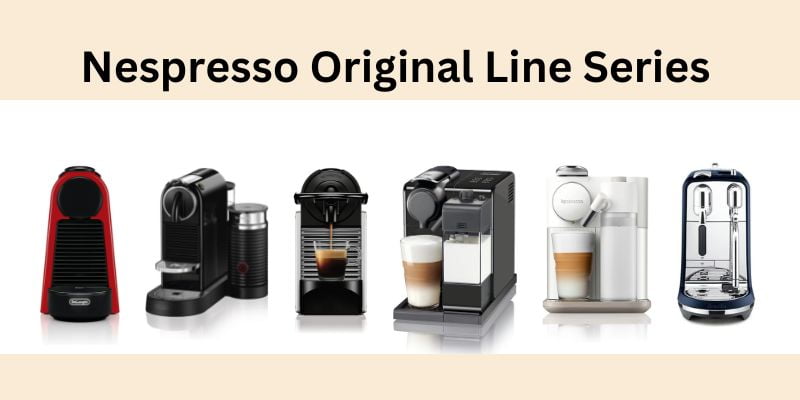 The Original line Nespresso machines are compatible with both Nespresso and 3rd party capsules so you have a variety of flavors to choose from.
There are more than 20 models in the Nespresso Original line series from entry-level machines like Essenza mini to high-end cappuccino and Latte makers like Creatista and Lattissima series.
Entry-level machines are available for under 200 dollars while high-end machines cost in the range of 400 to 600 dollars.
Benefits of Nespresso Original over Vertuo
The coffee capsules for original line machines are generally cheaper than Vertuo Capsules
Compatible with 3rd party capsules so you have more variety and flavors.
Original line machines are relatively cheaper and a wide range of models are available from basic to advanced.
Built-in milk frother available in Original line Lattissima and Creatista series.
Original Line Nespresso machines can be used for making just hot water.
Cons of Nespresso original line
It can only brew Espresso and Lungo shots or milk-based Espresso drinks (in advanced models).
No options for regular 8 oz coffee!
Relatively difficult to clean than Vertuo line machines.
Overview of Nespresso Vertuo Line
Nespresso launched its Vertuo line in 2014 to expand into the coffee industry after becoming a monopoly in pod espresso machines.
The Vertuo line machines are capable of preparing coffee in five different sizes from single Espresso shot to large Alto XL. Nespresso launched this series mostly to satisfy North American consumers as they prefer regular 8-ounce servings.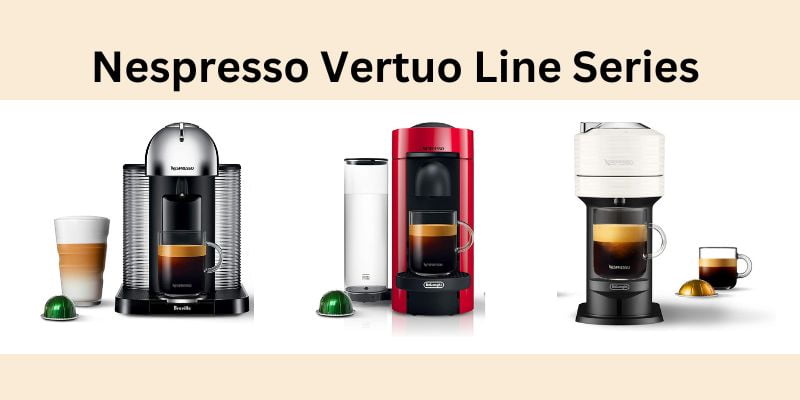 The brewing principle of Nespresso Vertuo is far from traditional Espresso machines and it uses a centrifugation brewing technology that still delivers coffee with a rich layer of crema like Espresso.
The unique feature of the Vertuo line is that the machine has only one ON/OFF button and everything else like brewing size, brewing temperature, and brewing time is automated by a barcode imprinted on the capsule.
Currently, there are three models in the Nespresso Vertuo line series: Vertuo Plus, Vertuo Next, and Vertuo all available for around 200 dollars.
Nespresso has recently launched Lattisima Vertuo which can also brew milk-based drinks. This machine is available for around 500 dollars.
Benefits of Nespresso Vertuo over Original
Although both Nespresso lines are very convenient and user-friendly, the Vertuo line machines go even further in terms of convenience with barcode technology.
With Vertuo line machines, you can brew both regular coffee and Espresso (You just have to select a different capsule).
The centrifugal extraction system creates a thick layer of crema.
Cons of Nespresso Vertuo
Due to patents on Vertuo line Capsules, no 3rd party can manufacture capsules compatible with Vertuo line machines. So, the variety of coffee capsules is limited to some extent.
The cost of the machine as well as the cost of capsules is relatively higher than the original line machines.
Very limited customizable options.
Also Read: Best Nespresso Alternatives in 2023
What are the differences between Nespresso Original and Vertuo Line?
Now that you know about the Nespresso Original line machine and the Nespresso Vertuo line, let's make a comprehensive comparison to uncover what's better!
The Brewing Principle
The main difference between the Nespresso Vertuo and Original lines lies in their brewing mechanisms. While both machines produce beverages that appear similar, their working is entirely different.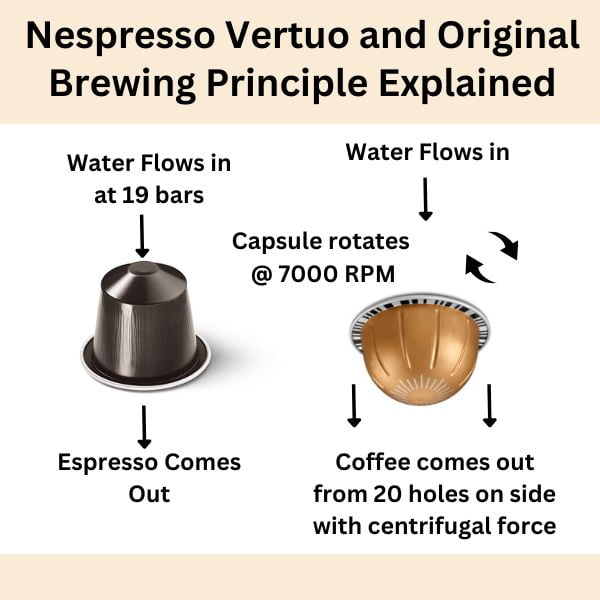 The Original line features a 19-bar pressurized pump system that is similar to traditional espresso machines.
A needle in the head of a Nespresso machine creates an opening in the coffee capsule, allowing high-pressure water to flow through it, extracting flavor from the coffee grounds and resulting in a rich, decadent shot of espresso.
A similar principle is used in almost all other pod-based Espresso machines.
On the Other hand, Vertuo line machines work on patented centrifugation technology, in which the capsule revolves at 7000 rpm in order to create a pseudo pressure. This centrifugation system prepares a coffee with a thick crema layer.
Similar to the brewing technique, Vertuo coffee pods feature a unique barcode. This barcode allows the machine to automatically determine the optimal amount of water and brewing time for each capsule, ensuring a consistent drink every time.
The one bad thing about the centrifugation system is that it makes a very loud noise compared to the original line machine like Essenza.
For those who appreciate the nuanced flavors of genuine espresso, the original Nespresso line is the preferred option as its brewing method is similar to traditional espresso machines. Conversely, the Vertuo's centrifugation system generates an overly thick crema layer, which I don't like personally.
Also Read: Nespresso Vs Espresso (Is Nespresso Real Espresso)
User Friendliness
While both Nespresso lines are extremely user-friendly but the Vertuo Line takes convenience to next level.
The Nespresso original line requires you to insert the capsule and select the drink size, while the Nespresso Vertuo line simply requires you to insert the capsule, and the machine will do the rest by reading the barcode.
However, Vertuo line's limited control options might get you into trouble sometimes as the machine starts blinking sometimes and you have no idea what to do or which button to press.
Overall, the winner is Vertuo Line. But that's not a huge plus for sure as the original line is also fairly User Friendly.
Drink Options
Nespresso Original line machines are only limited to Espresso.
Espresso (1.35 oz)
Lungo (3.7 oz)
However, you can easily prepare an Americano with Nespresso original line that resembles a regular 8 oz serving of coffee.
Nespresso Vertuo line has five different drink options including both coffee and Espresso
Espresso (1.35 oz)
Double Espresso (2.7 oz)
Lungo (4.7 oz)
Coffee (8oz)
Alto XL (18 oz)
There is no button to select the brew size on Vertuo machines; instead, each serving size requires a different coffee capsule.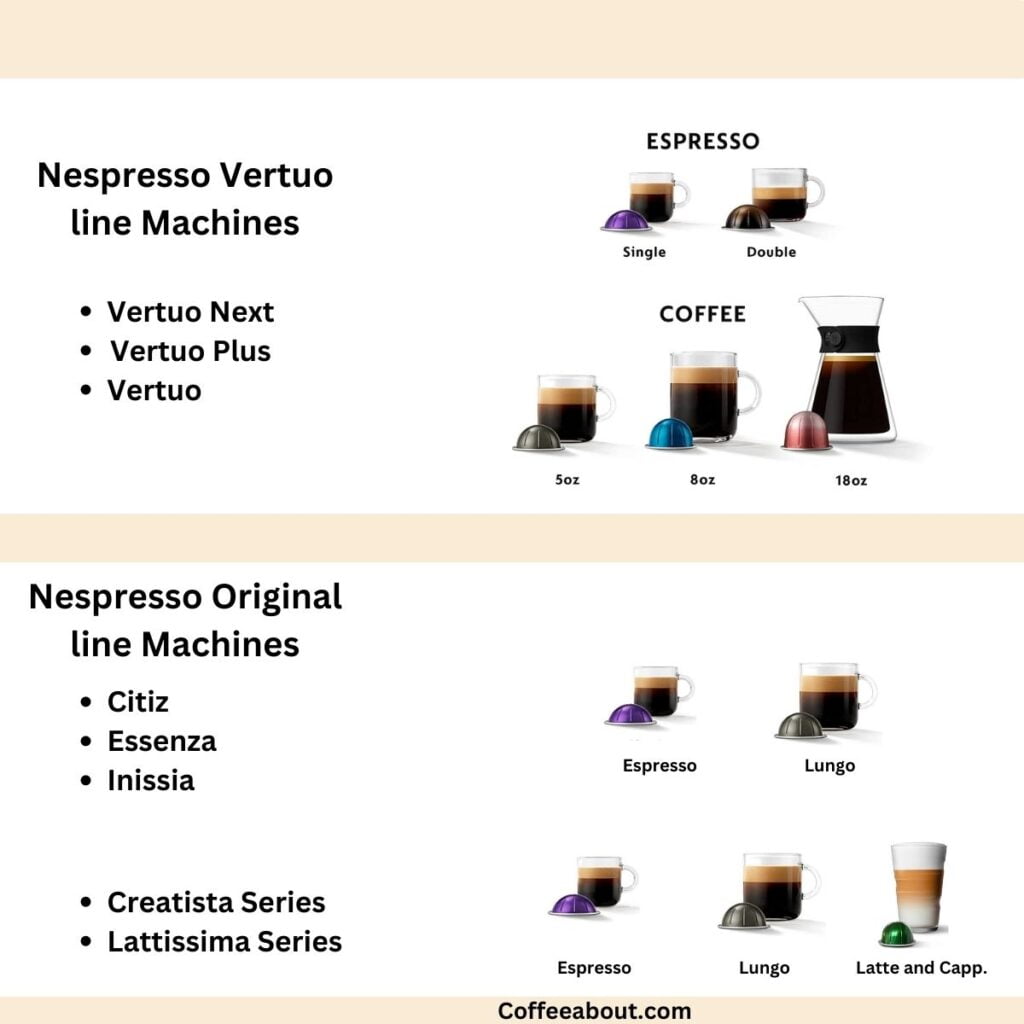 Milk Based Drinks
The Nespresso Vertuo line and entry-level Nespresso originals like Essenza do not come with built-in milk frothers, however, you can purchase one in a bundle deal with Aeroccino Milk frother at a discounted price.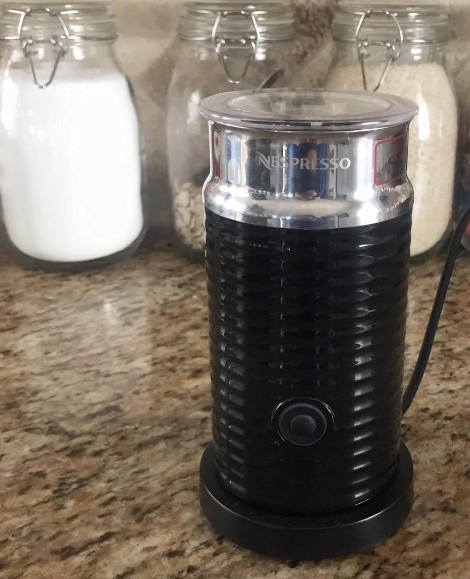 Nespresso original line's Creatista and Lattissima models have an automatic milk frother for preparing lattes, cappuccinos, and macchiatos at the touch of a button.
Although these machines are a very convenient option for Latte lovers but they are significantly expensive.
The Nespresso Vertuo Line comes out on top here, especially if you want both regular coffee and espresso with the same machine.
Temperature of the Coffee Drink
The brewing temperature inside a Nespresso machine is around 83-86° for Original and 78° ± 5° for Vertuo.
According to National coffee Association, the best temperature for brewing coffee is 90-95°.
I don't know why the operating temperature of the Nespresso machine is lower than that maybe that temperature is perfect for their brewing system.
According to Nespresso: "Nespresso coffee is meant to be enjoyed immediately after brewing, which is why it keeps a lower temperature than for example, filter coffee."
If you're like me and like your coffee hot, the Nespresso Original line has an advantage here.
Taste of the drink and Crema Layer
Taste is a completely subjective matter and there's always a debate on coffee forums that whether Vertuo or the original Nespresso machine delivers the best-tasting shot of Espresso.
First, let's talk about Crema.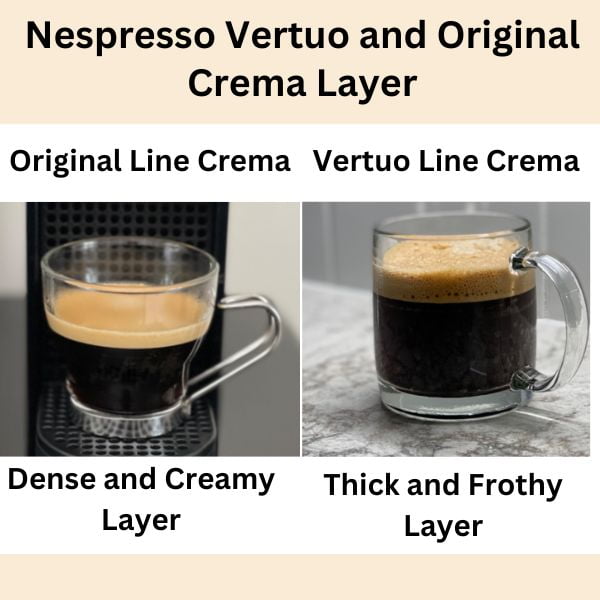 Crema is an essence of Espresso – both the original line and vertuo line give you a beautiful crema on the top of Coffee or Espresso which is appreciated by coffee lovers.
No doubt Vertuo line machines deliver a thicker layer of Crema than original line machines. But does thickness really matter?
Well! In my opinion, it doesn't. The Crema layer of Nespresso Vertuo line coffee also dissipates very quickly as this foam is mainly the product of the rapid spinning process.
On the other hand, the Crema layer on Nespresso Original line coffee is thin and creamy and its texture is similar to real Espresso.
Overall, both machines deliver a fair shot of Espresso but it can't be compared with Espresso brewed with traditional Espresso machines. In my opinion, the taste of the Nespresso Original line is a little better as I don't like the foamy layer on Vertuo that gets weird with time.
Original vs Vertuo Line Capsules
The difference between Original and Vertuo capsules is that the Vertuo Capsules have a special barcode imprinted on them so they aren't interchangeable with Original line capsules.
You can't use Original Nespresso pods in the Vertuo Line!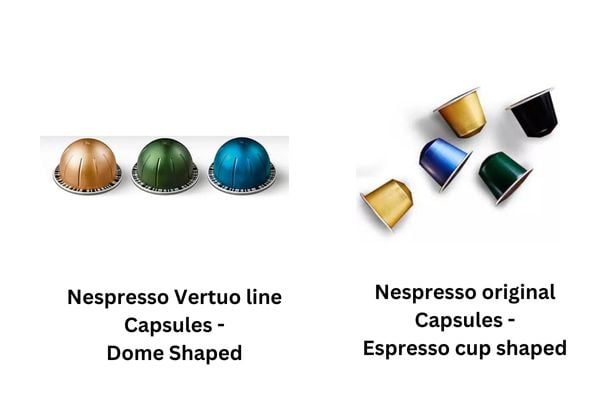 Vertuo Pods are dome-shaped and come in five different sizes according to the serving size of the coffee. Nespresso has a strict patent on these capsules. That means no 3rd party brands can't manufacture them.
Nespresso maintains the quality and taste of coffee and manufactures the best capsules because of strict patents, but it has two drawbacks.
Vertuo Pods are expensive
Since third-party capsules are not allowed, the variety is limited
Original Line capsules are smaller and cup-shaped. Since original line capsules do not have strict patents, third parties can manufacture them, so a wide variety of capsules are available.
Original line capsules are also cheaper than the Nespresso Vertuo Capsules.
| Type | Original line cost | Vertuo line Cost |
| --- | --- | --- |
| Espresso | 0.75 – 0.95 $ | 0.95 – 1.10 $ |
| Lungo | 0.80 – 1 $ | 1.10 – 1.20 $ |
| Coffee | N/A | 1.20 – 1.40 $ |
| Approximate cost for 365 days (1 year) 2 cups a day | 365 * 0.8 * 2 = 584 $ | 365 * 1.1 * 2 = 803 $ |
So that's a saving of more than 200 dollars a year if you use Original line capsules.
Yeah! Both capsules are significantly more expensive than ground coffee. You can use your own coffee in Nespresso by using reusable capsules but it's much hassle.
This is a clear win for the Nespresso Original line of capsules because of their large variety and low price.
Design of the Machines
Design is a completely subjective matter as taste but in my opinion, the design of Nespresso Vertuo is better.
Nespresso Original and Vertuo line machines both feature decent and minimalistic designs with compact sizes that are easy to fit anywhere.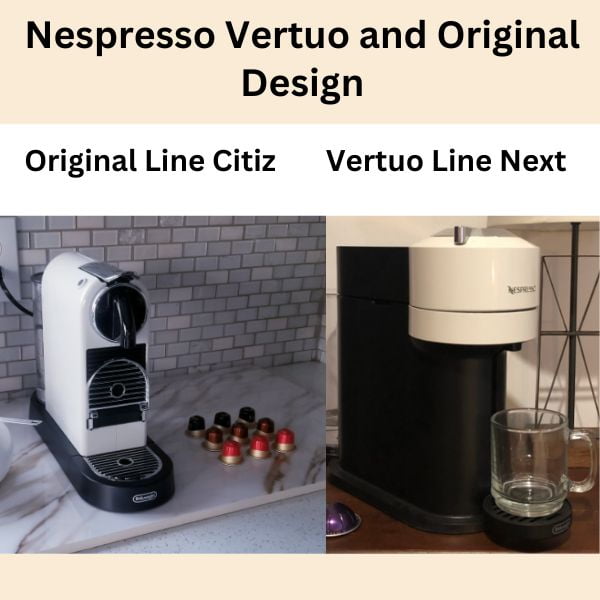 Nespresso Vertuo has a more contemporary and stylish design. Nonetheless, it doesn't really matter a lot as the Original line also has a very decent design.
Price and the variety of Machines
The Vertuo line includes three models: Vertuo, Vertuo Plus, and Vertuo Next. They all cost around 200 dollars.
There are more than 15 models in the Nespresso original series from the basic Essenza, Citiz, and Pixie to advanced bean-to-cup models like Creatista and Lattissima.
Basic models Essenza and Pixie are relatively cheaper than Vertuo line machines and cost under 180 dollars. While Lattissima and Creatista models cost in the range of 400 to 600 dollars but their advanced features are surely worth the price.
What is the best Nespresso Vertuo Line Machine
In Vertuo Line, there are only three models that are very similar. However, Vertuo Plus is my favorite of all.
Nespresso Vertuo Plus
Nespresso Vertuo Plus is more user-friendly as it has a motorized open and close system and it has a larger adjustable water reservoir and large storage for used capsules.
Also, it is relatively cheaper compared to Vertuo Next.
Vertuo Plus is available in a bundle deal with Aeroccino Milk frother at a discounted price to cover all your frothing needs.
Also Read: Nespresso Vertuo Next vs Plus
What is the best Nespresso Original line Machine
The Nespresso Original line machines are fantastic for espresso lovers but choosing the best among the range of models isn't a very easy decision. Here are my top picks in the Original Line series
Nespresso Essenza mini
Nespresso Essenza Mini is an entry-level, budget-friendly machine for brewing espresso; ideal for coffee lovers with limited counter space.
It has a sleek and compact design that fits easily on your kitchen counter or office desk.
The Essenza mini brews a shot of espresso in under 30 seconds with the ease of pushing a button. The machine has an auto shut-off feature that automatically turns it off after 9 minutes of inactivity.
This machine is the cheapest of all Nespresso models and the best thing it's also the quietest Nespresso machine.
Also Read: Nespresso Essenza Mini vs Plus
Nespresso Gran Lattissima
If you are a fan of Cappuccino or Latte you might be looking for the Nespresso machine with milk frother.
Nespresso Gran Lattissima is the high-end model of the Nespresso brand and undoubtedly the best pod-based Espresso machine.
It is not possible to make milk-based espresso drinks more conveniently than with Gran Lattissima.
This automatic coffee maker combines Nespresso capsule technology with one-touch fresh milk frothing technology to prepare barista-quality coffee in minutes.
This machine features nine different types of coffee drinks: Three Black coffee drinks ristretto, espresso, and lungo. Four milk-based coffee beverages latte macchiato, cafe latte, cappuccino, and flat white. The other two are "hot foam," and "hot milk,"
Also Read: Nespresso Gran Lattissima review
Which is better Nespresso original or Vertuo | Our Final Verdict
I hope you have already decided after reading the full article, but if you are looking for my subjective opinion, the Original line it is!
As for Nespresso Vertuo vs Original, for me, the Original line is simply better. It offers 30x more pod varieties and the pod price is 20% less and whenever I want a full cup of coffee I go for Americano.
Vertuo line isn't bad too it's fun to brew coffee with new and advanced technology. If budget isn't an issue and you love full cups of coffee then definitely Vertuo is a better choice for you.
Still confused? Read our article on Whether Nespresso Machines Worth it or not
Also Check out:
FAQs
Is Nespresso Discontinuing OriginalLine?
After the launch of the Vertuo line series in 2014, many think that it's the end of the Nespresso Original line.
But it's not the case, Nespresso isn't discontinuing the Nespresso original line series in the near future.
Nespresso also keeps on launching new models and new coffee pods even after it featured the Vertuo line series and will continue to do so.
Do Any Other Pods Work With Nespresso Vertuo?
Nespresso maintains exclusive control over the production of Vertuo capsules to uphold the brand's reputation for quality and consistency.
While some compatible capsules is available from authorized retailers like Starbucks, third-party manufacturers are strictly prohibited from producing Vertuo capsules.