Nespresso Vertuo Next and Plus are the two most popular offerings in the Nespresso Vertuo Line series.
On the surface, these machines seem nearly identical – both brewing Nespresso's proprietary centrifuge pods at the touch of a button. However, under the hood, there are some distinct differences!
Our Choice | Nespresso VertuoPlus
Nespresso Vertuo Next is a good machine with an elegant design but I prefer Vertuo Plus over Vertuo Next. Because:
Nespresso Vertuo Plus is more user-friendly as it has a motorized open and close system, a larger adjustable water reservoir, and large storage for used coffee pods. Also, it is relatively cheaper compared to the Next Model.
Secondly, I like the taste of Coffee from VertuoPlus, it delivers relatively hotter coffee than Vertuo Next and has a rich and creamy layer of crema with a smooth and sweet taste.
In this head-to-head comparison, we evaluate the key specs and performance metrics between Nespresso Vertuo Next vs Plus models. We break down the machines' size, speed, features, ease of cleaning, overall reliability, and of course – coffee quality.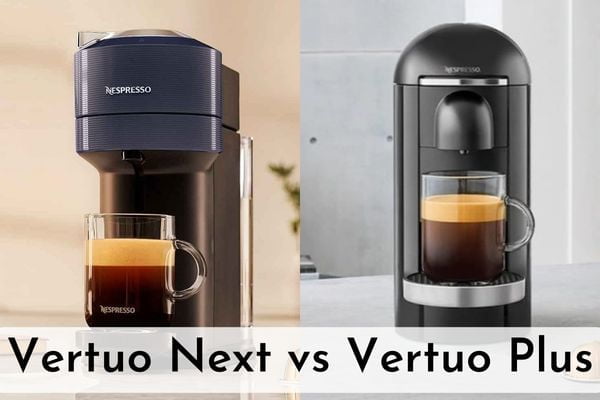 Why Trust Us
I have taken an in-depth look at all of the top features of both Nespresso Vertuo Plus and Vertuo Next. And analyzed the pros and cons to help you make an informed buying decision. With our expert review, you can easily choose which machine is perfect for you.
*As an Amazon Associate, we earn a little commission when you purchase products through our links, without any additional cost to you. That helps to support our website and I greatly appreciate your support!
Differences between Nespresso Vertuo Next vs Vertuo Plus
The Nespresso Vertuo Next and Vertuo Plus differ in terms of machine size, brew size, water tank capacity, and overall design. The Vertuo Next has a more modern aesthetic, while the Vertuo Plus prioritizes user-friendliness.
Let's look at the differences!
1- Brew Sizes (Winner: Vertuo Next)
Both Vertuo Plus and Next offer a single and double shot of Espresso. Vertuo Plus brews two sizes of coffee, 5 oz (Lungo) and 7 oz (Regular Coffee), while Vertuo Next also brews 14 oz (Alto) and 18 oz (Carafe) along with 5 and 7 oz.
Both Nespresso Vertuo Next and Vertuo Plus Machines are incredibly user-friendly and convenient. You can easily brew any type of coffee or Espresso with just one button. The machine will automatically detect the type of Nespresso capsule and adjust the brewing parameters accordingly, ensuring consistent results every time.

So here Vertuo Next wins clearly, but I don't think that's a huge plus point. As I have never brewed a 14oz size cup in life and I don't think it's of any use for most of us. And the 14 oz capsules are also not available easily!
2- Machine Design and Size (Winner: Vertuo Next)
Vertuo Next has the most compact and sleek design. It is only 5.5 inches wide compared to the Plus model; which is 9 inches wide. The height of both of these machines is almost the same.
The weight of Vertuo Next is 9lb while Vertuo Plus is slightly heavier at 10 lbs.
Overall the design of both Vertuo Next and Plus are exquisite. But I like the sleek and modern look of Vertuo Next more.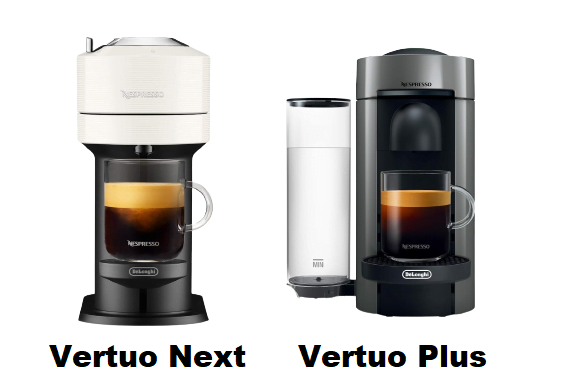 3- Water Reservoir (Winner: Vertuo Plus)
Both Vertuo Plus and Next feature removable, easy-to-clean, and refillable water tanks designed for the user's convenience.
Vertuo Plus has a 40 oz water tank
The water tank of Vertuo Plus is adjustable. You can easily adjust its position from back to side according to the available space.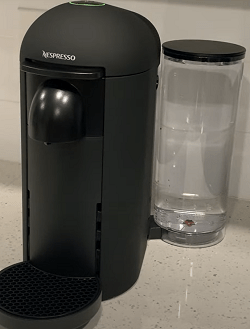 Vertuo Next has a comparatively smaller water reservoir with a capacity of 37 oz.
This reservoir is at the back of the machine and it is nos-adjustable.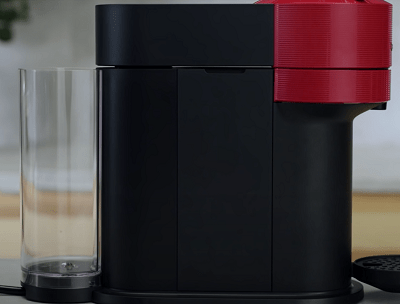 Overall, It's a plus for Vertuo Plus as it can accommodate more water, and also water tank can be adjusted according to available space.
4- Taste and Crema Layer (Winner: Vertuo Plus)
There is not much difference in the taste you get with both these machines. Both are capable of preparing a rich and flavorful coffee with a thick layer of crema over it.
But I must say that the taste of Coffee you get with Nespresso Vertuo Next is slightly more bitter than Vertuo Plus.
And Vertuo Next also takes almost 10 seconds more to brew than Vertuo Plus. So, presumably, Vertuo next extracts more flavors in that time and becomes slightly bitter.
Both Vertuo coffee makers use centrifugal force to generate virtual pressure and add a thick layer of crema to the espresso.
With Vertuo Next, the Crema appears to be bubblier and more aerated, whereas, with Vertuo Plus, the Crema layer looks rich and creamy.
Also, Crema disappears more quickly for Vertuo Next than Vertuo Plus.
I also tested the temperature of coffee from both machines. For Vertuo Next, it was 157 degrees, and for Vertuo Plus it was 159 degrees. So, the coffee from Vertuo Plus was relatively hotter (Only a little difference).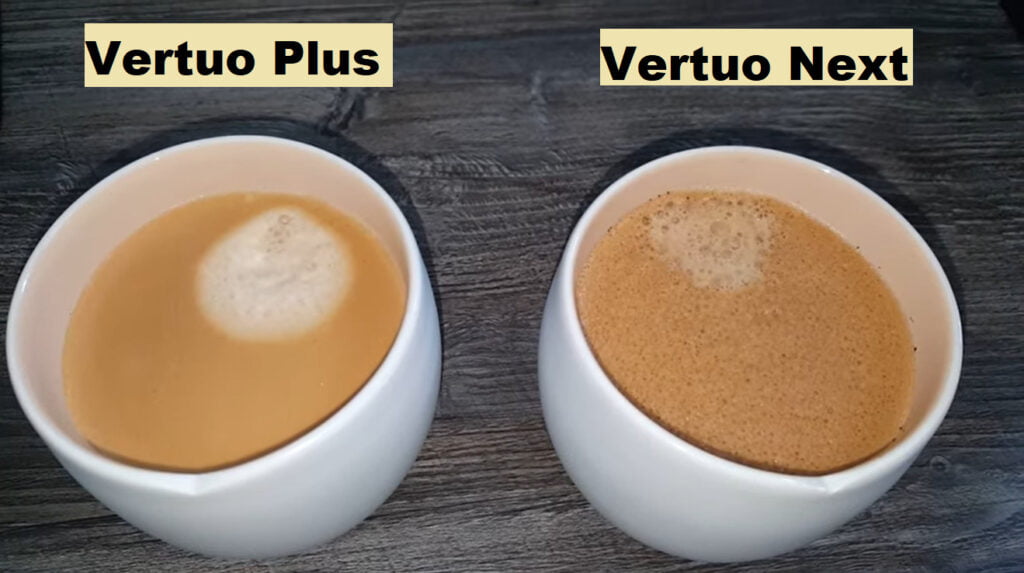 Overall, I like the taste of Vertuo Plus more than Vertuo Next. I must say the difference was not that much considerable. But I like the creamy and rich layer of Crema from the Vertuo Plus.
5- Used Capsule storage (Winner: Vertuo Plus)
Nespresso capsules are made of aluminum and can be recycled through the "Nespresso Recycling Program"
There is a separate storage for used pods on the side of both of these machines. It offers convenience as you don't have to take out the hot Nespresso pod after brewing coffee and you don't have to discard it into the waste bin as it can be recycled.
The Vertuo Plus can store 10 used capsules while Nespresso Next can contain 8 capsules.
6- Bluetooth Technology (Winner: Vertuo Next)
Nespresso Vertuo Next is compatible with modern Bluetooth technology.
This technology also helps keep the machine's brew settings up to date. And you can also access the machine manual and "How to" videos easily. The App also tells about the water level of the machine when it needs to be refilled.
Vertuo and Vertuo Plus do not have Bluetooth technology.
I don't think that's a huge plus for Vertuo Next as the Bluetooth feature is not that useful. You can access How-to videos, machine manuals, and guides, and easily order new Pods through the Nespresso App which is available for all Nespresso models.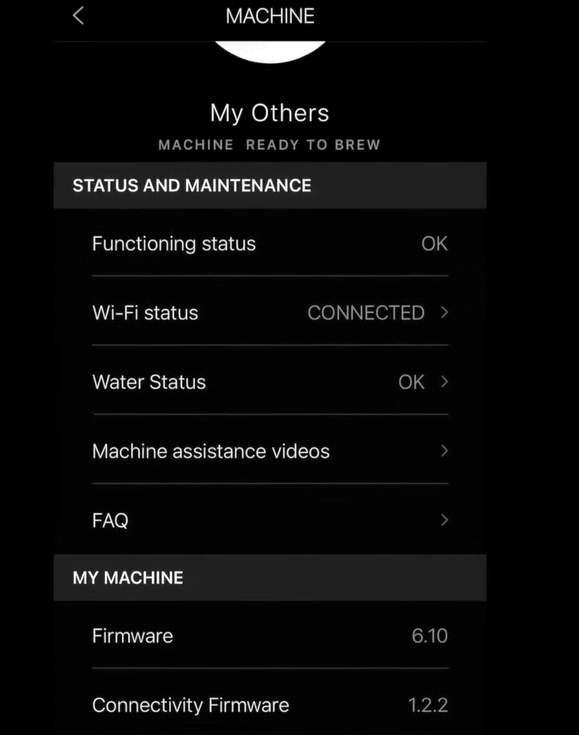 7- User Friendliness (Winner: Vertuo Plus)
Both Nespresso Vertuo Next and Plus are extremely user-friendly machines. However, the Plus Model has 3 extra convenient features:
Motorized open and close system
The large and adjustable water reservoir
Large Capacity for waste capsules
8- Customer Reviews (Winner: Vertuo Plus)
Users seem to be more satisfied with Nespresso VertuoPlus than Vertuo Next.
On Amazon, Vertuo Plus has almost 14000 reviews with an overall rating of 4.6 out of 5 while Vertuo Next has almost 9000 reviews with an overall rating of 4.1 out of 5.
On the Nespresso store, Vertuo Plus has almost 2500 reviews with an overall rating of 4.7 out of 5, while Vertuo Next has almost 2300 with an overall rating of 3.8 out of 5.
Here, clearly Vertuo Plus is a winner with more positive reviews. The common problem users face with Vertuo Next is that it starts leaking from the bottom after some months. And the orange light blinking problem is also very common with Vertuo Next which won't let the machine brew coffee.
Key Similarities in vertuo next and vertuo plus
Centrifusion Technology
Unlike traditional espresso machines that rely on pumps to generate pressure, the Nespresso Vertuo machine employs an innovative technology called Centrifusion.
This method spins the capsule inside the machine at 7,000 revolutions per minute, creating a pseudo-pressure that mimics the forceful extraction of traditional espresso machines.
This process results in a rich, flavorful espresso shot or a regular cup of coffee topped with a thick layer of crema, similar to that produced by espresso machines.
Compatibility
Both the Plus and Next machines use Nespresso Vertuo capsules. These machines are not compatible with Nespresso Original Capsules or any other Capsules offered by other companies. 
Nespresso Vertuo capsules feature a unique barcode that allows the machine to adjust the brewing parameters accordingly, ensuring consistent quality every time.
Overall, that's a drawback of Nespresso Vertuo Models because Vertuo capsules are more expensive than third-party capsules. It is also speculated that Nespresso earns more by selling capsules than by selling the machines themselves.
Programmable Machines
One thing I like the most about these Vertuo Machines is that they are programmable. You can program the size of coffee or Espresso according to your taste.
For programming, insert the capsule in the capsule holder. And push and hold the button until the desired volume is reached. Your volume size is saved and the next time you brew, the machine will remember the volume settings.
You can program the machine for every cup size and you can also easily reset the machine to the manufacturer's settings if you don't like the flavor.
Compact design
Both these machines have a compact and sleek design that looks very exquisite on your kitchen or office counter.
Aeroccino Milk Frother
Aeroccino Milk Frother is available as a separate add-on with all these Nespresso Vertuo Machines. This is a modern milk frother that does not make any noise or vibrations.
You can easily froth cold or hot milk with a device with only a single touch. So, you can easily make your favorite Cappuccino or Latte.
You can save up to 50 dollars if you buy an Aeroccino Milk frother with the machine in a bundle deal or you can also buy it separately.
Auto Shut off Feature
Both the Nespresso Vertuo machines have a modern Auto shut-off feature that turns off the machine after 9 minutes of inactivity. This feature helps to protect the machine from electric shocks and saves electricity.
You might wanna read pros and cons of Nespresso machines: Is Nespresso worth it
Main Features of Nespresso Vertuo Next and Plus
Features
Nespresso Vertuo Next
Nespresso Vertuo Plus
Release year
2020
2016
Brew sizes
1.35 oz espresso
2.7 oz double espresso
5 oz Gran Lungo
8 oz coffee
1.35 oz espresso
2.7 oz double espresso
5 oz Gran Lungo
8 oz coffee
14 oz Alto Xl
18 oz Carafe
Water tank
37 oz Removable
40 oz Removable and Adjustable
Automatic power off
2 minutes of inactivity
9 minutes of inactivity
Dimensions
5.5W x 16.9D x 12.4H
9.1W x 13.3D x 12.7H
Weight
9 lb
10 lb
Bluetooth
Yes
No
Centrifusion and barcode reading
Yes
Yes
Used Capsule Capacity
8
10
Final thoughts
In the battle of Nespresso Vertuo Next vs Vertuo Plus, the Plus remains the champion in my book.
Even as the shiny new model on store shelves, the Vertuo Next didn't quite edge out its predecessor. While the Next does have a slimmer look and slightly faster heat-up times, the Plus takes the edge on reliability, a larger water reservoir, and a richer drink quality.
So what do you think – am I right in declaring the Vertuo Plus the better buy? Let me know in the comments
FAQs
What is the difference between the Nespresso Original line and the Nespresso Vertuo line?
The Nespresso Original line can only brew espresso, while the Nespresso Vertuo coffee makers offer a broader range of options, including both espresso and regular coffee.
Additionally, the original line machines are compatible with third-party capsules and ground coffee, while the VertuoLine machines are only compatible with specially designed Nespresso Vertuo coffee pods.
Read a detailed comparison of Nespresso Vertuo and Original line
What is the difference between Nespresso Delonghi and Nespresso Breville?
Nespresso outsources the machine manufacturing to other companies like Breville and Delonghi.
Both Breville and Delonghi employ the same innovative technology, patented by Nespresso.
While these two brands may exhibit subtle design differences, the working of the machine is exactly the same.
Read a detailed comparison of Nespresso Breville vs Delonghi
Related Review Guides