Delonghi's Lattissima Pro and Plus stand out as high-end espresso machines from the Nespresso brand. If you seek the convenience of crafting café-style espresso drinks at home with a single touch, the Nespresso Lattissima is the ultimate choice.
Our Choice | Lattissima Pro
With single-serve pod-based Espresso machines, it all comes down to convenience. So, in my opinion, Lattissima Pro is a better option as it offers more convenience in terms of extra functionalities like
Hot water on demand
Hot frothed milk
Automatic cleaning function
Touch Screen Display
Also, the temperature of milk-based drinks from Lattissima Pro is also a little hotter than Lattissima Plus.
On the other hand, there is a huge difference of 200 bucks in both these machines. So, if you are on a budget Lattissima Plus is also not a bad option either.
For this article, we have tested and reviewed Delonghi Nespresso Lattissima Pro vs Plus. We will thoroughly discuss their feature, their similarities, and their differences. As this type of information is much needed to make an informed buying decision.
Check out the review of Best Machine is Lattissima series: Nespresso Gran Lattissima
Nespresso Lattissima Plus Vs Pro (An Overview)
Features
Nespresso Lattissima Plus
Nespresso Lattissima Pro
Dimension
12.5 x 6.6 x 10.2 inches
7.63 x 13.07 x 10.79 inches
Weight
9 pounds
12.6 pounds
Pressure
19 bars
19 bars
Material
Plastic
Light Aluminum
Volume tank capacity
30 oz (900 ml)
44 oz (1.3 ml)
Milk frother volume
8 oz (240 ml)
17 oz (500 ml)
Used capsule container
12
16
Coffee Recipes
Cappuccino
Latte Macchiato
Hot frothed milk
Cappuccino
Latte Macchiato
Espresso Macchiato
Hot frothed milk
Water hardness setting
3
5
Shot programming
Espresso, Lungo
Ristretto, Espresso, Lungo,
Heat up time
40 seconds
25 seconds
Preparation time
(cappuccino)
70 seconds
50 seconds
Cleaning
Partly dishwasher safe,
Must be descaled every 3-6 months
Partly dishwasher safe,
Must be descaled every 3-6 months
Empty water system option
Auto Shut-off
After 9 minutes
After 9 minutes
Hot water option
No
Yes
Control Panel
Buttons
Touchscreen
Price
View on Amazon
View on Amazon
What are the Differences between Nespresso Lattissima Pro And Lattissima Plus
Let's compare these two models against different features
1) Design& sizes (Winner: Pro)
Both models have great, innovative, and minimalist designs and can easily fit on your kitchen countertop.
With an aluminum finish, the design of the Lattissima Pro is modern and robust.
On the other hand, Lattissima Plus is completely made of plastic and looks more compact and portable.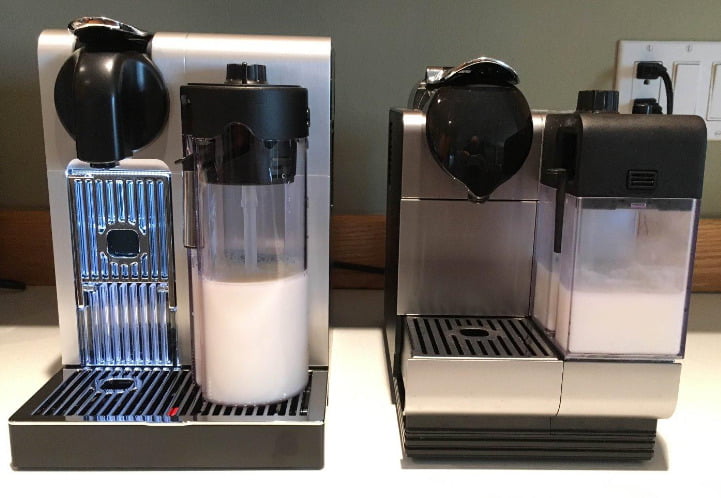 Overall the design and the material of construction of Lattissima Pro is more modern and sturdy. However, the design of Lattissima Plus is also quite reliable and the plus point is it is a very compact and lightweight Espresso machine.
2) Display and the Drink Options (Winner: Pro)
As mentioned, Lattissima Pro is a newer and improved version of Lattissima Plus.
Being old-fashioned, the Lattissima Plus has a button display. There are four drink options in Lattissima Plus.
Espresso
Lungo
Cappuccino
Latte Macchiato
Lattissima Pro has a touchscreen display and provides more drink options than the Lattissima Plus.
Ristretto
Espresso
Lungo
Cappuccino
Latte Macchiato
Frothed Milk
Hot water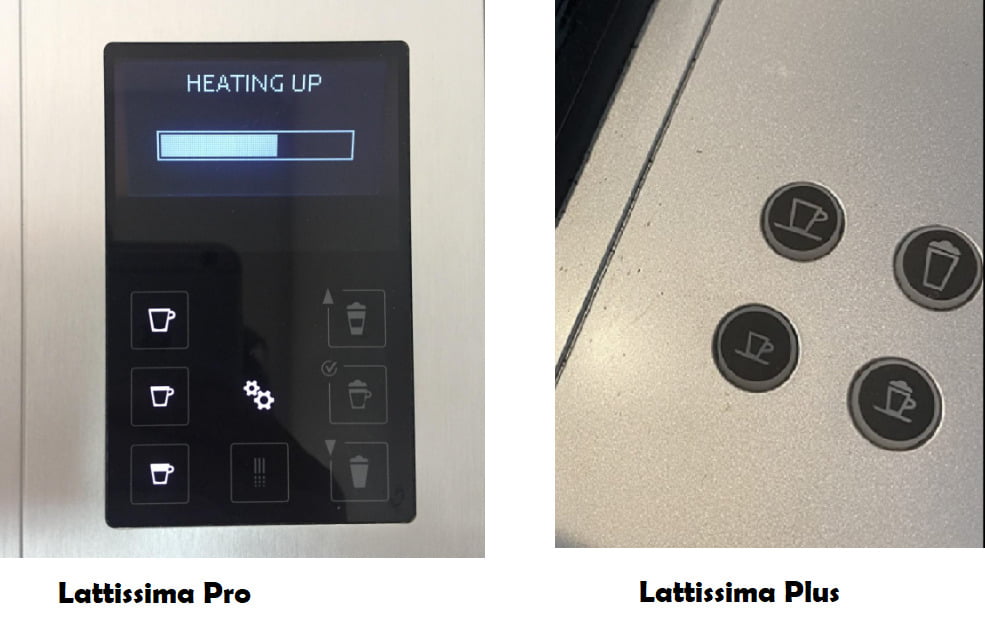 That's a clear win for the Lattissima Pro, not only does the interface of Pro look more modern but it also offers additional drink options like Ristretto shot and frothed milk.
3) Brewing Time or preparation time (Winner: Pro)
The heat-up times of these models are:
Nespresso Lattissima Pro: 25 seconds
Nespresso Lattissima Plus: 40 seconds
Once the machine is heated up, the preparation time for the Cappuccino drink is
Nespresso Lattissima pro: 49 second
Nespresso Lattissima plus: 1 minute and 10 second
Overall, the Lattissima Pro is much faster than the Lattissima Plus
4) Brew temperature (Winner: Pro)
The average brew temperature while brewing milk-based drinks in Lattissima Plus hovers around 140 degrees. Some coffee aficionados consider this temperature to be a bit too low for their taste, but it's generally considered to be an acceptable range.
On the other hand, the average brew temperature for milk-based drinks with Lattissima Pro is around 160 degrees. That is certainly a good temperature to enjoy Cappuccino or Latte.
So overall, that's a huge plus for Lattissima Pro as in my opinion 140 degrees is not hot enough for a coffee drink.
5) Hot water on demand and Frothed milk (Winner: Pro)
Lattissima Pro has both hot water on demand and frothed milk options and the Plus lacks both of these options.
Lattissima Pro comes with a separate hot water spout that you can attach in place of a milk frother and heat as much water as you want.
In my opinion, these functions add greatly to Lattissima Pro's versatility. As sometimes we need hot water and frothed milk for other purposes like making tea or hot chocolate.
6) Capacity (Winner: Pro)
Water Reservoir tank
The Lattissima Plus water tank has a capacity of 30 ounces, while the Lattissima Pro has a capacity of 44 ounces.
Milk tank container
Lattissima Pro has a bigger milk container (about two times) than Lattissima Plus, which is respectively 16 oz and 8 oz.
Used Capsule container
Both models have capsule containers for used coffee pods. Lattissima Plus can hold 12 used capsules, while Lattissima Pro can hold 16 capsules.
The Lattissima Pro's noticeably larger dimensions compared to the Lattissima Plus naturally translate into a more generous capacity.
7) Cleaning functionality
Regular cleaning of coffee machines, particularly after preparing milk-based drinks, is essential for preserving the machine's performance and avoiding buildup.
The milk frother cleaning process in both Lattissima models is simple and efficient. After making a milk-based beverage, the LCD screen of Latttisima Pro will display the message "Clean the milk frother." Simply turn the knob to the clean position, and the machine will handle the cleaning automatically.
To keep your machine clean, run a hot water cycle without inserting a pod after each brew.
Apart from that, it is recommended to descale your machine once every 3-6 months. For Lattissima Pro, the display screen will remind you when descaling is needed, whereas, for Lattissima Plus, you have to do it manually.
8) Price and Value for Money (Winner: Plus)
The Lattissima Plus has many extra features, so it is obviously more expensive than the Lattissima Pro.
Lattissima Plus costs around 400 dollars while Lattissima Pro costs around 600 dollars.
Despite their high prices, I believe both of these machines are well worth the money.
9) Customer Reviews
On Amazon, Lattissima Pro has more than 1200 reviews with an overall rating of 4.6 out of 5. More than 85% of users are completely satisfied with this machine (That's a good number though).
While Lattissima Plus also has around 1200 reviews with an overall rating of 4.4 out of 5 (That's a little less than Pro but it's not bad either).
Similarities in Nespresso Lattissima Plus vs Pro
Both models look similar at first glance, and they have enough similarities no doubt that both are a part of the Nespresso Lattissima series.
One Touch Operation
Both models have an automatic cappuccino system, and 19 bar pump pressure and offer the convenience of brewing delicious coffee drinks at the touch of a single button.
Fast Brewing
Both models are easy to maintain and have fast heat-up time ( brewing time). Even a kid can brew wonderful Espresso drinks using this machine.
Delicious Taste
While the Nespresso Lattissima Pro is the upgraded model and has many additional features. I must say there is almost no difference in the taste of Espresso and Cappuccino from both these machines.
But Yes! The temperature of the drink is a little hotter in Lattissima Pro and it also offers additional drink options.
Milk frother
Both these machines have automatic milk frothers for preparing rich and creamy Cappuccino and Latte at a single touch.
The cool thing about their milk frothers is that you can also adjust the level of froth according to your taste.
Compatibility
As part of the Nespresso original line series, both models are compatible with Nespresso Original capsules as well as less expensive 3rd party Nespresso capsules.
Auto Shut off Feature
Both models have auto shut-off features (shut off automatically after 9 minutes of inactivity), making them highly energy-efficient.
Programmable
A great feature of these machines is that the drink options are programmable.
You can easily alter the amount of milk or water in your Espresso or Cappuccino if you don't like the pre-programmed settings.
You might wanna read pros and cons of Nespresso machines: Is Nespresso worth it
Final Thoughts
The Nespresso Lattissima Pro and Plus are both great pod-based espresso machines that deliver delicious-tasting espresso drinks at the touch of a button.
These machines are perfect for beginner coffee lovers and busy people who want Cafe-styled coffee drinks in their homes.
When it comes to functionalities and features, Nespresso Lattissima Pro is definitely the better option, but if you are on a budget, Lattissima Plus is also a good choice.
If you are looking for other options in the Lattissima series. Then also check out Nespresso Lattissima One vs Touch
Related Review Guides