Nespresso has two lines of capsule-based espresso machines, i-e Original line and the Vertuo line. Among Original lines, there are two series i-e, Lattissima machines, and Creatista machines.
Lattissima Machines comes in 5 different models.
Lattissima One
Lattissima Plus
Lattissima Touch
Lattissima Pro
Gran Lattissima
Nespresso Lattissima gran is the latest addition to DeLonghi Nespresso Lattissima series. We had already wrote complete review article on Nespresso Lattissima one vs Lattissima touch and Nespresso Lattissima pro vs plus.
To provide a detailed guide, we have included a comparison table, a product-review section, and a buying guide that makes it easy for you to make a decision on which Lattissima model suits best for you.
Let's compare five models of the Lattissima series.
| | | | | | |
| --- | --- | --- | --- | --- | --- |
| Features | One | Plus | Touch | pro | Gran |
| | | | | | |
| Dimension | 6.1″W x 12.8″D x 10.1″H inches | 6.7″W x 12.6″D x 10.2″H | 6.8″W x 12.6″D x 10.2″H | 7.9″W x 10.8″D x 14.4″H | 7.9″W x 14.4″D x 10.8″H |
| weight | 9.3 pound | 9.8 pound | 9.9 pound | 12.6 pound | 11.9 pound |
| Water Reservoir | 34 ounces | 30 ounces | 44 ounces | 44 ounces | 44 ounces |
| Milk Container | 4 ounces | 12 ounces | 12 ounces | 16 ounces | 17 ounces |
| Spent Capsule | 8 capsules | 10 capsules | 10 capsules | 15 capsules | 10 capsules |
| Pre-Programmed Sizes | 4 beverages | 4 beverages | 6 beverages | 6 beverages | 9 beverages |
| Display | Button display | Button display | Button display | Digital touch display | Button display |
| Price | View on Amazon | View on Amazon | View on Amazon | View on Amazon | View on Amazon |
Quick Comparison among Nespresso Lattissima machines
Nespresso GRAN Lattissima review
Highlighted Features
Dimensions: 7.9″W x 10.8″D x 14.4″H inches
Weight: 11.9 pounds
Material: ABS plastic and stainless body
Brew Sizes: 0.85 oz. Ristretto, 1.35 oz. Espresso, 3.70 oz. Lungo, 3.05 oz. Cappuccino, 6.40 oz. latte
Water Reservoir Capacity: 44 oz.
Milk Container capacity: 17 oz.
Brew Pressure: 19 bars
Frother: Automatic frother included
Warranty: 2 years
Lattissima gran is the perfect choice for coffee lovers. Fully automatic and programmable, it has combined one-touch fresh milk technology with a premium Nespresso capsule system to prepare barista-quality coffee at the touch of a button.
Boasting with new technology and some additional features, Nespresso Lattissima gran is the only model in the Lattissima series that brew 9 Recipes ranging from ristretto to latte and from lungo to espresso; you can prepare all.
Gran comes with a water Reservoir of 44 oz. Capacity, milk container of the capacity of 17 oz. Built-in integrated frother to brew specialty drinks and a one-touch recipe preparation system enables you to foamy cappuccino at the push of a button.
Nespresso Lattissima gran comes with a welcome kit of 14 Nespresso capsules; each contains individual aromas that help you to brew a drink of your preferred flavor.
Having stainless steel body combined with ABS plastic topped off with matte that weighs a little lighter than the comparably sized Lattissima Pro.
The main difference between Lattissima pro and Lattissima gran is pro has a digital touchscreen display and a larger spent capsule capacity, while the gran has more drinks recipes.
Why should you consider Nespresso GRAN Lattissima?
1)Design
Having a Dimension of 7.9 "W x 10.8" D x 14.4 "H, Nespresso gran has a smaller footprint and can easily fit on your kitchen countertop along with other appliances. So, Lattissima gran is perfect for those who have limited space.
Nespresso Lattissima gran has stainless steel body combined with ABS plastic topped off with a matte and high gloss finish, making it an elegant and highly attractive-looking machine; it comes in two variant colors, black and white.
Nespresso Lattissima gran has a great practical design and user-friendly interface. However, the top surface of the machine gets a bit dusty due to the flat surface, though. But this problem can easily be encountered if you go with white color.
Lattissima gran houses 44 ounces water reservoir at the back, a removable milk container, and a large spent capsule container at the back that has a capacity of holding ten used capsules.
Furth more, Lattissima gran comes with a removable drip tray and removable milk frother. However, if you don't need a milk frother, you can easily detach it and cover the steam interface hole with the sliding cap to maintain the machine's attractive appearance.
2) One-touch functionality
Nespresso Lattissima gran's one-touch function makes the machine highly easy to operate. All you need is to insert a Nespresso capsule and select the drink you want.
For milk-based recipes, just fill in the milk container and attach it to the machine. Depending on the coffee cup size you want, adjust it and turn the regulator to begin frothing.
Lattissima gran also remembers your preference the next time you make the same coffee drink.
3) Coffee variants
As mentioned earlier, Lattissima gran is the only model in the Lattissima series that offers nine pre-set coffee beverages.
Three coffee drinks ristretto, espresso, and lungo. Among milk-related beverages includes latte macchiato, cafe latte, cappuccino, and flat white.
The other two are "hot foam," and "hot milk,". You can use hot foam to top off espresso or lungo. Hot milk can be used to prepare hot chocolate or other customized milk-based drinks.
Just keep your finger on the button to receive hot milk or foam, and release it when the amount is sufficient for you.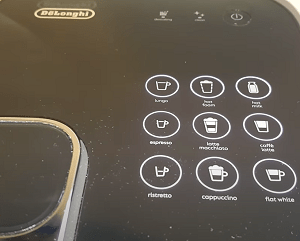 4)Performance
Nespresso Lattissima gran features 19 bar pump pressure to give you a premium cup of coffee with balanced flavors and a delicious aroma.
Additionally, Lattissima gran features thermos back heating which reduces heating time and brews coffee quickly. All buttons start blinking, indicating that the machine is warming up, and when they're all solid, you are ready to go!
The machine takes only 30 seconds for the water to heat up; however, for milk-related beverages, it takes additional 15 seconds. Shortly, in total, the heat-up time is 40-50 seconds for making milk beverages.
So, you can brew any drink you want in this machine in under a minute.
When the machine delivers your coffee, the temperature is about 155-165 degrees, so it's pretty hot enough to drink right away.
5)Taste
When you purchase Lattissima gran, it comes with a welcome kit of 14 Nespresso capsules allows you to choose a variety of blends from and enjoy deep, rich, and favorable coffee.
Being part of the Nespresso original line machine series gives you the freedom of choosing a less expensive 3rd party Nespresso capsule.
However, it is highly recommended to use Nespresso Original Line Capsules to get the best in-cup results. Or you can use capsules from some trusted third-party vendors like Starbucks.
6)Ease of Cleaning
Nespresso Lattissima gran is very easy to clean and maintain.
All the components of the machine (The drip tray, cup support, drop collector, and used capsule container) are removable and are dishwasher safe. It does, however, require some disassembly and putting it back.
Additionally, milk containers and milk frothers have a self-cleaning mode. However, it is highly recommended to wipe them after every use.
Lattissima gran also features with descaling mode that removes calcium deposits inside the machine, keeping the machine in great shape, improving efficiency, and also improving the drinks taste.
The milk container of the machine has a simple rinse function that must be used after every use. When you need to prepare numerous cups in a sequence, this rinsing method comes in very handy because it removes froth residue quickly and easily.
At the end of each recipe preparation, the cleaning alert becomes orange, indicating you to clean the Rapid Cappuccino System.
Turn the milk froth regulator knob to the "clean" setting and place a container under the coffee outlet. The rinsing operation is immediately stopped when hot water with steam passes through the milk spout.
Lift and close the lever to eject the capsule and clean the coffee outlet. After that, place a container beneath the spout and rinse with the "lungo" button.
7)Rapid Cappuccino System
To prepare milk-related beverages, use a built-in rapid cappuccino system and a removable milk container to froth the milk and deliver a foamy texture.
The milk container is removable and can be put in refrigerators between uses to avoid milk wastage.
However, several customers complain that the rapid cappuccino system stops working after some time of usage. It is unable to suck up the milk and just sputtered hot water and steam instead of milk. However, it's not a universal issue, and many other customers are fully satisfied with the rapid cappuccino system.
Some other Additional Features in Nespresso GRAN Lattissima
1)Auto shut off feature.
The energy-saving mode automatically switched off the machine in case of no activity for 9 minutes. Therefore Lattissima gran is highly energy-efficient, so you don't need to worry about it.
2)Descaling Alarm
Nespresso Lattissima gran features with descaling alarm because some customers complained after getting sucked into descaling mode. But this is not a universal complaint.
3)Used capsule container
Nespresso Lattissima gran has a used capsule container at the front capable of holding 14 capsules, so you don't need to remove them after each use. Additionally, there is a drop collection under the capsule container to keep coffee drops from splashing all over the place.
4)Cable shortage
The cord may be too long if you place the machine close to the outlet. You can coil the cable around the channel under the machine to make it shorter.
5)Durability
Gran Lattissima offers a two-year warranty to protect your investment. During this time, DeLonghi will either repair or replace the product for free at its option.
Potential Drawback in Nespresso GRAN Lattissima
Apart from having some great features, Lattissima gran also has some drawbacks.
1)Price
Nespresso Lattissima gran is quite an expensive machine. Because of its price, only those coffee lovers who are willing to pay a high price for a coffee machine will buy it; it is restricted to a limited number of people.
However, Nespresso offers the convenience of a one-touch brewing system which no other brand offer.
2)Only one cup at a time
You can only brew one cup at a time. However, other brands with similarly-priced models offer the multi-cup approach.
3)Milk frother issues
Many customers complained that milk frother stops working after some time; although it is not a universal complaint, it is a very pricey machine to face frother issues.
Who is Nespresso GRAN Lattissima for?
Nespresso Lattissima gran is made with convenience and practicality in mind, perfect for beginners.
There's no need to grind the coffee beans or wait for the milk to heat up; the Lattissima Gran can do it all for you at the push of a button and in a matter of seconds.
Its automatic features make it perfect for those coffee lovers who love to drink a wide variety of drinks.
Shortly, this machine will work for you. All you need is to sit and let the machine do its work.
Nespresso GRAN Lattissima -Customers Review
At the time of writing, Nespresso Gran Lattissima Espresso Machine has about 392 reviews on Amazon currently and has an average rating of 3.9 out of 5 stars. 60% percent of these reviews have given it the full five stars.
Users are quite satisfied with Lattissima gran for offering a wide variety of flavors through its pods. The machine is having great, innovative design, easy to clean, easy to operate, and has some great additional features, which makes it quite popular among coffee enthusiasts. The machine's ability to store the milk container in the refrigerator is highly appreciated by customers. The milk container is removable and can be put in refrigerators between uses, which means no milk wastage.
However, there are many other customers who are not happy with the machine and had to wait very long between replacements and ultimately had to face the same issues with the replacement machine. The common complaint against the machine is milk frother not working properly.
Our final Verdict
Making a perfect barista-style coffee takes a lot of time and effort if you're not an expert. Nevertheless, Lattissima gran is a great quality machine and proved to be a worthy investment that delivers various coffee forms with a simple touch.
Additionally, a one-touch system and automatic milk frother provide varieties of coffee drinks you can choose from.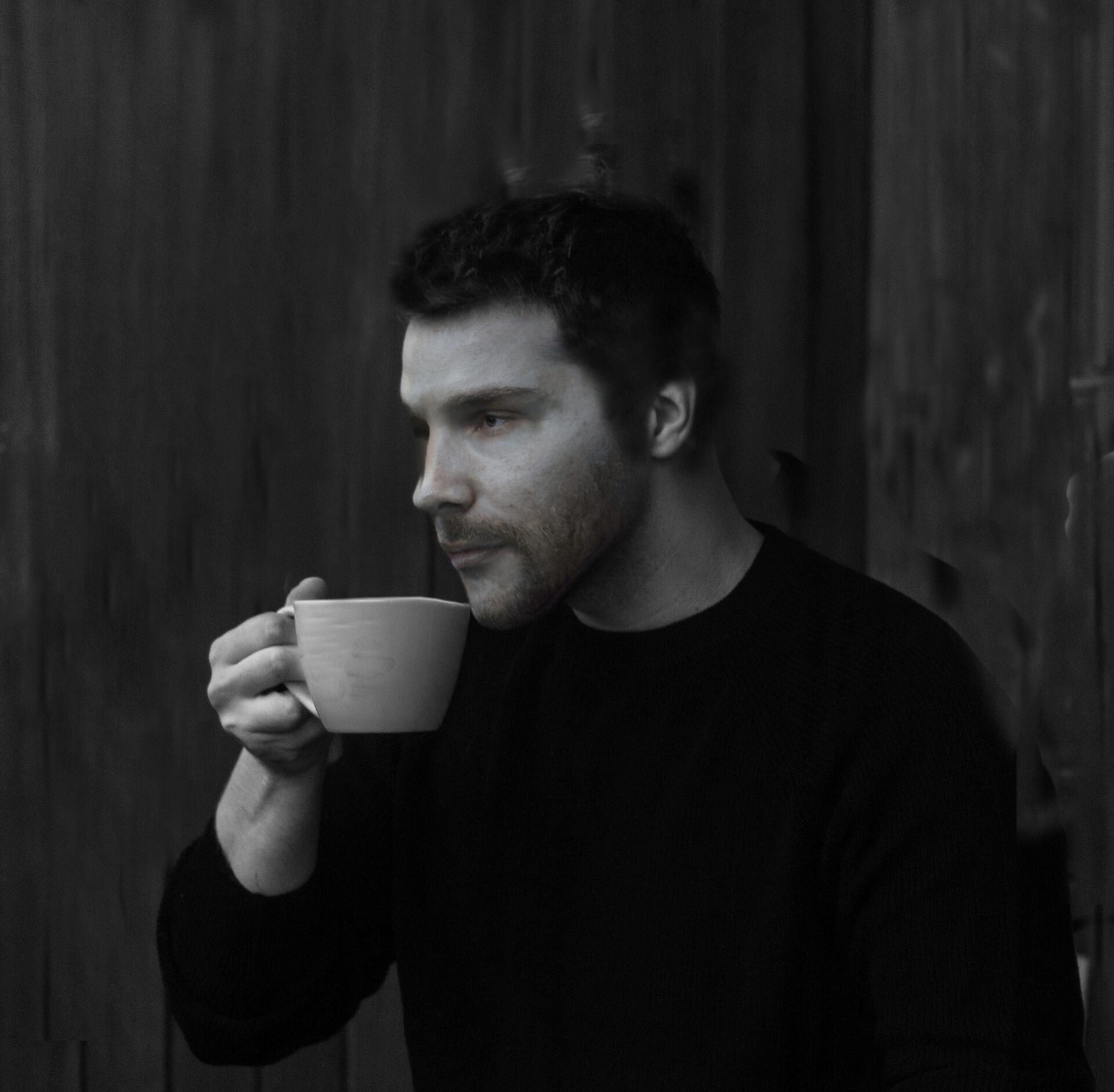 Hey,
I am Johny Morrisson! Founder of CoffeeAbout
My love for coffee dates back to my childhood. I love trying out different coffee machines and recipes.
As a coffee enthusiast, I decided to start my blog last year to provide users with useful information on brewing methods.
During this journey, I have discovered many new things and facts about coffee that I will share with you here.