The Nespresso Gran Lattissima is the top-of-the-line when it comes to pod-based espresso machines.
In our in depth Nespresso Gran Lattisima review, we tested the intuitive one-touch operation, speed, customization options, and beverage quality.
Is Nespresso Gran Lattissima worth it?
(Overall Rating 4.5/5)
For those simply seeking quality espresso and Latte in the most efficient way possible, Nespresso Gran Lattissima is definitely worth every single penny.
This all-in-one capsule machine delivers café-caliber shots and steamed milk at the push of a button – no skill required. Between the intuitive controls, speedy heat-up time, and compact footprint, it really delivers.
However, that functionality and simplicity come at a staggering cost. And for those more involved in the craft and ritual of espresso, the lack of customization can disappoint.
Why Trust Us
I have taken an in-depth look at all of the top features of Nespresso Gran Lattissima and analyzed the pros and cons to help you make an informed buying decision. With our expert review, you can discover whether the Nespresso Gran Lattissima is the right choice for you or not.
*As an Amazon Associate, we earn a little commission when you purchase products through our links, without any additional cost to you. That helps to support our website and I greatly appreciate your support!
Pros
✔️ Actual pump pressure(19 bar) is better than Vertuo Line Centrifusion
✔️ An integrated one-touch milk frother makes specialty beverages easily
✔️ One-touch function
✔️ Larger spent capsule container
✔️ Varieties of coffee recipes
✔️ Auto shut-off features
✔️ Fast heat uptime
✔️ Descaling alarm

Cons
❌ Very Expensive Model
❌ Milk Frother may not appeal to you – especially if you are coming from an espresso machine with a steaming wand
❌ Only one Cup at a time
❌ You don't have the control over brewing process – Well it's not actually a con as this is the way the pod-based machine works, but you may not like it if you are used to traditional espresso machines.



Nespresso Gran Lattissima Review (A Detailed Go Through)
1) Design and Appearance (5/5)
The Nespresso Gran Lattissima embodies that classic Nespresso vibe: compact, minimalist, and modern. This beauty fits right into your kitchen without dominating the counter space, thanks to its small footprint.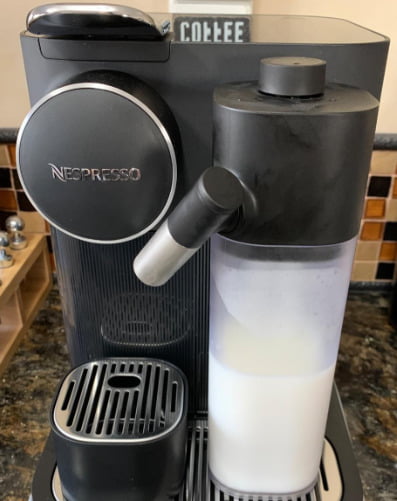 The modern stainless steel and plastic construction with a contemporary matte and gloss finish adds a sophisticated vibe. However, the flat top shows dust and spills frequently. I find myself wiping it down more than expected. That's why I recommend going with the white color as it won't get very dusty like the black one.
The user-friendly front panel has clearly labeled one-touch buttons for 9 different drinks including espresso, frothed milk, and hot water.
Around the back, the 44oz removable tank allows easy water filling. The milk and used capsule containers slide out cleanly when needed without cluttering.
Overall, the Lattissima Gran squeezes exceptional espresso technology into a tidy, elegant package.
2) Ease of Use (5/5)
Ease of Use is the Trademark of Nespresso and the Gran Lattissima's nine one-touch drink options exemplify this commitment to convenience.
All you have to do is insert a Nespresso capsule and select your desired drink, and the machine does the rest.
Making milk-based recipes with the Nespresso Lattissima Gran is a breeze – simply fill the milk container and attach it to the machine. Adjust the regulator to the desired froth level and begin frothing the milk to perfection.
It's an effortless process that results in delicious, café-quality drinks every time.
You can also program this machine to your preferred brew settings if you want.
3) Variety of Drinks (4/5)
As mentioned earlier, Lattissima gran is the only model in the Lattissima series that offers nine pre-set coffee beverages.
Three Black coffee drinks Ristretto, Espresso, and Lungo.
Four milk-based coffee beverages latte macchiato, cafe latte, cappuccino, and flat white.
The other two are "hot foam," and "hot milk,". You can use hot foam to top off espresso or lungo. Hot milk can be used to prepare hot chocolate or other customized milk-based drinks.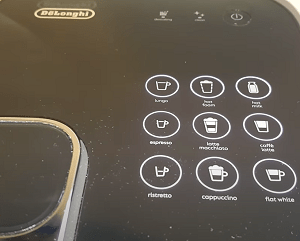 The Nespresso Gran Lattissima excels in preparing a variety of espresso drinks with ease, but its customization options are somewhat limited compared to traditional espresso machines. While it offers a range of beverages, it doesn't allow for precise control over the espresso-to-milk ratio, which can be a disadvantage when making other specialty drinks like espresso macchiato or cortado.
4) Performance of Nespresso Gran Lattissima (5/5)
Nespresso Lattissima gran has a 19-bar pump pressure to give you a premium cup of espresso with a decent layer of crema and a delicious aroma.
Additionally, Lattissima gran features a Thermo block heating system which reduces heating time and brews coffee quickly. This machine takes only 30 seconds for the water to heat up.
As the machine warms up, all buttons start blinking, and when they're solid, you're ready to go! And it only takes a minute.
Gran Lattisima is also the quietest Nespresso machine with a milk frother. It doesn't make irritating sounds while Espresso shots.
5) Taste and the quality of the coffee drink (4/5)
When you purchase Lattissima gran, it comes with a welcome kit of 14 Nespresso capsules allows you to choose a variety of blends from and enjoy deep, rich, and flavorful coffee.
Gran Lattissima pulls fantastic Espresso and Lungo shots with a nice layer of crema and a deep and rich flavor profile.
The machine delivers your Latte at a temperature of about 155-165 degrees, so it's pretty hot enough to drink right away.
When it comes to taste, I can confidently say that the Nespresso Lattissima Gran produces superior cappuccino and latte compared to previous models.
It might not give full control to coffee pros, but for folks who want great coffee without the fuss, it's perfect.
6) Milk Frother of Nespresso Gran Lattissima (4/5)
The quality of milk forth this machine produces is exceptional. I can say with no doubt the froth this machine produces matches the quality of froth prepared by barista-level Espresso machines.
The best thing is you can also adjust the level froth to your liking!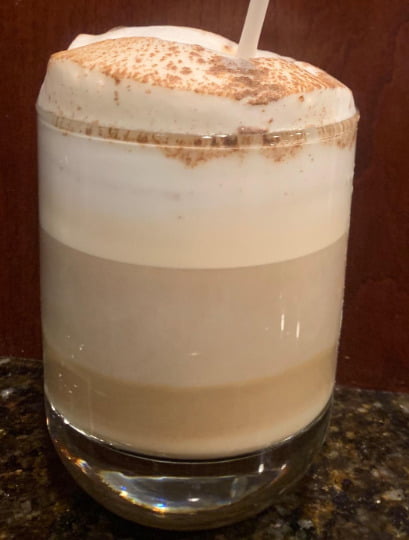 Although Nespresso only recommends using whole or semi-skimmed for the best froth. But I have tested other types of milk like chocolate milk, oat milk, and almond milk with this machine too and the result was not bad.
However, you can't get creative with Nespresso Gran Lattissima, and can't design Latte Arts on your drinks as the automatic milk frother won't allow you to do so.
7) Ease of Cleaning (5/5)
Nespresso Lattissima gran is very easy to clean and maintain.
All the components of the machine (The drip tray, cup support, drop collector, and used capsule container) are removable and dishwasher safe.
Additionally, milk containers and milk frothers have a self-cleaning mode. This feature is especially useful when preparing multiple cups in succession, as it effectively removes froth residue with ease and efficiency.
It also features a descaling alert light that tells you when the machine needs to be descaled.
At the end of each recipe preparation, the cleaning alert light becomes orange, indicating you have to clean the machine.
Some other Features of Nespresso Gran Lattissima
1) Auto shut-off feature
The machine will automatically power off after 9 minutes of inactivity.
2) Used capsule container
Nespresso gran Lattissima has a used capsule container that is capable of holding 14 capsules, so you don't need to remove capsules after every use.
Also, Nespresso has a capsule recycling system. So it would be a better idea to send capsules for recycling instead of discarding them into the waste.
3) Cable shortage
The cord may be too long if you place the machine close to the outlet. You can coil the cable around the channel under the machine to make it shorter.
What I Don't Like IN Gran Lattissima (The Cons)
Apart from having some great features, Lattissima gran also has some drawbacks.
The Price
While the Nespresso Lattissima Gran boasts the convenience of a one-touch brewing system, its excessively high price tag of over $600 raises eyebrows, considering it's a pod-based machine.
Only one cup at a time
You can only brew one cup at a time. And also you have to clean the milk frother after every use. So it takes a lot of time if you want to prepare more than one cup of coffee at a time.
This machine is certainly perfect if you are single or if you have a small family of two-three otherwise I never recommend this machine.
Milk frother issues
The machine sometimes drips milk out of the cup and this is the complaint I have heard from many users. Also, the machine keeps dripping some drops after preparing the coffee.
This is not a major issue though as it happens with every automatic machine but you should be aware that you have to wipe the machine very often.
Limited Customizable options
While easy for beginners, the Grand Lattissima's fully automated operation limits user adjustability. Want anything beyond the default espresso or latte? You're out of luck – no easy way to customize shot volumes or froth levels here.
Who is Nespresso GRAN Lattissima for?
Nespresso Lattissima gran is made with convenience and practicality in mind.
There's no need to grind the coffee beans or wait for the milk to heat up; the Lattissima Gran can do it all for you at the push of a button and in a matter of seconds.
Its automatic features make it perfect for those coffee lovers who love to drink a wide variety of drinks quickly and easily.
Shortly, this machine is perfect for beginners and busy coffee lovers who prefer convenience at any cost without compromising on the taste of the coffee drinks.
Nespresso GRAN Lattissima -Customers Review
Nespresso Gran Lattissima Espresso Machine has about 450 reviews on Amazon and has an average rating of 4.0 out of 5 stars. More than 70 percent of users are completely satisfied with this machine.
Users are quite satisfied with Lattissima Gran for offering a wide variety of flavors through its pods. The machine has a great, innovative design, easy to clean, easy to operate, and has some great additional features, which makes it quite popular among coffee enthusiasts.
The machine's ability to store the milk container in the refrigerator is highly appreciated by customers. The milk container is removable and can be put in refrigerators between uses, which means no milk wastage.
Nespresso GRAN Lattissima Specs
Specifications
Dimensions: 7.9″D x 10.8″H x 14.4″W inches
Weight: 11.4 pounds
Material: ABS plastic and stainless steel body
Drink Options: Ristretto, Espresso, Lungo, Cappuccino, Latte, Flat white, Latte Macchiato, Milk Foam and Hot Milk.
Water Reservoir Capacity: 44 oz
Milk Container capacity: 17 oz
Brew Pressure: 19 bars
Frother: Automatic frother included
Compatibility: Nespresso coffee pods
Cleaning: Easy cleaning and descaling alerts
You might wanna read the pros and cons of Nespresso machines: Is Nespresso worth it
Final Thoughts
I hope you find this Nespresso Gran Lattisima review helpful, I have tried to write it from the user's perspective and included all the features, pros, and cons of this model.
This machine is expensive but it is definitely worth it if you want Barista-style coffee quickly without compromising on the quality.
If you are looking for a cheaper option then check out the review of other Lattissima models.
But Undoubtedly Nespresso Gran Lattissima is the best of all.
What capsules are compatible with Nespresso Gran Lattissima?
Nespresso Gran Lattissima is compatible with all Branded Nespresso Original line and 3rd party compatible capsules.
You can also use a reusable coffee pod if you want to brew coffee with your own favorite coffee grounds.
Can you use almond milk in my Nespresso Lattissima?
Yeah, you can use not only almond milk in Nespresso Gran Lattissima but you can also use Oat milk and chocolate-flavored milk.
Although Nespresso advises sticking to skim or 2% for optimal results. But I gave some other milk types a test run and found the froth quality is quite impressive – nicely frothed without significant issues.
Does the Gran Lattissima make macchiato?
No, the Gran Lattissima doesn't prepare a traditional espresso macchiato with just a single touch. However, you can create it with just a few additional steps.
Simply brew an espresso shot and then prepare hot milk foam. Carefully pour small amounts of the foam onto the espresso, and your Espresso macchiato is ready!
Check the comparison of Vertuo Machines