Coffee lovers, rejoice! There's a revolution brewing in the world of coffee capsules, and it's all about reusable Nespresso capsules.
If you're tired of paying hefty prices and limited choices that come with single-use Nespresso coffee capsules, then you're in for a treat.
In this article, we'll uncover the benefits they offer, their disadvantages, and important factors to consider when selecting the perfect reusable pods for your Nespresso machine and equip you with a comprehensive guide on how to use them like a pro.
So grab your favorite mug, and let's explore the best reusable Nespresso Pods and discover the perfect match for your coffee journey!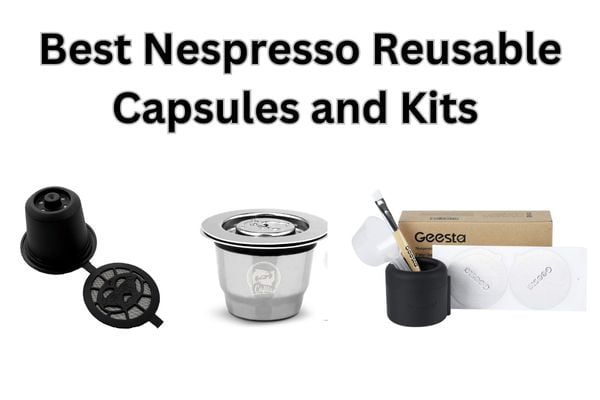 Best Reusable Pods for Nespresso: A Quick Overview
Before we explore each product in detail, here is a quick overview of the top reusable Nespresso pods.
Why Trust Us
I have tested and reviewed the Best Nespresso Reusable Pods for both the Original line and Vertuo line Models in this article. Although, I am not a big fan of reusable Nespresso pods but the products mentioned in this article are definitely worth it!
*As an Amazon Associate, we earn a little commission when you purchase products through our links, without any additional cost to you. That helps to support our website and I greatly appreciate your support!
Factors to Consider When Buying a Reusable Nespresso Pod
When it comes to choosing the right reusable Nespresso pod for your Nespresso machines, several key factors can help you make an informed decision. Let's explore these factors in detail to help you find the perfect item.
1) Compatibility
The compatibility between Original Line and Vertuo Line Nespresso machines is a crucial factor to consider. Original Line machines, like the Pixie or Essenza, use smaller capsules, and there are numerous reusable pod options designed specifically for them.
On the other hand, VertuoLine coffee makers, such as the VertuoPlus or VertuoNext, employ a unique brewing system with larger capsules and barcode scanning. So it's not easy to find perfect refillable Capsules for Vertuoline machines.
Instead, there are refillable kits available for Vertuoline users that you can use for reusing the branded Capsules.
To avoid any issues, check the product description carefully for compatibility information before purchasing a reusable pod.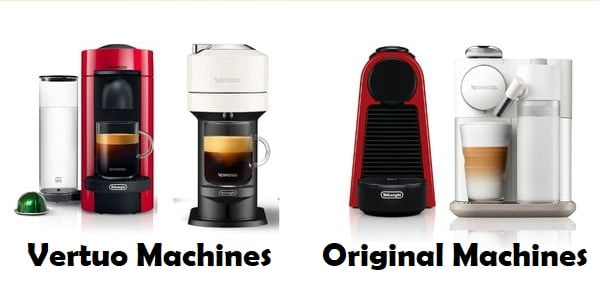 Read a detailed article on the Nespresso Vertuo line vs Original
2) Material
The material of reusable Nespresso pod plays a significant role in its performance and durability.
Reusable pods come in two common materials i-e stainless steel and plastic.
Stainless steel capsules are known for their durability, long lifespan, and heat retention properties. They can be used several times and are often dishwasher-safe.
And the plastic ones come at a very affordable price and are very simple to use. Most of them feature a convenient sticker-type lid and are lightweight.
Consider your preferences for durability, budget, and ease of maintenance when selecting the material for your reusable coffee pod.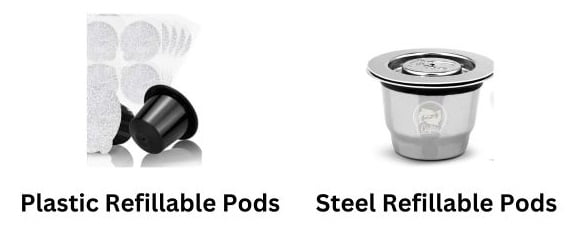 3) Lid Functionality
Lid functionality is an important aspect to consider when choosing the best reusable Nespresso pod.
There are two common types of lids: sticker-type lids and latching lids.
Sticker-type lids are adhesive seals that you apply to the top of the pod. They are simple to use and offer a tight closure, preventing any leakage during brewing. These lids are often made of aluminum foil and are easy to remove after use.
On the other hand, latching lids are designed with a hinged mechanism that is attached to Pod itself. These lids are secured tightly with silicone O-rings. Latching lids are typically made of high-quality materials such as stainless steel or durable plastics.
When considering which lid design is better, it ultimately comes down to personal preference. Latching lids are convenient and easy to use, while sticker lids offer a more robust seal.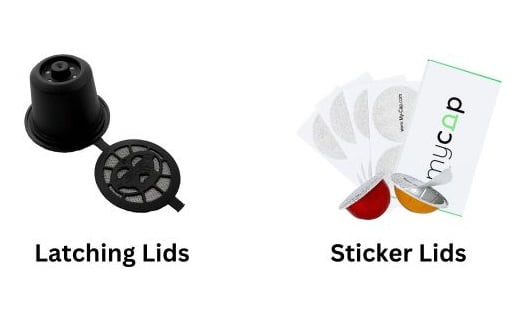 4) Price
The price is the most important factor as most people switch to reusable options because of the heavy prices of Nespresso Capsules.
The cost of reusable capsules can vary based on factors such as the material of the pod, brand reputation, and additional features.
The stainless steel pods may come at a higher price point, but they often offer superior durability and longevity. Plastic coffee pods, on the other hand, are generally more affordable.
The price range for reusable stainless steel Nespresso pods is typically between $20 to $30 while the Plastic reusable pods range from approximately $10 to $15.
Best Refillable Nespresso capsules for the original line
If you have an Original line Nespresso Machine like Essenza, Pixie, Lattissima or the Creatista series these Refillable pods are the best option.
1) SEALPOD Nespresso Stainless Steel (Top pick)
SEALPOD Nespresso Reusable Capsules are made of high-quality stainless steel, ensuring long-term durability, and can easily last for months.
It has a silicone ring and works with aluminum sticker lids that provide a secure and leak-proof seal, preventing any grounds from ending up in your cup.
Customers have praised the durability of these pods and the ability to enjoy their preferred coffee grounds.
Some users find cleaning these pods a bit challenging, but overall, customers are satisfied with the taste and quality of the coffee brewed using SEALPOD pods.
These pods come with 100 sticker lids, 1 coffee spoon to fill the capsule, and 2 extra spare O-rings.
Pros
✔️ Durable stainless steel construction that can last for months
✔️ Rich and flavorful coffee with a nice layer of crema
✔️ Leak-proof seal for a mess-free experience
Cons
❌ Challenging to clean thoroughly and you have to do it after every brew
❌ The plastic tamper is quite flimsy you have to buy a separate one.
❌ You have to stock the aluminum sticker foils.
2) Nespresso Capsules Refillable (Best Affordable Choice)
The Nespresso Capsules Refillable Pods are made of high-quality food-grade plastic, offering an eco-friendly alternative to single-use coffee capsules.
If you are looking for the best cost-effective solution for enjoying your favorite coffee blends this is the perfect choice for you.
These coffee pods have latching lids, that ensure a secure seal during the brewing process, but these lids may malfunction sometime.
These Pods come in a pack of 6 and you can easily brew up to 20 cups of coffee with a single pod. Also, the 2-in-1 (Scoop + Tamper) is included in the package to fill and pack the grounds easily.
However, the major concern is the size of these capsules are little smaller than the Original capsules so you will get a relatively weaker cup of coffee. (Ok for smaller Espresso shots but strictly not recommended if you like Lungo shots)
Pros
✔️ Very Cost-Effective Choice
✔️ Made of high-quality food-grade plastic
✔️ Easy to fill with the convenient scoop.
Cons
❌ Sometimes it may start leaking – especially when you overfill it
❌ Size is a little smaller than Orignal Nespresso capsules so the taste is a little weaker
3) CAPMESSO Reusable Best Plastic with Aluminum Seal
The CAPMESSO Reusable Plastic Pods feature a combination of high-quality plastic and an aluminum foil seal, ensuring a reliable and consistent brewing experience.
The aluminum foil seal provides excellent heat retention for the perfect extraction of flavors. The pods are easy to fill and clean, making them convenient for daily use.
These pods come in a set of 20 plastic pods + 20 aluminum sticker foils + 1 coffee scoop to fill and pack coffee grounds. 1 Plastic pod can be used to brew 10 to 15 cups of coffee and you can buy more sticker foils separately.
The major drawback is there are only 20 foils in the package and they are made of plastic so not a very environmentally friendly choice.
Plus they are not very different from single-use Nespresso pods it's like you are resuing them 10 to 15 times. So why not instead buy Original Nespresso pods one time and keep reusing them?
Pros
✔️ Comes in a package of 20 that can be used to brew more than 200 cups of coffee.
✔️ Easy to fill and clean
✔️ Affordable price
Cons
❌ Pods are made of plastic that must be wasted after 10 to 20 cups of coffee – So not an environmentally friendly choice!
❌ There are only 20 seals in the package.
❌ Can hold 5 to 6 grams of coffee at max
4) i Cafilas with Metal Lid
The I Cafilas Metal Pods are built with a durable stainless steel material and a metal lid, ensuring excellent heat distribution and retention for a flavorful brew.
The tight-seal metal lid prevents any leakage during the brewing process, resulting in a mess-free experience.
With I Cafilas, you can enjoy the rich flavors of your preferred coffee blends while reducing single-use plastic waste. It doesn't require any single-use foil too so it's the most environmentally friendly choice.
However, the major concern is the same as with the other refillable pod options – it brews a weaker coffee.
Pros
✔️ Durable and leakproof stainless steel design
✔️ Don't require any separate lids.
✔️ Easy to clean and refill
Cons
❌ The capacity is a little smaller than the Original capsules – So you get a weaker coffee.
❌ Requires careful handling to avoid damaging the metal lid
How to use Original Line Nespresso reusable Capsules?
Here's a step-by-step guide to using reusable Nespresso original line capsules.
1. Prepare your favorite coffee: Grind your preferred coffee beans at fine settings for optimal flavor extraction
Pro Tip: Use freshly roasted coffee beans and grind them just before brewing.
2. Clean the refillable capsule: Remove the lid of the reusable capsule, discard the previous coffee grounds, and rinse it thoroughly with water.
3. Fill the capsule: Fill in finely ground coffee in the reusable capsule. Be mindful not to overfill it to avoid leakages.
4. Tamp the coffee: Use a tamper or the back of the scoop to gently compact the grounds inside the capsule for even extraction
5. Seal the capsule: Place the lid on the capsule, ensuring a secure fit.
6. Insert the capsule and Brew: Just like you would with a regular Nespresso capsule, insert the refillable capsule into the capsule slot and hit the brew button.
Cleaning the reusable capsules after each use is essential to maintain their longevity and a consistent coffee experience. (Ideally, you must do it right after brewing!)
Read a detailed guide on How to use your own Coffee in Nespresso
Best reusable Nespresso pods for Vertuoline
If you have a Vertuo line machine like Vertuo Next, Evoluo, or Plus you have only one option for the refillable capsule, The Capmesso. Rest, you have the option of buying refillable kits to reuse old Vertuo Capsules, and that in my opinion is a better option.
1) CAPMESSO Coffee Capsule
The CAPMESSO is the best refillable choice for Nespresso Vertuo users. Made from food-grade stainless steel, this refillable capsule allows you to enjoy your favorite coffee while reducing plastic waste.
With its innovative design, it ensures a consistent and flavorful brew every time. The silicone ring provides a tight seal, preventing any leaks during brewing.
There are two size options available the 2.5 oz double Espresso size and the 8 oz coffee mug size. Also, it comes with 10 spare silicone rings that is very useful as the rings get damaged with time.
The capsules are only compatible with Nespresso Vetuo, and the Vertuo Plus models not with the Vertuo Next.
Pros
✔️ Durable stainless steel construction
✔️ Available in different sizes
✔️ Affordable price
Cons
❌ The pods are heavy and make a lot of noise.
❌ The taste of coffee is a little weaker and dull.
2) My-Cap Foil Seals (to reuse Nespresso pods)
The My-Cap Foil Seals allow you to repurpose your existing pods, providing a cost-effective and sustainable solution.
These foil seals are designed to be applied to the used capsules, allowing you to fill them with your favorite coffee.
These seals attach perfectly to the Vertuo line capsules and are a perfect choice for users looking to reuse Vertuo line capsules.
Pros
✔️ Allows reuse of existing Nespresso VertuoLine pods
✔️ 100 seals are included in the package.
Cons
❌ No scoop and capsule holder is included.
❌ Requires a lot of manual effort
3) Easy-Seal Coffee (full kit to reuse Nespresso pods)
The Easy-Seal Coffee kit provides a complete solution for reusing your used Nespresso pods
This kit includes a reusable capsule holder, 80 foil lids, a cleaning brush, and a coffee scoop, giving you all the tools you need for a seamless coffee brewing experience.
Customers appreciate the convenience and effectiveness of the Easy-Seal Coffee Kit. They value the opportunity to reuse their Nespresso pods and reduce their environmental impact.
The only problem you have to apply the seal very carefully otherwise it will slip off and cause leakages.
Pros
✔️ Complete kit with all necessary components
✔️ Budget and Environmentally friendly choice
Cons
❌ Requires a lot of Manual work

❌ The foil lid may slip off sometimes and cause leakages.
How to reuse Nespresso Vertuo Line Capsules?
Here are some tips on how to reuse Nespresso VertuoLine capsules:
1. Remove the foil seal of old Capsules: After using the original coffee pods, use a sharp tool to remove the foil seal from the top of the capsule. Take care not to damage the capsule during this process.
2. Clean and dry the capsules: After using the original coffee pods, carefully clean them and ensure they are completely dry before reusing.
3. Fill the capsule with your desired coffee: Fill the empty capsule with your favorite ground coffee.
4. Apply a new seal: Place a new foil seal on top of the filled capsule. Ensure it is properly sealed to prevent any leakage during the brewing process.
5. Insert the capsule and press the button: Just like with the original capsules, insert the refilled capsule into your machine and press the button.
6. Clean and repeat: After brewing, remove the used capsule, clean it thoroughly, and repeat the process for your next cup of coffee.
Read 20 ways to reuse old coffee grounds
As a coffee enthusiast, I understand the appeal of reusing Nespresso VertuoLine capsules for a budget-friendly and personalized coffee experience. However, I would not recommend doing so.
The design of the VertuoLine capsules is specifically tailored to work with the unique extraction system of the Vertuo machines.
Reusing these capsules may result in a subpar brewing experience as the intricate design and barcode technology may not align properly, leading to a lack of flavor, aroma, and crema. Additionally, the capsules may not seal effectively, potentially causing leaks during brewing.
To ensure consistently excellent coffee, it's best to use fresh Nespresso VertuoLine capsules for each cup.
Why Buy Nespresso Refillable Capsules? | The Benefits
If you're a coffee enthusiast who loves the convenience of Nespresso coffee machines, but also wants to make conscious choices for your wallet and the environment, investing in a reusable Nespresso pod is a smart decision.
Let's explore the compelling reasons why you should consider adding a reusable pod to your coffee arsenal:
1) To Save Some Money
When comparing the average cost of single-use coffee pods to reusable Nespresso pods, the savings become evident.
The Nespresso coffee pods typically range from $0.80 to $1.20 per capsule, depending on the size and type of capsule.
On the other hand, reusable coffee capsules offer a way economical option. The price of ground coffee or beans typically falls in the range of $0.4 to $0.6 per ounce. And you can easily make 4 shots of Espresso with an ounce of coffee.
That means only $0.1 to $0.15 per shot of Espresso. Adding the cost of foil seals and refillable capsules it can go up to $0.3 at max which is still 3 times cheaper than Original Nespresso capsules.
Considering the frequency of coffee consumption, these savings can quickly accumulate. So, if you are on budget refillable Nespresso coffee capsules are definitely the best option.
2) It's Good for the Environment
The rise in popularity of coffee capsules has led to a concerning increase in waste generation. The global impact of coffee capsule waste is staggering, with an estimated 576,000 metric tons of waste produced annually.
Reusable Nespresso pods offer a solution to this environmental concern. By opting for these pods, coffee lovers can actively reduce the amount of waste generated from their daily coffee consumption.
However, Nespresso also has a dedicated Capsule recycling program and they are continuously trying to make it better and improve its reach.
3) More Freedom and Variety Of Coffee Flavors
When you choose a reusable Nespresso pod, you open up a world of possibilities for your coffee experience.
Instead of being limited to the pre-packaged options offered by Nespresso, you can explore a wide range of coffee grounds and flavors available in the market. From local specialty blends to single-origin coffees, the choices are endless.
Reasons you shouldn't buy reusable Nespresso Capsules | The Drawbacks
While reusable Nespresso pods offer numerous benefits, it's important to consider a few potential drawbacks before making your purchase. Let's explore these drawbacks to ensure you have a complete understanding of using refillable pods:
1) Refillable Pod Are Not Convenient
Using a refillable Nespresso capsule requires a bit more effort and time compared to the convenience of single-use capsules. With single-use capsules, you simply pop them into the machine and discard them afterward, without the need for cleaning or maintenance.
On the other hand, using a reusable capsule involves the additional step of filling it with ground coffee, cleaning it after each use, and ensuring it is ready for the next brewing session.
The same steps you have to do if you have a traditional Espresso machine. So why not buy a traditional machine instead? At least it will give you a better-tasting shot of Espresso.
Read a detailed guide on Nespresso vs Espresso machines
2) Can Cause Damage to your Machine
While using refillable Nespresso pods is generally safe for the Original line of Nespresso machines, it's important to exercise caution when using them with the Vertuo line.
Nespresso machines are designed to work optimally with their proprietary single-use capsules, which are precisely calibrated for the machine's brewing process.
And Nespresso strictly doesn't recommend using refillable capsules and won't hold any liability if they cause any damage to your machine.
These pods may not offer the same level of precision fit and alignment as the original capsules, especially when it comes to the Vertuo line.
3) Not gives the Best Taste
Generally, refillable capsules hold less coffee than original Nespresso capsules, resulting in a weaker or watery cup of coffee.
Also, you will not be able to enjoy consistent cups of coffee every time – (That is the trademark of Nespresso Original Capsules!)
Final Thoughts on Reusable Nespresso Pods
While reusable pods offer cost savings and environmentally friendly choices, these factors should be carefully weighed against the potential drawbacks of refillable capsules.
Using Refillable capsules or reusing the coffee pod may result in compromised flavor, aroma, and crema due to the intricate design of the Nespresso brewing system. The capsules may not seal properly, leading to potential leaks during brewing.
Ultimately, the choice between reusable and single-use capsules depends on your priorities and preferences. Consider the impact on taste, convenience, and environmental goals before making a decision.
In the end, I wanna say that we buy Nespresso machines for convenience. So why sacrifice convenience by using refillable coffee pods?
I always recommend using Nespresso-compatible capsules instead of refillable capsules if you are on a budget. There is a wide range of capsules available for the Nespresso Original line machine at a much lower price (Sorry Vertuo Users!)
Check out the list of Best Alternative Nespresso Compatible Capsules
Also, Check out:
FAQs
Does Nespresso make a reusable pod?
No, Nespresso does not make any reusable pods. And Nespresso doesn't recommend using them either.
The only options available in the market are from 3rd party manufacturers.
Do reusable capsules damage the machine?
When used correctly, reusable capsules should not damage your Nespresso machine. It's important to ensure that the reusable pods are compatible with your specific machine model and that they are inserted and removed properly.
Can you run a Nespresso pod twice?
While it is technically possible to use a Nespresso pod more than once, it will result in a weaker and bitter cup of coffee.
To enjoy the best taste, it's recommended to use a fresh pod for each brew.