What do Nespresso intensity levels mean? It's probably the most common question that arises from every Nespresso machine user, and many wonder if the intensity refers to caffeine content.
Nespresso intensity levels range from 1 to 13. With 13 being the highest in terms of roasting and robustness and 1 being the lightest. In terms of flavors, a rating below 6 is considered smooth and light, while a rating above 8 is considered strong and intense.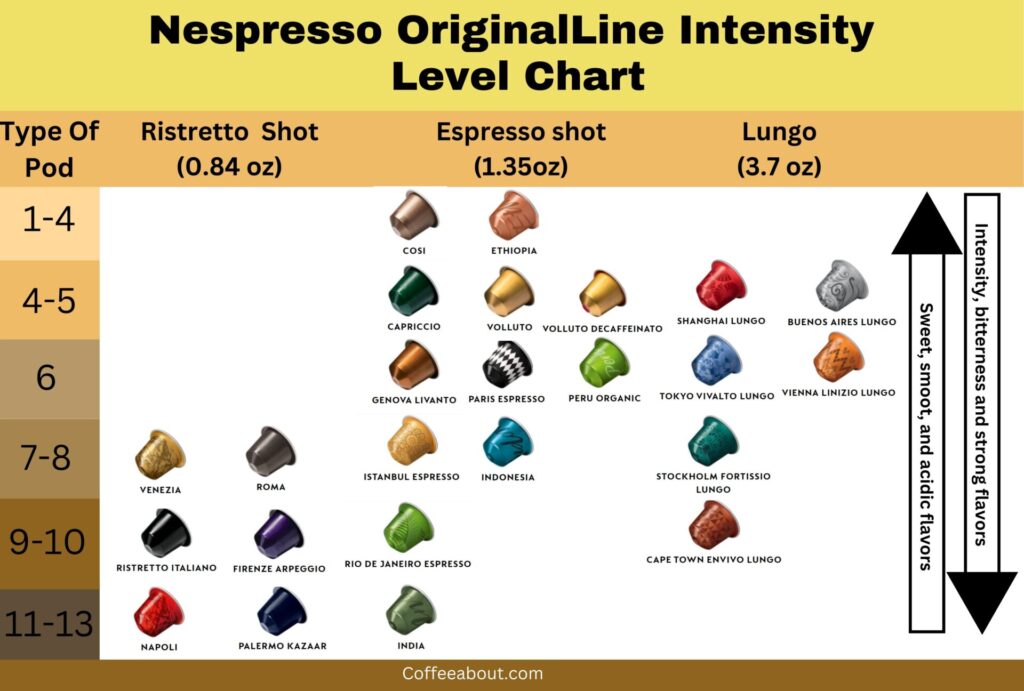 What does Nespresso intensity mean?
The intensity level is defined as a coffee's degree of roasting, body, and bitterness. In addition, the intensity is due to the concentration of the coffee. It does not refer to the amount of caffeine content in the coffee pods.
The higher the intensity rating of coffee beans, the heavier will be the body, with more bitter coffee, and more robust flavors
A Nespresso pod with intensity between 9 and 13 is best for those who prefer strong coffee brewed with a full body, rich aroma, and bold flavors.
On the other hand, if you prefer light, acidic, and smooth flavors with fruity notes then go for an intensity level below 5.
Least Intense (Intensity Level ranges from 1 to 5) 
A Nespresso coffee pod with intensity levels ranging from 1 to 5 brews a coffee that has smooth flavors, a bright profile, a light body, and a sweet taste.
In these coffee pods, the coffee is roasted shorter and lighter, and the flavor profile of the espresso shot reflects the origin of coffee beans
Low-intense coffee pods are especially great for drinking straight Espresso shots and black or Americano-style coffee (with water).
Medium Intense (Intensity Level ranges from 6-8)
The rating for medium-intense pods ranges from 6 to 8 on Nespresso's scale These pods typically taste rich and bittersweet compared to less intense coffee pods.
Aroma, taste, acidity, and flavor profile are balanced, enabling you to prepare any drink ranging from black to water or milk.
Strongest Intensity (intensity Levels range from 9-13)
With intensity levels from 9 to 13, Nespresso coffee pods offer strong, intensely brewed coffee with a full body, a lush aroma, almost no acidity, and a bitter taste.
These pods are ideal for preparing milk-based espresso drinks, such as lattes and cappuccinos, and will surely amuse you with a powerful coffee experience.
The coffee in these pods is roasted for very long periods, removing all the acidity and enhancing the bitter flavors.
Are you wondering how long you can store Nespresso pods? Read a detailed guide on how long does Nespresso pods last?
Nespresso Vertuo Pords chart
These are the five fundamental sizes of Vertuo Line capsules. A 6th size that is selective to the Vertuo Next is not described here since it's not as normal and not single-serving.
Espresso — 1.35 ounces
Double Espresso — 2.7 ounces
Gran Lungo — 5.0 ounces
Coffee Mug — 7.8 ounces
Alto — 14.0 ounces
For higher caffeine content, there are two available options Il Cafe and Diavolitto. However, I recommend Diavolitto because it contains higher caffeine content than everything else in the Vertuo pod and is also stronger than any other Espresso-sized pod.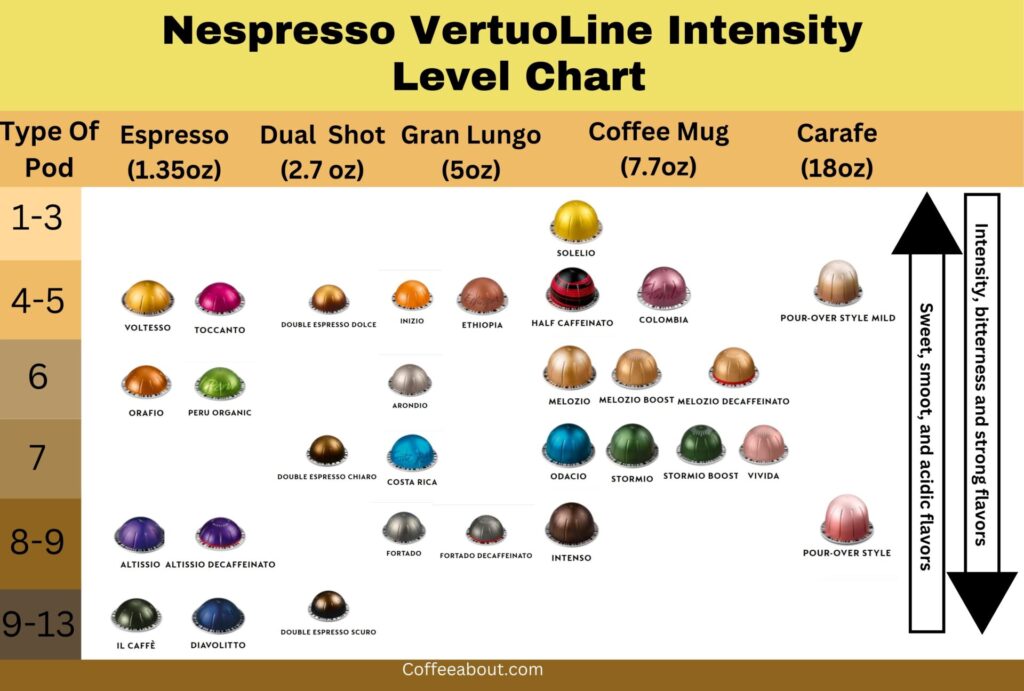 Table of Vertuo Pods
Original Line Nespresso Pods chart
In original line pods, there are three sizes available.
Ristretto — 0.85 ounces
Espresso — 1.35 ounces
Lungo — 3.7 ounces
For ristretto pods, there are only high intensity flavors available, whereas for lungo and espresso, all flavors are available.
Palermo Kazaar and Napoli are the two highest original-line caffeine capsules on the intensity scale.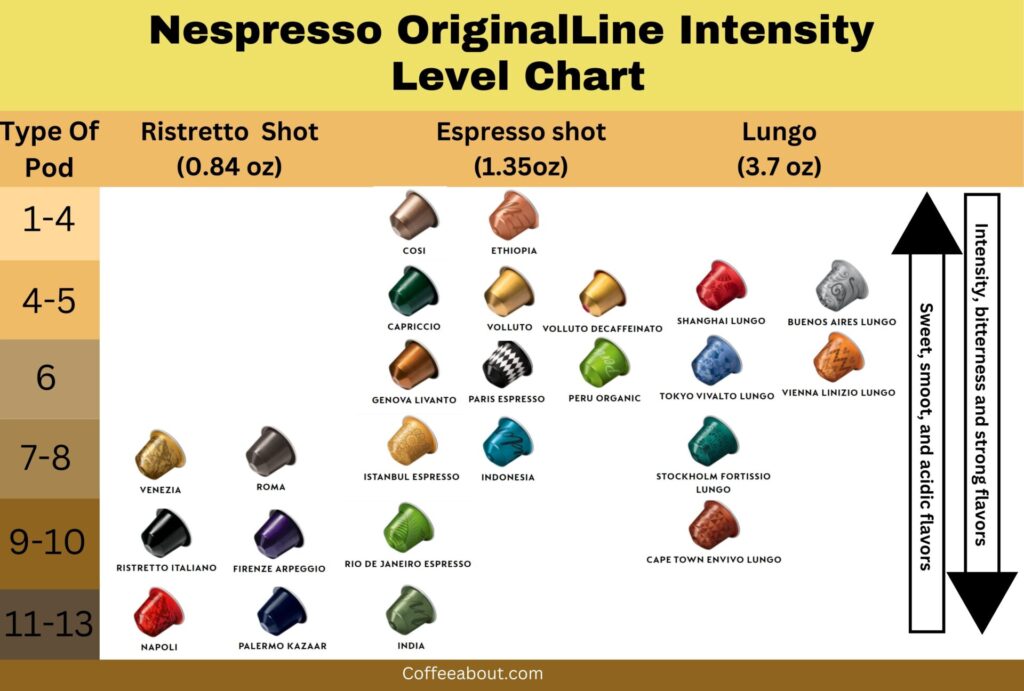 Table of Original Pods
Also read: Nespresso original vs Vertuo line
Do intense NESPRESSO PODS contain more caffeine content?
This question comes to the mind of every Nespresso user whether the more intense pods contain more caffeine or the caffeine content increases with the increase in intensity level.
Caffeine is a natural stimulant found in tea, coffee, and cocoa plants. In addition, it activates the brain and central nervous system, keeps you awake, and helps to prevent fatigue.
Meanwhile, the intensity level depends on how the coffee beans are roasted, which has the ultimate impact on the overall texture and flavor of the coffee. It also stimulates taste with its dense texture, rich flavor, and savory aroma.
Therefore, a coffee pod's intensity level only depends on the degree of roasting and has no effect on caffeine levels.
According to Nespresso FAQs
"The intensity is defined by a coffee's degree of roasting, its body, and its bitterness. In addition, the intensity is due to the concentration of the coffee. It does not refer to the amount of caffeine found in the coffee."
So please don't confuse caffeine content with strength, then avoid some types of coffee just because of their strength rating.
In fact there are Italiano decaffienato pods in the original series and Altissio Decaffeinato in the vertuo series have an intensity of over 10 and a negligible amount of caffeine.
How does Nespresso's intensity level impact the taste and quality of coffee beans?
Higher-strength level doesn't affect the amount of caffeine content, but it affects the taste and quality of coffee. Here we explained three essential elements and how they influence the taste, quality, and other coffee standards.
1)Degree of roasting
A coffee's degree of roasting has a significant impact on its flavor, taste, and quality. There are four types of coffee roast
Light roasts
Medium roasts
Medium-dark roasts
Dark roasts
Generally, the darker the roast, the more intense and bitter flavors. And lighter the roast more fruity and acidic flavors.
2) Origin of the coffee
The taste and quality of coffee grounds in the Nespresso pods also depend on the origin i-e where the coffee beans were grown.
Coffee is grown in more than 50 countries in the World. These countries are mainly present in the tropical region also known as the bean belt. Some countries are known to produce higher-quality coffee than others because of their geographical characteristics.
Brazil is the largest exporter of coffee beans while coffee from Ethiopia, Kenya, and Colombia is known as the best-tasting coffee in the World.
See our detailed article on What country has the best coffee
3) Bitterness level of coffee beans
Choosing the right coffee beans with appropriate intensity levels according to your preferred taste is key to enjoying a perfect cup of coffee.
Lightly roasted coffee beans have low-intensity levels and brew a coffee with a more acidic flavor, a bright profile, a light body, and a sweet taste. This is ideal for those who cannot drink too bitter a flavor.
On the other hand, dark roasted beans having higher intensity levels prepare darker coffee with a full-body, rich aroma, and bold and bitter flavors.
For straight Espresso shots and black coffee, I recommend the pods with an intensity level between 5 and 8, and for the milk-based drinks, I will go for an intensity level between 7 and 11. However, the taste is a completely subjective matter.
Conclusion
So by reading this guide I hope now you have a clear idea of What does Nespresso's intensity level mean?
Nespresso intensity is determined by coffee beans' richness, bitterness, and the degree of the roast, not caffeine content. Thus, true intense coffee has a bitter flavor, a heavy body, and a solid aroma.
With Nespresso capsule intensity numbers, you can see whether the coffee will taste bitter and intense or sweet and acidic.
FAQs
What is the strongest Nespresso Pod?
Among Original Nespresso pods, Napoli has the highest intensity (13) followed by Palermo Kazaar (12). In Vertuo Pods Diavolitto (10) and Il Cafe (11) have the highest intensity.
These coffee pods have dark roasted beans with intense and bitter notes of spices and dark chocolate
What is the lightest Nespresso pod?
Among Original Nespresso pods, Ethiopia (4) and Cosi (4) have the lowest intensity. In Vertuo Pods Solelio (2) and Voltesso (4) have the lowest intensity.
These coffee pods have light-roasted coffee beans with smooth and acidic flavors.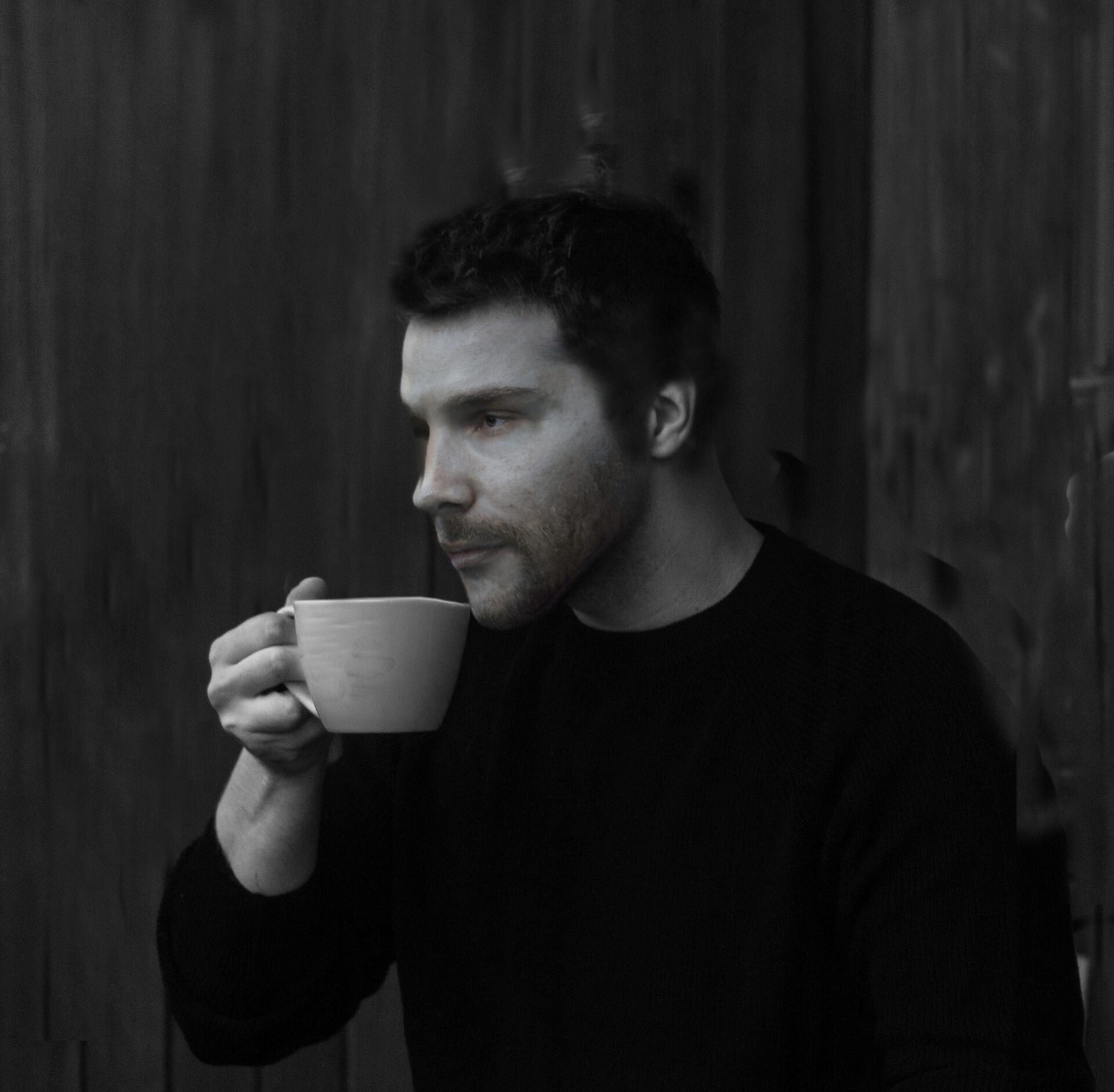 Hey,
I am Johny Morrisson! Founder of CoffeeAbout
My love for coffee dates back to my childhood. I love trying out different coffee machines and recipes.
As a coffee enthusiast, I decided to start my blog last year to provide users with useful information on brewing methods.
During this journey, I have discovered many new things and facts about coffee that I will share with you here.