What does Orange Light on Nespresso Machine Mean?
How to Fix NESPRESSO Blinking orange light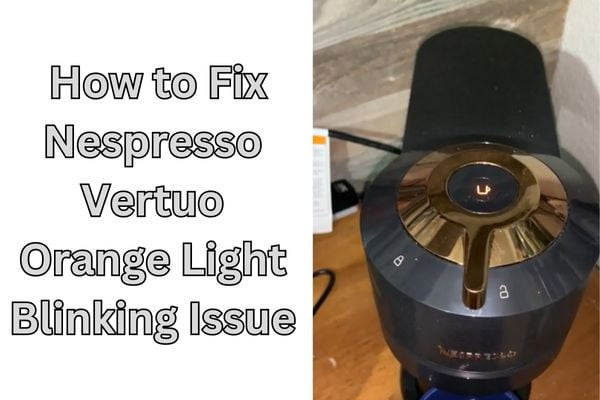 1. The light flashing orange two times per second | Cleaning needed
Open the head of the Machine to eject any previously used capsules.
Take a paper towel or piece of cloth, and gently slide it around the machine parts.
Open the head of the machine and clean the area where coffee capsules are placed and also wipe all the moving parts of the machine with that cloth.
Empty and rinse the water reservoir, then fill it with fresh water to minimize the chance of contaminants buildup.
Wash the cup holder and place a larger cup under the coffee spout to drain left out.
Empty the capsule container, and rinse it with water.
Close the head and place it in the locked position by turning it to the left.
Blockage of coffee grounds in the machine
2. The light blinks orange three times and then turn steady | Descaling needed
How do I get my Nespresso out of descaling mode?
3. The light blinks 2 times in 1 second and then off | Error in the capsule holder
4. Orange light pulsing continuously | Machine is overheated
5. The light blinks for 1.5 seconds and then off for 0.5 seconds
6. Orange light blinks 5 times in 10 seconds | Machine needs a factory reset
Open the head of your machine and eject the previously used capsule.
Close the head of the machine.
Make sure that the lever is in the unlocked position.
Now press the button five times. It will flash slowly five times to confirm that the reset has been completed.
7. Light Blinks Orange and then turns to white | Descaling alarm
How to Descale your Nespresso Vertuo Machines?
1. First clean all parts of the machine
2. Prepare a descaling solution
3. Turn the machine ON and enter the descaling mode
Lock the Machine by turning the lever towards the lock symbol and unlock it by turning it to the right.
Press and hold the button again for at least 7 seconds.
Place a large cup (capable of holding at least 20 ounces) under the spout and allow the Machine to drain into the bowl.
4. Turn off the descale mode
Final thoughts on Nespresso Blinking orange