This candid review of Keurig K cafe separates hype from reality – covering the performance of the integrated frother, evaluating drink quality across brew sizes and styles, and determining whether convenience commands the ultra-premium price.
Keurig K Cafe Review | Our Verdict
(Overall Rating 3.5/5)
Overall, Keurig K-cafe is an impressive single-serve coffee maker that brews a fair cup of Latte and cappuccino, is quick and easy to use, and comes with a fair price.
It comes with an advanced set of controls like strength control, brew size, and high altitude setting, and some handy features like low water and maintenance alert.
Although a larger footprint doesn't make it suitable for small kitchens, but this is the only Keurig model that comes with a built-in milk frother that has the ability to brew concentrated, espresso-like shots used in lattes and cappuccinos.
On the negative side, since It's not an espresso machine, so don't expect authentic cafe-style Cappuccinos or Lattes.
Why Trust Us
I have taken an in-depth look at all of its top features and analyzed the pros and cons to help you make an informed buying decision. With our expert review, you can discover whether the Keurig K Cafe is the right choice for you or not.
*As an Amazon Associate, we earn a little commission when you purchase products through our links, without any additional cost to you. That helps to support our website and I greatly appreciate your support!
Previously, Keurig Rivo is the only model in the Keurig lineup that can brew espresso-like shots and milk-based beverages like latte and cappuccino, but now they have discontinued and replaced it with an upgraded version, the Keurig K-cafe.
What I like in Keurig K Cafe
Convenient Milky Coffee Drinks: Keurig K-cafe is the only Keurig model with a built-in milk frother and prepares Cappuccinos and Lattes at the touch of a button.
Fair taste: Keurig does not produce espresso, so the latte and cappuccino you get do not taste exactly like what you get at the coffee shop, but still, the taste will be fair considering the convenience this machine offers.
Quick Latte Machine: Preparing lattes and cappuccinos is quite a time-consuming process, so if you are limited on time and just want your brew in quick time, this machine will serve a tasty and hot cup of latte in under 2 minutes.
Lovely Froth: The Milk Frother of Keurig K Cafe is just exceptional and prepares authentic Latte-styled froth.
What i Dislike in Keurig k Cafe
Very Bulky Design: The dimension of 17.32 x 14.17 x 14.41 inches makes it bulky and also the footprint of 1 square foot is too large for a single-serve coffee maker. So if you have limited counter space, this machine isn't for you.
Not willing to compromise on taste: It's not an espresso machine, so Keurig K cafe doesn't prepare the best Latte and Cappuccino, but it's convenient.
You want more cups at a time: Keurig K-cafe is a perfect single-serve coffee maker suitable for 2 or 3 servings only at a time. While this machine can heat up quickly for the second brew but you have to clean the pod holder and milk frother after every brew which is a mess.
Keurig K-cafe review | A detailed Go THrough
Keurig K Cafe is your best option if you want a quick and easy machine for making lattes and cappuccinos. Here's a detailed review of this machine.
1) Design and build quality of Keurig K cafe (4/5)
The Keurig K-cafe coffee maker is a bit bulky for small kitchens, but it has a sleek and modern design that will look great on your countertop.
The machine is wide but it is not much taller, so you can easily fit it under the cabinet.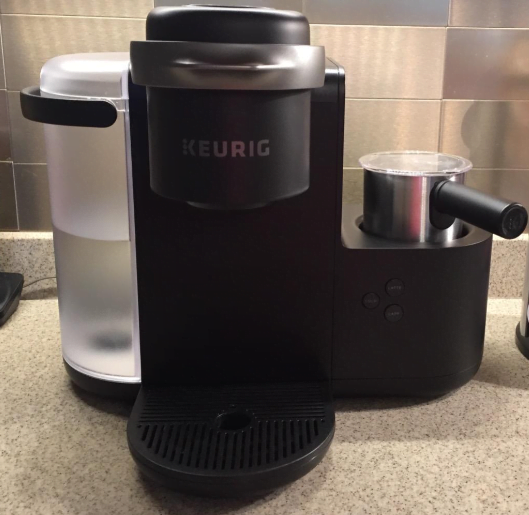 This machine features a simple and minimalist design, while still maintaining a modern and attractive appearance. Unfortunately, it only comes in charcoal. This limits your options to match your kitchen aesthetics.
Majority of the body is made of plastic, but it is made of high-quality plastic, which ensures the durability of the machine.
The Keurig K-Cafe Special Edition version has a nickel-colored finish and a metal handle on the water reservoir, and the drip tray is also made of metal.
There is a simple button display on the Keurig K-cafe, where you can choose between 6 oz and 12 oz of coffee. Moreover, there is a shot button for making Espresso-styled concentrated shots that pair well with milk-based drinks.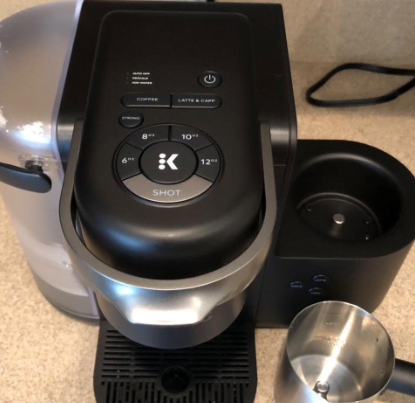 Overall, the appearance of the Keurig K-cafe is impressive. The sleek line on the exterior portion gives it an elegant look. The only downside is its large footprint, which is problematic for people with small kitchens.
2) Taste and Quality of the drink (3/5)
If you have been using K-cup coffee makers for a while, you'll enjoy the taste and quality of coffee drinks from Keurig K-cafe.
As for cup sizes, you can choose between 6, 8, 10, or 12 oz. In my experience, I've found that the 6 oz. cup size produces the most flavorful coffee.
Additionally, the Keurig K-cafe coffee machine features a "strong brew" option, which allows for a longer brewing time to produce a more robust and intense cup of coffee.
There's a shot button for preparing a small shot of coffee for Lattes and Cappucino. This 2 oz shot of coffee is similar to a shot of espresso, but not exactly the same.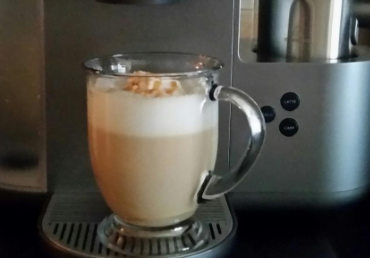 The taste of Latte and Cappuccino you will get with this machine will not be as strong and deep as prepared with authentic Espresso but it is perfectly hot and tasty for a machine of this kind.
3) Performance of Keurig K cafe (4/5)
Performance-wise, I found it incredibly amazing. The 60-ounce water reservoir gives you the freedom to brew 8 cups of coffee without the need to refill it again. Personally, I found this really helpful, especially when you have visitors at home.
The machine heats up quickly in 90-120 seconds the first time and in just 30 seconds between brews (pretty fast I guess) and gives a flat brew in 30 seconds. After pressing the stronger brew option, it took longer (quite obvious), around one minute for an intense, concentrated cup of coffee. 
Keurig's milk frother is also fairly quick, heating and foaming the milk in just about a minute and a half, and producing cold froth in only about 30 seconds.
There is no temperature control functionality in the K-cafe. The machine only functions at its preset temperature. While testing the temperature of coffee drinks, they are found to be between 170 and 175 degrees, which is quite hot.
The Keurig K-cafe coffee machine consumes 160 kWh of energy. Furthermore, it's worth mentioning that this machine operates loudly during brewing, producing a noise level of more than 75 dB (Which is expected as frothers are usually noisy)
Keurig K Cafe features Smart Start, which allows you to pop in your desired K-Cup and select your desired cup size before the machine is ready to brew. The Maintenance remainder and low water alert are some handy features. Overall, I am quite satisfied with the machine's performance.
4) User experience (5/5)
User-friendliness is the trademark of Keurig machines and k-cafe is not an exception. It follows up the tradition of being simple despite having many advanced features like a milk frother.
The best thing is that K-cafe is the only Keurig model that comes with a built-in milk frother and has the ability to brew concentrated, espresso-like shots used in lattes and cappuccinos.
The 60-ounce water reservoir gives you the freedom to brew 8-10 cups of coffee or 30 lattes and cappuccinos before the need for refilling. Even though the water reservoir is not dishwasher safe, it is relatively easier to clean as it is detachable.
Auto-off feature, adding water alert, and descaling alert are some handy features that make it most user-friendly.
The machine is compatible with all types of K-cup pods and also My K-cup reusable filter, so you have the freedom of using your own coffee grounds.
The frothing pitcher is removable and dishwasher-safe and it must be cleaned after every use.
This machine can accumulate a mug as tall as 7.2 inches which makes it travel mug-friendly.
Overall, the machine is quite efficient, user-friendly, and simple to operate.
5) Milk Frother of Keurig K-cafe (4/5)
The unique feature of Keurig K-cafe is a milk frother. You can prepare cappuccinos and lattes easily by frothing almond milk, soy milk, fresh milk, and skimmed milk.
The Milk Frother has three buttons. The "Cappuccino button" froths milk for Cappuccino; the "Latte button" froths milk for Latte; and the "Cold button" froths milk for Iced Latte.
The frother has two fill lines, one for cappuccino and one for a latte, making it more convenient to use. In addition, it has a very user-friendly plastic handle for easy pouring.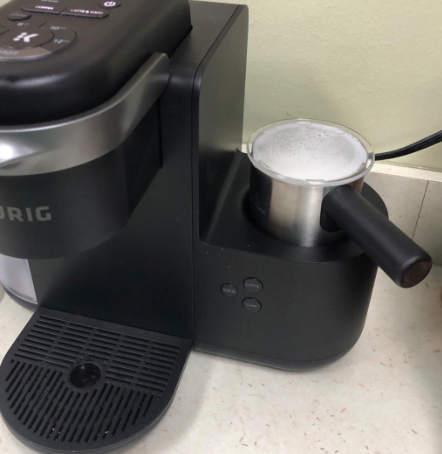 The level of froth this machine produces is just exceptional. Yes, Keurig K-Cafe is not capable of preparing Espresso shots but it is definitely capable of making excellent latte-styled milk froth.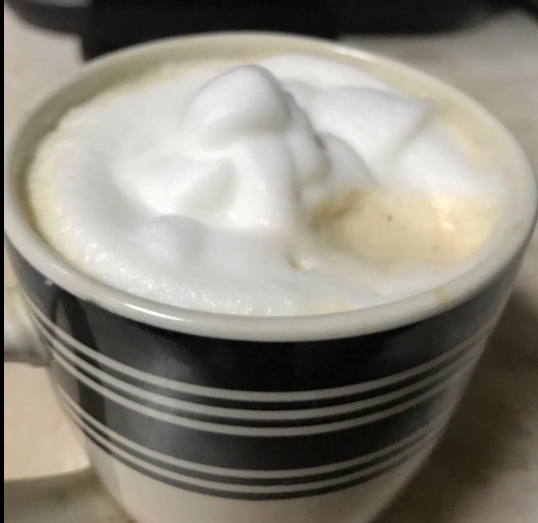 Overall, Keurig Cafe's milk frother is the best. It's easy to use and prepares a great froth with both hot and cold milk. However, you can't make the foam required for the Latte art (That's only possible with a steaming pitcher).
6) Value for money and Customer Reviews (3/%)
The Keurig K-Cafe is not the cheapest Keurig model, but it comes with a milk frother, which makes it worth the extra money.
Under 200 dollars K Cafe is the best single-serve Latte and cappuccino maker in the market.
Keurig K-cafe has almost 20,000 reviews on Amazon with an average rating of 4.7 out of 5. More than 85% of users are completely satisfied with the machine. Honestly, It is not possible to find any coffee machine in the market with that many positive reviews.
Customers are very satisfied with the machine's performance and appreciate its efficiency, ease of use, and user-friendliness.
Nevertheless, some customers have expressed frustration with larger footprints, weaker Latte drinks, and a loud milk frother.
Also, there are a few complaints claiming that almond milk does not froth well in the milk frother.
Keurig K-cafe Specs
| | |
| --- | --- |
| Product Type | Single Serve Coffee maker with a milk frother |
| Dimensions | 17.32 x 14.17 x 14.41 inches |
| Weight | 10.6 pounds |
| Water reservoir | 60 oz removable water tank |
| Brew Sizes | 6 oz, 8 oz, 10 oz, 12 oz |
| Temperature control | No |
| Display | Button control panel with buttons for Brew Size, Coffee or Latte/Cappuccino, and Brew Strength |
| Other Features | Maintenance remainder, high altitude setting, Milk frother, one-push specialty beverages, Auto shut off feature. |
Considering whether to buy Keurig or not and in a decision-making phase? This article can help: Are Keurigs Worth it
Looking for a better alternative? Check Keurig K cafe smart
Keurig K Cafe Smart is the latest edition with more advanced features. I'd recommend you go with the smart edition if budget is not the concern.
The K Cafe Smart Edition offers the following additional features
Multi-stream Technology: Have five needles to enrich the K cup more thoroughly and extract more flavors from coffee grounds
Adjustable Settings: It offers five different strength options from mild to robust and six different temperature options from lukewarm to extra hot.
LCD Display and Wi-Fi: Have Wi-Fi technology so you can connect it to your phone and brew from anywhere.
Iced Coffee setting: Have a dedicated "Brew Over Ice" button that optimizes the brewing process for iced coffee, resulting in a better taste experience.
Slim Design: The design of K Cafe Smart is also much more slim and stylish compared to simple K Cafe.
All these additional features come at the extra cost of just 60 bucks so I think it definitely worth it.
Faqs
Does Keurig K Cafe make espresso?
No Keurig K cafe doesn't make an authentic Espresso. Basically, it prepares a small shot of espresso-like coffee that is quite strong and intense.
Does Keurig K cafe Use a Water Filter?
Yes, the Keurig K-Cafe coffee maker is designed to accommodate a Keurig tall-handle water filter kit, making it convenient for users to enjoy filtered water when brewing their favorite beverages.
Does Keurig K Cafe make Iced Coffee?
Yes, the Keurig K-Cafe coffee maker offers a cold froth option, allowing you to create delicious Iced Lattes and other cold coffee beverages, making it a versatile choice for coffee enthusiasts.
Is Keurig K cafe better than Nespresso?
It really depends on your vibe! The Keurig K-Café is great for those who love regular 8 oz serving of coffee and the convenience of making decent Latte and Cappuccino drinks at the touch of a button.
However, Nespresso remains unmatched when it comes to strong and dense Espresso shots.
For the convenient cappuccino or latte out of one device, I'd likely choose the K-Cafe but for the best taste Nespresso, Hands down!
Read: Nespresso vs Keurig
does the Keurig K cafe frother heat the milk?
Yes, the Keurig K-Cafe frother heats the milk as it froths, allowing you to create warm and frothy coffee drinks at the touch of a button.
Final Thoughts
You'll surely love this machine if you prefer convenience over taste. It's true that Cappuccino and Latte are not as strong as those prepared using an authentic Espresso machine, but I'm sure you won't be disappointed.
Keurig K cafe is the only Keurig model with a built-in milk frother and is available at a fair price.
So that's it I hope you find this Keurig K cafe review helpful and if you want to check reviews of other Keurig models they are linked below.