Keurig is no doubt the best and the most popular brand of Single serve Coffee makers.
Up till now, Keurig had manufactured more than 100 models (20 are available in the market now) to serve its coffee community worldwide.
Despite its popularity, there's always a debate among coffee lovers over its taste. In the latest Supreme Series, Keurig has introduced multi-stream technology to improve the taste of coffee.
Keurig K Supreme Plus Reviews | Our Verdict
The Keurig Supreme Plus is a great choice for coffee lovers who want the best possible taste. Its multi-stream technology evenly extracts the coffee, resulting in a cup that is richer, more flavorful, and more consistent than what you'll get from other pod coffee makers.
Keurig K-Supreme offers a wide range of customization to streamline brewing. Larger water reservoir, digital display, 3 strength settings, 3 Temperature Control levels, and option for iced coffee.
Yes! Keurig Supreme Plus is a little pricey but the unique multi-stream technology and the advanced customization features are surely worth it.
Keurig k-supreme line-overview
Keurig introduced the K-Supreme coffee maker line in 2020. The main difference between K-Supreme coffee makers and the rest of the Keurig model is the introduction of multi-stream technology. Multi-stream technology uses 5 needles instead of one needle to get even saturation in ground beans to achieve better extraction and taste.
Initially, there were 2 models Keurig K-supreme and Keurig k-supreme plus. In 2021, Keurig added the Keurig K-supreme plus smart model in the Keurig Supreme line, which uses Brew id and a mobile app so that you can operate your machine via an app on your mobile phone.
In this review guide, we will discuss Keurig K-Supreme Plus in detail, so keep reading!
Why Trust Us
I have taken an in-depth look at all of its top features and analyzed the pros and cons to help you make an informed buying decision. With our expert review, you can discover whether the Keurig Supreme Plus is the right choice for you or not.
*As an Amazon Associate, we earn a little commission when you purchase products through our links, without any additional cost to you. That helps to support our website and I greatly appreciate your support!
Features of Keurig Supreme Plus
Keurig Supreme Plus is an upgraded single-serve coffee maker, having a compact and minimalist design, a larger water reservoir, and customizable brew settings for anything you need.
| | |
| --- | --- |
| Product Type | Single-serve coffee maker |
| Dimensions | 13.35" x 8.31" x 12.24" inches |
| Weight | 4.5 pounds |
| Water reservoir | 78 ounces removable water tank |
| Brew Sizes | 4,6,8,10,12 ounces |
| Material | Stainless steel and Plastic |
| Temperature control | Yes (3 different settings) |
| Strength Control | Yes (3 different settings) |
| Programmable Settings | Yes (3 different settings) |
| Colors Available | Stainless steel |
| Display | Button control panel with Digital Display |
| Other Features | Multi-stream technology, digital screen, Brew Over Ice, Programmable Compatible Travel Mug |
Pros
✔️ High-quality extraction with Multi-stream technology
✔️ Iced coffee option
✔️ Compatible with K cups and universal cups for coffee grounds
✔️ Sleek and Modern Design
✔️ Low noise
✔️ Temperature Control Settings
✔️ Strength control settings
✔️ Programmable
Cons
❌ Components are not dishwasher safe
❌ Replacing the water filter is complicated
❌ The price is a little higher
❌ Single-serve only – No carafe option
❌ Some users have complained that the machine is not very durable
Keurig k-supreme plus Review | A Detailed Go Through
Overall, Keurig K-Supreme Plus is a perfect machine that has some great features which are good enough to grab the attention of coffee lovers.
Multi-stream technology, a universal reusable coffee filter, an attractive stainless steel design, and iced coffee options are some great features, that's why this model stands out from other Keurig models.
1) Design and Appearance of Keurig K Supreme Plus: 10/10
The best thing about Keurig Supreme Plus is its modern, minimalistic, and sleek design. Even after having many advanced features and a large water reservoir, this model doesn't have a bulky appearance like other premium Keurig models.
The Keurig k-supreme plus is surrounded by stainless steel wrap to give it a premium quality look.
Keurig K-supreme Plus has a 78 ounces water reservoir on the left-hand side of the machine which is not multi-positional. You can easily brew up to 8 to 10 cups of coffee without a need for a refill.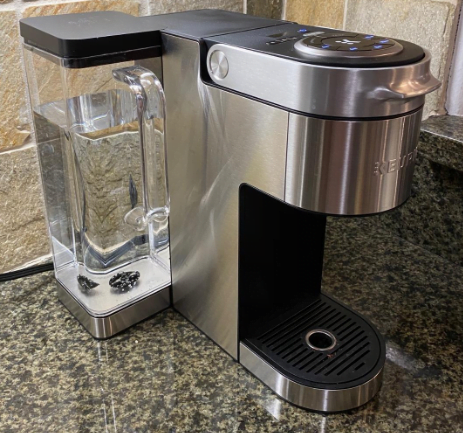 On the top of the Keurig Supreme Plus there is a circular button display that lets you easily choose your desired brew size, temperature, strength, and over-iced settings.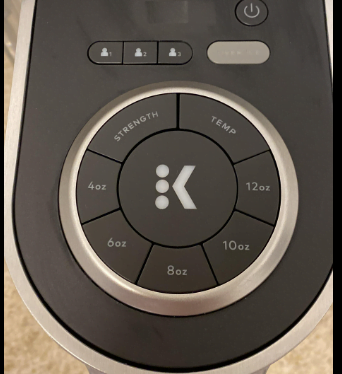 Overall, I am very much impressed with the design of Keurig Supreme Plus.
2) Performance of Keurig Supreme Plus: 9/10
Performance-wise, I would say there is no match. The Keurig K-supreme coffee maker makes it a breeze to brew either a regular serving of coffee or a small, espresso-style shot to your liking.
The heating time of Keurig K-Supreme Plus is 20 seconds, which is really fast.
As the machine is compatible with all types of K-cup pods, you can experiment with varieties of K-cup to experience the best coffee experience according to your desired taste. You can brew iced coffee, tea, cocoa, and other coffee drinks within a minute.
Refilling the tank is pretty easy and the machine brewing calibration is extremely perfect.
Another best thing about Keurig Supreme Plus is the quiet brewing process it doesn't make any annoying noise during the operation and continues to brew silently.
Overall, I am satisfied with the performance of Keurig Supreme Plus.
3) The taste and quality of the Drink: 8.5/10
Over the years, many coffee lovers debates that the coffee quality is not up to mark with pod-based coffee machines. It's true that pod-based machines don't offer the best cup of coffee, but their unique selling point is convenience and speed.
Fortunately, upgraded multi-stream technology in the Keurig K-Supreme product line adds some extra flavors to the coffee. Multi-stream technology uses 5 needles instead of one to evenly saturate your coffee grounds with multiple streams of water to achieve maximum extraction and flavors.
If you have been using K-cup coffee makers for a while I am sure that you will love the taste of coffee from this upgraded machine.
This innovative multi-stream technology results in drinks, more satisfying in flavors and aroma. Undoubtedly, drinks prepared by the Keurig K-supreme series are brighter and stronger in taste.
Be sure to choose a universal reusable coffee filter with five holes on the lid if you are using your own ground coffee instead of K-cup pods.
Another good thing for strong coffee lovers is the option of a 4 oz brew size that makes strong and intense small shots of coffee. And also you can adjust the strength of coffee from mild to strong.
Overall, I am quite satisfied with the taste of the coffee drink from Keurig Supreme Plus and I must say it's better than other Keurig Models.
4) Ease of use and maintenance: 10/10
All Keurig models are highly convenient and easy to use and their innovative technology grabs the attention of coffee lovers, fortunately, Keurig k-supreme plus continues its tradition of being simple, user-friendly, and efficient.
All you need to do is insert the K-cup of your choice, press the desired coffee option, adjust the temperature and strength of your choice, and the machine will do its magic and prepare freshly brewed coffee for you within minutes. How easy that is!
Temperature control, strength setting, different flavor profiles, and labeled digital screen makes the brewing process so much easier, even if you're a complete beginner you can easily use this machine.
Maintenance and cleaning are also pretty easy. You just have to remove the used pod and clean the pod holder after every brew and the machine is ready for the next cup.
Descaling is also needed every 3 to 6 months for the proper functioning of the machine. The descaling process is also very simple, just fill the tank with the descaling solution and water and run the brew cycles until the tank is empty.
You can descale your machine with baking soda or vinegar, but my recommendations are that you should always opt for Keurig manufacturer's recommended descaling solution.
Overall, Keurig Supreme Plus is the quickest Keurig model and the most user-friendly.
5) Value for money and customer reviews: 7/10
Keurig Supreme Plus costs around 200 dollars and yes it's way more expensive than other pod-based single-serve machines.
But the extra features this machine offers: modern and sleek design, up-to-date multi-stream technology for better extraction, programmable preferences, and greater customization options are definitely worth the investment.
Keurig Supreme Plus has almost 7000 reviews on Amazon with a 4.3 average rating out of 5. More than 75% of users are completely satisfied with the machine. Customers love the modern design and the taste of coffee prepared through the latest multi-stream technology.
Of the bad reviews, many users are concerned with the reliability and longevity of the machine. However, Keurig has good customer support and will replace or repair your machine free of cost if anything happens.
Overall, I am not satisfied with the price tag of this machine it's way too expensive for a pod-based coffee maker. But if you can afford it you will surely love it.
Extra Features of Keurig k-supreme plus
Let's discuss some of the great features of Keurig k-supreme Plus that make it stand out from many Keurig coffee models.
1- Coffee Strength settings
With the Keurig K-Supreme Plus, you can brew regular, strong, and extra-strong. In contrast, the older Keurig K-Supreme offers only regular and strong.
The extra strong option slows down the flow of water to increase the contact time between water and grounds in the pod, resulting in better extraction.
2- Temperature control
Keurig Supreme Plus has three temperature settings, so you can experiment with different drinks at different temperatures until you find the right one for you.
At full hot settings, the machine delivers coffee at around 173 degrees, and at less hot settings, it delivers coffee at 165 degrees.
3- Brew size options
Keurig Supreme Plus offers five different cup sizes 4oz, 6oz, 8oz, 10oz, and 12oz.
Just pop in the k- the cup of your choice, select the brew size, and let the machine delivers coffee of your desired size in seconds.
4- Programmable Preferences
Keurig K Supreme Plus gives you the freedom of setting 3 different programmable preferences.
Using this feature, you'll be able to brew coffee with only one button and you won't have to adjust the temperature and strength settings every time.
5- Over Iced settings
Keurig K-Supreme Plus features over-iced settings for preparing cold coffee. The Over Ice button brews a more concentrated, intense, and less hot 6 oz cup of coffee.
Check out Best Keurig models for Iced Coffee
6- Quiet brewing Technology
It is quite frustrating when your machine roars like hell while brewing. Fortunately, Keurig Supreme Plus's quiet brewing technology makes it less audible than other coffee machines.
How's Keurig Supreme Plus Different from Other SUpreme Models
Keurig Supreme is the most basic model of the Supreme series while Keurig Supreme Plus Smart is the most advanced model. Keurig K-Supreme Plus lies in the middle.
Here's a quick comparison among Keurig Supreme Models.
| Features | Keurig Supreme | Keurig Supreme Plus | Keurig Supreme Plus Smart |
| --- | --- | --- | --- |
| Strength settings | Two: Mild and strong | Three: Mild, Strong and Extra Strong | Five settings from Balanced to Intense |
| Temperature Control | No | Three: From mild to hold | Five: From lukewarm to Extra hot |
| Programmable Preferences | No | Three programmable settings | Ten programmable settings |
| Metal Wrapping | No | Yes | Yes |
| Water Reservoir | 66 ounces multi-position water tank | 78 ounces | 78 ounces |
| Over iced Settings | Yes | Yes | Yes |
| Wi-Fi and Bluetooth connectivity | No | No | Yes |
| Multi-Stream Technology | Yes | Yes | Yes |
So feature wise Keurig Supreme Plus is definitely better than Keurig Supreme and the Keurig Supreme Plus Smart is obviously the most advanced model of all.
If you don't have any budget issues you can go with the Smart model, otherwise, I don't think the extra features in the K Supreme Plus Smart are worth paying extra 50 dollars.
Read a detailed comparison among Keurig Supreme, Supreme Plus, and Supreme Plus Smart
Final Thoughts
Overall Keurig Supreme series prepare a better and stronger cup of coffee compared to average pod-based coffee machines.
And Keurig Supreme Plus is the best model in the Supreme series. It has all the customizable features you need and is less pricey than Keurig Supreme Plus Smart. Smart Model has some extra customizable features and Bluetooth technology but I don't find it very useful.
So that's it I hope you find this Keurig Supreme Plus review helpful and if you want to check reviews of other Keurig models they are linked below.
Faqs
Does Keurig Supreme Series make better coffee?
Compared to other K-cup coffee makers Keurig Supreme series surely produces a better cup of coffee. Thanks to its multi-stream technology.
In Multistream technology, 5 needles are used instead of 1 to evenly saturate the grounds and extract more flavor and aroma. 
Is the Keurig Elite or Supreme Plus better?
Both Keurig Elite and Supreme Plus are advanced models and offer multiple customizable features like strength control, multiple cup sizes, and iced coffee settings.
However, with up-to-date multi-stream technology, the Keurig Supreme Plus actually makes a better cup of coffee.
Does the Keurig K Supreme Plus take regular K cups?
Yes, Keurig Supreme models are compatible with all the K cup coffee pods. The Supreme models from Keurig use a multi-stream technology that pierces the K-Cup pod with three holes instead of the usual one hole.
Special My K cup coffee filters are also available for Keurig Supreme models if you want to use your own coffee grounds.