Are you in search of a coffee maker that not only has a premium stylish appearance and brews perfectly delicious joe but also has a smaller footprint and you don't need to break the bank to get one for yourself? If your answer is yes! Then Keurig k-mini plus is a complete package for you.
After reviewing so many Keurig models, in this Keurig K mini Plus reviews guide, we are going to discuss its performance, core features, and design along with a compiled list of pros and cons, so that you can make informed decisions before purchasing! Keep reading!
Keurig K Mini Plus | My Thoughts
Keurig mini Plus serves its purpose incredibly well for anyone who has limited space, travels a lot, and just wants to enjoy a good coffee experience in a quick time without going through a complicated brewing process.
The greatest advantage of the Keurig K mini Plus is its size. Because of its smaller footprint and being light-weighted, you can take it on vacation, picnic, or any sort of outside gathering. It makes your outdoor trips amazing by serving your delicious brew.
Slightly more advanced than the original Keurig K-Mini version. Just by paying an additional 30$, you will get 3 upgraded features strength control, removable water reservoir, and k-cup pod storage. So this additional 30$ is a worthy investment.
I would say that the Keurig k-mini plus is a perfect single-serve coffee machine with a clean, minimalist design and completely worth it for someone looking for a compact machine.
Keurig k-mini plus | Overview of a perfect travel keurig machine
| | |
| --- | --- |
| Product Type | Single-serve coffee maker |
| Dimensions | 11.3 x 4.5 x 12.1 inches (12.1 inches height can extend to 16.8 inches when the water reservoir lid is opened). |
| Weight | 4.16 pounds |
| Color | Matte Black, Black, Grey, Cool Aqua, Cardinal Red, Evening Teal, Studio Grey, and White |
| Display | Button control panel with a button for Brew Strength |
| Brew size | Any size between 6-12 ounces |
| Water reservoir | 12 ounces removable water tank |
| Temp control | No |
| Strength Control | Yes |
| Other features | The auto shut off feature, comes with 9 pod-storage compartments, a removable drip tray |
The Keurig slimmest model, the Keurig k-mini plus is just like its predecessor Keurig k-mini but with innovative worthy upgrades such as a removable water reservoir, strength control, and storage for pods and cord.
Although the Keurig K-Mini Plus doesn't have all the bells and whistles of some of the more premium Keurig models, it's still a great option for coffee lovers who want a simple, convenient, and easy-to-use machine.
Pros
✔️ Modern, sleek, and Portable design
✔️ Very easy to use
✔️ Storage for pods and cord which makes it perfect for traveling
✔️ Removable Water reservoir
✔️ Strong brew option for an intense cup of coffee
✔️ Fits almost everywhere – Perfect machine for dorm rooms and small kitchens
Cons
❌ Do not have any customizable options
❌ The capacity of the water tank is only for one serving
❌ Not a perfect machine for brewing multiple cups at a time
Keurig k mini plus Review | A Detailed Go Through
Although the Keurig k-mini plus has several benefits, it still has many shortcomings. Let's take a dive into the Keurig k-mini plus review.
1) Design and Appearance: 8.5/10
The Keurig K-Mini Plus is a small and compact coffee maker that is perfect for those who have limited counter space. It measures just 11.3 x 4.5 x 12.1 inches, so it can easily fit into any kitchen nook or cranny.
k-mini plus has a too-tiny footprint, and I am so amazed that it fits easily even in the most jammed area of the kitchen.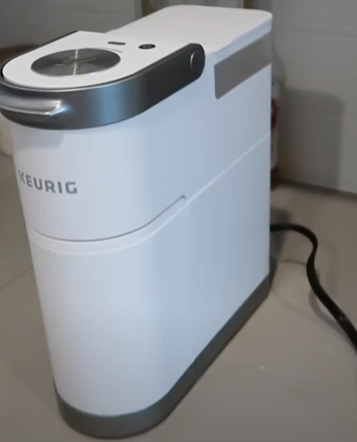 This machine is mostly plastic, so somehow it gives a cheap look and feel. Honestly, what can you expect from these pod machines? But fortunately, it is built of premium quality plastics, so it doesn't break or chip off easily when mishandled.
The Keurig K-Mini Plus is the perfect option for coffee lovers who love to travel. It's small, lightweight, and easy to carry, so you can enjoy a fresh cup of coffee no matter where your travels take you.
Compared to its predecessor, Keurig K-mini, K-mini plus comes in various color options: Matte Black, Black, Grey, Cool Aqua, Cardinal Red, Evening Teal, Studio Grey, and White. So, you have the freedom of choosing a color that matches the color of most of your kitchen appliances.
The drip tray is removable, making the cleaning process easier. It can accumulate a mug as tall as 7 inches.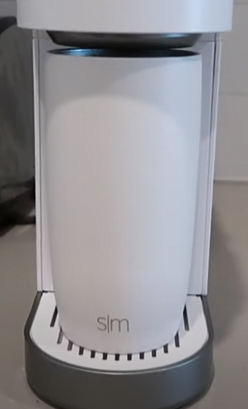 Overall, the Keurig mini Plus is decent and minimalist and perfect for those with limited space.
2) Performance of Keurig K-mini Plus: 8/10
Without any doubt, all Keurig models are highly conventional and simple to operate and customers always admire them for their performance. So is the case with the Keurig k-mini plus. This simple-looking machine serves its community with its high-end performance which customers really admire.
The machine is highly conventional and easy to operate. Although the machine is mostly plastic, it doesn't impact the drink's taste.
Brewing time is pretty fast and you have the freedom to prepare your customized drink anywhere between 6-12ounces.
It's compatible with reusable My K-cup filters, so you can also use your own coffee grounds.
On the negative side, the temperature of brew consistently ranges between 160 and 170 F degrees for every below, which is not very great.
Overall, Keurig Mini Plus brews coffee very fast, heats up in less than 2 minutes, and is capable of brewing back-to-back cups.
3) Water Reservoir of Keurig Mini Plus: 8/10
Keurig k-mini plus comes with a 12 ounces removable water reservoir. The older original version, the Keurig K-mini, has a water reservoir that is not removable.
So, the K-mini plus has benefits over the K-mini as the water reservoir is removable, which makes the cleaning process much easier.
On the negative side, you can't add the Keurig water filter to it and also you need to refill the water reservoir after each brew a. That's quite frustrating when you have a visitor at home and you need to brew multiple cups.
In short, this coffee maker is designed for a single cup. if you are only a coffee drinker at home and don't brew frequent coffee, then the Keurig K-mini-plus is the perfect choice for you.
4) Serving size: 10/10
Keurig k-mini plus gives you the freedom of brewing cup sizes anywhere between 6 to 12 ounces. Personally, I like this feature very much as it allows me to personalize my cup of coffee every time.
However, the actual cup size depends upon the volume of water inside the water reservoir. for example, if you need 12 ounces of coffee, then you have to fill the water tank with 12 ounces of water.
Personally, I avoid anything above 6 or 8 ounces when using Keurigs, as it results in watery coffee.
5) Brewing time: 7/10
Honestly speaking, k-mini is not one of the fastest coffee makers that Keurig produced. No doubt, the brewing process is like a cherry pie, all you need is to insert the k-cup pod into the machine, fill the water reservoir, and hit the brew button.
It takes around 2 minutes to complete one cup and 3 to 4 minutes on average, depending on whether you use a 6 oz or 12 oz coffee pod.
This brew time is good enough to satisfy most of its users.
6) Taste and the quality of the Coffee drink: 8/10
For a 100$ coffee maker, brewing such great coffee quality is something that is out of the league. It produces a rich, flavorful, and strong brew with a single push of a button.
Additionally, k-mini plus is compatible with reusable K-cup filters, so you can choose your own coffee ground.
The customer feedback
"Small and convenient. Great for my counter & water gets hot! Love the strong features. And the color I am obsessed with. This is one of my fav kitchen appliances"
As compared to the original Keurig K-mini model, the k-mini plus features a stronger brew option button that lets you control your coffee's strength and boldness.
When you use a strong brew option, the brewing time increases but the drink you obtain is definitely worth it- Richer, stronger, and more robust.
7) Temperature of the coffee drink: 8/10
Temperature is a critical factor that determines optimal extraction.
Unfortunately, Keurig k-mini plus gets negative feedback from customers for generating low-temperature brew. while testing, I found that the temperature of coffee ranges between 160 to 170 degrees Fahrenheit, which is acceptable if you are not a coffee geek.
Whereas Keurig claims that the water temperature inside their coffee makers reaches 195 degrees Fahrenheit temperature. It is understandable that the temperature drops to some degrees during the operation.
The temperature has a direct impact on the taste of your drink if the temperature is below 195 degrees Fahrenheit, then ultimately coffee will be under-extracted resulting in weaker flavors.
It is recommended to run a hot water cycle first before inserting the coffee pods into the Keurig mini plus while brewing coffee. It will heat up the internal pipework of the machine and make the coffee hotter.
8) Cleaning and maintenance: 9/10
To ensure the smooth functioning of the coffee machine and prolong its lifespan, cleaning & maintenance are mandatory. So is the case with the Keurig k-mini plus.
Cleaning the Keurig k-mini plus is like child's play. As the machine is mostly plastic, you can clean it with a sponge and damp cloth.
Components like the k-cup pod holder, drip tray, and water reservoir are removable and dishwasher safe, so you can easily take them out, rinse them with warm, soapy water, and put them back in their original position.
For interior cleaning, you should descale your machine with Keurig's own recommended descaling solution once in 3-6 months.
Overall this machine is very easy to clean.
9) Simple Interface: 10/10
Keurig k mini plus is a sign of simplicity. This machine has only 3 buttons, one large K button for brewing coffee, one strong button for an intense cup, and one power button.
So, in my point of view, the Keurig k-mini plus is ideal for those who are in a hurry and just want to enjoy a good coffee experience without going through a complicated brewing process.
10) Value for money: 8/10
In my point of view, the Keurig k-mini plus is worth every single penny. The clean & minimalist design, upgrade technology and additional core features are enough to justify the buying price. Customers really appreciate the machine for its convenience and simplicity it offers.
If you are one who has limited space, wants to enjoy a delicious brew in quick time without learning about the complicated brewing process, and is limited on budget, then trust me, Keurig k-mini plus serves that purpose incredibly well.
However, if you're searching for an easy-to-use machine with more advanced features, then you may need to increase the budget and move towards high-end Keurig machines.
In 100 dollars range, Keurig Mini Plus is the perfect pod-based machine. However, you can get more affordable similar coffee makers at a little lower price.
Check out the list of Best smallest K cup coffee makers
Other features
Here are some extra features that ease the brewing process for their customers.
Auto shut-off feature
K-mini Plus is one of the single-serve energy-efficient coffee makers that features an auto shut which turns off the machine after 90 seconds to save energy.
K-pods storage compartment
Although, being too compact. K-Mini Plus comes with a semi-cylindrical pod storage container that has a storage capacity of a maximum of 9 K-Cup pods. You can store the container underneath the brew nozzle when you are not using the machine.
Quietness
Keurig k-mini plus is one quietest coffee brewers I ever tested.
BPA-Free Plastic
Keurig claims that all the plastic used in manufacturing their coffee machines and K-pods is FDA-approved and BPA free, and hence, safe to use.
Customer Reveiws Of Keurig Mini Plus
On Amazon, the K-mini Plus has more than 30k global reviews with 4.6 ratings out of 5 stars. This implies that customers are satisfied with machine performance. Around 75% of users are completely satisfied with this machine and give it a 5 stars rating.
On the negative side, some customers are not satisfied with the brew temperature. For some of them, it looks like lukewarm cups of coffee, while for some of them, it is hotter than expected. It might be the machine's default or their personal choice because some prefer to drink a hotter cup of drink, and those who prefer slightly cooler coffee might not notice any difference.
But overall, the machine receives positive ratings and reviews.
Also, check out other best smallest K cup coffee makers
Things you like in Keurig k-mini plus
Highly conventional, easy to operate, and user-friendly.
The small footprint (Dimension:11.3 x 4.5 x 12.1 inches) and weight of 4.9 pounds make it perfect for kitchen compartments, picnics, or desks at your office.
12 ounces removable water reservoir.
Pod storage compartment, chord storage, auto shut-off feature, and strong brew option
No pod-scanning technology so compatible with both licensed and unlicensed K-Cup pods
Includes Keurig's upgraded system for richer coffee and quieter brewing.
Brew any size between 6-12 ounces.
Things you don't like in Keurig k-mini plus
No programmable features.
Cannot make any kind of specialty drink. (You can buy a separate milk frother though)
The reservoir of 12 ounces capacity needs to be refilled before each use.
The product is made primarily with plastic which looks cheap.
Slightly more expensive than other pod-based machines.
No temperature control and the brewing temperature is slightly less.
Considering whether to buy Keurig or not and in a decision-making phase? This article can help: Are Keurigs worth it
Final Thoughts
Keurig Mini Plus is a perfect option if you are looking for something sleek and portable. However, it isn't the best option if you are looking for an advanced coffee machine with extra features.
So that's it I hope you find this Keurig k mini Plus review helpful and if you want to check reviews of other Keurig models they are linked below.
Faqs
How long does the Keurig Mini Plus take to brew?
The Keurig K mini Plus takes around 2-3 minutes to brew a cup of coffee from the start. It will take 1-2 minutes for the machine to heat up and 40 to 50 seconds to brew coffee.
Is the K-Mini Plus loud?
Keurig Mini Plus is somewhat noisy, but I don't think you will be bothered by this noise on a daily basis. The noise is not more than any other pod-based machine.