Here is Keurig k-classic review time: Easy to operate, highly efficient, and most importantly great value for your money!
K Classic is the best-selling and highest-rated model of Keurig.
This review guide includes my testing of Keurig K Classic, as well as the feedback of other users so I can present a comprehensive overview of the k-classic in detail with a pros and cons list so you can make an informed choice! Keep reading.
Keurig K Classic Review | Our Verdict
If you are looking for a simple, easy-to-use, low-maintenance, and reliable coffee maker at an affordable price tag, then Keurig k-classic is the perfect choice for you. A perennial best-seller single-serve coffee maker, Keurig k-classic brews a stronger, smooth, and more delicious cup of coffee every time with the same consistent quality you expect from Keurig.
The bad thing is Keurig K-classic features limited customization options like it has no temperature control, no strength control and no option for milk-based drinks. These are the things you might want from a coffee maker in this price range.
Overall, k-classic is perfect for the coffee lover who enjoys simplicity, convenience, and ease of brewing.
Keurig k-classic review | Brief Overview of the best-selling Keurig model
| | |
| --- | --- |
| Product Type | Single-serve coffee maker |
| Dimensions | 9.75 x 14 x 13.5 inches |
| Weight | 9 pounds |
| Water reservoir | 48 ounces removable |
| Brew Sizes | 6 oz, 8 oz, 10 oz |
| Material | Stainless steel and Plastic |
| Temperature control | No |
| Strength Control | No |
| Colors Available | Black and Rhubarb |
| Display | Button control panel with buttons for Brew Size and Auto-Off |
| Other Features | Maintenance reminders, Alerts for heating, descaling, and adding water |
K40, K-45, k-50, and k-55, are among the popular single-serve coffee makers in the Keurig line brewer. K-50 and k-55 are previously the most loved coffee machine in the Keurig lineup. But now have been discontinued and replaced by a new-and-improved version, K-Classic with the same convenient design and an upgraded brewing system.
Pros
✔️ Best Selling Keurig model
✔️ Very simple and convenient interface
✔️ Maintenance alerts for descaling
✔️ Classic and Stylish Look
✔️ Quick and easy to use
Cons
❌ Don't have any customizable options for brewing coffee
❌ Don't have 4oz and 12 oz brew sizes

Keurig K-CLassic Review | A Detailed Go Through
K-classic combines the well-known efficiency of k-cup technology with a convenient design. Although it lacks many features, but still it comes with all the basic and necessary features that an average coffee drinker needs.
Let's dive into a review of Keurig k-classic.
1) Design and the quality of Keurig K classic
Keurig k-classic doesn't look particularly amazing but is perfect for traditional kitchens. The overall dimension of the machine reveals that it has a footprint of 1 square foot which is quite big for a single-serve coffee maker.
The machine is quite tall (13.4 inches),10.1 inches wide, and 13.2 inches deep. When the pod chamber is open, the height rises to about 17.6 inches which is pretty high to fit under some kitchen cabinets.
Also, it doesn't come in any fun color. Only 2 colors are available: Black and rhubarb, so you have limited options to choose from that suit best your kitchen aesthetic.
The machine is entirely made of BPA-free plastic, which somehow gives it cheaper look. But you don't need to worry about K-Classic's long-term durability.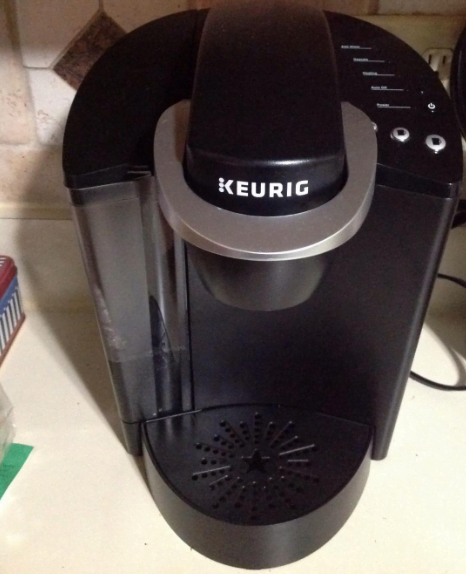 I can't find any single complaint about the degrading of the machine over time. The good thing is it comes with a 1-year warranty so, in case of any malfunction or breakage, you can contact Keurig for replacement or repairs.
The transparent water reservoir is removable and the good thing is it doesn't start brewing unless there is enough water so that's a positive approach toward safety concerns.
Overall, the design of Keurig K-Classic is just fine, I am not quite impressed with the design as it is way bulkier for a single-serve coffee machine.
2) Performance of Keurig Classic
One thing that I really appreciate about k-classic is its performance.
Simplicity and convenience are two main crucial advantages of k-classic.
Brewing time is something that I never expected. While testing I found that it hardly takes 60 seconds from start to finish to brew a cup of coffee.
Another drawback is that k-classic lack many programmable features like temperature control functionality, strength control, a strong brew option, and hot water on demand. Stong brew option can be compensated by investing in k-cup pods that match your desired flavor.
The temperature of the coffee drink from this machine lies in the range of 170 to 175 degrees which is satisfactory for a pod-based machine.
On the positive side, the machine is compatible with my k-cup reusable filter, so you can use your own ground coffee.
Overall, in this price range, the performance of the machine is quite satisfactory.
3) Cleaning and maintenance
Keurigs are popular among coffee lovers because they are easy to clean. So is the case with k-classic. The K-Cup contents never come in contact with the internal components of the Keurig, and that's why there is no mess as in traditional brewing.
Cleaning the k-classic is like child's play. Just remove the used K cup and clean the K cup holder every time after brewing and you are good for the next brew.
It is recommended to clean the exterior, the drip tray, and the water reservoir at least once a week.
The descaling light will blink when the machine needs to be descaling, and it is recommended to do so immediately. Descaling is also a very simple process you simply need to fill the water reservoir with descaling solution and water and run brewing cycles until the reservoir is empty.
Overall the Keurig k-classic requires little maintenance and is much easier to clean.
4) Taste and quality of the drink
The taste mainly depends on the type of K cup pod you use while brewing coffee with K classic.
Keurig k-classic lacks programmable features like temperature functionality control and strength control, so ultimately this limits flavor variety in your cup of coffee.
This machine is compatible with the My k-cup reusable filter so you have the freedom of using your favorite coffee grounds. It is recommended while measuring ground coffee, not to pack coffee too tightly as it may lead to an overflow in the coffee maker.
The machine offers three brew sizes 6 oz, 8 oz, and 10 oz. In my experience, only a 6 oz brew size produces the best-tasting cup of coffee. 8 oz and 10 oz brew sizes result in a bitter and watery cup of coffee.
This machine is certainly not perfect for strong coffee lovers as it lacks the feature of a 4 oz brew size and strong brew button.
Overall, the taste is quite satisfactory and you will love it if you have been using k cup coffee makers for a while.
5) Ease of use
From filling the removable water tank to cleaning and maintenance, k-classic is all about simplicity. Instead of a complex touchscreen panel, a button control panel is present which is very simple to use. All buttons are labeled and get illuminated while functioning.
The brewing process is like cherry pie. In about two minutes, you will have a coffee cup in your hand. All you need to fill the water reservoir, insert your preferred k-cup pod, and press your desired brew cup size.
A few useful indicators are also present on the control panel to help you use the Keurig K-classic coffee maker optimally:
Auto-off feature: When activated, the auto-off feature will turn off the machine after 2 hours in case of no activity to save energy.
Descaling: This light turns on when the machine requires descaling.
Add water: This light turns on when there isn't enough water in the reservoir.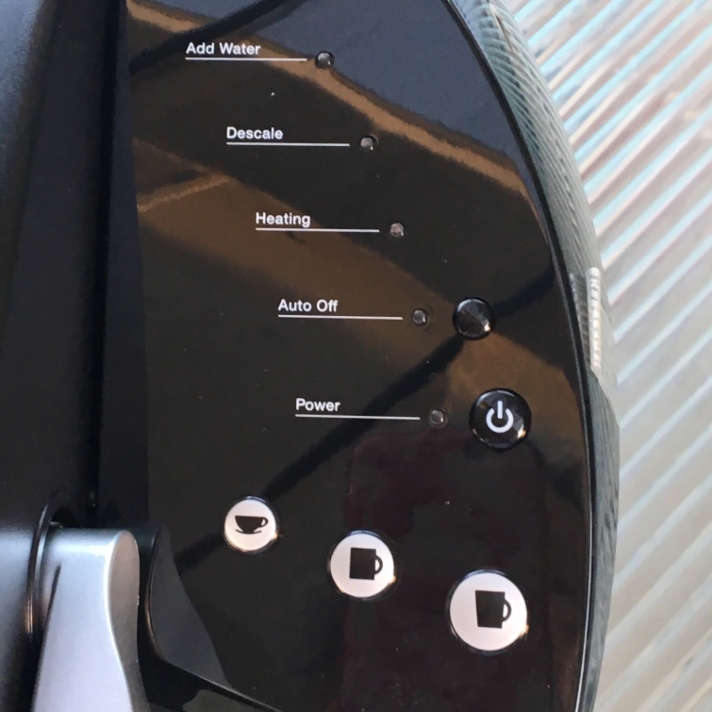 6) Value for money and Customer reviews
Although it lacks many programmable features, yet the simplicity and convenience it offers are good enough to justify the price tag. Yeah! you can find better coffee makers for under 150 dollars than it. Despite this, Keurig is a brand that is trusted and reliable and costs more as well.
Keurig K-Classic is the best-selling Keurig model and more than 90 percent of users are completely satisfied with this machine.
Overall, k-classic has almost 90k reviews on Amazon, with an average rating of 4.7 out of 5. This shows the popularity of this single-serve coffee maker. This is a highly reliable single-serve coffee machine that is efficient, simple to operate, and the most user-friendly model available in the market now.
There are few negative feedbacks regarding the plastic taste of coffee and limited customization options but the majority are completely satisfied with the machine's performance.
Buy Keurig k-classic if
You want simplicity and convenience. As this machine is pretty easy to use and straightforward. If you do not want the customization options that often higher-end coffee machines offer like temperature control and strength control functionality, then k-classic is the perfect choice for you.
You want coffee quickly: Simplicity and convenience are the top two crucial advantages of k-classic. It brews coffee within a minute, so is ideal for those who don't want to learn the complicated brewing process.
You want a machine that requires low maintenance: Keurig K-classic is very easy to clean and has descaling alerts.
You want to use your own coffee grounds: Keurig K-classic is compatible with My K cup and gives you the freedom of using your favorite coffee grounds.
Don't Buy keurig k-classic if
You want Milk-based drinks: It doesn't come with a milk frother to foam the milk, so if you are a lover of cappuccino and latte, this machine isn't for you. However, you can buy the Keurig frother separately.
You want to brew Carafe: larger brew options such as the K-Mug and K-Carafe pods are not available with the Keurig K-classic.
You want more control over brewing: Temperature control and specialty coffee drink options are not available in Keurig k-classic.
You are a strong coffee lover: No stronger brew option is available and also there is no option concentrated and intense small 4 oz shot of coffee.
Considering whether to buy Keurig or not and in a decision-making phase? This article can help: Are Keurigs worth it
Final Thoughts on Keurig K Classic
Keurig classic is the best-selling model of the Keurig brand and for an obvious reason – the convenience it offers and the quality of the coffee drink.
This machine is definitely worth the investment if you are looking for a reliable single-serve pod-based machine.
So that's it I hope you find this review helpful and if you want to check reviews of other Keurig models they are linked below.
Faqs
Is the Keurig K classic worth it?
The unique selling point of Keurig K classic is its speedy brewing process. I don't think there is any machine quicker than Keurig K elite.
However, it doesn't offer any customizable features, you might wanna check Keurig K elite or Keurig Supreme Plus if you want advanced features.