If you want a coffee maker that is highly convenient, yet produces more excellent quality coffee, then Keurig k select might be a welcome addition to your kitchen.
If I need to describe Keurig k select in one line, I would say that it is the best coffee maker that makes the brewing process as simple as it can be possible.
To facilitate you, I have written a detailed Keurig K select review, discussing its design, performance, and features along with the compiled list of pros & cons, so you can make an informed decision. Let's dive in!
Keurig K Select | Should you Buy it?
Some Keurig models are heavily loaded with features, while others sacrifice everything for compactness to favor lightweight designs. Keurig k select sits somewhere between these two, but on the simpler and more convenient side.
52 ounces water reservoir, stronger brew option, multiple cup size, Auto shut feature, maintenance remainder, and user-friendly intuitive interface are top highlights of this machine.
Overall, k-select offers great value, decent customization, and a great look to your kitchen. Basically, it got everything that most regular coffee drinkers need without going overboard on features.
On the negative side, the lid design of this brewer is very poor and is not up to mark.
Keurig k select | An Overview
| | |
| --- | --- |
| Product Type | Single-serve coffee maker |
| Dimension | 11.6 x 9.2 x 12.5 inches |
| Weight | 7.35 pounds |
| Water reservoir | 52 ounces removable water reservoir |
| Brew sizes | 6 ,8 ,10 &12 oz |
| Display | Button control panel with buttons for Brew Strength and Brew Size |
| Temperature control | No |
| Strength control | Yes |
| Other features | Quiet Brew Technology, High Altitude Setting, maintenance reminders, removable drip tray, Auto-On/Off, hot water dispenser, stronger brew button |
The Keurig Select sits somewhere in the middle between the K-Classic and the K-Elite in terms of general functionality. While according to some coffee enthusiasts, it is superior to K-classic.
It offers greater functionality, a larger water reservoir, and premium looking appearance compared to the same range of products. k-select makes the brewing process as easier as it can be, capable of brewing delicious coffee in a quick time, all at an affordable price tag.
Pros
✔️ Strong brew option and high altitude settings
✔️ Quiet brew technology
✔️ Compatible with K cups and universal cups for coffee grounds
✔️ Modern Design with many color options
✔️ Quick and Easy to use
Cons
❌ Don't have many customizable options for brewing coffee
❌ No option for iced coffee
❌ Bulky appearance
Keurig k select Review | A detailed Go through
After testing multiple Keurig models, I have come to the conclusion that the Keurig k select is the best standard coffee machine for the average coffee lover who doesn't know the detail of brewing.
Simplicity and convenience are the top crucial advantages of K-select. But despite Keurig k-Elite having several benefits, it still has many shortcomings. Read out each core feature and then make your decision!
1) Design and build quality of Keurig K Select
Although the dimension of 11.6 x 9.2 x 12.5 inches reveal that the k-select must be bulky, but honestly it is not. It is compact enough to adjust on the countertop of your kitchen easily. Even when the head is open, the height rises to just about 17 inches.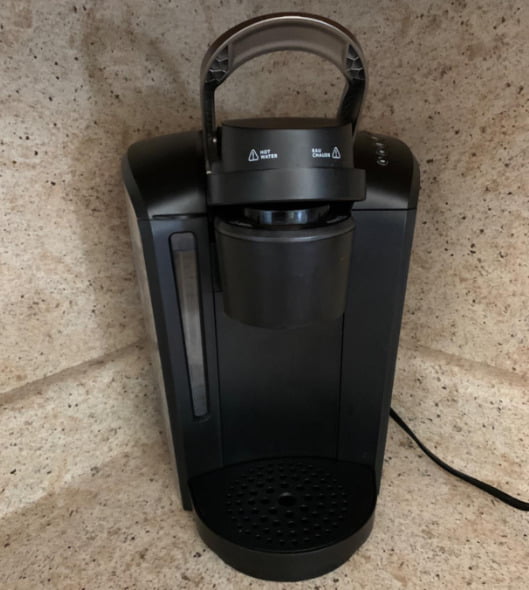 K-select is made entirely of pure plastic, but the manufacturer has used high-quality plastic so you don't need to worry about longevity.
Honestly speaking, k-select isn't the most fashionable model available in the market. A simple button control panel display and plastic housing give it an average-looking appearance.
But fortunately, comes in varieties of fun colors: Vintage Red, matte black, matte white, matte navy, oasis, and sandstone. Personally, I like matte black because it matches most of my kitchen appliances colors.
It has a large 52 ounces of water reservoir. The water reservoir has a little notch inside that indicates the max fill line and a window that indicates the water level via the exterior.
The drip tray is removable, so it makes the brewer travel mug friendly (it can accommodate a mug as tall as 7.4 inches).
Overall, Keurig K-select has an average-looking compact design and a button control panel display.
2) Performance of Keurig select
Looking at the design and performance I must say that the Keurig K select is the most reliable coffee machine.
If you are a beginner and don't have knowledge of brewing, then trust me, Keurig K-select is a worthy investment.
Heating time is something that I never expected! 
It took around 50 seconds to brew normal coffee while around 1 minute and 30 seconds to have a stronger brew.
The heat-up time of the machine is also remarkable; it takes less than two minutes for it to heat up.
52 ounces water reservoir give you the freedom of brewing multiple cups without worrying about refilling the tank again and again.
The best thing is it is also compatible with the My K-cup reusable filter that allows you to use your own coffee grounds.
There is no temperature control functionality in k-select. Keurig claims that their coffee maker reaches the max temperature of 192 degrees Fahrenheit.
However, while testing, I found that the K-select wouldn't heat the water to that temperature level and reached the maximum temperature of 182 degrees Fahrenheit. But I think it's a good temperature compared to other pod-based machines.
3) Taste and the quality of the coffee drink
As far as the taste is concerned, I would say that K-select is nothing less than a traditional drip coffee maker.
The quality of the flavor is quite good. It pours down an accurate amount of water for different brew sizes, making the coffee taste more strong and more robust.
However, if you're a true coffee purist who prefers strong, and super-dense coffees, this machine isn't for you! As this machine lacks the feature of a 4 oz cup size.
4) Ease of use
As already mentioned, k-select is highly known for its convenience. The machine is pretty easy to operate, just insert the K-pod, press your desired cup serving size, and wait! It will brew delicious drinks in less than 1 minute.
Instead of a complex touchscreen, there's a button control panel. All the options are clearly labeled to avoid any kind of confusion and light up when the system is plugged in.
A total of 6 buttons are present on display, 4 are for cup-size servings, one is for power, and one represents strong brew.
There are also 3 reminder lights that flash, indicating auto-off, maintenance remainder, and when the water level is low.
Also, Thanks to the quiet brewing technology of this machine, K-select is fairly quiet while brewing, with the highest decibel reading at 67 dB, making it ideal for the office environment.
Overall, Keurig k select is the best single-serve coffee maker whose top priority is to offer simplicity and convenience to its customers.
5) Cleaning and maintenance
Clean up process is a time-consuming task, but it is a necessary evil and you have to do it regularly.
Apart from being so convenient, K Select has a pretty easy cleaning process.  Most components are removable and dishwasher safe, so you can easily remove them, and rinse them with warm, soapy water.
The best thing about Keurig k select is a fingerprint-proof body, so there is hardly any need of cleaning it, but if necessary it's as easy as wiping the exteriors with a damp cloth to maintain its sleek appearance.
Apart from regular cleaning of removable parts like the drip tray and water reservoir you must clean the top and bottom needles periodically and must descale the machine once every 3 or 4 months.
6) Value for money
Overall, Keurig k select is an incredible coffeemaker that gives the same benefits as the premium machines, and all that with an affordable price tag.
Although it lacks several upgraded features, like frothers, over-iced settings, and temperature control settings. But in a price range of under 150 dollars, that is acceptable.
Like all Keurigs, k-select is limited to K-Cup pods to brew coffee, tea, and hot cocoa and the K-cups are quite expensive than regular coffee grounds.
A single K-pod cost you around 0.60 cents to 1.20$ depending upon which brand you used. Fortunately, this machine is compatible with my K-cup reusable filter, so gives you the freedom of using your own ground coffee and saving a lot of money.
Overall, In this budget range, K-select is an excellent option.
7) Customers Feedback
On Amazon, this machine has more than 35000 reviews with an average 4.6 rating out of 5. More than 80% of users are completely satisfied with this machine and that is quite a good number.
Customers really appreciate the machine for the simplicity and convenience it offers. They also mentioned that the Button control panel is much easier to operate than a complex touchscreen display panel.
However, there are a few negative feedback about the machine and most of them are concerned about the leakage of water or the Splashing of coffee drops at the end of the brew cycle. Some also complain about the plastic taste of coffee.
But overall, the negative feedbacks from the customers are way less than the good feedback. And the majority are completely satisfied with the performance.
Why should you buy Keurig k-select?
One of the best Budget-friendly Coffee Machines that brews premium coffee in quick time without any hassle.
Equipped with 52 ounces water reservoir that is able to brew 7-10 cups of coffee without the need for a refill.
K-select is An average-sized coffee maker, therefore, it is ideal for small office spaces or mid-sized apartments.
Compatible with all types of k-cup pods and reusable My cups for the coffee grounds.
Comes with Keurig's upgraded system for a quieter brewing option.
Have strength control options.
Requires little effort in terms of cleaning and maintenance.
Why shouldn't you buy Keurig k-select?
It doesn't come with a steamer wand to steam the milk, so if you are a lover of milk-based coffee drinks, this machine isn't for you. However, you can buy it separately.
Larger brew options such as the K-Mug and K-Carafe pods are not available with the Keurig K Select.
No over-iced settings for iced coffee.
The hot water on-demand feature is also not available.
No option for a 4 oz brew size. So if you are a fan of a short and stronger shot of coffee this machine is not for you.
The lid design is not good.
Considering whether to buy Keurig or not and in a decision-making phase? This article can help: Are Keurigs worth it
Final thoughts on Keurig K Select
Keurig K Select is a good mid-range pod-based coffee machine perfect for coffee folks who aren't in search of advanced coffee machines.
This coffee maker offers a very simple interface and some useful features that will help you brew a perfect cup of coffee.
So that's it I hope you find this Keurig K Select review helpful and if you want to check reviews of other Keurig models they are linked below.
FAQs
Can I use my own coffee in Keurig Select?
Yeah, you can use your own coffee grounds in Keurig K-select. For using them, you have to buy a My K-cup separately.
When did the Keurig Select come out?
Keurig K Select was released at the end of 2017.