Typically Keurig manufactures only single-serve coffee makers, but the Duo series is an exception that can brew up to 12 cups Carafe of coffee simultaneously. The machine is essentially a 2-in-1 drip coffee maker that allows you to brew single-serve coffee with a K-cup pod or a full carafe of coffee with coffee grounds. But is Keurig K-duo Plus the perfect choice for you?
For this article, we have tested and reviewed Keurig Duo Plus. We will cover everything you need to know about this machine. We'll discuss its design, performance, coffee quality, clean-up, and several features along with a compiled list of pros and cons. It will surely help you to make an informed decision. So, keep reading!
Keurig Duo Plus | Is this Carafe machine worth it?
Keurig duo plus is a highly versatile streamlined pod coffee maker that can brew both single-serve k-cup and up to 12 cups of the carafe and has a convenient multi-position water reservoir.
This top-quality drip coffee maker fits stylishly on your kitchen counter and makes a great cup of coffee.
With many advanced features like Auto brew programming, a Strong brew function, 4 brew sizes, a thermal carafe (which keeps coffee hot for 2 hours), and quick and silent brewing technology this coffee maker is worthy of the price tag.
Designed to satisfy both single-serve and large-quantity brewing needs. You should definitely go for it if you have a large family or you want a coffee maker for parties or offices
Keurig k-duo plus | Overview of a Keurig with Carafe
| | |
| --- | --- |
| Product Type | Keurig duo plus single serve & carafe coffee maker |
| Dimensions | 14.19 x 7.68 x 15.88 in. |
| Weight | 9.7 pounds with a brewer & 10.78 pounds with a carafe |
| Water reservoir | Multi-position 60 ounces water tank |
| Brew Sizes | 6 oz, 8 oz, 10 oz, 12 oz (single serve), and up to 60 oz (carafe). |
| Temperature control | No |
| Display | Auto-On plus digital clock display and Button control panel for adjusting Brew Strength, Brew Size |
| Capacity | Up to 12 cups |
| Other Features | 12-cup thermal carafe (keep coffee warm for 2 hours) and mesh reusable ground coffee filter, auto brew, and auto-pause |
Pros
✔️ Both single-serve and carafe options
✔️ Programmable machine
✔️ Strong brew settings
✔️ Extremely user friendly
✔️ Sleek and Modern Design
✔️ Thermal Carafe keeps coffee hot for a longer
✔️ Convenient and adjustable water reservoir

Cons
❌ Components are not dishwasher safe
❌ The design of the Carafe is not up to the mark
❌ The price is a little higher
Keurig k duo Plus review | A detailed Go THrough
1) Design and appearance of Keurig Duo Plus
The Keurig duo plus has an attractive, sleek, and compact design with a matte black finish that fits easily in your kitchen compartment. Keurig k-duo plus is more durable than any coffee maker that is made of plastic.
With the dimension of 14.19 x 7.68 x 15.88 in. Keurig k-duo plus is slimmer than Keurig k-duo, which enables it to easily fit on your kitchen countertop.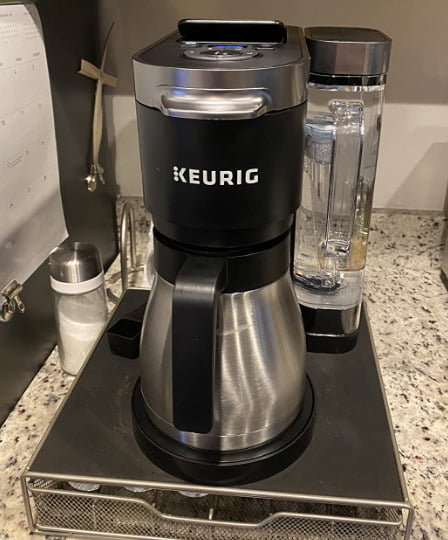 Overall, the design of this coffee maker is quite stylish and way more compact than other 12-cup carafe drip coffee makers.
2) Performance of Keurig K Duo Plus
I would like to give a 5-star rating to this model for its performance. This multi-functional coffee maker can brew a single-serve cup in 6, 8, 10, or 12 oz cup sizes or 6, 8, 10, or 12 cups of coffee in carafe mode.
It takes under a minute for this machine to heat up and be ready to brew.
Single Serve mode:
When preheated, the brewer needs merely a minute to make a single cup. Just insert the K cup pod in the brewer, select the size, and hit the brew button. You will get a pretty hot cup of coffee in under a minute.
The machine is compatible with all the original and 3rd party k cups.
Keurig duo plus can accommodate travel mugs up to 8 inches after removing the drip tray and 7.25 inches without removing the drip tray.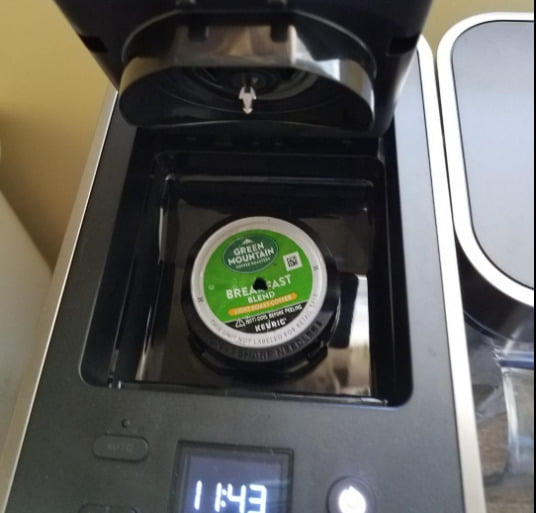 Carafe Mode:
Carafe takes 5-7 minutes for 6 cups and around 9-10 minutes to finish a 12-cup carafe which is very fast. I have never seen a drip coffee maker that can brew 12 cups of the carafe in under 10 minutes.
While in Carafe mode, this machine also features a brew-pause function. For instance, if you want a quick cup of coffee while the machine is brewing, you can simply lift the carafe out and pour your coffee, during which the machine will stop brewing for 20 seconds.
I recommend you buy separate paper filters instead of using a built-in mesh filter. Otherwise, you will end up with a carafe of coffee with too many sediments.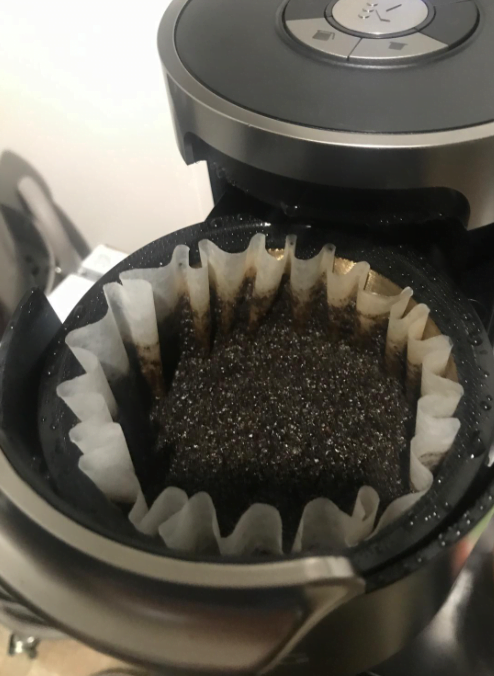 I have tested the temperature of brew both in the Carafe and single-serve modes multiple times and it typically falls in the range of 172 to 177 degrees. And that is quite impressive.
3) Taste and the quality of coffee drink
As far as taste is concerned, there is not too much noticeable difference between Keurig k-duo plus and other Keurig coffee machines.
The good thing is strong brew option is present in this Keurig model. This function is usually present in high-end Keurig models and not in low-end models. It increases the brewing time, which increases the extraction of flavors from the coffee grounds, creating a rich, strong cup of coffee
Regarding the taste of the drink, this machine lacks two very important features usually found in Keurig machines in this price range: a 4oz serving size option and an over-iced setting. You will probably not like this machine if you enjoy iced coffee or small espresso-style shots of coffee.
Overall, I am quite satisfied with the temperature and taste of the drink this machine prepares.
4) Ease of use
Keurig duo plus is one of the most user-friendly coffee machines available in the market today. The display screen allows you to access everything just at the push of a button.
Keurig Duo Plus has a simple power button to turn the machine Off or On. When you turn on the machine carafe and pod button starts blinking. Once you choose one option the 6, 8, 10, and 12 size button starts blinking. Just insert the coffee pod, select the size, and hit the large K button as simple as it is.
On the left side, there is an auto button and an hour and minute button to program the machine.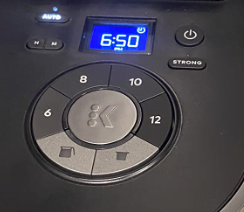 I am impressed with the simplicity of the interface of this machine. In spite of the fact that the machine has two functionalities of single serve and carafe, it is still quite simple to operate.
5) Ease of cleaning
Cleaning not only enhances the smooth functioning of the machine but also increases the lifespan of the machine.
The filter basket, gold-tone mesh filter, carafe, and carafe lid should be cleaned after every use with warm, soapy water. Clean the exterior portion of the brewer with a light, wet cloth from time to time to maintain the look of the machine. Also, clean the removable parts like the drip tray and the water reservoir every week.
All the parts are very easy to disassemble but remember you have to clean them manually as they are not dishwasher safe.
You should also need to descale your machine once in 3-6 months.
6) Water Reservoir of Keurig Duo Plus
The best thing about this coffee maker is the convenient design of the water reservoir.
The water reservoir is completely made of see-through plastic and it got marks on it for 12, 10, 8, and 6 cups of coffee.
You can easily adjust the position of the water reservoir either on the back or left and right-hand side of the brewer depending on the available space.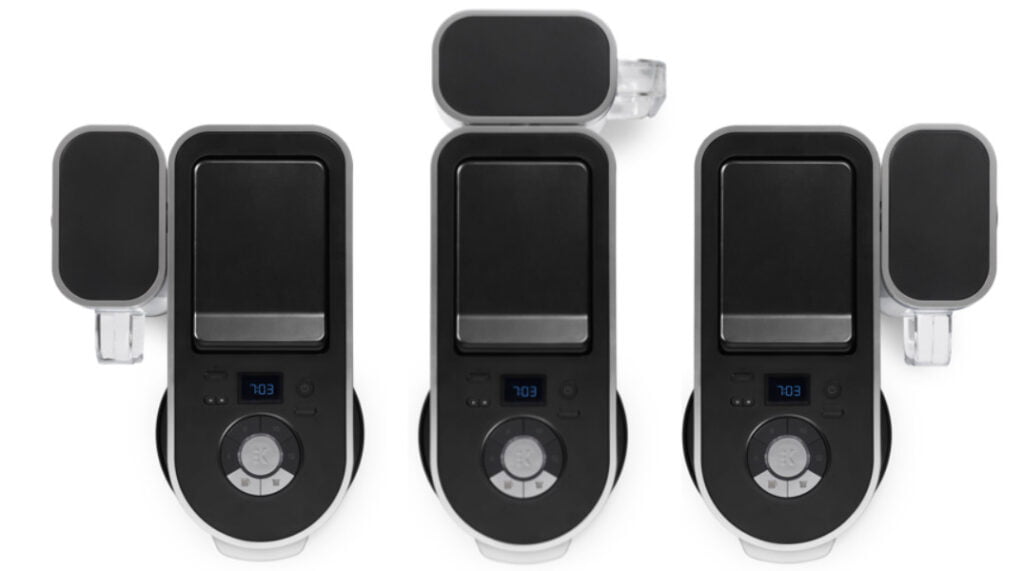 Additionally, it has a convenient handle that makes it easy to attach and detach from the brewer, as well as easy to clean.
It is undeniably the convenient design of the water reservoir of Keurig Duo Plus that earns it its unique selling point.
7)Other Features
Thermal Carafe:
Unlike Keurig Duo with a glass carafe and heating plate, Duo Plus has 12 cup stainless steel insulated thermal Carafe. A thermal Carafe is better in my opinion as it is long-lasting and can keep coffee hot for 2 hours without the need for a heating plate.
Auto brew programmable function
You can set an auto brew option for the carafe so you don't need to wait for your coffee in the morning.
The machine can be set to brew at a specified time, up to 24 hours in advance. Just fill the filter basket with coffee grounds, set the timer, and your coffee will be ready at the desired time.
Auto shutoff feature
Keurig Duo plus has an auto shut-off feature that automatically turns off the machine after 10 minutes of inactivity to conserve energy.
8) Price
Although being a high-notch coffee machine, the price is a little bit higher around 200 dollars. It is a worthwhile investment when considering the features like the auto brew setting, the adjustable water reservoir, the pause and pour settings, and, most importantly, the option for one-cup and multi-cup servings.
9) Customer Reviews
No matter what the features or specifications of a coffee maker the real worth is always determined by the users. And it seems that the users are quite satisfied with this machine.
On Amazon, it has around 25k reviews with an average rating of 4.5 out of 5. Almost 80% of the users are completely satisfied with this machine. And this is a good number though.
On the negative side, some users are not happy with the carafe brew function of this machine. They have complaints about leakages and the poor design of the carafe.
Overall, customers are mostly satisfied with the functioning and the taste of Keurig Duo Plus
Buy Keurig k-duo plus coffee maker if
Although there are many reasons why Keurig duo plus stands out as an exceptional drip coffee maker, before making your final decision of purchasing Keurig k-duo plus, look at the following things.
You Are Limited In Space: With the dimension of 14.19 x 7.68 x 15.88 in. Keurig k-duo plus is slimmer than many carafe coffeemakers. Also, the multi-position design of the water reservoir makes the design ideal for smaller places.
Simplicity: Keurig k-duo plus is simple to use and is more user-friendly. With the help of a digital display and button control panel, you can access everything and make customization. And the best thing is you can easily program the carafe brew timings.
Variety In Drink: Keurig k-duo can brew a single-serve cup in 6, 8, 10, or 12 oz cup sizes or 6, 8, 10, or 12 cups of coffee in carafe mode. It is compatible with both branded and non-branded k cup pods and has a reusable mesh filter for using coffee grounds.
Don't Buy Keurig k-duo plus coffee maker if
The Keurig K-Duo Plus drip coffee machine has many excellent qualities, innovative features, and an attractive design. However, this doesn't indicate that it is an ideal machine for everyone. If the following things apply to you, skip the K-Duo plus.
Tight On Budget: Although this machine has many unique features but it isn't cheap at all. Look for other options if you are tight on budget you can easily get a coffee maker with similar functionalities for under 150 dollars. As we all know Keurig charges for its brand name also.
Espresso-styled coffee: There is no option to brew a 4oz cup of espresso-styled coffee in this machine. All high-end Keurig machines usually have this feature. I wonder why they haven't included it.
Considering whether to buy Keurig or not and in a decision-making phase? This article can help: Is Keurig worth it
Final Thoughts on Keurig Duo Plus
The Carafe coffee machines are not usually as slim and sleek as a Keurig Duo Plus, so it's definitely a plus.
The Keurig Duo series is the only series of Keurig with the option of a Carafe so you can easily brew large quantities of coffee. Feature-wise and price-wise Keurig Duo Plus is definitely the best model of the Keurig Duo series.
So that's it I hope you find this review helpful and if you want to check reviews of other Keurig models they are linked below.
frequently asked question
What is the difference between K-duo and K-duo plus?
With the Keurig K-duo, the water reservoir stays fixed in one position; it also appears more bulky and heavy. The carafe is made of glass and there is a heating plate to keep the coffee warm.
On the other hand, Keurig k-duo plus has a 60-ounce multi-position water reservoir. Instead of a glass carafe, it has a thermal carafe that keeps your coffee warm for 2 hours without the heating plate.