Hey there, office warriors! We've got just the thing to make your office vibes even better—top-notch Keurig coffee makers designed to level up your coffee game!
With these Keurigs, you can brew your favorite coffee, tea, or hot cocoa right in your office haven. We've done the legwork to find the best Keurig for office use that fit like a glove in your workspace, whether it's a cozy corner or a bustling break room.
Say goodbye to complicated setups. These Keurigs are a piece of cake to use, and they've got your back when it comes to variety. From classic coffees to fancy flavors, they've got pods to suit everyone's taste.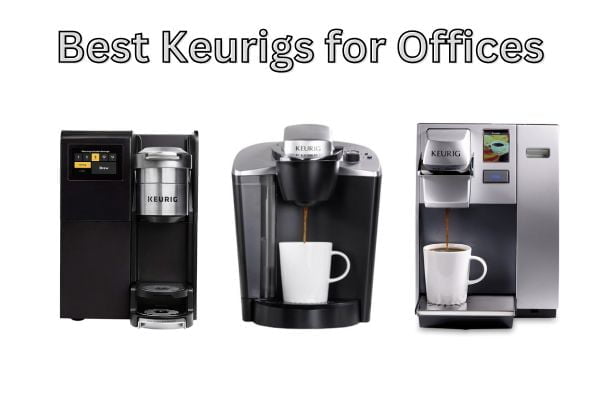 Factors to Consider while Choosing a Keurig for Your Office
1. Counter Space
When it comes to selecting the perfect Keurig machine for your office, one crucial factor to consider is the available counter space.
Assessing the space you have will help determine which machine is the most suitable fit. All the options in my list are designed to be compact, catering to the needs of various office setups.
If you are limited on counter space, the K-Elite and K-145 emerges as the clear winners. Thier smaller size allows them to blend into tighter office environments without consuming excessive room.
This advantage ensures that you can allocate the remaining space for other essential items associated with your coffee station – the space needed for storing K Cups, paper coffee cups, milk, and sugars.
2. Performance
The performance of a Keurig machine is a crucial consideration for your office.
I recommend looking for a model that offers fast brewing times, ensuring minimal waiting time for the employees.
The Keurig K155 OfficePRO Premier Brewing System and the Keurig K-3500 are both fast models, capable of brewing beverages in less than a minute.
Additionally, check for features like multiple cup sizes and brew strength options to cater to the diverse preferences of your colleagues.
3. Capacity
Trust me on this, you would want to evaluate the capacity of the Keurig machine to ensure it can meet the demands of your office. I'd say consider the number of employees and their coffee consumption habits.
Options with larger water reservoirs and the ability to brew multiple cups consecutively are ideal for high-traffic environments.
Opting for a machine with a larger capacity minimizes the need for frequent refills, providing convenience and efficiency.
The Keurig K-Elite coffee maker is perfect for personal office use, while the Keurig K-3500 can satisfy the beverage needs of a high-traffic offices with it's direct plumbed connection.
4. Compatibility
Check the compatibility of the Keurig machine with various types of K-Cup pods. It's essential to ensure that the machine can accommodate a wide range of coffee flavors and brands.
Pro Tip: Compatibility with both regular and reusable K-Cups gives your office the flexibility to choose between convenience and sustainability.
5. Programmability
Before buying your Keurig for office, you definitely want to consider the programmability features offered by the machine. Some models allow you to set automatic brewing schedules, ensuring that coffee is ready when your employees arrive in the morning.
The Keurig K-Duo Plus offers a wide range of programmable features, including auto-brew, brew strength, and multiple cup sizes, allowing for a highly customizable brewing experience.
6. Budget
Determine your budget for a Keurig machine and consider the value it offers. Compare the features, performance, and durability of different models within your price range.
While it's important to stick to your budget, prioritize quality and functionality to ensure a long-lasting and reliable coffee solution for your office.
The Keurig K-Elite stands out as the most budget-friendly option among my picks, priced as low as $150. On the other hand, the K-3500 Keurig Commercial model is the most expensive choice, with a price of $900.
Based on these factors, I have selected the 5 Best keurig for office that are definitely worth considering. Let's take a closer look at them!
1. Keurig K155 Office Pro – Fastest Choice
The Keurig K155 OfficePRO Premier Brewing System is a top-notch choice for offices seeking a fast, quiet, and customizable coffee experience.
With its easy-to-use touchscreen and multiple cup-size options, your team can enjoy their favorite hot or iced beverages in no time!
This advanced brewer features an interactive LCD touchscreen, allowing you to easily adjust the brew temperature, coffee strength and the brew size.
The Keurig K 155 Pro has a large 90-ounce water reservoir that can brew 10 to 12 cups of coffee without the need to refill. It also has a fast brewing system that can deliver hot coffee in under a minute.
It even boasts a drainable internal hot water tank, making it convenient for transportation and storage.
The Keurig K155 OfficePRO Premier Brewing System is a great coffee maker, but it does have a few potential drawbacks. The water level indicator is not always accurate, and the price tag is a bit high. However, these issues are not deal-breakers, and the K155 still offers a lot of great feature.
Pros
✔️ The 90 oz water reservoir is a great size for making a lot of coffee, and it is also easy to drain
✔️ Sleek and compact design fits well in any office setting
✔️ Adjustable brew temperature and very quiet brewing technology
✔️ Delivers a delicious and smooth cup of coffee
Cons
❌ Design flaw in the water level indicator may show inaccurate levels somtimes
❌ Can't be plumbed directly to water lines
❌ The price of this coffee maker is fairly high
❌ Don't have strong brew feature for a bold cup of coffee

2. Keurig K-3500 (Commercial Grade Model)
The Keurig K-3500 Brewer is the perfect solution for high-traffic offices, delivering a continuous brewing experience that keeps everyone energized. Its direct-waterline plumbing eliminates the need for constant refilling, making it an efficient choice for busy workplaces.
It allows you to brew back-to-back coffee drinks with the dual heating system and direct connection to the water lines
It has an LCD touch screen display with an intuitive user interface that provides clear instructions on how to brew coffee.
The coffee maker offers a variety of brew sizes, and a hot water on-demand function, so your employees can enjoy a wide range of beverages throughout the day. It also offers a Strong option for bold coffee lovers.
This machine also features automatic pod ejection with a generous capacity of 30 to 40 pods which makes it even more convenient for busy offices.
This coffee maker is not portable like other Keurigs, as it requires a technician to install and is plumbed to the water source. This makes it not as convenient to move around as other models. Additionally, it is pricier than other options.
Pros
✔️ Perfect option for quick back-to-back coffee brewing
✔️ Internal water tank that is completely drainable for easy transportation
✔️ Convenient features like automatic pod ejection and hot water dispenser
✔️ Various brew sizes and strong brew options to meet various needs.
Cons
❌ The most expensive Keurig model
❌ Once installed you can't move it around easily without the help of a technician
❌ Very heavy device
❌ Plumbing kit is not included
3. Keurig K-Elite (Best for Personal Office)
The Keurig K-Elite Coffee Maker is a popular and affordable option for personal office use. It has a sleek design and advanced features that elevate the coffee experience.
The Keurig K-Elite Coffee Maker features a Strong Brew setting for a bolder cup of coffee, as well as an Iced button for brewing refreshing iced coffee drinks. It also offers 5 brew sizes, so you can easily brew 4, 6, 8, 10, or 12 ounces of your preferred beverage.
This coffee maker is the perfect addition to any small office setting. It has a small footprint and a stylish design that will add a touch of sophistication to your space.
It also provides hot water on demand for instant soups or oatmeal, and the large 75oz removable water reservoir allows for brewing up to 8 to 10 cups before refilling.
While this coffee maker is a great choice for small offices, I must say it is not ideal for large settings. It has a small water reservoir, and the plastic material is not designed to handle large volumes.
Pros
✔️ Quick and quiet single-serve brewing system
✔️ Decent design and compact size make it perfect for small offices
✔️ Affordable price
✔️ Various brew sizes, strong brew, and hot water functions are really useful
Cons
❌ Completly made of plastic material
❌ Not an ideal coffee maker for large offices
❌ The water reservoir is small compared to other options
Read a detailed review of Keurig Elite
4. Keurig K Duo Plus – (The Versatile Model)
The Keurig K-Duo Plus Single Serve & Carafe Coffee Maker is the best choice for a versatile office coffee solution. With the option to use K-Cup pods or ground coffee, along with the ability to brew a single cup or a carafe, this brewer caters to the diverse preferences of your office team.
This K-Duo Plus has a 12-cup thermal carafe that keeps your coffee hot for up to 2 hours. The Pause & Pour feature allows you to serve coffee while it's still brewing, and you can even program it to automatically brew your coffee up to 24 hours in advance.
The sleek black design of this coffee maker adds a stylish touch to your office. The Multi-Position water reservoir can be placed on different sides to fit your countertop layout.
This Keurig features a Strong Brew button that lets you enjoy bolder and more intense flavors, whether you're brewing a single cup or a carafe. Plus, with multiple brew sizes available, you can make a 6, 8, 10, or 12-cup carafe.
The carafe of this machine is not well-designed. It gets very hot on the outside, making it difficult to hold and pour coffee.
Pros
✔️ The best 12-cup carafe option for large office teams.
✔️ Keeps the coffee warm for about an hour and you can program the coffee maker 24 hours in advance
✔️ Multi-position removable water tank
✔️ Compatible with both K cups and coffee grounds
✔️ Both single-serve and 12-cup coffee pot options.
Cons
❌ The water reservoir is small
❌ Made of plastic material not ideal for back-to-back brewing
❌ The design of the Carafe isn't very user-friendly
❌ The price is a little higher

Read a detailed review of Keurig K Duo Plus
5. Keurig K145 OfficePRO – (Ideal for Small Offices)
The Keurig K145 OfficePRO Brewing System is an ideal choice for small offices seeking convenience and efficiency. It is designed to provide a fresh cup in under a minute!
The Keurig K145 OfficePRO is a good choice for a smaller-sized office. It has a 48-ounce water reservoir that can brew three different sizes of coffee: 6 oz., 8 oz., or 10 oz. cups.
The K145 is made of heavy gauge materials that ensure durability and brews a cup of coffee in less than 60 seconds, making it a quick and convenient option for busy offices.
However, some users have experienced higher noise levels when using this brewer and the water reservoir is very small for office use.
Pros
✔️ Brews coffee very quickly in under a minute
✔️ Durable construction suitable for high-volume use
✔️ Drainable internal water tank makes it easy to transport
Cons
❌ The water reservoir is small
❌ The noise level of this machine is higher compared to other models
❌ Not the best choice for large offices


You might want to check out following articles:
Final Thoughts
As we reach the end of our journey through the world of office-friendly Keurigs, it's clear that Keurig has a model for every type of office, from large and busy to small and personal.
No matter which Keurig model you choose, you can be sure of exceptional results. The delicious taste and reliability of the machines will ensure long-term satisfaction for your colleagues.
I hope you find the Best Keurig for office in this list, if you have any questions, let us know in the comments!