If you are the one who admires the beauty of Kitchen appliances, then the Le Creuset Stoneware French Press Coffee maker is undoubtedly the best choice for you.
There are mixed reviews about the Le Creuset French Press coffee maker. Most of them were good, but some of them were actually bad. So, we decided to test and research this product in detail.
If you are looking to buy a Le Creuset cafetiere. Then this review will surely be going to make your buying decision easy.
Is this Expensive Le Creuset French Press really worth it?
The best thing about Le Creuset French Press coffee maker is its aesthetic design.
Enamel coating gives this coffee maker a shiny look and makes it immune to cracks. This coating also makes the cleaning of the carafe easy and quick.
It's best for brewing a smooth and well-balanced cup of coffee and of course, you can also brew tea in it.
Yeah, it's very expensive compared to regular French Presses but it is definitely worth it if you are looking for something that adds beauty to your kitchen.
Le Creuset is undoubtedly the best stoneware French Press available.
Why Trust Us
I have taken an in-depth look at all of its top features and analyzed the pros and cons to help you make an informed buying decision. With our expert review, you can discover whether the Le Creust French Press is the right choice for you or not.
*As an Amazon Associate, we earn a little commission when you purchase products through our links, without any additional cost to you. That helps to support our website and I greatly appreciate your support!
Why buy Stoneware French Press Coffee maker?
Well, in my opinion, there are three reasons to buy a stoneware French Press coffee maker over a glass French Press.
The number one is its design. If you are like me, who prioritizes design while buying anything, you should go with the Le Creuset cafetiere.
The second one is the fact that stoneware French Presses actually keep the coffee hotter for long periods than glass French Presses.
Lastly, Stoneware French Presses are an excellent gift option for your friends and family because of their aesthetic design.
Read a detailed comparison among glass, stainless steel, and ceramic french presses. It will help you to make an informed buying decision.
LE CREUSET STONEWARE FRENCH PRESS review
Le Creuset is one of the best brands in the Kitchen industry, producing high-quality ceramic kitchen equipment over the years.
The best thing about Le Creuset is that it never compromises on quality. Millions of users trust Le Creuset, and they have established and maintained significant brand loyalty.
1) Size of Le Creuset French Press
The capacity of this coffee maker is 27 oz. That means you can easily brew 3 to 4 cups of coffee at a time.
Never pour the water above the spout carafe of this coffee maker.
Many people make this mistake in an attempt to brew an additional cup of coffee but this will make the coffee grounds at the top escape and will make your coffee muddy.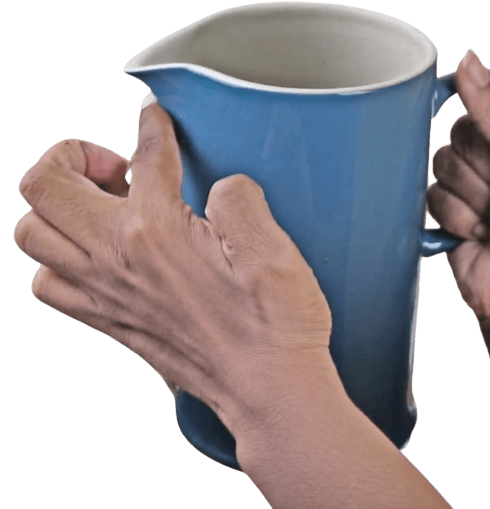 2) design of Le Creuset French Press
This coffee maker has an enamel finish which keeps it safe from cracking. You can put it in the oven or refrigerator, and it is also completely dishwasher safe.
It has a white enamel-finished interior which can be cleaned easily after brewing a cup of coffee.
Many people complain that this French Press is not strong and durable. Of course, it is not as strong as the stainless steel ones, and it is obviously going to break if you drop it from a height. But overall the design is very solid and it can easily last for a lifetime (if you don't drop it).
3) Plunger and the Filters assembly
The plunger and mesh screen assembly are made of steel. It's very easy to disassemble the plunger assembly for cleaning purposes.
It has three filters, a metal plate that is quite sturdy, a cross plate, and a mesh screen that blocks the coffee grounds.
The filter assembly is adequate and keeps most of the coffee grounds away from your cup unless you are using fine grounds or you are overfilling the carafe of French Press.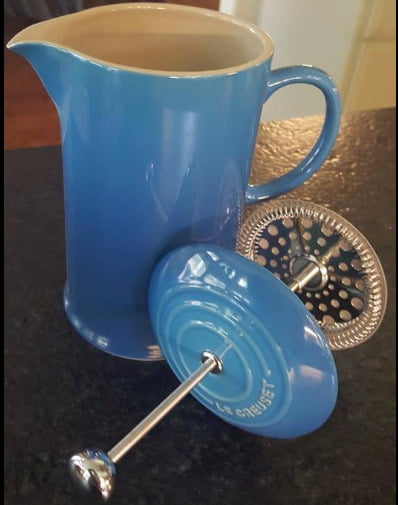 In some French Presses, it is very difficult to disassemble the filters and plunger for cleaning purposes but that's not the case with Le Creuset.
Some Extra Features of Le Creuset French Press
Color Options: This cafetiere has a very attractive design and has a gradient color with darker at the bottom and lighter at the top.
This French Press is available in eleven different colors on Amazon.
Heat Retention: Stoneware material can certainly retain heat longer than a Glass French Press. This French Press can keep your coffee fully hot for 1 hour and the coffee will still be drinkable after 2 to 3 hours.
Just make sure to rinse the French Press with hot water before brewing coffee. Otherwise, the temperature will drop very quickly.
What Set Apart Le Creuset from Other French press
All the items in the Le Creuset stoneware range are handcrafted. So, there can be slight variations in the appearance from one piece to another, but one thing remains common; their outstanding design.
The enamel finish makes the design of this French more stable and long-lasting. This finishing makes the surface non-porous, so it doesn't retain any odor or flavors from the previous brew.
This French Press is very easy to clean and completely dishwasher safe. Its surface is scratch-resistant, and the plunger can be disassembled easily for cleaning purposes.
One of the best things about Le Creuset French Press is its elegant design. Enamel finishing gives it a shiny and glossy look, and it looks lovely on the counter of the kitchen or office.
Ceramic material does not absorb any flavor or odor, and this makes the taste of coffee fresher and more delicious.
.
Cons of Le Creuset French Press
The lid of this stoneware French Press does not fit firmly at the top. This might make the pouring of coffee much more difficult. You have to hold the lid with the other hand while pouring coffee.
This design flaw also results in heat losses. Although stoneware material retains heat more than glass material, this lid problem can make your coffee cold much more quickly. This is not a very serious problem, though, as the temperature will drop only to a few degrees during the four-minute brewing process.
If you are looking for other options available in ceramic or stoneware material. Check out our article on Best Ceramic and Stoneware French Presses
How to use Le Creuset French press
While reading the reviews of Le Creuset French Press coffee maker, I have noticed many people have complained that they usually end up with a muddy cup of coffee while using this French Press.
I haven't noticed anything like that. But this can happen if you are overfilling the jar with water or if you are using the wrong grind size.
Here is the four-step process on how to use Le Creuset French Press properly. So, you can have a great cup of coffee.
1- First of all, rinse the French Press jar with hot water. So, the water temperature does not drop significantly while you are pouring the water for brewing coffee.
2- Now, put the medium-coarse or coarse coffee grounds (according to your preference) in the French Press jar and pour the hot water into it.
Don't pour the water more than 27 oz because if you pour more than 27 oz, it will escape through the plunger assembly and make your coffee muddy.
3- Now give it four minutes of steeping time so that the wonderful flavors from the coffee grounds get extracted, and then push the plunger slowly.
Remember, don't push the plunger fast. Because if you do that, smaller coffee grounds may escape through the metal screen, and they will end up in your cup.
4- Now pour the coffee slowly into your cup and enjoy!
Safety Tips for Le Creuset French Press
While stoneware materials are certainly stronger and more durable than glass but if you use them violently, small cracks may develop. And even a small crack in stoneware equipment can make it completely unusable.
So, here are some safety tips you should follow if you want your favorite Le Creuset coffee maker to last longer.
1- Don't use abrasive detergents or steel scrubs for cleaning this French Press because they can destroy the enamel finish of this coffee maker.
2- Use only soft cloth or nylon pads for cleaning purposes. If stubborn stains develop, keep it in soapy hot water for 10 to 20 minutes and then clean it with a nylon pod.
3- Keep it away from the stovetop or direct heating source. As the maximum temperature, it can handle is 500 degrees.
FAQs
Can you Put Le Creuset French Press On The Stove?
No, you can not put Le Creuset French Press on the stove or any direct heating element. The maximum temperature this coffee maker can bear is 500 degrees.
If you put it on a stove or fire, the carafe might get damaged by small cracks, and its glossy look will diminish.
How Many Cups Does A Le Creuset French Press Make?
Le Creuset French Press has 27 oz carafe. You can easily brew four cups of coffee in it at a time.
Related French Press Guides