Calling all coffee lovers! If you're a fan of cappuccinos and lattes, I've got something special for you.
Today, we're diving into the world of the best Latte and Cappuccino K Cups, perfect for those seeking a taste of cafe-quality specialty drinks from the comfort of their own home.
While your trusty Keurig machine may not be able to replicate a true latte or cappuccino, it can still create a beverage that comes surprisingly close.
Let's dive deeper into what makes these K-Cups stand out from the rest and why they deserve a spot in your home!
Best Cappuccino K Cup Coffee Pods
You can now enjoy the art of cappuccino brewing hassle-free with these top-rated cappuccino K-Cups.
1. Gevalia Cappuccino Espresso K-Cup
With its two-step process, the Gevalia Cappuccino K-Cups provide an authentic and delicious cappuccino experience.
Simply add the Frother packet to your mug, insert the Espresso K cup in the machine, and press the 6 oz or 8 oz button. Stir well, and you will have a delicious frothy cappuccino.
The Espresso K cups are made from 100% Arabica beans and give a rich taste coffee taste to the Cappuccino drink.
Customers have praised their convenience and amazing taste. The brewing process is super simple, which is a big plus. Although, it would be good if there are more flavor options and larger serving sizes.
Pros
✔️ Rich and Robust coffee flavors
✔️ Very easy to prepare cappuccino
✔️ Froth packets enhance the cappuccino experience
Cons
❌ Limited to only one flavor
❌ The froth isn't like real Cappuccino
2. Grove Square Cappuccino K cup Pods
The Grove Square Cappuccino Pods are perfect for those looking for a Variety of Cappuccino flavors i-e French Vanilla, Hazelnut, and Caramel.
This pack provides excellent value for money with 72 Cappuccino pods.
The pods are pre-packaged with coffee grounds, milk, sugar, and flavorings. You just have to insert the pod in the machine press the brew button and your Cappuccino will be ready in minutes
The Grove Square Cappuccino Variety Pack has gained popularity for its extensive range of flavors and incredible affordability. Let me tell you, the taste is simply exceptional, providing a smooth and delightful experience.
Pros
✔️ Triple variety of flavors in a single pack
✔️ Smooth and delightful flavors
✔️ Zero cholesterol
Cons
❌ Some people find the flavor weak and watery
3. Victor Allen's Cappuccino K cups
Victor Allen's offers a delightful selection of flavored cappuccino K-cups, including French Vanilla, Sweet and Salty Caramel, and White Chocolate Caramel.
Each option delivers a rich taste with a touch of sweetness. However, individuals who prefer strong coffee may find the flavors too sweet.
The pods are made with 100% Arabica coffee beans, dry milk, and artificial flavorings. The French Vanilla flavored pods are my favorite of all.
Pros
✔️ 3 different flavorful options
✔️ Made with high-quality 100% Arabica beans
✔️ Have a much affordable price tag
Cons
❌ The flavors may be too sweet for stronger coffee flavors
❌ Some users have complained about the leakages in this k cup

4. The Original Donut Shop Classic Cappuccino K cups
The Original Donut Shop offers a delightful range of cappuccino K-cups. With classic cappuccino and rich cinnamon dulce flavors, these K-cups provide a delicious and satisfying taste.
These K-cups include high-quality coffee grounds, pre-sweetened with real milk, and some artificial flavorings.
Customers really love the convenience of the Original Donut Shop's cappuccino K-cups. The pre-flavored and pre-sweetened aspect makes it very easy to prepare cappuccino.
However, the taste is not the best and it tastes like a cappuccino prepared with instant coffee. The good thing is that these pods are highly affordable.
Pros
✔️ Offers 2 different delicious flavors
✔️ Convenient K-cups with pre-added sweetener and real milk.
Cons
❌ Some people find its taste watery and weak
Best Latte K cups
We've handpicked the top latte K Cups from renowned brands like The Donut Shop, Starbucks, and Gevalia that deliver a velvety-smooth and satisfying latte experience.
1. The Original Donut Shop Latte Variety Pack
The Original Donut Shop Latte truly stands out with its exceptional taste and value. The variety pack comes in three different delicious flavors i-e Vanilla Latte, Mocha Latte, and Caramel Latte.
Apart from that two special flavor options i-e Red Velvet Latte, and Sundae Fundae Latte are also available.
These one-step Latte K cups include coffee, sweetener, milk, and flavorings inside the pod ensuring a hassle-free brewing experience.
The Original Donut Vanilla Latte is my favorite of all. The sweet blend of milk, coffee, and vanilla creates a satisfying flavor profile that is sure to please your taste buds.
Customers are absolutely in love with its delicious taste, and the best part is the affordable price. What's even better is that it's super convenient to make. You just pop in a single K-Cup that has everything you need, and voila! It's ready to brew and enjoy.
However, I must add the taste is a little watery and weak and lacks the true essence of a Latte.
Pros
✔️ Great taste for the price, providing excellent value for money
✔️ Variety of flavors to choose from
✔️ Convenient one-step latte experience.
Cons
❌ The coffee flavor is a little mild and weak
❌ Some people may find it too sweet for their taste

2. Starbucks Caramel Caffè Latte K Cups
Starbucks Caramel Caffè Latte K-Cups offer a delightful combination of smooth coffee, rich caramel flavor, and creamy milk to create a luscious and indulgent latte experience.
With the familiar Starbucks quality and the decadent caramel twist, these K-Cups provide a satisfying and indulgent treat for any coffee lover.
The K cups contain high-quality coffee grounds and the Packet contains a blend of milk and caramel flavors.
Pros
✔️ Rich and delicious Latte flavors coupled with decadent Caramel
✔️ Milk Frother packets with added sweeteners and flavorings
Cons
❌ The coffee flavor is a little weak – Don't expect a Starbucks level Latte

Check Out: Best Starbucks K cups
3. Gevalia Frothy 2-Step Latte Espresso K-Cup
Gevalia Latte K Cup is the best option for coffee enthusiasts who crave the rich and creamy indulgence of a classic latte.
The combination of strong Espresso Coffee pods, rich and creamy milk frother packets, and Vanilla flavorings makes a perfect balance of flavors.
There is also a Mocha flavor of Gevilia Latte K cups, which has a strong chocolate taste.
However the latte's taste tends to be on a little bitter side, and it may not foam up as expected. Despite these points, it is an impressive product overall.
Pros
✔️ Perfect blend of 100% Arabica coffee with caramel undertones.
✔️ Available in Vanilla and Mocha flavors
✔️ Convenient frother packet with real milk
Cons
❌ Artificially flavored
❌ The flavors are a little bitter
How to use Cappuccino K Cups?
There are two types of Cappuccino K cups available in the market, Here's how you can use them:
One-Step Cappuccino K Cups
One Step Cappuccino K cups are pre-packaged with all the ingredients of Cappuccino.
You have to simply insert the K-Cup into your pod coffee machine, select the desired brew size (8 oz is recommended), and start the brewing process. And your Cappuccino will be ready in minutes.
The K-Cup contains all the necessary ingredients including coffee, milk, flavorings, and sweetener.
These one-step Cappuccino pods prepare fair tasting drink but it will lack the frothiness that is the essence of Cappuccino.
Two-Step Cappuccino K Cups with Froth Packets
Two step Cappuccino K cups include a strong espresso-style coffee pod and a milk froth packet with flavors and sweeteners.
The first step is to empty the froth packet into your mug and then insert the coffee pod into the machine. Once the coffee has been brewed, stir the mixture gently for 20 to 30 seconds, and your cappuccino is ready.
With the two-step Cappuccino K cup, you actually get a more flavorful and tasty drink with a decent amount of foam.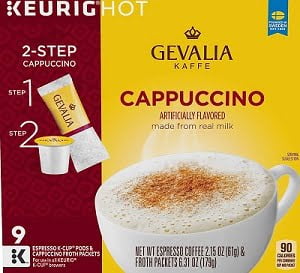 Read a guide on How to make Latte with Keurig
Do Cappuccino K Cups make real Cappuccino?
Although K-cup cappuccinos offer a convenient and accessible way to enjoy a cappuccino-like experience at home, but it's a fact that they can not perfectly replicate the precise taste and texture of a traditional cappuccino.
Authentic cappuccinos are typically made using an espresso machine with a steaming wand, which combines rich and thick espresso shots with steamed milk and a layer of velvety microfoam.
And of course, this process can't be replicated by our tiny pod coffee machines.
However, by choosing a K-cup option, especially the 2 step cappuccino packets still provides an enjoyable coffee experience.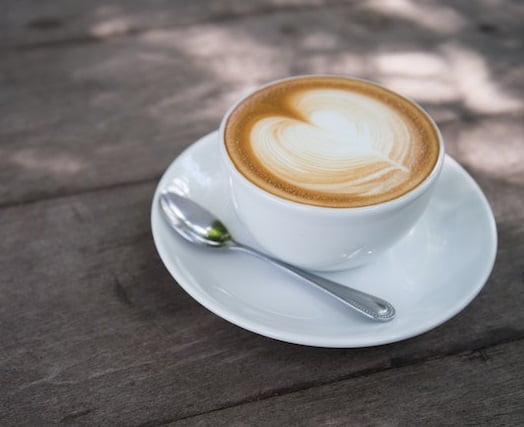 The better way to prepare Cappuccino with Keurig
If you want to prepare the best possible Cappuccino drink with your Keurig machine, I won't recommend pre-packaged Cappuccino pods.
The best way to prepare a Cappuccino with Keurig is to use Espresso K-Cups and add frothed milk on top. Of course, this takes a bit of time and effort, but the results are worth it.
1- Brew the Espresso K cup on Strong settings
Insert the Espresso K cup in the machine and select the 4 oz brew size on Keurig. If your model has the strong button, press it as well to prepare a rich, thick coffee concentrate similar to espresso
Check out how to make Espresso with Keurig
2- Froth the milk separately
If you have an automatic milk frother, fine. Otherwise, froth the milk manually.
Manual Whisking: Heat the desired amount of milk in a saucepan over medium heat. As it heats, vigorously whisk the milk using a wire whisk or a handheld whisk until it develops a frothy texture.
Mason Jar Method: Pour cold milk into a mason jar, filling it no more than halfway to allow room for expansion. Screw on the lid securely and shake the jar vigorously for about 30 seconds. Then, remove the lid and microwave it for 30 seconds.
Now Pour the frothed milk slowly on top of strong coffee concentrate to create a delightful and authentic cappuccino experience. This simple method prepares the perfect combination of rich flavors and creamy froth, ensuring that every sip captures the essence of a classic cappuccino.
My favorite Espresso K cup | Lavazza Espresso Italiano
The Espresso Italiano K-Cups from Lavazza produce a rich and robust cup of coffee that is reminiscent of the essence of an authentic espresso.
Made with a blend of 100% Arabica beans from Central and South America, these K-Cups offer a full-bodied and well-balanced espresso with a rich aroma and strong coffee flavors
Check Out: Best Espresso K cups
Final Thoughts on Cappuccino K cups
All in all, while a Keurig machine may not deliver the exact experience of a barista-level cappuccino or latte, it still offers a convenient and enjoyable alternative.
I've personally enjoyed exploring the world of Cappuccino and Latte K-Cups, and it has been a delightful journey.
Here are a couple of tips based on my experience: First, try different brew sizes on your Keurig to customize the strength of your beverage. Adjusting the water-to-K-Cup ratio can change the flavors significantly and you might find the perfect flavors for yourself in the process.
Second, don't be afraid to get creative with toppings and additions. A sprinkle of cocoa powder, a dollop of whipped cream, or a dash of cinnamon can elevate your K-Cup creation to new heights.
So, embrace the versatility of these K-Cups, enjoy the convenience they offer, and let your taste buds explore the world of cappuccino and latte flavors from the comfort of your own home. Cheers to indulging in café-quality goodness at home!
Check out my other favorite K-cup Pod
FAQs
Which Keurig froths milk?
Only Keurig K-Café models comes with built-in Milk frother allowing you to prepare perfect frothy Latte and Cappuccino drinks with a simple touch of a button.
Read a review of Keurig K Cafe
Does Keurig make Espresso?
Although Keurig cannot make espresso, there are many espresso blend K cups available to prepare intense espresso-like coffee.
This drink rather tastes like a stronger version of drip coffee as it lacks the intensity and Crema of authentic Espresso.
Can you Put Milk in Keurig for Cappuccino?
No, you should never put milk directly into a Keurig machine for making a cappuccino or latte.
Keurig machines are designed to brew coffee by passing hot water through pre-packaged K-Cups, and they do not have the capability to heat and froth milk.