Waking up to the enticing aroma of your favorite Starbucks coffee right in your own kitchen is every coffee lover's dream.
Starbucks has a wide variety of K-Cup coffee pods to suit every taste, from bold dark roasts to smooth and creamy medium or blonde roasts to flavored coffee drinks with delicious flavors like caramel or cinnamon.
In this article, I will share my top picks for the best Starbucks K Cups. I will discuss their flavor profiles, tasting notes, and why they are the best!
Best Starbucks K cup (At Glance)
Caffè Verona – Best Dark Roast choice
Pike Place Roast – Best Medium Roast choice
Veranda Blend – Best Blonde Roast choice
Toasted Graham – Best Flavored choice
Caramel Caffè Latte – Best 2 in 1 Latte choice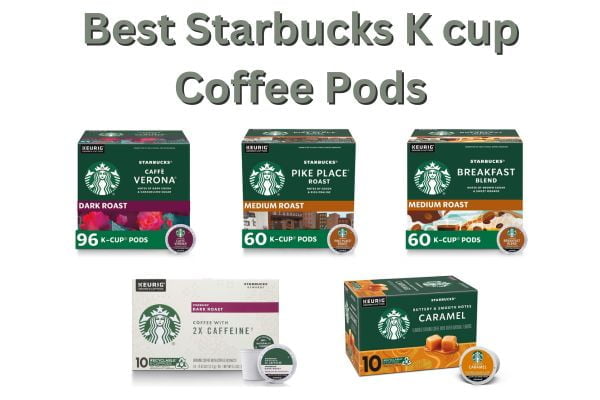 Best Starbucks dark roast K cups
If you like full-bodied coffee with nutty notes, the dark roasts are the way to go. With deep flavors, hints of dark cocoa, and the warmth of caramelized sugars, these Starbucks K-Cups cater to those who crave a robust and intense coffee profile.
These robust K cups also pair well with milky latte drinks and refreshing iced coffee drinks.
1. Caffè Verona From Starbucks (Top Dark Roast Choice)
As a dark roast fanatic, I was thrilled to try the Starbucks Caffè Verona K-Cup pod. This rich, chocolatey dark roast delivers the same premium Starbucks flavor that I love from their cafés in a convenient single-serve pod.
| Features | Verona K cups |
| --- | --- |
| Origins | Asia Pacific and Latin America |
| Type of beans | 100% Arabica Coffee |
| Tasting notes | Dark Cocoa & Caramelized Sugar |
The smooth, full-bodied blend offers lovely hints of dark cocoa balanced by a touch of caramel sweetness – a flavor profile sure to please hardcore dark roast aficionados like myself.
The Verona is packed with perfect intense coffee flavors yet remarkably smooth, avoiding the excessive bitterness present in many dark roasts.
The pleasant mild acidity and lingering aftertaste make this an accessible option even for those just venturing into darker roasts.
I loved that it had a wonderfully complex aroma and silky mouthfeel you expect from a high-end coffeehouse brew.
However, sometimes the aftertaste lingered a bit too long for my liking. But overall, hardcore fans will appreciate Verona's robust Starbucks-quality flavor.
Check Out: Best Dark Roast K cups
2. Sumatra K cups | Best Starbucks for Iced Coffee
This Indonesian dark roast promises a bold, herbaceous cup with rustic spice notes. For those who crave an ultra-rich black coffee experience, Sumatra aims to overdeliver.
| Features | Sumatra K cups |
| --- | --- |
| Origins | Asia Pacific |
| Type of beans | 100% Arabica Coffee |
| Tasting notes | Notes of Rich Herbs & Rustic Spice |
If you love to brew Iced coffee with Keurig then I am sure you'll these pods as the strong and spicy notes of this coffee pair well with ice and creamers.
The first thing that struck me about Sumatra was the incredibly smooth mouthfeel – no bitterness or acidity, just luscious flavor.
I found it almost luxuriously velvety and naturally sweet requiring no additions like milk or sugar.
The complexity of spices and dark chocolate adds the dimension few dark roasts achieve.
I can understand why fans call Sumatra the best and tastiest coffee they've ever tried. For hardcore dark roast devotees, this pod is coffee perfection.
There were a few comments that Sumatra K cups are lighter than expected for a true dark roast. And some mentioned an earthy flavor that was not to their liking. But in my experience, Sumatra offers an exceptionally smooth, quality dark roast for any black coffee lover.
Check out: Best K cups for Iced Coffee
3. Dark Roast with 2x Caffeine | Strongest Starbucks K cup
The Plus 2x Caffeine dark roast is a powerful and bold coffee that is perfect for those who need an extra boost in the morning.
| Features | 2x Caffeine K cup |
| --- | --- |
| Origins | Latin America |
| Type of beans | 100% Arabica Coffee |
| Tasting notes | Roasty Sweet with Notes of Dark Cocoa |
This enhanced dark roast blend combines the signature Starbucks flavor with an extra kick of caffeine extracted right from the coffee bean itself.
I loved that the Plus 2x blend was wonderfully aromatic and full-flavored without crossing into harsh or burnt territory.
If you're seeking a more subtle coffee experience, Starbucks Plus K-Cups might seem overpowering due to their strength. It's a matter of personal taste, and they might not be everyone's ideal cup.
Best Medium Roast Starbucks K cups
Starbucks medium roast K cup choices provide a delightful middle ground that appeals to a wide range of palates and offers a perfectly balanced cup of coffee.
4. Pike Place Roast from Starbucks (Top Medium Roast Choice)
Pike Place is Starbucks' signature medium roast, touted for its rich, toasted nuttiness with hints of cocoa and praline. For those seeking a classic Starbucks sip with mild and mellow flavors, Pike Place aims to satisfy.
| Features | Pike Place |
| --- | --- |
| Origins | Latin America |
| Type of beans | 100% Arabica Coffee |
| Tasting notes | Notes of Cocoa & Rich Praline |
The flavor profile is exactly what I expect from a Starbucks-quality brew – wonderfully aromatic with a balanced depth and slight sweetness. I love that it's full-bodied without any burnt or harsh notes.
Whether you're a dedicated dark roast aficionado or someone who prefers a milder profile, Starbucks Pike Place Coffee Blend caters will surely amuse you with its rich flavor profile.
Some people have said that this K cup has an unpleasant acidic aftertaste. And some felt the flavor was uninspiring compared to bolder options. But in my experience, Pike Place pods offer an authentic Starbucks flavor profile that any medium roast fan is sure to enjoy.
Check Out: Best Medium Roast K cup Coffee
5. Breakfast Blend From Starbucks K cups
This light-medium roast features tantalizing notes of sweet orange and brown sugar for a bright, uplifting start to the day.
| Features | Breakfast Blend |
| --- | --- |
| Origins | Latin America |
| Type of beans | 100% Arabica Coffee |
| Tasting notes | Notes of Brown Sugar & Sweet Orange |
The thing that stood out to me about Breakfast Blend is how well-balanced the flavor is. It has a wonderful citrusy sweetness complemented by a mellow roasted undertone.
It provides a noticeable yet mild pick-me-up. For times I want a lighter, more drinkable Starbucks coffee, these K cups fit the bill.
I did notice the orange and brown sugar notes were more subtle at times than described.
For those expecting a medium roast experience, Starbucks Breakfast Blend might lean slightly towards the lighter end of the spectrum.
6. House Blend from Starbucks K cups
This Starbucks medium roast features comforting notes of cocoa and toffee for a balanced, drinkable coffee any time of day.
| Features | House Blend |
| --- | --- |
| Origins | Latin America |
| Type of beans | 100% Arabica Coffee |
| Tasting notes | Notes of Toffee & Dusted Cocoa |
For those seeking a quintessential Starbucks flavor without strong bitterness or acidity, House Blend is the perfect choice!
It has lovely roasted undertones accented by hints of chocolate and caramel sweetness. I found it rich and full-bodied without the burden of heavy dark roast intensity.
The medium profile provides a very pleasant, drinkable experience that fills the kitchen with that evocative Starbucks aroma.
However, few people say the latest version of the house blend K cups seemed watery and weak. And some mentioned an unpleasant bitter aftertaste.
Best Light (Blonde) Roast Starbucks K cups
The Starbucks blonde roast K-Cups offer a refreshing and delicate flavor profile perfect for those seeking a milder coffee option.
7. Starbucks Veranda Blend K cups (Top Blonde Roast Choice)
This Starbucks blonde roast features fragrant notes of cocoa and toasted malt for a mellow yet flavorful cup of coffee.
| Features | Veranda Blend |
| --- | --- |
| Origins | Latin America |
| Type of beans | 100% Arabica Coffee |
| Tasting notes | Notes of Toasted Malt & Milk Chocolate |
For those seeking a gentle Starbucks coffee that provides a lift without strong bitterness, Veranda Blend is the best choice.
What immediately struck me about Veranda Blend is the lovely lightly roasted flavor reminiscent of milk chocolate. I found it smooth and nuanced without the burden of dark roast intensity.
Whenever I want a more delicate Starbucks coffee, the Veranda Blonde Roast pod is my go-to choice.
While Starbucks Veranda Blend finds its fans, the addition of malt and chocolate may not resonate equally with all. And some find it leaves a very bitter aftertaste.
Taste is subjective, and for some, this blend's original charm might be overshadowed by these additional flavors. But overall, Veranda Blend K cups deliver an approachable, quality Starbucks sip.
Check Out: Best Light roast K cup Coffee
8. Starbucks Blonde Roast K-Cups with 2x Caffeine
For those seeking a coffee with a mild taste that still delivers a powerful jolt of energy, the Plus 2x Caffeine Blonde Roast is an excellent choice. It's the ideal pick-me-up for individuals who find dark roasts too overwhelming.
| Features | Blonde Roast 2x Caffeine |
| --- | --- |
| Origins | Latin America |
| Type of beans | 100% Arabica Coffee |
| Tasting notes | Mellow & Soft |
This smooth, easy-drinking blonde roast combines the flavors of Starbucks' Veranda Blend with an extra kick of natural caffeine straight from the bean.
The blend provides everything I love about a high-quality blonde roast – wonderfully smooth and nuanced without harshness.
The additional caffeine delivers sustained alertness for hours compared to standard blonde roasts. Yet the mellow flavor remains perfectly enjoyable to sip leisurely.
This blonde roast might not be a very good choice for strong dark roast lovers as the flavors are on a very mellow side.
Best Flavored Starbucks K cups
If you seek a touch of sweetness or a playful twist, the flavored Starbucks K-Cups bring a burst of flavor to every sip.
I am a huge fan of the variety of flavored K-cups that Starbucks has in its collection. With an impressive selection of over 10 options, I have carefully picked my top 4 favorites.
9. Starbucks Toasted Graham K cups (Top Flavored Choice)
For those craving a flavored coffee that satisfies their sweet tooth without overdoing it on sugar, Toasted Graham aims to hit the spot.
| Features | Toasted Graham K cups |
| --- | --- |
| Origins | Latin America |
| Type of beans | 100% Arabica Coffee |
| Tasting notes | Warm & Toasty Notes |
The toasted graham flavor provides warmth and toastiness in every sip. I love how they expertly captured the essence of graham crackers and infused the flavor directly into quality coffee.
Compared to some flavored coffees that just taste artificial, you can genuinely taste real graham notes in this pod. You can enjoy it without adding any sugar or creamer because the innate sweetness shines through.
I did notice the graham flavor was very subtle on its own in larger mug sizes. Using a smaller 4 oz pour or adding a splash of creamer helps amplify it.
While not everyone's taste buds align perfectly with every flavor, Some might find the graham cracker essence less pronounced or seek more intensity.
10. Starbucks Caramel Flavored K cups
If you're craving a coffee that indulges your sweet tooth without overdoing it on sugar, Starbucks Caramel Pods are for you.
| Features | Caramel K cups |
| --- | --- |
| Origins | Latin America |
| Type of beans | 100% Arabica Coffee |
| Tasting notes | Buttery & Smooth Notes |
This fan-favorite flavor features aromatic notes of buttery caramel and roasted nuts for a truly decadent coffee experience.
The luscious caramel flavor provides warmth and comfort in every sip. I love how they expertly captured the essence of sweet, buttery caramel and seamlessly blended it into a medium-roast coffee base.
You can tangibly detect real caramel flavor notes in this pod. I find myself adding less creamer because the innate sweetness of these pods shines through.
While some reviewers found the caramel flavor to be artificial or underwhelming, others appreciated the delicate flavor profile of Caramel coffee. If you enjoy flavored coffees that are not too sweet or overpowering, Starbucks Caramel Pods is worth a try.
11. Starbucks Cinnamon Dolce K cups
This classic flavor features fragrant notes of cinnamon and brown sugar for a comforting coffee experience with just the right amount of sweetness.
| Features | Cinnamon Dolce K cups |
| --- | --- |
| Origins | Asia Pacific and Latin America |
| Type of beans | 100% Arabica Coffee |
| Tasting notes | Sweet & Mellow |
The cinnamon flavor in this coffee is perfectly balanced, providing warmth and comfort in every sip. The mellow blonde roast base allows the cinnamon flavor to shine through, without being overpowering.
This K cup pod is the perfect way to enjoy the flavor of cinnamon without all the added sugar and creamer. The natural cinnamon flavor is perfectly balanced, and the coffee is smooth and delicious.
A couple of comments mentioned the cinnamon flavor seemed weak or watery. And some felt it had an odd artificial aftertaste. But if you like lightly flavored coffee, give Starbucks Cinnamon Dolce Pods a try.
12. Starbucks Caramel Caffè Latte for Keurig Brewers 2 in 1
This 2 in 1 Caramel Caffe Latte pod from Starbucks is the ultimate indulgence for caramel Latte lovers. The mellow coffee is perfectly complemented by the rich caramel flavor and real dairy, for a truly decadent latte.
| Features | Caramel Latte |
| --- | --- |
| Origins | Asia Pacific and Latin America |
| Type of beans | 100% Arabica Coffee |
| Tasting notes | Buttery & Smooth Notes |
Those who crave the comfort of a caramel latte without spending a fortune on café drinks can easily make a cafe-styled latte at home with their Keurig or other K-Cup brewers.
I love how they expertly replicated a real latte's essence – smoothly airy milk meets coffee meets sweet caramel flavors.
Compared to some instant mix lattes that just taste fake, you can genuinely savor the flavors of real coffee, steamed milk, and caramel in this pod.
This pod is a great option for those who enjoy flavored lattes, but it is important to set your expectations accordingly. This pod will not produce the same rich and creamy flavor as a real latte made with espresso shots and frothed milk.
Also Check out Best Latte and Cappuccino K cups
Factors while choosing the Best Starbucks K cup Pods
Blonde, Medium, and Dark Roast
Starbucks offers a diverse range of roast styles to suit every coffee lover's preferences.
For those who crave intense, robust coffee, Starbucks dark roast K cups like Caffè Verona and Sumatra are the way to go.
The longer roasting cultivates complex flavors like dark cocoa, caramelized sugar, and bold spices. These deep, textured dark roasts provide a strong kick tailored to seasoned coffee drinkers.
I love Caffè Verona for its well-balanced full body and lack of bitterness. You can also explore extra strong Starbucks roasts like the French roast and the Italian roast.
Starbucks' medium roast K cups like Pike Place roast strike a middle ground with multilayered flavor minus harshness. Moderate roasting allows beans' inherent qualities to shine through, like Pike Place's toasted nuts and brown sugar. Medium roasts offer something for everyone – fullness without extremity.
For smooth, gentle coffee, try Starbucks' blonde roasts like Veranda Blend. Shorter roasting preserves beans' delicate flavors, often with sweet, soft notes like vanilla and chocolate. Blonde roasts offer a mild, silky profile perfect for those sensitive to bitterness.
Single Origin and Blends
In Starbucks K-Cup Pods, you'll find two primary categories: single origin and coffee blends.
Single-origin coffees are sourced from a specific region, offering a unique and distinct flavor profile that's reflective of that area's climate and soil conditions.
On the other hand, coffee blends are carefully crafted combinations of beans from different regions, aiming to achieve a harmonious balance of flavors.
Starbucks is renowned for its exquisite coffee blends primarily hailing from the Latin American and Asia Pacific region. These blends bring together beans from countries like Colombia, Guatemala, Brazil, Costa Rica, and Indonesia, resulting in a captivating symphony of flavors.
Alongside blends, Starbucks offers a few single-origin options, such as the rich and full-bodied Sumatra and the vibrant and lively Colombia.
Tasting notes
Starbucks K cups offer a spectrum of flavor notes to suit everyone's needs.
From bright citrus to rich cocoa, there's a profile for everyone. I personally love deep, dark roasts with notes of bittersweet chocolate and caramel.
But flavors range from spicy and savory to sweet and silky. Some feature aromatic spices, others fruitiness or Toasty flavors.
Before choosing a pod variety, think about the tasting notes that appeal most to your individual preference.
Flavored vs plain K cups
Starbucks offers both flavored coffee pods as well as plain pods showcasing just the bean flavors.
Flavored varieties like Cinnamon Dolce, Caramel, and Mocha add syrupy sweetness and spice. Meanwhile, plain pods highlight coffee's strong and robust flavors.
As a coffee purist, I lean towards plain coffee pods over flavored pods to appreciate the nuance of quality beans.
Final Thoughts
In the realm of Starbucks K cup pods, the choices are as diverse as the coffee journey itself.
From the bold richness of Caffe Verona and the intriguing allure of Sumatra to the timeless delight of Pike Place Roast and the double kick of the 2x Caffeine Pod, each cup tells its own story.
I hope this article has helped highlight the best Starbucks K-cup coffee pods to make your morning routine more enjoyable.
Also, check out my other favorite healthy K-cup options
FAQs