Fan of the balanced and versatile flavor of medium roast coffee, and looking for the convenience of a K cup? You're in the right place!
In this article, I'll highlight the most delectable medium roast K-cup varieties to suit any palate. We're giving you the inside scoop on exceptional K-cups that offer smooth nuttiness, rich aromas, balanced sweetness, and Hawaiian undertones.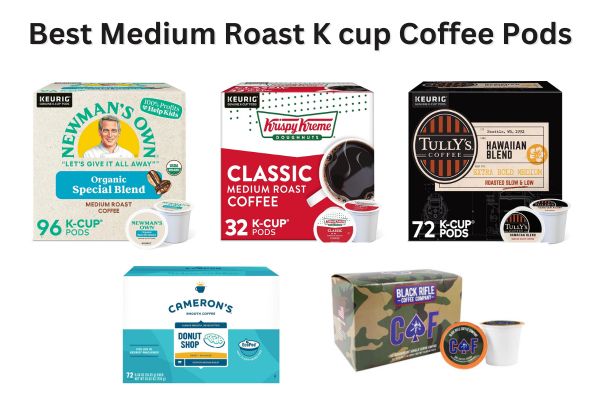 So, let's dive right into the detailed review of the best medium roast K cup gems to elevate your coffee game.
1- Krispy Kreme Classic
(Best Tasting Medium Roast K cup)
If you're searching for the best-tasting light medium roast you'll find in a K-cup, Krispy Kreme hits the sweet spot. This perfectly balanced blended coffee mirrors their signature doughnuts with bright fruit flavors and a clean, sweet finish that will have you sipping a smile.
| | |
| --- | --- |
| Flavor profile | Bright fruity notes and a clean, sweet finish |
| Origin | Latin America |
| Type of beans | 100% Arabica Coffee |
It's smooth and aromatic without any bitterness or acidity, making it an easy everyday pod coffee. This pod coffee boasts mellow flavors with absolutely no bitterness and burnt taste.
I found that adding too much creamer can make the coffee taste weak. It's best to enjoy it black or with just a splash of cream or milk. You'll be surprised at how sweet it is naturally.
While some feel it's not as robust as they expected, I think Krispy Kreme found the ideal middle ground. This blend is not too light yet avoids the harshness of some dark options. If you like mellow tasting coffee with natural sweetness you'll definitely love this blend.
2- Newman's Own Special Blend
(Best Organic Medium Roast K cups)
If you want a bold, full-bodied organic coffee in a convenient K-cup, Newman's Own Special Blend is a fantastic option. This hearty medium roast blend combines Central American and Indonesian beans for a robust flavor that's strong yet smooth.
| | |
| --- | --- |
| Flavor profile | Bold and Strong |
| Origin | Central American and Indonesian |
| Type of beans | 100% Arabica Coffee |
The blend of medium and dark roasts gives it a kick without excessive bitterness. You'll surely enjoy the rich, aromatic flavor of this organic and fair trade certified blend.
I've found this organic Newman's Own coffee to be on the stronger side for a medium roast, a perfect choice if you like to add milk or creamers to coffee or want a solid morning black coffee jolt.
The full-bodied blend lacks any bitterness or acidity, which I appreciate. However, if you prefer a milder, smoother cup, this Special Blend may be too intense for your preferences.
Check out: Best Organic K cup Coffee
3- Starbucks Pike Place Roast K cups
(Unique Tasting Notes)
If you love the flavor of Starbucks coffee, you'll find their Pike Place medium roast K-cups hit that perfect sweet spot. This smooth, well-rounded blend combines beans from Latin America to create a subtly rich, cocoa-like taste that's delicious any time of day.
| | |
| --- | --- |
| Flavor profile | Notes of Cocoa & Rich Praline |
| Origin | Latin America |
| Type of beans | 100% Arabica Coffee |
It has the trademark robustness without being overly bitter or burnt tasting. The Arabica beans in this K-cup are roasted to perfection, resulting in a coffee that is both flavorful and aromatic.
I found this medium roast to be flavorful, mellow, and accessible. It lacks the harsh acidity of some coffees but still provides a good jolt. If you enjoy Starbucks, you'll love this easy, consistent Pike Place drink.
This Starbucks K-Cup blend is more expensive than generic pods, but I must say the taste is worth it.
Check out: Best Starbucks K cups
4- Tully's Coffee Blend
(Best Hawaiian Medium Roast K cups)
If you love smooth, mellow Hawaiian coffee, Tully's Hawaiian Blend K-cups are a great option. This paradise-inspired medium roast combines Hawaiian beans with other choice origins for a beautifully balanced, subtly sweet cup.
| | |
| --- | --- |
| Flavor profile | Mild sweetness and Smooth |
| Origin | Hawaii and Latin America |
| Type of beans | 100% Arabica Coffee |
Their signature slow roasting process brings out the mellow fruitiness of Kona and Ka'u beans, resulting in a medium blend that captures the essence of Hawaiian coffees with simple elegance.
While not 100% Hawaiian beans, I've found Tully's does an excellent job of capturing the essence of Hawaiian coffee's distinctive flavor in this cleverly crafted blend.
The medium roast pod clearly expresses those mellow, fruity notes you'd enjoy from a fresh Kona or Ka'u cup. Even with just a portion of Hawaiian beans, the region's natural tastes shine through beautifully thanks to Tully's slow roasting.
5- Black Rifle Coffee CAF
(Strongest Medium Roast K cups)
If you need an extra caffeination kick from your morning coffee, Black Rifle Coffee's CAF blend is a fantastic option. Packed with twice the caffeine punch of typical coffee, this medium roast delivers a bold, rich flavor along with an unrivaled jolt of energy.
| | |
| --- | --- |
| Flavor profile | Rich and Smoky Flavors |
| Origin | Latin America and Asia |
| Type of beans | 100% Arabica Coffee |
You'll really feel the caffeine taking effect after just one cup of Black Rifle coffee – it's almost like an instant alertness boost. Beyond the strength, it simply tastes great with a pleasant, smooth flavor that isn't sacrificed due to the added caffeine.
This medium roast has a rich, full-bodied flavor that is sure to please coffee lovers. However, those who are sensitive to caffeine may find it to be too strong.
Black Rifle Coffee is veteran-owned and supports veterans and first responders. So you'll feel more American while drinking this coffee.
Check out: Strongest K cup Coffee Pods
6- Gloria Jean's Coffee Butter Toffee
(Flavored Medium Roast K cup)
If you're looking for a flavored coffee that doesn't compromise on taste or aroma, Gloria Jean's Butter Toffee is the perfect choice. The medium roast pods are made with premium beans and infused with a rich caramel toffee flavor, resulting in a cup that is both indulgent and mild.
| | |
| --- | --- |
| Flavor profile | Smooth creamy with a touch of caramel toffee flavor |
| Origin | Latin America |
| Type of beans | 100% Arabica Coffee |
The Butter Toffee coffee pod from Gloria Jean's is a treat for the senses. The aroma is intoxicating, with notes of caramel, toffee, and butter. The coffee itself is smooth and flavorful, with just a hint of sweetness.
Unlike other flavored coffees that overwhelm you with sweetness, Gloria Jean's does an exceptional job crafting pods with a simple, coffee-forward taste. However, some feel it lacks the intense butter toffee punch they expect based on the fragrance.
7- Cameron's Donut Shop Medium Roast (Compostable K Cups)
If you want satisfying coffee in an eco-friendly pod, Cameron's Donut Shop blend is a top choice. These innovative compostable pods combine the convenience of K-cups with a commitment to sustainability. You can enjoy delicious medium-roast coffee and reduce waste.
| | |
| --- | --- |
| Flavor profile | Classic, sweet, and balanced taste |
| Origin | Latin America |
| Type of beans | 100% Arabica Coffee |
The pods are made with plant-based materials and a filter, so they can fully decompose. However, they don't sacrifice quality in the process. The 100% Arabica beans deliver a subtly sweet, well-balanced flavor.
Some people have noted that Donut Shop coffee pods may occasionally leak grounds, but this does not significantly affect the flavor. For me, this minor inconvenience is worth it for the sustainability benefits of the pods.
Check out: Best Compostable K cups
8- Dunkin' Decaf
(Best Medium Roast Decaf K cups)
Dunkin's decaf K-cup pods are a great option for coffee lovers who want to enjoy the same delicious flavor of Dunkin' coffee without caffeine. The decaf medium roast blend is smooth and nutty, with just a hint of sweetness. It's the perfect way to start your day without feeling jittery.
| | |
| --- | --- |
| Flavor profile | Rich and Smooth |
| Origin | Latin America |
| Type of beans | 100% Arabica Coffee |
Dunkin's decaf K-cup pods are a great way to enjoy the same delicious flavor of their coffee without the caffeine. The medium roast nuttiness is smooth and flavorful, with just a hint of sweetness.
Dunkin' nailed it with these genius decaf K-cups. You get that familiar mellow Dunkin' coffee flavor, just without the caffeine kick. For decaf drinkers, you can't beat the taste and comfort of Dunkin'.
Check out: Best Decaf K cups
9- Maxwell House Blend Medium Roast K Cup
(Affordable Choice)
If you want inexpensive K-cup coffee that still delivers on taste, Maxwell House House Blend is a fantastic choice. This value-priced medium roast provides a lively, well-balanced flavor perfect for everyday drinking. You get an enjoyable cup that's easy on the wallet.
| | |
| --- | --- |
| Flavor profile | Delightful and lively |
| Origin | Latin America |
| Type of beans | 100% Arabica Coffee |
The medium roast coffee is surprisingly smooth and flavorful for its budget price. There is no burnt taste, just a straightforward, satisfying cup.
While this coffee pod may not be the most flavorful or complex, I think the low price makes it a good value for those who are looking for a budget-friendly option.
Maxwell House knows what they're doing when it comes to coffee. Their medium roast pod is a great value for money. It doesn't offer the most nuanced flavors, but it's smooth, flavorful, and affordable.
How does a medium Roast K cup taste
A medium roast K-cup coffee provides a balanced, nuanced flavor that's not too intense. The beans are roasted to a medium brown level, avoiding the high acidity of a light roast or the overpowering taste of dark roasts.
You get nice complexity with subtle hints of acidity and sweetness. A medium K-cup typically has a medium body and moderate caffeine levels.
Medium roasts showcase flavors like caramel, nuttiness, and a hint of fruity undertones, resulting in a smooth and balanced drink. The rich yet mellow flavor is widely considered the most popular among coffee drinkers.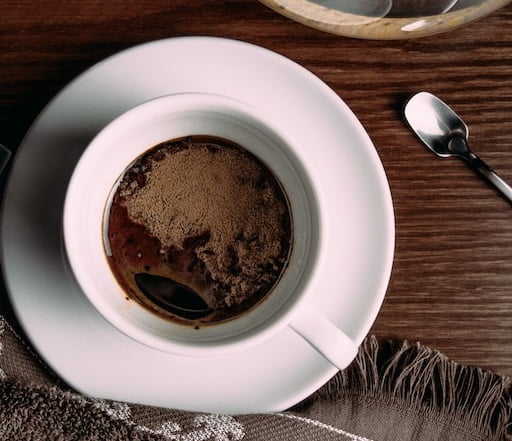 Buying Guide for Medium Roast K-Cup Pods
Here are some key factors to consider when buying medium roast K-cup pods
Flavor Profile and Tasting Notes
When choosing a medium roast K-cup pod, your personal flavor preferences should guide your selection.
Medium roast coffees can have a wide variety of flavor profiles, depending on the beans used and the roasting process.
For example, Krispy Kreme Classic has a lighter, sweeter profile with fruity notes, while Starbucks Pike Place highlights subtle cocoa and praline flavors.
For a caffeine kick and bold taste, Black Rifle is the best choice, and if you are looking for a flavorful twist, Gloria Jean's Coffees offers unique, aromatic blends.
The world of medium roast K-cups is vast and varied, so you're sure to find one that suits your unique taste.
Caffeine Content
When selecting a medium roast K-cup pod, consider the caffeine level that suits your needs.
Typically, medium roast k cup coffee contains 80-120 mg of caffeine per serving. However, you can find variations from this range.
Some brands like Black Rifle Coffee offer medium roasts with double the standard caffeine content for an extra kick.
On the flip side, if you're looking to enjoy the flavor of medium roast coffee without the caffeine, there are decaffeinated options like Dunkin', ensuring you can savor the rich taste without the jolt.
Price
Price is an important consideration for many when selecting medium roast K-cup pods.
Generally, you can find excellent options from well-reputed brands in the range of $0.45 to $0.65 per cup, offering a delightful balance between quality and affordability.
However, it's worth noting that some premium K-cups, such as Black Rifle Coffee, may cost over $1 mark per cup due to their unique blends.
On the cheaper end, you can opt for more affordable options like Maxwell House at around 30 cents per cup.
Sustainability
Sustainability is an increasingly vital factor when choosing medium roast K-cups. While plastic K-cups are convenient, they contribute significantly to pollution.
Compostable options like Cameron's provide a biodegradable alternative to traditional pods. Or look for certified organic roasts like Newman's Own made with eco-friendly practices that are both healthy and delicious. Starbucks is committed to 100% ethical sourcing through Conservation International as well.
With growing options, you can make sustainable choices without sacrificing taste or convenience.
Roast Date
When purchasing medium roast K-cup pods, check for the roast date and opt for coffees roasted very recently.
Fresher K-cup coffee, typically within 1-2 months of roasting, offers the most vibrant flavors and aromas. Avoid K-cups that are approaching their expiration date or those that lack a clearly marked roast date.
Although K-cups can never be quite as fresh as whole bean coffee. Still, prioritizing recently roasted pods ensures you get the fullest nuanced taste from your medium-roast coffee.
Final Thoughts
With so many exceptional options uncovered, the world of medium roast pods now awaits you.
Treat yourself to subtly rich sips of Pike Place, smooth Hawaiian tones from Tully's, or the kick of Black Rifle's caffeinated prowess.
Whether your taste is subtle or bold, there's a luscious best medium roast K cup pod to start your mornings right.
I'd love to hear how these medium roast gems brew up for you, so drop your comments below!
If you are into darker or lighter roasts. Check out:
Best Light Roast K cup
Best Dark Roast K cup
FAQs
Which roast has the most caffeine in K cups?
Lighter roasts K cups tend to have slightly more caffeine than darker roasts, but the difference is not substantial. Since lighter roasts are roasted for a shorter time at lower temperatures, they retain a bit more of their natural caffeine. 
How much coffee is in a medium roast K cup?
A medium roast K-cup typically contains around 9-12 grams of medium-sized coffee grounds, which is equivalent to 2 tablespoons of coffee.