In the realm of convenient single-serve coffee, where flavor meets responsibility, compostable K Cup coffee pods have emerged as a shining star.
As a sustainability-focused coffee aficionado, I'm thrilled quality brands now offer environmentally friendly plant-based pods that break down completely after use.
In this article, I'll share my favorites across an array of blends, roasts, and budgets to suit any palette. From light and mellow to bold and intense, you'll discover pods that align with your values and taste buds.
Best Compostable K cup Brands
Cameron's Coffee Single-Serve Pods
Tayst Coffee Pods
San Francisco Bay Compostable Coffee Pods
The Organic Coffee Co. Compostable Coffee Pods
Boyd's Compostable K-cup pods
Beaniac Organic Compostable Coffee pods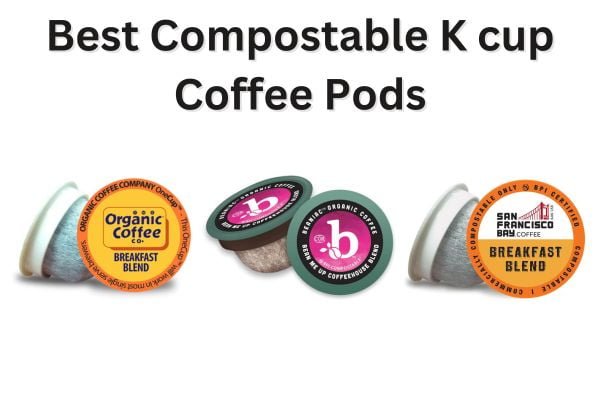 Let's explore the top contenders for the best biodegradable coffee pods in detail and dive into a world of flavorful and eco-friendly indulgence.
1. Cameron's Coffee Single-Serve Pods
(Plant-based Biodegradable K cups)
Cameron's Coffee Compostable Pods are the perfect way to enjoy a delicious cup of coffee without harming the environment. They use real coffee filters, not plastic cups, and are crafted with all plant-based materials. They select only 100% Premium Arabica beans, roasted in small batches to perfection.
What sets Cameron's apart is their commitment to both exceptional taste and sustainability. Unlike traditional K-Cups, their pods are made with plant-based materials like corn and beets, certified for industrial compost facilities.
Cameron's Coffee offers a variety of coffees to satisfy every taste, whether you crave the bright notes of their Breakfast Blend, the sweet indulgence of Vanilla Hazelnut, the dessert-like richness of Chocolate Caramel Brownie, or the exotic allure of Jamaica Blue Mountain Blend. You can also find fully organic coffee options for an extra layer of purity.
They've been perfecting their craft since 1978, ensuring your coffee is not just delicious but also ethically sourced.
K cup Varieties offered by Cameron's
Organic Breakfast Blend – Organic light roast with crispy and vibrant flavors
Breakfast Blend – Light roast with Smooth and complex flavors
Donut Shop – Classic, sweet, and balanced medium roast
Highlander Grog – Flavored Coffee butterscotch, caramel, vanilla and a dash of rum
Jamaican Blend – Medium Dark roast with delicate spiciness with hints of chocolate
French Roast – Dark and rich full-bodied taste
Hunter's Blend – Robust, rich, and creamy flavor
Colombian Supremo – Balanced flavor and a creamy finish
Decaf Breakfast Blend – Light body with hints of citrus and crispy finish
Intense French – Combines the finest Sumatran and American beans roasted to a black, shiny finish
Check Out: Best Organic K cup Coffee Pods
2. Tayst Coffee Sustainable Single Serve Pods
(Strongest Compostable K cups)
Tayst Compostable Coffee Pods deliver an eco-friendly coffee experience without compromising on quality or convenience. Made with premium beans and innovative plant-based materials, these revolutionary pods provide a smooth, rich coffee while eliminating plastic waste.
Tayst is also Rainforest Alliance certified, meaning the coffee comes from farmlands where harmful agrochemicals are completely avoided.
Tayst selects high-quality beans grown in fertile soils which give their coffees bold yet balanced flavor even the most discerning coffee gods would enjoy.
Their perfectionist roasters carefully hand-roast each small batch while their grinder crushes the beans to extract maximum flavor. Tayst Coffee Pods offer the strongest and full-bodied compostable K-Cups, especially in the Bold & Brazen and Bold & Brilliant flavors.
With their innovative biodegradable pod design, Tayst makes it easy for offices and universities to enjoy exceptional coffee without plastic waste.
K cup Varieties offered by Tayst
Bold & Brazen – Dark roast with rich deep flavor and a smokey cocoa finish
Bold & Brilliant – Dark roast with medium-bodied bold taste and Earthly caramel undertone
Defiantly Decaf – Dark Decaf roast with deep, dark, and rich characteristics
Happy Hazelnut – Premium beans tossed with natural hazelnut oils and nut dustings
Vanilla Cream – Coffee blended with old-school natural vanilla oils
Medium & Heroic – Medium roast with sweet and slightly acidic tang
Medium & Magnificent – Medium roast with a Tinge of fruity mocha and subtle body
Check Out: Strongest K cup Coffee pods
3. San Francisco Bay Coffee Pods
(Variety of Compostable K cup options)
San Francisco Bay Compostable Coffee Pods are crafted with 100% premium Arabica beans and plant-based biodegradable materials for a sustainable single-serve option. They offer a wide range of organic and specialty options from light to dark roasts such as Organic Rainforest Blend, French Roast, Donut Shop, and Decaf Gourmet Blend.
You'll find that San Francisco Bay's pods produce a smooth cup of coffee thanks to their specially designed valve and mesh filter, which extract the full flavor from the coffee beans
San Francisco Bay Coffee has built a reputation for its excellent coffee, made with only high-altitude hand-picked beans that are roasted to perfection.
San Francisco Bay Compostable Pods are a great choice for coffee lovers who want a variety of flavors and are committed to sustainability.
K cup Varieties offered by San Francisco Bay
Breakfast Blend – Signature medium roast with bright and smooth flavors
Donut Shop – This light roast is bright, medium-bodied, and has a sweet finish.
Espresso Roast – This Espresso styled Dark Roast has rich, complex, and full-bodied flavors
Fog chaser – This medium dark roast is a great combination of flavor, balance, and smoothness
French Roast – Bold and full-bodied coffee with a smoky finish
Decaf French Roast – Swiss Water decaffeinated bold coffee with a smoky finish
Organic Rainforest Blend – Smooth and balanced organic coffee with full flavors
100% Colombian – Medium roast aromatic and smooth coffee
Decaf Gourmet Blend – This Decaf blend offers a lively, well-rounded, and smooth coffee
Extra Dark Italian – Darkest roast with Intense, full-bodied flavors and a smoky finish
Organic Haight Ashbury Blend – This dark blend has creamy tasting notes, with Milk Chocolate and Caramel flavor
Organic Sumatra – Medium roast with a bold and full-bodied taste
4. Organic Coffee Co. Compostable K cups
(Best Option for Light Roast Lovers)
The Organic Coffee Co. Compostable Pods offer the perfect light roast coffee experience for eco-conscious coffee lovers. These innovative pods are made with 100% premium Arabica beans and plant-based biodegradable materials.
You'll find these pods produce a smooth, nuanced cup using a specially designed valve and mesh filter to extract delicate flavors.
As a family company with over 40 years of dedication to improving coffee and farmers' lives, The Organic Coffee Co. delivers an uplifting light roast flavor profile in an ethical format.
If you're looking for a light-roasted coffee that is also eco-friendly, The Organic Coffee Co. Compostable Pods are a great option.
K cup Varieties offered by The Organic Coffee Co.
Java Love – This delicious light roast blend has flavors of milk chocolate, cinnamon, and caramelized spices
Breakfast Blend – Light roast with smooth and balanced flavors
French Roast – Full-bodied dark roast coffee with a smoky finish
Check out: Best Light Roast K cup Coffee Pods
5. Boyd's Compostable K cups
(Best Option for Dark Roast Lovers)
Boyd's Coffee Compostable Pods are the ideal choice for dark roast lovers seeking eco-friendly coffee convenience. Their commitment to quality beans and biodegradable design makes it easy to enjoy intense, bold coffee guilt-free.
If you're looking for a delicious and sustainable dark roast coffee for your Keurig, I highly recommend the French No. 6 or Red Wagon K-Cups from Boyd's
Boyd's has been perfecting the craft of coffee roasting for over 100 years, and their dark roast coffee is a testament to their expertise. Their experienced roastmasters blend beans from all over the world to create a rich, flavorful cup of coffee that is sure to satisfy.
Overall, the Boyd's Coffee pods especially their darker roasts are truly something worth the try for people who enjoy strong coffee.
K cup Varieties offered by Boyd's
French No. 6 – Dark roast with flavor notes of dark chocolate, toasted walnut, and burnt sugar
Good Morning – Medium roast with a toasted almond aroma and chocolaty and fruity flavors
Hi-Rev – Medium dark roast with a rich honey-roasted aroma, followed by a full-bodied taste
Lost Lake Decaf – Full-bodied, dark roast coffee that is 100% organic and free from caffeine
Red Wagon – Rich Latin dark-roasted coffee and full of smoky flavors
Coffee Shop – Sweet and mild-medium roast, with a clean, crisp finish
Check out: Best Dark roast K cup Coffee Pods
6. Beaniac Compostable Coffee Pods
Beaniac Compostable Coffee Pods provide a premium, eco-friendly coffee experience for discerning drinkers. Beaniac is known for its sustainable coffee practices and 100% safe and healthy organic coffee K cups.
Their commitment to organic beans and biodegradable design makes it easy for you to indulge in daily coffee rituals guilt-free.
Beaniac's exceptional single-origin offerings like their Colombian are a true standout – well-balanced with a mellow sweetness. Their Flavor Freak Madagascar Vanilla also offers something unique – rich vanilla notes complement the nutty coffee undertones.
From the enticing aroma when you start the brewing process to the satiny finish, these biodegradable coffee pods provide an elevated yet eco-friendly experience.
K cup Varieties offered by Beaniac
Kickstarter 100% Colombian – Medium-light roast coffee with premium quality and taste
Bean Me Up – Medium Roast with Beautifully rich aroma and a smooth body
Daily Dose Donut Shop – Organic Light roast with a smooth taste
Flavor Freak Madagascar Vanilla – Light Roast coffee naturally flavored with Vanilla
Full On French Roast – Dark Roast coffee with a rich and full-bodied taste
Hot Cakes Maple – Flavored light roast coffee with all-natural Maple
Sweet n' Saucy Caramel – Flavored light roast coffee with all-natural Caramels
Are compostable coffee cups safe?
Yes, compostable coffee pods made from plant-based materials are completely safe to use. There is no known health hazard related to compostable coffee K cups.
In fact, In my experience, compostable pods can actually enhance the coffee-drinking experience, often having a fresher aroma compared to traditional plastic K-cups.
Compostable coffee brands use materials such as paper, canola seeds, cornstarch, sugar cane, and cassava for the design of pods, lids, and filters.
These natural, biodegradable materials provide a sustainable choice and are certified compostable by the Biodegradable Products Institute.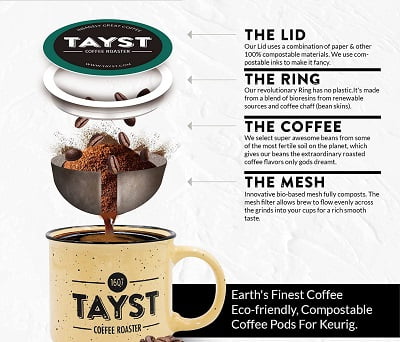 How to dispose of Compostable K cup Coffee pods?
Compostable coffee pods can be disposed of through commercial composting facilities, where they will break down completely.
If you have an organic waste bin, you can toss the used pod in there and it will likely make its way to an industrial composting site.
While the compostable pods can technically be composted in your home garden, it takes a long time to fully break down without the higher heat of commercial composting.
For the quickest and most effective process, compost the spent coffee grounds in your home garden and take advantage of commercial compost collection for the pods themselves.
You can check out the best industrial composting services here
What's the difference between compostable and biodegradable K cups?
Basically compostable material is a sub-classification of biodegradable material. While both terms signify a level of environmental friendliness, compostable items possess a more specific quality.
Compostable Pods are made of plant-based materials that can be composted in any municipal composting system. The good thing is compostable pods break down into beneficial natural elements like fertilizers.
On the other hand, Biodegradable pods can break down naturally over time, but they may not produce the same nutrient-rich compost as compostable materials.
In short, Biodegradable materials refer broadly to breakdown in the environment, whereas compostable means the materials convert to valuable compost with no toxic waste left behind.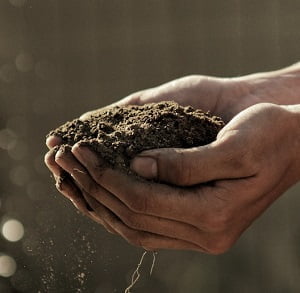 How do you keep compostable coffee pods fresh?
To maximize the shelf life of compostable pods, store them in an airtight container like a mason jar or opaque bag and Keep them in a cool, dry place away from light.
Unlike plastic K-cups, compostable coffee pods are more porous due to their plant-based mesh filtration system. This means they can lose freshness and flavor faster when exposed to air, heat, or moisture.
Although this design allows for enhanced aroma, it leaves the pods vulnerable to flavor loss when exposed to outside elements.
To ensure that compostable coffee pods do not go bad before you have a chance to use them, it is best to buy them in small quantities. A 12-count or 30-count pack is a good option, as you can easily finish them within a few days.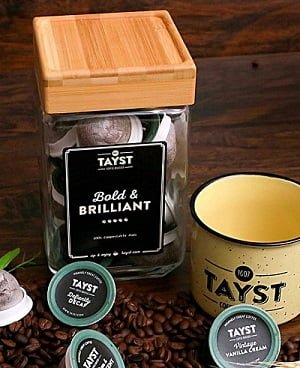 Buying Guide for the Best Compostable K-cup coffee pods
Here are some factors you must consider while buying environmentally friendly compostable coffee pods.
Flavor profile and tasting notes
When on the hunt for the best compostable K-Cup coffee pods, your flavor preferences should take center stage. Consider your favorite roast type and tasting notes to ensure your daily brew aligns perfectly with your palate.
San Francisco Bay, for instance, offers a diverse range of compostable coffee pods, catering to various tastes.
Boyd's is the best option for dark roast aficionados, with a robust, smoky flavor profile. And if you lean towards the lighter side, Organic Coffee Co. delivers sweet and mellow notes that light roast lovers adore.
Whether you crave lively citrus, comforting cocoa, or exotic spice, you can easily find a sustainable pod to satisfy your unique coffee cravings.
Freshness
With compostable pods, freshness is key since they lose aroma and flavor faster than plastic K-cups.
To ensure you savor the fullest flavors, consider purchasing smaller boxes of compostable pods, which can be used up faster. And always check the date of manufacturing to guarantee you're getting the freshest brew possible.
Price per pod
Generally, compostable coffee pods offer an economical choice compared to their plastic counterparts, with many options available around the 50-cent mark.
However, it's essential to note that prices can vary widely within the compostable category. Brands like Tayst and Boyd's may be on the higher end of the price spectrum, offering premium quality but at a slightly higher cost.
Conversely, budget-friendly choices like San Francisco Bay provide a more affordable yet environmentally responsible option.
Organic and sustainable
When in pursuit of the nonplastic K-Cup coffee pods, prioritize organic and sustainable options.
First and foremost, opt for coffee pods made from USDA organic-certified coffee beans. These beans are not only healthier but also free from harmful chemicals.
Additionally, ensure that the pods are certified compostable through the Biodegradable Products Institute (BPI), guaranteeing their eco-friendliness.
Lastly, look for pods with Rainforest Alliance certification, a testament to sustainable farming practices that support biodiversity and the well-being of coffee-producing communities.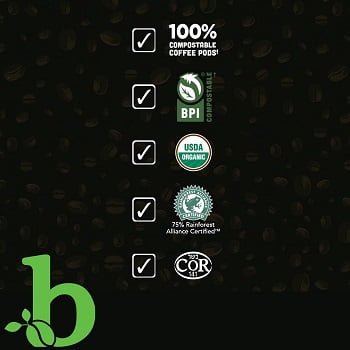 The Best eco-friendly alternative to K cups – Reusable Pods
Reusable My K cup filters are the best and most eco-friendly option to brew coffee with Keurig.
These reusable pods allow you to fill them with any ground coffee, eliminating wasteful plastic pods.
Since you control the coffee, it opens up all kinds of flavor options from whole bean to pre-ground.
Reusable filters are very affordable over time compared to continually buying disposable pods. And there's zero waste produced – just delicious coffee flowing into your cup.
Also read: Best reusable K cup Coffee pods
Final Thoughts
And there you have it – everything you need to find the perfect compostable coffee pods to start your mornings sustainably.
Personally, I find Cameron's organic blends and San Francisco Bay's vast variety offer the best blend of flavor, affordability, and eco-friendliness.
By choosing plant-based compostable pods, we collectively eliminate billions of plastic cups from landfills each year. Our future is a little brighter with each plastic-free sip.
I'd love to hear your thoughts on these sustainable coffee pods! Let me know which eco-friendly brew ended up being your new favorite.
FAQs
Are McDonald's K-Cups biodegradable?
Although McDonald's has launched some compostable coffee pod options, the majority of their K-Cups are still not made of compostable or biodegradable material.
McDonald's K-Cups were primarily made of recyclable plastic material, similar to many traditional K-Cup coffee pods.
Are compostable K cups better than plastic Pods?
Compostable K-Cups are a more sustainable option than plastic ones. This is because they typically require less energy to manufacture, which means that they produce fewer carbon emissions.
Additionally, they are made from materials that can be broken down by microorganisms in a composting environment, so they do not contribute to the buildup of plastic waste in landfills.
How many K-Cups go into landfills?
Billions of these disposable pods find their way into landfills every year, enough to circle the earth 10.5 times. And as most of them are made of plastic, it's no wonder that they pose a threat to our environment and wildlife.