Iced Latte and Iced coffee drinks have become increasingly popular over the years, especially during the summer months when people are looking for a cool way to enjoy their caffeine fix.
Although they appear similar at first glance, they have some differences that can affect the taste and overall experience.
The main difference is that Iced coffee is made from regular brewed coffee, while an iced latte is made from espresso shots. Additionally, an iced latte has typically more milk than an iced coffee, giving it a creamier, sweeter, and smoother flavor.
I'll make a detailed comparison between Iced Latte vs Iced Coffee in this article. So hook up with me to decide which of these cool drinks is perfect for you!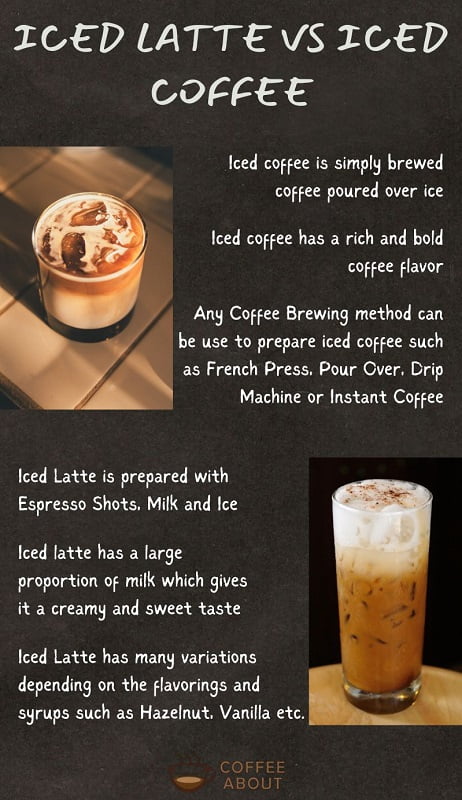 What is an Iced Latte?
An iced latte is a well-liked cold coffee beverage made with espresso and milk and served over ice. It's popular in many coffee shops, and it's also easy to make at home.
The most common ratio for an iced latte is 1:3, with one part espresso and three parts milk. Flavored syrups like vanilla or caramel are often added to the drink to enhance the taste.
The taste of an iced latte is refreshing and satisfying, making it a popular choice for coffee lovers looking for a cool and creamy coffee beverage.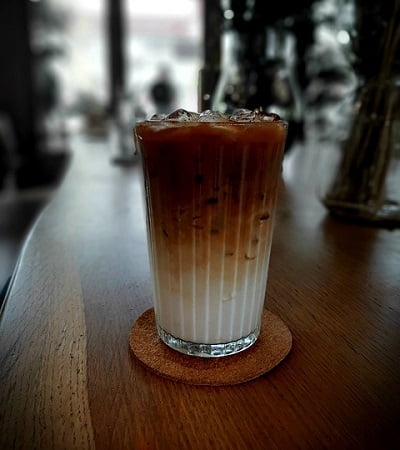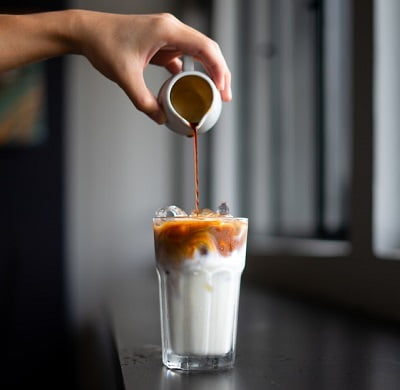 Print Recipe
Iced Latte Recipe
Here's how you can easily make this delicious drink at home
Equipment
1 Espresso machine

1 Coffee grinder
Ingredients
1

Double Shot Espresso (2 oz)

6-8

oz

Milk (Whole, Soy, Almond)

1

Glass

Ice Cubes
Instructions
Fill a Glass with ice cubes to the top

Fill an empty jar with 6-8 oz cold milk and shake it vigorously for 30 seconds to form a cold froth

Pull a doppio espresso shot using an Espresso machine.

If you don't have an Espresso machine you can use French Press or Moka Pot to make concentrated small shot of coffee.

Pour the cold frothed milk in the glass filled with iced cubes and pour Espresso shot on the top

Serve and Enjoy! You can add syrups and sweeteners to further spice up your drink
The Variations of Iced Latte
If you're a fan of iced lattes, you may be looking to mix things up and try some new variations of this popular coffee-based drink.
Iced Pistachio Latte: It is made with sweet pistachio syrup that gives it a nutty and creamy flavor.
Coconut iced latte: If you use coconut milk instead of regular milk in your iced latte, the flavor will be tropical and nutty.
Iced Hazelnut Latte: The hazelnut syrup gives the latte a sweet and nutty flavor that pairs well with the bitterness of the espresso.
Vanilla iced latte: Adding vanilla syrup to your iced latte can create a sweet and creamy flavor that is perfect for any time of day.
Iced latte with toppings – Some coffee shops offer iced lattes with additional toppings such as whipped cream, chocolate shavings, or cinnamon powder.
All of these variations can add an extra layer of flavor and texture to your iced latte, allowing you to customize your drink to your liking.
What is an Iced Coffee?
Generally, iced coffee is made by brewing coffee with hot water and serving it over ice. You can add creamers, sugars, and milk to add flavors and make it sweeter.
Iced coffee can be made in various ways, including using a pour-over method, a French press, a cold brew process, or even with instant coffee powder.
Being a lover of strong coffee taste, I prefer to make iced coffee using cold brew and drink it straight without any sugar or sweeteners.
The best thing about iced coffee is that you don't need an expensive espresso machine and you can easily prepare it at home.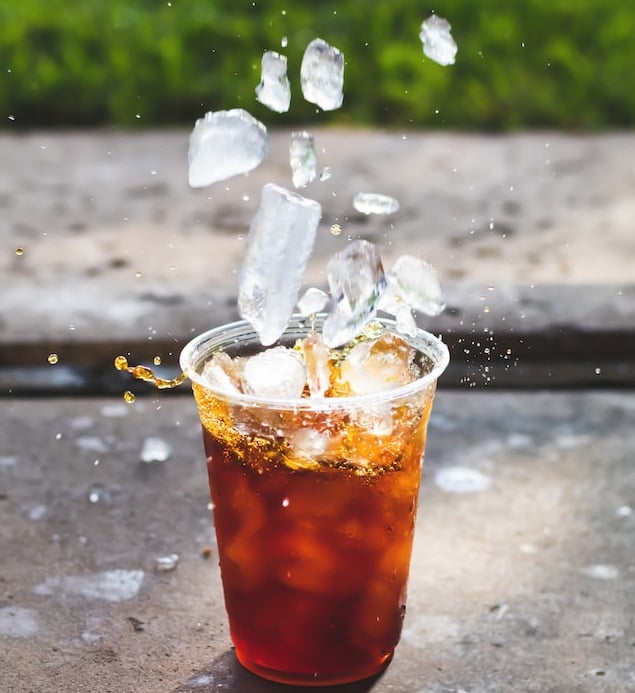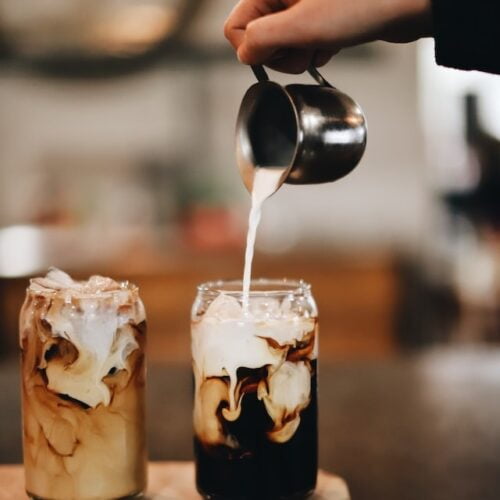 Print Recipe
Iced Coffee Recipe
Here's how you can make delicious Iced Coffee drink at home
Ingredients
6-8

oz

Brewed Coffee

6-8

oz

Milk (Optional)

Crushed Ice Cubes
Instructions
Start by brewing coffee with your preferred method either it's pour over, french Press, or Drip machine.

You can also make it using instant coffee powder.

Make sure to prepare a strong coffee concentrate using high coffee to water ratio so that ice won't dilute it

If you want to add sweeteners do it at this stage

Add the Freshly brewed coffee to a glass filled with iced cubes.

Tip for a strong coffee lovers: Make ice cubes of brewed coffee and use them instead of normal ice cubes to avoid flavors diluting.

Add cold milk to an empty jar and shake it vigorously for 30 seconds to form a froth and pour it over the coffee.

Typically a 1:1 ratio of milk to coffee is used.
The Variations of Iced Coffee
Similar to iced latte, iced coffee also has various ways to enjoy it. Here are some of the most popular variations:
Cold brew iced coffee – This is a method of brewing coffee by steeping it in cold water for 12-24 hours. The result is a smoother and less acidic taste compared to traditional iced coffee.
Iced coffee with milk – If you prefer a creamier taste, you can add milk to your iced coffee. You can also use non-dairy milk like almond or soy milk.
Sweetened iced coffee – you can add sweeteners like sugar, honey, or syrup to your iced coffee to enhance the taste.
French Press Iced Coffee – Iced Coffee prepared with a French press has fuller flavors and body than other iced coffee methods because the coffee is steeped for a longer period of time, allowing more flavor to be extracted from the beans.
Instant Iced Coffee: It is made by dissolving the instant powder in water. It is a quick and convenient way to make iced coffee without the need for specialized equipment or a lot of time.
Difference between Iced Coffee and Iced Latte
Now that you clearly know what iced latte and iced coffee are, let's discuss the differences between them.
The Taste and Flavors
The taste and flavors of iced coffee and iced latte differ significantly.
Iced coffee is typically made by brewing coffee using hot water and then cooling it down over ice. The taste of iced coffee can vary depending on the type of coffee beans, brewing method, and the amount of milk.
Some people prefer to add sugar or syrups to their iced coffee to balance out the bitterness and create a sweeter taste. I personally prefer to drink Iced coffee straight without the addition of milk. Also, I drink it with ice cubes made with brewed coffee, so the flavors won't dilute.
On the other hand, the iced latte is made by mixing espresso shots with cold or steamed milk and ice. The milk helps to cut the bitterness of the espresso, creating a smooth and creamy drink.
The Iced Latte is a sweet drink with a very thick mouthfeel since there is very little water present in it.
Overall, the taste of iced coffee is more focused on the coffee flavor itself, while the taste of an iced latte is influenced by the milk and any additional flavorings.
WHICH IS A HEALTHY DRINK?
Which one is a healthier drink depends on the recipe, the amount of milk, the syrups, and other flavorings you put in the drink.
Iced Coffee when consumed as it is (without milk or sweeteners) has almost zero calories.
Since Iced Lattes contain so much milk, they tend to be very calorific. A 16 oz serving of an Iced Latte has around 130-170 calories.
The iced coffee is the best option if you want to limit your calorie intake or avoid dairy. The iced latte is the best choice if you're looking for something creamy and rich in calcium.
For the healthiest diet, choose low-calorie milk substitutes like skimmed milk and almond milk instead of whole milk and creamers.
In terms of caffeine, the amount varies based on the type of coffee or the amount of espresso used. In general, iced coffee contains more caffeine than iced latte because it uses more volume of brewed coffee. However, some coffee shops add an extra shot of espresso to their iced latte to make it even stronger.
Also Read: How many Calories in a shot of Espresso
Iced Latte vs Iced Coffee, So what's better?
The choice between an iced latte and an iced coffee is ultimately up to you. It is impossible to say one drink is better than the other.
Iced coffee is a straightforward drink that caters to those who appreciate the intense and robust flavor of the coffee. However, an iced latte may be a better choice if you prefer a sweeter, creamier taste.
I prefer the iced latte when I am in the mood for a smooth and milkier drink as espresso shots pair well with the creaminess of the milk. And when I am in the mood for a strong drink, I drink straight iced coffee prepared in a French Press using the Cold Brew technique.
Also read other related coffee comparisons
FAQs
Why Is Iced Latte More Expensive?
There are several reasons why iced lattes are more expensive than iced coffee. First, the cost of espresso shots is usually higher than the cost of regular brewed coffee. Additionally, it is prepared with a variety of expensive syrups and creamers
Do iced lattes have a lot of sugar?
It depends on how you order it. A standard iced latte made with milk and espresso does not contain any added sugar. However, if you opt for flavored syrups such as vanilla or caramel, the sugar content will increase.