Are you looking for the perfect espresso machine that can brew perfect shots of Espresso, with a rich and creamy layer of crema? If yes, then De Longhi ECP3420 may prove to be the perfect choice for you.
DeLonghi is one of the most popular brands in manufacturing Espresso machines. DeLonghi ECP3420 is one of the most affordable product of the DeLonghi brand, makes its name in this market because of its simple but innovative design and high-quality technology, that prepare delicious espresso shots.
For this article, we have tested and reviewed DeLonghi ECP3420 in detail, breaking down the advantages and disadvantages, features, and benefits, and a complete buying guide to help you in making a decision that this machine is good for you or not.
Our Verdict | Is Delonghi ECP3420 worth it
Overall, DeLonghi ECP3420 Espresso and Cappuccino Maker is a great budget-friendly machine.
It's perfect for individual use, having a compact design and innovative technology. Simple to operate and no hassle in cleaning and maintenance.
DeLonghi has a solid reputation as a coffee maker manufacturer for delivering quality products and satisfying customers.
With a consistent record and budget-friendly point, it is an easy win for anyone looking to add an espresso maker to their set of coffee tools without breaking the bank.
An Overview of DeLonghi ECP3420
DeLonghi ECP3420 is a small, Semi-Automatic Espresso Machine, It has a very compact design and a small footprint perfect for small kitchens or dorm rooms.
It has great and advanced technical features and specs, and you can easily prepare Lattes, Cappuccinos, Macchiato, or any other type of Espresso drink.
To facilitate the brewing process, DeLonghi uses a 15-bar pump and an 1100-watt stainless steel boiler.
Highlighted Features of Delonghi ECP3420
15-bar adjustable manual pressure pump
3-in-1 filter basket
Self-priming option
Removable drip tray
Different cup sizes
Advanced Cappuccino system
37-ounce water removable tank with visible water level
Hot water function and cup warmer
Stainless steel boiler
Rapid brewing for making several cups at a time
Compact and narrow frame to occupy less space in your kitchen.
Pros
✔️ 15 bar pressure pump
✔️ Self-steamed milk and foam
✔️ A budget-friendly semi-automatic espresso machine
✔️ Accumulates any cup size
✔️ Brew a single and double shot
✔️ Removable water tank and drip tray
✔️ Compact design, smaller footprint fits easily in the kitchen dorm room
✔️ Fast startup time
Cons
❌ The milk frother has a short run-off time of 30 seconds
❌ Made of Plastic
❌ Too tightly packed or too fine coffee grounds can clog the portafilter


Read more: Capresso EC 100 Review
DeLonghi ECP3420 Review-complete guide
As described earlier, DeLonghi is an entry-level semi-automatic machine that stands out among its competitors because of its simple but innovative design, great built-in features, high-quality technology, preparing a perfect espresso shot, and, most importantly, budget-friendly.
Let's discuss the overall design of DeLonghi ECP 3420 and buying guide in detail.
1- Overall Design of DeLonghi ECp3420
DeLonghi ECP 3420 is a compact, semi-automatic espresso machine having a simple and decent design.
This machine is not entirely made of stainless steel material instead it's made of ABS plastic which is a cheaper material. As this machine is also not very expensive so this makes sense. Although it's made of plastic but I must say the design isn't that fragile, it looks quite strong and reliable.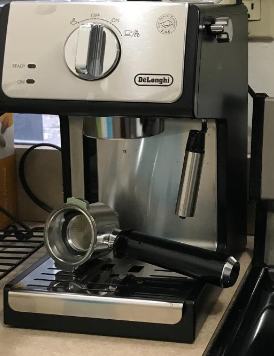 There is 1 large dial on the interface of the machine with 4 different options, espresso, steam wands, on, and off.
Next, we have a portafilter which has 3 parts- one for a regular Espresso shot and the other for a double Espresso shot, and the third for convenient Espresso pods.
The drip tray below the portafilter can be removed to accumulate cups up to 5-inch height.
In addition to having dimensions of 7.25″ D x 9.6″ W x 11.9″ H, this machine weighs only 10 pounds, which makes it very compact in size.
On the back of the machine, there is a storage of portafilters and a water tank. The water tank is made of a see-through plastic material that is easily removable for cleaning.
The drip tray is also removable so you can easily accommodate larger cups for preparing Lattes or iced coffee.
2- Brewing Espresso in DeLonghi ECP 3420
The machine comes with a coffee scoop that makes it easy to fill the portafilter with coffee grounds. Fill one scoop of coffee grounds for a single shot of Espresso, and two scoops for a double shot.
At the back of the scoop is a tamper that works well for tamping coffee grounds into the portafilter.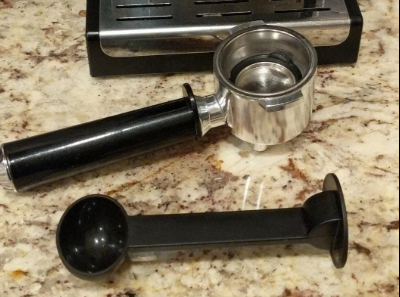 Insert the portafilter into the machine and turn the knob toward the ON button. When the ready light turns green, you are ready.
The machine will take 1 to 2 minutes to get ready and after the machine is heated up you can brew as many shots of Espresso as you want.
When the machine is ready turn the knob towards the coffee button and your shot will start brewing.
Tips for good Extraction and getting perfect crema
Always use fresh coffee and fine-grind size to get the perfect crema on your coffee.
Tamp the coffee grounds in the portafilter properly and level off the surface of the coffee grounds.
Do not overfill the coffee filter. DeLonghi recommends the usage of 1 measuring scoop per cup.
If you prefer a thick layer of crema then used dark roasted espresso beans.
You can also use E.S.E. (Easy Serve Espresso) pods, these are small round coffee bags filled with espresso grinds. You can save time and effort by using them.
3- Frothing the milk
The milk frother is the favorite part of an espresso machine for those who enjoy milk-based coffee drinks such as cappuccinos and lattes.
If you like frothy drinks you will definitely love this machine as the quality of froth this machine produce is exceptional.
For frothing the milk turn the dial toward the "steam position" and wait till the machine gets ready.
Once the ready light turns green put the steam wand into the milk jug and start frothing by turning the lever down at the side of the machine.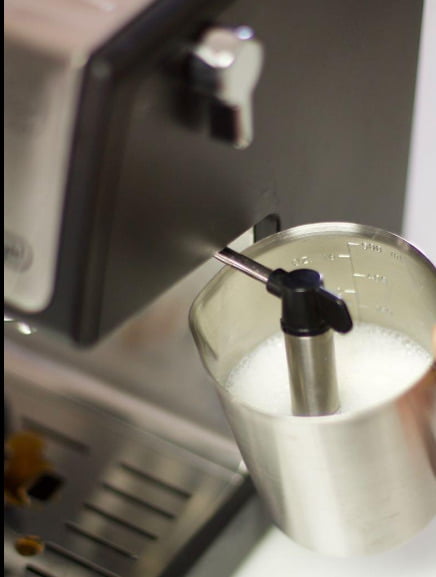 Any kind of milk, whether skimmed or semi-skimmed or flavored, can be used to prepare rich and creamy forth.
If you love extra frothy drinks then you have to run the frother a second time because the steam wand runs out of pressure within 30 seconds. 30 seconds is an adequate time for preparing a normal froth but it's certainly not enough for extra foamy drinks.
4- Taste and the quality of coffee Drinks
The thickness and level of crema are a great deal for many Espresso lovers while looking for the right Espresso machine.
It is important to ensure that the machine is capable of preparing delicious espresso shots just like those served at fancy coffee cafes and Starbucks.
I must say with the 15 bars of consistent pressure this machine is capable of preparing the right kind of Espresso shots with a very nice layer of crema.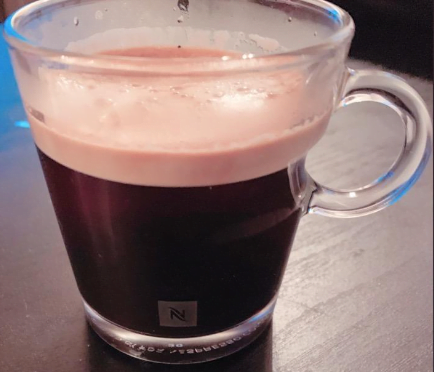 5- Cleaning of the machine
Cleaning and maintenance are essential for the long-term life of your machine. A key feature of DeLonghi products is their ease of cleaning.
DeLonghi ecp3420 has a removable drip tray, portafilter, and water tank that are dishwasher safe. Simply remove the drip tray and portafilter after every use and rinse it with warm soapy water.
Cleaning the steam wand is also very simple. You simply twist it off and it comes apart so you can simply rinse it with water.
To keep your machine in good working condition and maintain it properly, it's essential to descale it. It is recommended by Delonghi to descale the machine after brewing 200 cups of coffee.
You can use a DeLonghi descaling solution for that, but you can also opt for a 50-50 vinegar-water solution.
6- Price and Value for money
The feature Delonghi ECP 3420 offers for under 200 bucks are incomparable. Espresso machines are usually very expensive, and you have to spend more than 500 dollars to get a good one.
Despite using a cheap material for design, this machine isn't fragile. It's quite sturdy and reliable.
If you are looking for an affordable Espresso machine then I must say there is no better option than Delonghi ECP3420.
7- Cutomer Reviews
The real value of any product is determined by the customers. On Amazon, this machine has more than 6000 reviews with an average rating of 4.4 out of 5. More than 70% of users are completely satisfied with this machine (which I think is a good number).
Katie says
"For $100 or so dollars though, and especially after being used almost every single day for 4 years, this machine has STILL been one of the best and most reliable things I have ever purchased in my life."
Out of bad reviews, many users are concerned with the Milk frother and leakages in the machine. Milk frother as I said earlier don't froth milk for more than 30 seconds in one go and the leakages in the machine may develop with time if not maintained properly.
Why should you buy DeLonghi ECP 3420?
Brews a decent single shot or double shot of Espresso in no time.
It's a good machine for beginners as it is fairly user-friendly and easy to operate.
It's the perfect Espresso machine for those who are looking for a compact Espresso machine with a smaller footprint.
Perfect for those who are looking for an Espresso machine that is budget-friendly and prepares decent espresso shots.
Although it's not a perfect machine for Latte art but the taste of Cappuccino and Latte is wonderful.
Why shouldn't you buy DeLonghi ECP3420?
This machine is not perfect if you love extra froth milk-based Espresso drinks. With this machine, the milk is frothed for only 30 seconds in one go, which is quite a short amount of time for perfect froth.
As the machine is made of plastic there is a chance that leakages may develop after some time (but it will not happen if you properly maintain and descale the machine on time).
The machine may stop working if you pack the grounds too tightly in the portafilter.
Yeah! the water pump and the milk frother are not ideal but in this price range, you are not going to get a better machine than this.
Also, check out the Best mini Espresso machines for camping and traveling.
Our Final Thought
Many users are asking if the Delonghi ECP3420 Espresso machine is worth it not?
After extensive research and reviewing the machine I found that it is the best cost-friendly machine that prepares wonderful shots of Espresso with minimal effort.
Yeah, there are some issues with the material of the machine and the steam wand of the milk frother. But there is a famous saying "you only get what you pay for".
You can't get a perfect Espresso machine in less than 500 dollars. But I must if you are on a budget than there is no better option than this.
F.A.Q.
Are DeLonghi Machines worth it?
DeLonghi is one of the most popular brands in the market of making espresso and coffee Machines.
Delonghi never compromises on the quality and always use latest and innovative technology in their machines.
So, yeah the Coffee machines from Delonghi definitely worth it.
Is the DeLonghi ECP3420 an automatic espresso machine?
No, deloghi ECP3420 is not a fully automatic Espresso machine instead it falls under a category of semi-automatic Espresso machine.
That means you have to measure, grind, and tamp the coffee grounds by yourself while using this machine.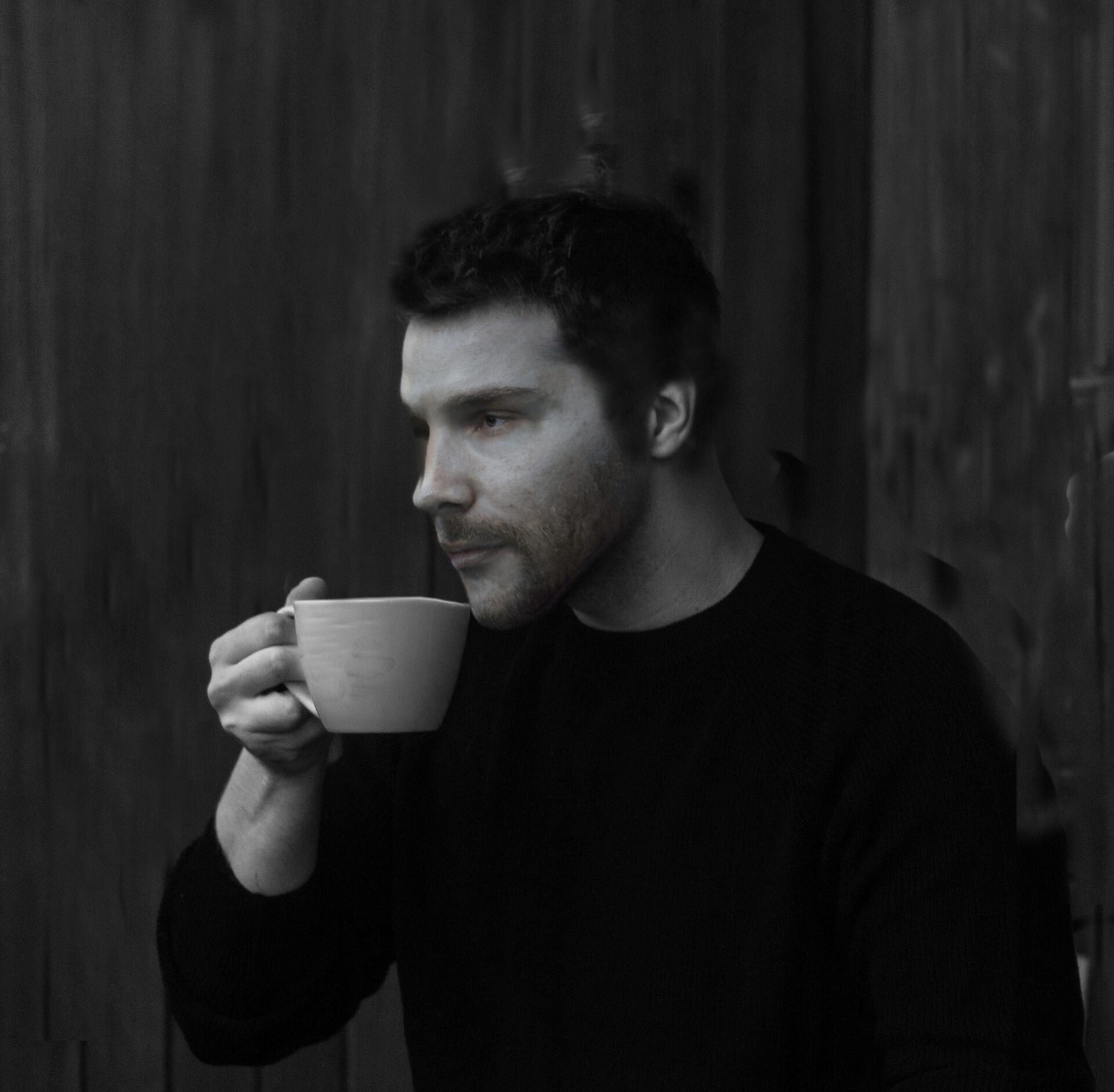 Hey,
I am Johny Morrisson! Founder of CoffeeAbout
My love for coffee dates back to my childhood. I love trying out different coffee machines and recipes.
As a coffee enthusiast, I decided to start my blog last year to provide users with useful information on brewing methods.
During this journey, I have discovered many new things and facts about coffee that I will share with you here.