In the market of coffee and espresso makers, Capresso is a name of trust and innovation. "Capresso" is derived from a combination of the words "Cappuccino" and "Espresso".
Capresso EC 100 is an affordable semi-automatic Espresso and cappuccino machine with many built-in features specifically designed for coffee lovers.
For this article, we have tested and reviewed Capresso EC100. We will discuss all the features and pros and cons of this machine in detail. So you can easily make an informed buying decision.
Our Verdict | Is Capresso EC100 worth it
Overall, Capresso EC100 Coffee and Cappuccino Maker is a great budget-friendly machine.
It's perfect for individual use, having a compact design and innovative technology.
With this machine, you can easily prepare barista-style Espresso shots and Cappuccinos at home.
While this machine has some drawbacks, but it's certainly a perfect choice in this price range.
Why Trust Us
I have taken an in-depth look at all of its top features and analyzed the pros and cons to help you make an informed buying decision. With our expert review, you can discover whether the Capresso EC 100 is the right choice for you or not.
*As an Amazon Associate, we earn a little commission when you purchase products through our links, without any additional cost to you. That helps to support our website and I greatly appreciate your support!
An Overview of Capresso EC100 Espresso Machine
Capresso coffee makers gained popularity as the leading coffee machine brand back in 1990 because of their minimalist and innovative design.
Capresso has had a significant impact and popularity in the world as a coffee machine manufacturer. They have been famous for delivering top-quality coffee makers for quite a while now.
Capresso EC100 is easy to operate, has great built-in features, has a unique and innovative design, has great functionality, and most importantly it is a budget-friendly option.
Key Features of Capresso EC100
Color: Black and stainless steel
Dimensions: 8.25″D x 10.25″W x 11.75″H
Material: Plastic and stainless steel
Thermoblock heating system
15 bars Pressure pump Espresso Machine
Portafilters for single and double-shot Espresso and ESE pods
Milk frother for steaming the milk
Removable 46-ounce water reservoir
Things that set apart Capresso EC 100 from its competitors
Affordability: It is certainly one of the Best Espresso machine you can get under 200 dollars.
Quick Heating System: The Capresso EC 100 is equipped with a Thermo-block heating system that heats the water quickly and efficiently within a minute.
Compact Size: It is a compact machine that makes it a good option for users who have limited counter space in their kitchens.
Capresso EC100 Review | A Detailed Go Through
1. Design and Size of Capresso EC100
Overall the design of Capresso EC100 is very sleek and minimalistic. Unlike traditional Espresso machines, it doesn't look very heavy and takes a very little space on the counter of your kitchen.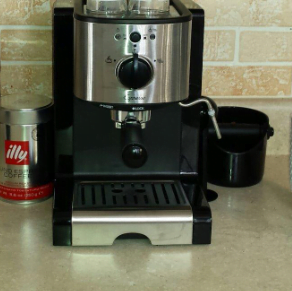 Although it is mostly made of plastic but I must say that the design is quite sturdy and reliable.
At the top of the machine, there is a passive stainless cup warmer for preheating the cups. This I think is a very good feature for maintaining the temperature of the Espresso shots.
2. Thermo block Heating System
Capresso EC100 has a Unique thermoblock mechanism lined with Stainless Steel to ensure that your coffee is served piping hot.
The heat-up time of this machine is also pretty fast. It gets ready for brewing Espresso shots within a minute.
3. User Friendliness
Capresso EC100 is simple to operate, convenient, and has an innovative design.
The interface of the machine is very simple, there is an On/Off button at the center of the interface and another large Dial for preparing Espresso shots and frothing milk.
This is a semi-automatic type of Espresso machine which means you have to do all things by yourself from grinding, measuring, and tamping coffee grounds to adjusting the brew time and yield.
So, it's needless to say that Capresso EC 100 is not a perfect option for a beginner who doesn't know the ins and outs of brewing Espresso.
But if you are willing to learn there is no better option than this machine as it's way more affordable than other similar Espresso machines.
4. Brewing Espresso in Capresso EC100
First, you need to select the portafilter basket that you will use for making espresso shots.
For the single shot, use a smaller basket and for the double shot use the larger one. There is also an ESE filter basket for using pre-packaged espresso coffee pods.
Twist the basket firmly into the portafilter to lock it and make sure that it doesn't fall off. Now add coffee grounds to the basket with the scoop and tamp it properly with the tamper at the back of the scoop.
Now insert and lock the portafilter into the machine and turn the dial towards the coffee position and your shot will be ready in 30 seconds.
That's it! That's how simple it is to prepare a cup of Espresso in Capresso EC100.
5. Milk frothing system
Capresso EC100 Espresso and Cappuccino maker feature a dual swivel frother for preparing wonderful milk-based espresso drinks like Cappuccino and Latte.
This milk frother is specifically designed to provide separate frothing positions for steamed milk (latte) and frothed milk (Cappuccino).
With the black plastic frothing sleeve attached, you can create a rich, cappuccino-style foam by swirling steam through the milk. And when you remove the sleeve, the machine will direct steam directly into the bottom of the pitcher for a smoother, creamier texture that is perfect for lattes.
As Capresso EC 100 is a single boiler machine you can't pull a shot and steam the machine simultaneously. You have to wait!
And sometimes it doesn't provide enough steam to get the milk to the perfect temperature so you have to wait again for the machine to heat up.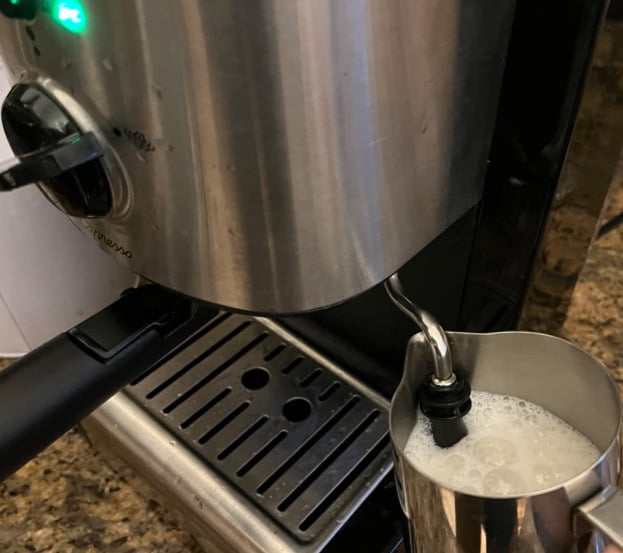 6. Taste and the quality of Espresso
The taste and quality of Espresso or Cappuccino you get with this machine is exceptional.
With lots of crema, the espresso tastes and looks like it came straight from a cafe- dark and strong with a rich aroma.
After the milk has steamed up, it will produce a smooth, creamy froth that is absolutely delicious. Making a cappuccino takes about five minutes in total.
7. Larger Water Reservoir
Capresso EC100 has a built-in feature of a larger water tank having a capacity of 47 oz reservoir. The water reservoir is made of see-through plastic so you can easily check the water level in the tank.
Also, the water reservoir is removable for easy cleaning.
8. Safety Features
Capresso EC100 comes with a handful of safety features:
The electrical cord length is kept short to keep it out of children's range.
Have indicator lights to tell whether the machine is On or Off.
Have an auto shut down feature which shuts off the machine after inactivity of 2 hours.
9. Customer Reviews
Only customers can tell whether the product is of real value or not. On Amazon, Capresso EC100 has 700 reviews with overall ratings of 4.3 out of 5. More than 75% of users are completely satisfied with this product.
Alexander says:
"This is the perfect option! It's easy to fill the water tank. It's easy to turn on. It gets hot in a matter of seconds. Turn the knob one click to the left to get espresso… turn the knob one click to the right to get steam. Leave the knob in either position as long or as little as you like. SIMPLE!"
Out of bad reviews, most users are concerned that the filter basket of this machine isn't large enough for a double shot of Espresso and the other major concern is that the height between the drip tray and the portafilter isn't adequate for holding larger latte cups.
Also read the review of another Affordable Espresso machine: DeLonghi ECP 3420 review
Why We Like Capresso EC100
Espresso machines are usually very expensive, the thing you like the most about Capresso EC100 is that this machine is extremely budget-friendly. This means you get a solid feature set without too much investment, which is perfect for budget-conscious shoppers who want to make café drinks at home.
Water Reservoir and drip tray are easy to remove, providing you with the facility of keeping your machine clean.
This machine is a great choice for making delicious Cappuccinos and Lattes.
It has a very simple interface and is extremely easy to use.
Simple operation, innovative design, and quick thermo-block heating system.
Auto shut off feature.
Why we do not like Capresso EC100
Improvement can be made in the milk frother of this machine. It would be better if the frothing wand would last a bit longer as far as convenience is concerned.
There are no separate options for the single and double shots of Espresso. You have to manually turn off the machine when you notice that the shots are prepared and the machine is only spitting water now.
The height of this machine is inadequate for accommodating larger coffee mugs. You must notice that this machine can't accommodate cups larger the 3.5 inches.
The size of the filter basket for double-shot Espresso is inadequate. You can't fill as many coffee grounds as needed for the double shot.
If you pack the coffee grounds too tightly into the filter basket the machine may stop working.
This machine is only perfect for individual use or a family of 2 or 3 at max. You can't prepare more than 2 to 3 cups at a time (It will take a lot of time in reheating the machine).
Also, check out the best manual Espresso makers for traveling and camping
Final Thoughts
Overall, the Capresso EC100 is a great semi-automatic Espresso machine in this price range.
The product offers great innovative features in a budget-friendly range, attracting both beginners and seasoned coffee drinkers.
The machine is quite durable as well as has a variety of safety features that make it a reliable machine.
Although there are some drawbacks to this machine, the price is also under 150 dollars, so it is reasonable.
FAQs
Is Capresso a good brand for an espresso machine?
Capresso is a big name in the coffee industry. It not only manufactures coffee and Espresso machine but also coffee grinders, milk frothers, and water kettles.
So, we can say they are experts in this niche market.
Capresso is well known for its innovative designs and advanced coffee machines.
What Pods are compatible with Capresso EC100
While It is recommended to use freshly ground coffee for preparing perfect shots of Espresso. But you can also use ESE coffee pods in Capresso EC100 for convenience.