For those who cherish the great outdoors and appreciate the pleasure of a finely crafted cup of espresso, a Portable Espresso is a must-have!
For this article, we have tested and reviewed the best portable Espresso makers on the market. All the information about these handy devices from their best features to their pros and cons is listed so you can easily make an informed buying decision.
Best Portable Espresso Makers | Top Choices at Glance
Flair Signature Espresso Maker (Best Tasting Espresso)
Wacaco Nanopresso (Best Travel Espresso maker)
Best lightweight machine made for camping and hiking
Useful travel accessories available
Fair tasting Espresso drink
CONQUECO Portable (Best Battery Espresso Machine)
Why Trust Us
I have taken an in-depth look at more than 20 portable Espresso machines in the Market. I have discussed all the top features, pros, and cons of the best products, and with our expert review, you can easily discover which device is perfect for your needs
*As an Amazon Associate, we earn a little commission when you purchase products through our links, without any additional cost to you. That helps to support our website and I greatly appreciate your support!
8 Best Portable Espresso Makers
What is a portable Espresso maker?
Portable Espresso makers are small and easy-to-carry gadgets. You can easily take them anywhere you want as they usually weigh around 1-3 pounds.
You might already know that Espresso is a concentrated coffee drink created by forcing pressurized hot water through finely ground coffee beans, resulting in a thick layer of crema atop the rich and flavorful brew.
To qualify as an "Authentic" espresso maker, the machine must work at a pressure of at least 9 bars.
If you are a coffee lover who is always on the go, a portable espresso maker is an excellent choice. These machines brew an acceptable shot of Espresso and are usually very inexpensive.
On the downside, I must say that the quality of Espresso you get with these machines is not comparable to real Espresso machines or coffee shops.
And you have to struggle a lot to brew a single shot of Espresso. These machines are perfect for traveling purposes but they are certainly not perfect for homes.
For homes, I suggest you go with electric portable options like Nespresso Essenza Mini or Nescafe Dolce Gusto.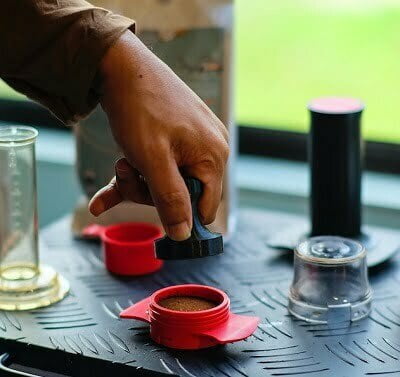 Read a detailed guide on the types of Espresso machines
Types of portable Espresso makers
Based on their design, portable espresso makers can be either manual or automatic.
Manual: Manual Portable espresso makers require manual pumping to extract the shot of espresso, and you'll need a separate heating source like a stovetop or electric kettle to warm the water.
Automatic: An automatic portable espresso maker is a compact and portable machine that uses electricity to automate the espresso brewing process. They are designed to be portable, and perfect for small offices or dorm rooms.
Battery-Powered Espresso Maker: It is a type of portable espresso machine that operates using battery power. These machines typically have a compact and lightweight design, making them ideal for travel or outdoor activities without the need for additional water-heating equipment.
Manual Portable Espresso Makers
The manual espresso makers do not require batteries or electricity to operate, which makes them perfect for traveling or outdoor activities. However, you do require the heating source.
1- Flair Signature Espresso Maker
(Best Manual Espresso Maker)
If you want to craft delicious espresso at home or on the go, the Flair Classic is the best manual portable option for you. With Flair, you get complete control over temperature and pressure to pull pro-quality shots using just your hands.
| | |
| --- | --- |
| Capacity | 1.35 oz |
| Weight | 6 lbs |
| Material | Stainless Steel |
| Pressure | 6-9 bars |
Simply add hot water and finely ground coffee to the chamber, and use the lever to pressurize and extract a rich, aromatic shot topped with creamy crema.
I love having the precision of a commercial machine without the hefty price tag or counter space. A pressure gauge displays the manual pressure generated by this device, which can reach 6-9 bars.
However, it does take a lot of practice to master Flair's technique. You'll need patience dialing in your grind size and lever pressure to get the perfect 9-bar extraction. Expect to waste some coffee beans finding the right routine. Once mastered, the included pressure gauge provides helpful feedback for consistency.
The Flair Signature is a perfect manual machine that comes with an easy-to-carry travel case. It is made of high-quality stainless steel and aluminum materials that are built to last. It also comes with a 3-year warranty, so you can be confident in its quality.
Pros
✔️ Prepare Authentic Espresso with a rich layer of crema
✔️ 6-9 bars of pressure with a pressure gauge
✔️ Very durable design
✔️ Easy to clean
✔️ Compact travel case
✔️ 3 years warranty
Cons
❌ Prepare only a single shot of Espresso at a time (1.35 oz)
❌ Expensive option
❌ It takes a lot of practice to craft the perfect Espresso, so you have to waste a lot of coffee beans.
❌ Can't work properly with preground coffee. So you have to buy a grinder too.
2. Wacaco Nanopresso
(Best handheld Espresso Maker For Camping)
If you want decent espresso on the go, the Wacaco Nanopresso is the best handheld option for you. Using just your hands and hot water, this compact gadget can pump out 18 bars of pressure for intense flavor extraction.
| | |
| --- | --- |
| Capacity | 2.7 oz |
| Weight | 0.74 lb |
| Material | BPA free plastic |
| Pressure | 18 bars |
It takes practice dialing in the grind size, but once mastered, the Nanopresso delivers a smooth, aromatic espresso topped with crema.
The minimalist design fits neatly in a bag for travel or office use. While some manually pumped models can be tiring, the Nanopresso requires 15% less force than earlier versions.
Some dripping is unavoidable, so I recommend having a cloth on hand. While the output is a little weaker than authentic Espresso, I find it perfect for traveling purposes.
It weighs only 0.74 lbs and comes with a convenient travel case, making it perfect for taking on the go.
In addition to compatibility with coffee grounds, you can buy a Nespresso pod compatibility kit separately.
Pros
✔️Super easy to use requires less force
✔️ Pressure up to 18 bars
✔️ Wide range of accessories and Replacement available
✔️ Very decent and compact design
Cons
❌ Suitable for traveling only
❌ A little expensive option
❌ The taste of Espresso shot is a little weaker


3. AeroPress Go Portable
(Best Travel Espresso Press)
If you want to make smooth, full-flavored coffee anywhere, the AeroPress Go is the best handheld device for you. This compact machine is made of BPA-free plastic, weighs only 0.7 pounds, and lets you brew cafe-quality coffee in just seconds.
| | |
| --- | --- |
| Capacity | 8 oz |
| Weight | 0.72 lb |
| Material | BPA free plastic |
| Pressure | No Pressure |
Simply add grounds and hot water to the chamber, stir, and push the plunger to produce a concentrated shot, without any bitterness or grit.
You can brew regular 6 oz cups of coffee as well as concentrates for lattes and iced coffees.
However, this device doesn't generate pressure like other handheld Espresso makers. It basically works on an immersion brew style similar to a French Press Coffee maker. The taste will be strong but not as bold as Espresso. So you can say it's an "Espresso styled coffee" not an authentic Espresso.
It easily tucks into a backpack or carry-on for travel and camping trips and it's super easy to clean afterwards.
Pros
✔️ Easy to carry
✔️ Can brew up to 3 cups at a time
✔️ Microfilters
✔️ Super easy to clean
Cons
❌ Technically not an Espresso as it can't generate enough pressure
❌ Steep learning curve
❌ The coffee is weaker compared to Espresso
Mini Electric Portable Espresso Machines
Electric Portable espresso makers provide a lightweight, compact way to make espresso in settings like offices and apartments. But their need for an electrical outlet restricts their use for outdoor activities without power access. Still, they offer an excellent convenient solution for urban portability.
4. Nespresso Essenza Mini
(Best Electric Portable Espresso Maker)
If you want authentic espresso with a minimal footprint, the Nespresso Essenza Mini is the best compact electric machine for your countertop. This slim and convenient automatic espresso maker features a unique small size perfect for small kitchens or apartments.
| | |
| --- | --- |
| Capacity | 1 cup at a time: (Espresso/Lungo) |
| Weight | 5.1 lbs |
| Material | Plastic |
| Pressure | 15 bars |
This machine has a very simple operation. Just pour water into the tank insert the coffee pod into the machine and hit one of the two programmable buttons i-e lungo or Espresso and your drink will be ready in seconds.
No need to sacrifice flavor or spend time grinding, tamping, and cleaning like manual models. Apart from being portable, the design is also very stylish and modern.
This machine is compatible with Nespresso original line capsules and 3rd party capsules. You can also buy reusable coffee pods if you want to use your own coffee grounds.
Some users have experienced leaking from the water tank over time and many have complained that the espresso shot is not as hot as it should be. But for compact Espresso machines, nothing can beat Essenza mini.
Pros
✔️ Very delicate, slim, and decent design
✔️ Creates a good pressure of 19 bars
✔️ Energy saving and Automatic shut-off feature
✔️ Perfect for small spaces
✔️ Two programmable options i-e Lungo and Espresso
Cons
❌ Only brew one cup at a time
❌ Not suitable for outdoor activities
❌ Works only with coffee capsules
❌ The coffee is not as hot as it should be, Still drinkable!

Also Read: Nespresso Essenza Mini vs Plus
5. NESCAFÉ Dolce Gusto
(Portable Espresso machine with Milk Drink)
If you want a variety of espresso drinks in a petite package, the NESCAFÉ Dolce Gusto Genio 2 is the best mini-electric machine for you. This compact capsule-based maker delivers authentic espresso, cappuccinos, and other coffeehouse favorites with ease.
| | |
| --- | --- |
| Capacity | 1 cup at a time |
| Weight | 6 lbs |
| Material | Plastic |
| Pressure | 15 bars |
This machine is made of plastic and weighs only 6 pounds, so you can easily transport or place it wherever you want.
You can easily make 15 different types of coffee with Nescafe Capsules. You can make Cappuccino, Latte, Americano, etc., with only a single click.
This machine has an easy slider interface and gives you the option for adjusting the size and strength of your brew and also you can choose between hot or cold brew.
The main drawback is it is only compatible with Dolce Gusto pods which are pricey, and sometimes unavailable. Some users have experienced messy leaks with the milk pods, but I've had no issues creating flawlessly frothed drinks.
Pros
✔️ You can easily create a variety of Coffee drinks
✔️ It has specially designed smart capsules which keep the beans fresh
✔️ Touch screen and very user-friendly interface
✔️ Sleek and Portable Design
✔️ Brews great Espresso based drinks
Cons
❌ Only compatible with Dolce Gusto coffee pods (might be hard to find sometimes)
❌ The pods are more expensive than other coffee pods
❌ Uses powdered Milk capsules to make milk-based coffee drinks – It's not a major con but some people hate powdered milk
❌ The machine may leak sometimes
6. DELONGHI EMK6
(Portable Moka Pot Espresso Maker)
If you want timeless style and Moka Pot espresso taste, the DeLonghi EMK6 is the best choice for you. This classic Italian-style moka pot brews bold, aromatic coffee or espresso with the electric heating element.
| | |
| --- | --- |
| Capacity | 8.5 oz |
| Weight | 3 lbs |
| Material | Plastic |
| Pressure | 2 bars |
This is Mocha style Espresso maker and has a traditional design. The bottom container is made of aluminum and the top container is made of food-grade plastic. The transparent container lets you monitor the brewing process from start to delicious finish.
Just fill the aluminum container with coffee grounds and water and turn ON the machine. Your coffee will be ready in minutes.
This machine can generate pressure up to 2 bars. So you can't classify it as an authentic Espresso but the taste of the coffee will be rich and strong much like an Espresso shot.
It also has a keep-warm function which can keep your coffee warm for up to 30 minutes.
Pros
✔️ Very easy to use
✔️ Can make upto 2-5 cups of Espresso at a time
✔️ Automatic switch-off feature
✔️ Keeps your coffee warm for up to half an hour
✔️ Pot is transparent
Cons
❌ Design is somewhat frail
❌ Pressure is only 2 bars – So technically isn't an espresso machine
❌ May result in burnt-tasting coffee when not used properly.
Battery-Powered Portable Espresso Makers
These portable espresso makers run on the convenience of rechargeable batteries, giving you decent espresso wherever you want it.
Their cordless functionality fueled by charged batteries is perfect for use in your car, RV, or even on a hiking trail as long as you keep them powered up.
9. CONQUECO Portable
(Best Rechargeable Espresso machine)
The Conqueco Portable Espresso Maker is an effortless solution for brewing your favorite coffee on the go. This handy gadget runs off a rechargeable battery so you can brew bold shots on camping trips, road trips, or your morning commute.
With just one button, this fully automated machine offers ease of use for busy travelers and anyone who wants a quick shot of Espresso anytime and anywhere.
| | |
| --- | --- |
| Capacity | 1.4 oz |
| Weight | 3.30 lbs |
| Material | Plastic |
| Pressure | 15 bars |
This compact and lightweight Espresso machine is made of plastic and weighs only 3.3 pounds. It can brew up to 3 cups of Espresso using cold water when fully charged.
The battery heats the water in about 10 minutes for a fresh cup anywhere. In total, it takes around 10-15 minutes for a shot of Espresso when using cold water so it might be a drawback for you. It brews very quickly when using hot water, though!
While the capacity is small, it's the perfect amount for a quick pick-me-up shot.
Conqueco has both the home charger and car charger. So, you can easily charge this machine in your car while traveling.
The machine features a 15 bar pressure and is extremely easy to use. It brews authentic espresso with a rich layer of crema. And It is also compatible with Nespresso and L'OR capsules.
Pros
✔️ Easy to use, has only one button
✔️ Creates good pressure of up to 15 bars
✔️ Easily rechargeable with an AC adapter
✔️ Both Car and home charger
✔️ Works with both hot and cold water
✔️ Self-cleaning function
✔️ Best for traveling purposes
Cons
❌ Capacity is only 1.4 oz, just for a single shot of espresso
❌ Takes 10-15 minutes to brew
❌ Only brew 3 shots in one go
❌ The temperature of Espresso is not that hot
10. HiBREW Portable 3-in-1 Multi-Function
(Best Portable Espresso maker that heats water)
The HiBrew is a powerful, battery-operated espresso maker that delivers a rich, full-bodied shot with a pressure of 15 bars. Its compact design makes it perfect for on-the-go coffee enthusiasts, whether you're hitting the road in an RV or venturing out on a camping or hiking trip.
| | |
| --- | --- |
| Capacity | 2 oz |
| Weight | 1.30 lbs |
| Material | Plastic |
| Pressure | 15 bars |
The HiBREW portable coffee machine can produce a pressure of 15 bars, which is ideal for making espresso. This means that you can enjoy a perfect cup of espresso without any loss of taste or aroma.
The machine is also compatible with all three coffee sources: Nespresso capsules, Dolce Gusto capsules, and ground coffee beans. This means that you can always have a delicious cup of coffee, no matter what you have on hand.
The HiBREW portable coffee machine is versatile and can be used in a variety of settings. It can be powered by a car cigarette adapter, a USB cable, or an AC adapter. If you are using a USB cable, you will need to use hot water. If you are using a car cigarette adapter or an AC adapter, you can use cold water.
Using hot water decreases brew time to 1 minute, while cold water takes 5-10 minutes on cigarette or AC power.
Pros
✔️ Compatible with three different capsules
✔️ Have three different modes to get electricity
✔️ Lightweight and a delicate design
✔️ Best for making Espresso on the road
Cons
❌ Not very long-lasting
❌ Water does not get hot enough
Factors to consider while choosing the best portable Espresso maker
You must be specific about your needs when buying a portable Espresso maker. Here are some factors you must consider while buying
1. Electric or Manual
If you want a portable Espresso maker for your small apartment or office, Electric mini Espresso machines like Nespresso Essenza Mini will be the best option as they are fully automatic and straightforward to use. Also, you will get better quality espresso than with handheld espresso machines.
If you want a coffee maker for Picnics, Camping, or hiking trips. Then Manual Handheld Espresso makers will be the best option for you. You just need a source of hot water with these types of manual machines.
Battery-powered machines are perfect for traveling, camping, or brewing coffee in your car. They can brew 3-4 cups without an electric source and don't require a separate heat source.
2. Portability
Obviously, in the list, all the Espresso makers mentioned are portable. But some are very lightweight, less than 1 pound, and some are relatively heavier about 3 to 4 pounds.
Some have a very light and delicate design, and some have a kind of weird design. So, you can choose the best portable Espresso maker according to your requirements.
3. compatibility
It is important to check whether the portable espresso machine you buy is compatible only with some types of ESE pods or also works with ground coffee.
Some portable espresso makers have compatibility limited to specific pod types, which are not always accessible. When the machine only works with hard-to-find pods, it creates challenges to being able to use it due to restricted pod availability.
4. Capacity
It's essential to consider the serving size while buying a Portable Espresso machine.
Some machines only have the capacity to brew a single shot of Espresso, typically around 1-1.25 oz.
On the other hand, some models have a larger capacity of more than 2 oz, allowing you to brew a double Espresso shot or even more.
Therefore, it's crucial to choose a model that aligns with your preferences and brewing needs.
Why do you need a portable Espresso Maker?
When it comes to satisfying your craving for a shot of espresso no matter where you are in the World, a portable brewing machine is a wise investment.
Traveling with heavy, traditional espresso machines isn't possible as they are usually very heavy and bulky.
However, it's worth noting that portable machines may not be able to match the high-pressure and consistent water-heating capabilities of traditional machines, and you will not get the true Espresso. (That's completely understandable!)
But if you learn to use these portable machines properly, you will surely get actual Espresso, not a hot, poorly brewed disappointment.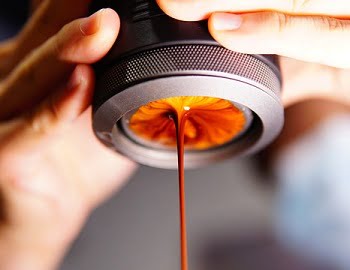 If you are also looking for Espresso beans, then check out this article: Best Coffee Beans for Espresso
Final Thoughts
In conclusion, portable espresso devices are a convenient and practical solution for coffee lovers who want to enjoy a delicious cup of their favorite espresso anywhere, anytime.
I have listed the Best portable Espresso makers from completely manually operated to electric to battery operated, you can choose the one that suits your needs and preferences best.
Whether you are traveling, camping, or just want a quick and easy way to brew your coffee at home, a portable espresso maker can provide you with the perfect cup of espresso every time. (Not as perfect as a traditional Espresso machine, for sure!)
FAQs
Do you need a heat source with portable Espresso makers?
Yeah, you need a heat source for boiling water while using handheld manual Espresso machines.
Or you can use battery-powered models. These machines are usually capable of heating water for 3-5 shots of Espresso in one charging.
How Pressure is created in portable handheld espresso machines?
Most handheld Espresso manual machines work on the same principle where you have to pump the piston of the machine 10-15 times until the required pressure is generated.