Both Nespresso Essenza Mini And Essenza Plus are a part of the Original line of Nespresso machines. These machines are pretty much similar, compact and small, and a part of the smaller range of Nespresso.
But there are certainly some differences between Essenza Plus vs Mini. For this article, we are going to test and compare both of these entry-level Nespresso machines. We will discuss the differences, features, and similarities of both these machines.
Our Choice | Nespresso Essenza Mini
Despite the additional features of Essenza Plus, we'll recommend you choose the Nespresso Essenza mini.
The Essenza Mini not only has a compact and lighter design, but its price is almost half of what the Essenza Plus is.
As far as talking about additional features in Essenza Plus, like Bluetooth and a hot water button. I don't think it is of much value. The Bluetooth feature is almost useless and you can also prepare Americanos with Essenza mini with a little more effort.
Overall, Essenza Mini is a better option than Essenza Plus.
Nespresso Essenza Plus vs mini | A Quick Overview
In terms of brewing espresso, Essenza Mini is a great Entry-Level Nespresso machine, perfect for those with limited counter space in their kitchen.
Later on, Nespresso launched Essenza Plus a new and improved version of Essenza Mini with some great additional features.
Larger water Reservoir (34 oz instead of 20 oz) 4 pre-programmed cup sizes (addition of 2), including 5.05 oz. Americano and 6.75 oz. Americano XL.
One-touch capsule order
Hot water button ( hot water on demand)
Bluetooth Connectivity
You can buy the Essenza machine with Aeroccino 3 if you want to enjoy creamy cappuccinos. Essenza mini doesn't have any built-in milk frother; you need to buy it separately.
| | | |
| --- | --- | --- |
| Model | Delonghi Nespresso Essenza plus | Delonghi Nespresso Essenza mini |
| Image | | |
| Dimension | 9.1 x 9.1 x 9.1 inches | 8 x 4.3 x 12.8 inches |
| Weight | 7.9 IB | 5.95 IB |
| Brew cup sizes | 1.35 oz. espresso, 3.70 oz. lungo, 5.05 oz. Americano, 6.75 oz. Americano XL | Espresso and Lungo |
| Water tank capacity | 34 oz | 20.3 oz |
| Auto shut off | yes | yes |
| Container capacity | 11 | 6 |
| Pump Pressure | 19 bar | 19 Bar |
| Bluetooth& Wi-Fi | yes | no |
| Flow stop | yes | yes |
| mobile App | yes | no |
| Price | View On Amazon | View On Amazon |
Let's Review each of these machines and decide which machine is better for you.
Comparison Among Nespresso Essenza Mini Vs Essenza Plus
1) Design
Nespresso Essenza mini is more compact than Essenza plus.
With a smaller profile (Dimension: 15.55 x 5.71 x 12.6 inches), the Nespresso Essenza mini takes up very little space on the countertop and is ideal for a small kitchen.
Essenza mini features a boxy appearance with a small base that allows it to blend pretty nicely with many other kitchen countertop appliances.
Essenza Mini is probably the smallest Espresso machine available in the market.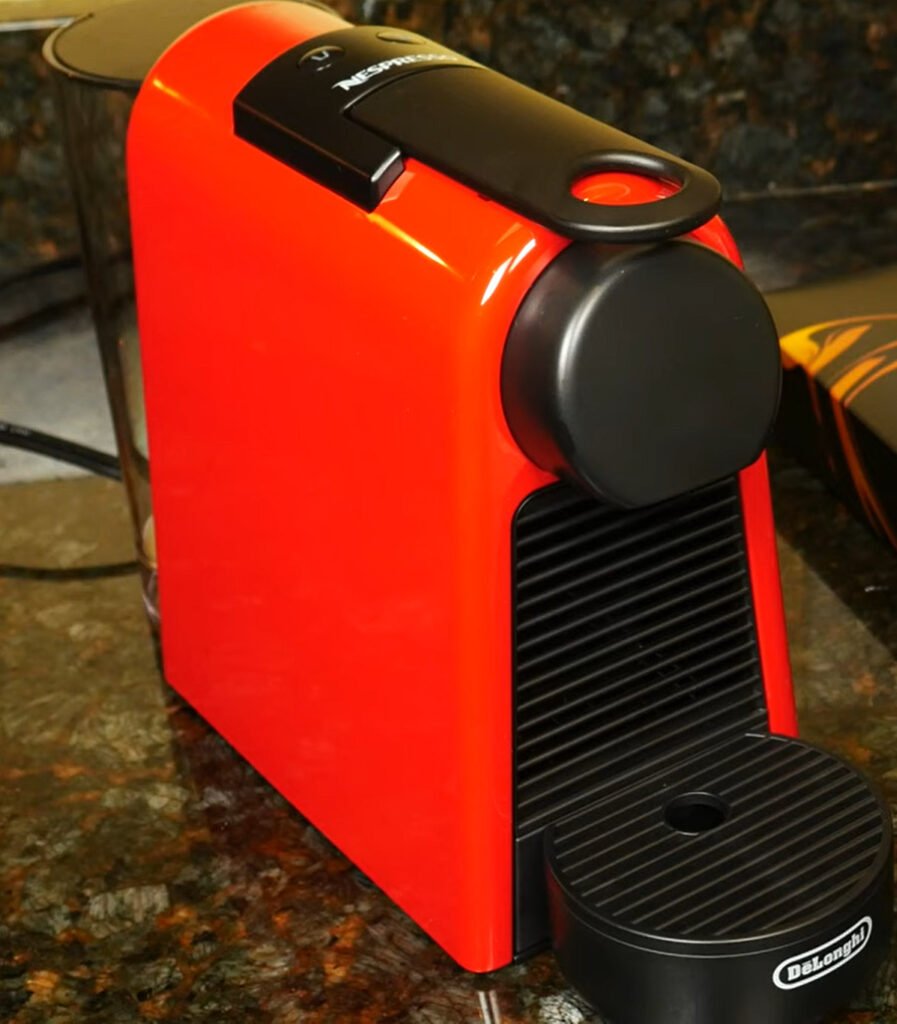 On the other hand, Essenza Plus (19.2 x 12.75 x 7.7 inches) is a little larger than the Essenza Mini.
The water reservoir of Essenza Plus is 66% larger than Essenza Mini, which is very nice if you like to brew multiple cups at a time.
Overall, both of these machines are compact and portable and take up very little space on the counter of the kitchen.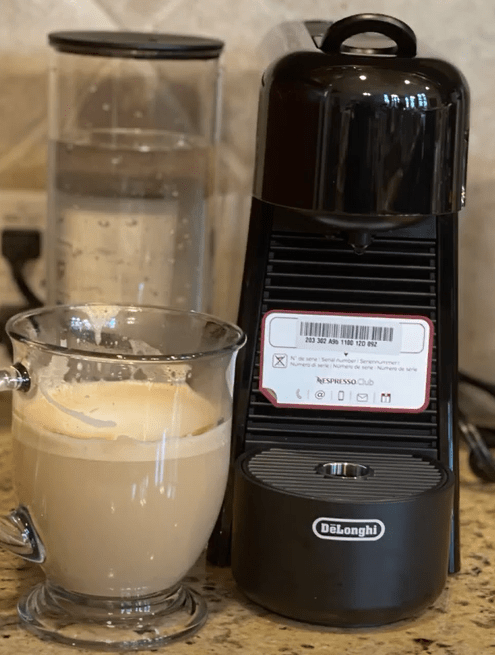 2) Coffee preparation options
There are two buttons available on the Essenza mini
One button brews a 1.35 oz. espresso shot
Another button brew is 3.7 oz. lungo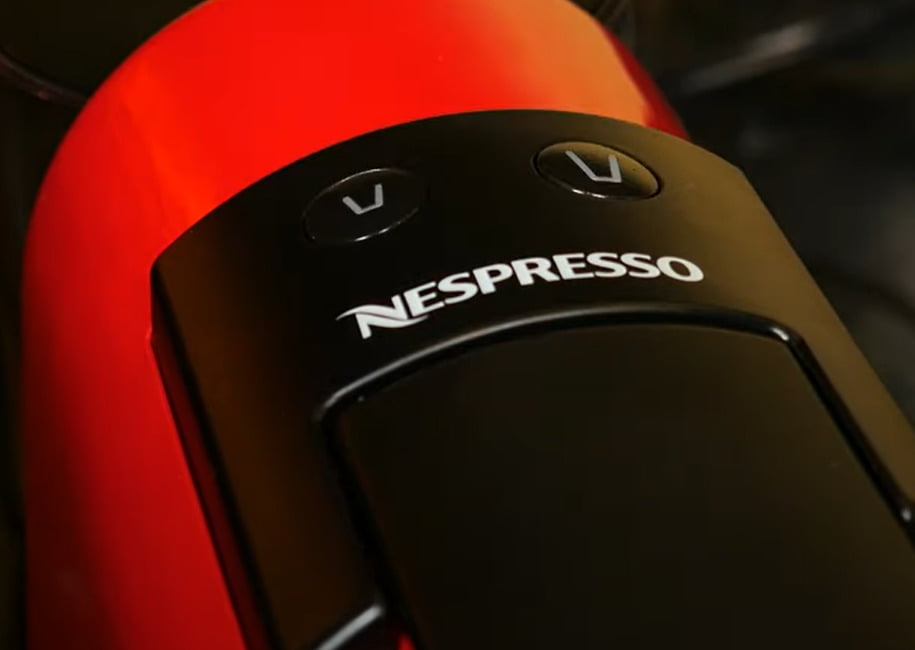 DeLonghi Nespresso Essenza Plus offers you four different coffee sizes:
Push the first button to get a shot of Espresso(1.35 oz.)
Push the middle button for Lungo (3.7 oz.)
Push Espresso and then the last hot water button to get Americano (5.1 oz.)
Push Lungo and then hot water for Americano XL (6.75 oz.)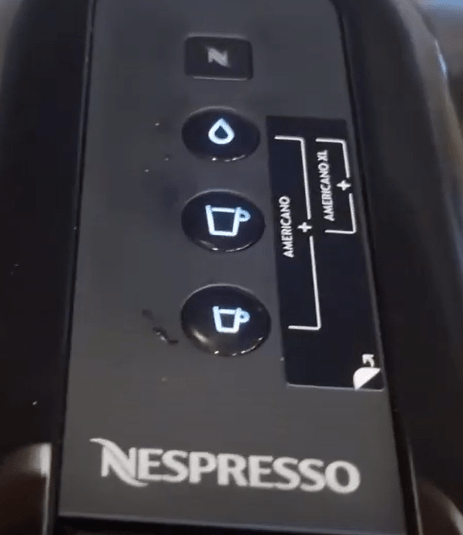 So, this is a plus point of Essenza Plus. The hot water button not only allows you to prepare Americano but you can also get just hot water for preparing tea.
3) Using the Aeroccino
Both of these Nespresso Essenza machines don't have any built-in frother. To brew lattes and cappuccino-related drinks, you can buy Aeroccino 3 or 4 milk frothers separately for your own home barista setup.
A bundle deal of Nespresso Essenza Mini with Aeroccino 3 milk frother is available on Amazon. You can check it out here.
Nespresso offers two generations of milk frothers Aercoccino 3 and Aeroccino 4. Both are suitable for preparing milk-based coffee drinks either hot or cold.
If you like milk-based coffee drinks then you should buy Aeroccino 3 milk frother in a bundle deal. You can get this Aeroccino 3 milk frother by paying just 25 to 30 extra bucks in the deal. Otherwise, if you buy Aeroccino 3 separately it costs around 70 dollars.
4)Water Reservoir
Both Nespresso Essenza mini and Essenza Plus have a cylindrical body-shaped water reservoir with a transparent body, which means you can check the level of water and know when to refill it.
Essenza mini comes with a water reservoir with a capacity of 20.3 oz. This means that you can easily brew 14 to 15 shots of Espresso or 4 to 5 cups of Lungo without the need of refilling the water tank.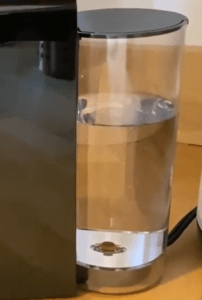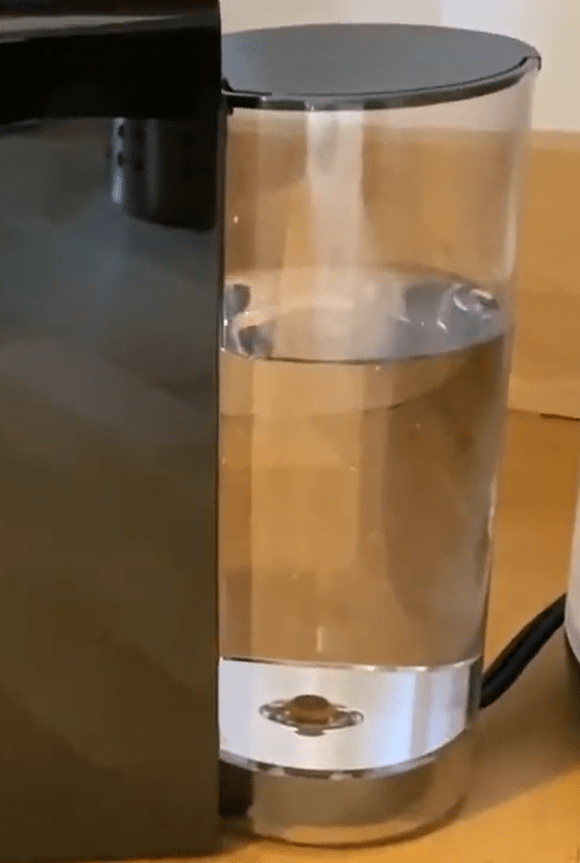 Essenza Plus comes with a water reservoir having a capacity of 34oz which is 66 % larger than Essenza Mini. So, you can easily brew almost 25 shots of espresso or 7 cups of Lungo in one refill.
A larger reservoir provides more convenience, but it requires more storage space.
But the great thing is that the water reservoir in Essenza Plus is Adjustable, which means it can be moved around the machine to accommodate any counter space.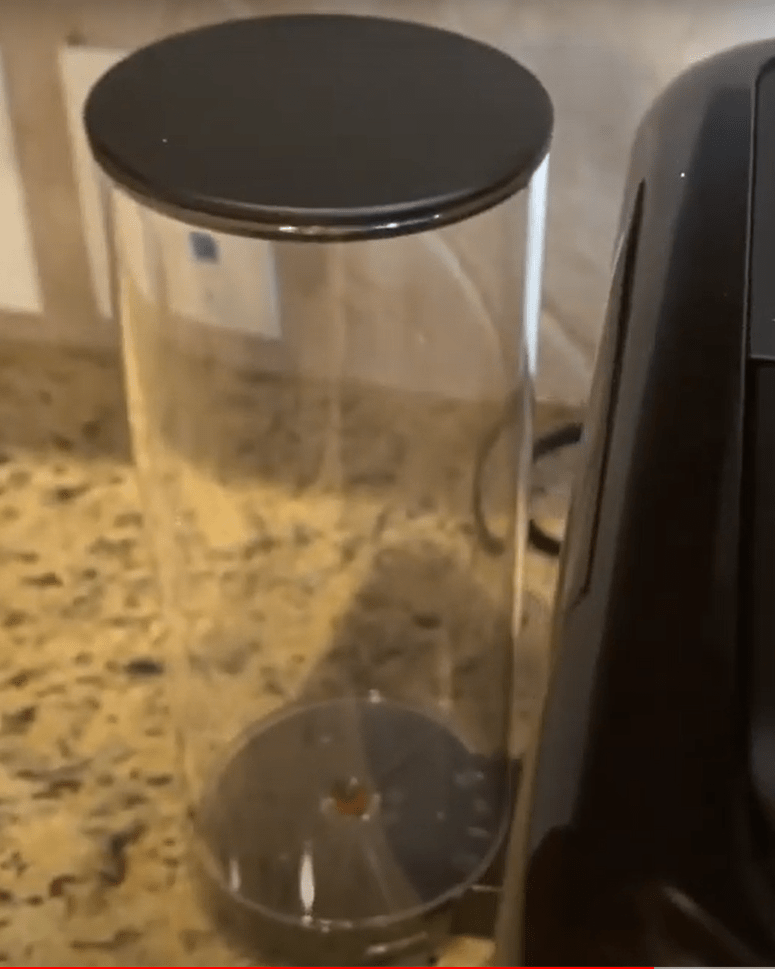 5)Capsule compatibility
Both machines are part of the Nespresso Original line which means they are compatible with all original line capsules either from NESPRESSO or other brands. You can also use Refillable capsules and fill them with your favorite coffee grounds.
You can use third-party capsules in these machines but make sure to check the quality before purchasing, as these capsules are not built well and may cause the needle to break inside the machine and void your warranty.
Guide about Nespresso intensity level
6)Quality of coffee
Both Essenza Mini and Essenza Plus produce excellent quality coffee. Both machines are quick you can get a shot of Espresso in just 40 seconds and a shot of lungo in around 55 seconds.
You can expect the same quality of coffee from both Essenza Mini and Essenza Plus.
A 15-bar pressure pump produces a flavorful shot of espresso with a thick layer of crema.
Also, you can try 16 different varieties of capsules to try different flavors.
7)Price &Value
Essenza Mini is the most budget-friendly Nespresso original line machine available in the market. If you also wanna buy an Aerroccino 3 for preparing milk-based drinks you can save up to 50 dollars in a bundle deal.
If you find this price tag quite expensive, a better way to look is to look at the daily cost of using Essenza mini at home vs. drinking coffee at the coffee shop.
I have made the table to make it quite easy for you to understand.
| | |
| --- | --- |
| Bundle with Aeroccino milk frother ($195 / 365 days) | $0.53 |
| Espresso Pod | $0.75 |
| Milk And Other Add-ins | $0.30 |
| Total Per Drink | $1.58 |
This cost is pretty much less than spending 10x of it on Starbucks.
On the other hand, the Essenza Plus is almost 50 bucks more expensive than the Essenza Mini but it also offers some additional features.
Two additional coffee sizes(5 oz Americano and 6.7 oz Americano XL)
Larger water reservoir
Larger capsule container (holds five additional pods)
Hot water button
If you are looking for the Best Nespresso with milk frother. Check out the review of Nespresso Gran Lattissima
the additional feature in Essenza Plus compared to Essenza mini
1) Additional Beverage options
Essenza Plus has a hot water button using this button you can prepare both regular Americano and Americano XL.
Also, If you need hot water for some other purpose such as making a cup of tea you can easily do it in Essenza Plus.
Although you can also get hot from the Nespresso Essenza mini by pressing the brew button without inserting the pod. But you have to run two to three cycles otherwise the hot water will have a coffee taste in it.
2) capacity
The water reservoir of Essenza Plus is 66% larger than Essenza Mini. This is very useful if you brew multiple cups at a time or if you are buying this machine for the office.
Also, the used capsule container of Essenza Plus is larger than the Essenza Mini which can hold up to 11 used capsules.
3) Bluetooth & Wi-Fi connectivity
Nespresso Essenza Plus has modern Bluetooth and WiFi technology.
You can install the Nespresso app on your smartphone and connect Essenza Plus to Wi-Fi or Bluetooth; it will send you a maintenance notification and you can change pre-programmed brew sizes according to your preference. You can also order the Nespresso coffee capsules using this app.
However, some customers have complained about the machine's Bluetooth connection being poor and its failure to connect to a Wi-Fi connection.
4)Descaling Alarm
The Essenza Plus includes a built-in LED that blinks to indicate when descaling is required. This feature is very useful if you usually forget to descale your machine on time.
You might wanna read the pros and cons of Nespresso machines: Is Nespresso worth it
Final Thoughts on Nespresso Essenza Plus vs Mini
Should you upgrade your current Essenza mini to Essenza Plus (or other Nespresso machines)? This question totally relates to your interest
Whether you need Hot water on demand or not?
You want Americano that is smoother and less bitter than a shot of espresso and lungo.
Do you need a machine with a slightly larger capacity?
If the answer is Yes, then you should go with Nespresso Essenza Plus. You can still make Americanos using any Nespresso machine with a few extra steps. However, if you want an all-in-one solution, the Essenza Plus could be the best option.
Frequently Asked Questions
Is Essenza Mini noisy?
The Essenza Mini is one of the quietest Nespresso machines available. It's louder than a whisper, but it's nothing like the rumbling, spitting noises made by many other Nespresso machines.
can I use other coffee pods with Nespresso Essenza machines
Yes, the Essenza series is a part of the Original line Nespresso and you can use 3rd party coffee pods and reusable coffee pods with these machines easily.
Related Nespresso Articles