Cuisinart coffee makers are budget-friendly automatic coffee makers suitable for perfect coffee lovers. They produce a tasty cup of coffee with much ease. As time passes, calcium deposits build up inside the coffee maker, thus becoming necessary to clean this built-up by describing the Cuisinart coffee maker.
In this article, we discuss in detail how to clean the Cuisinart coffee maker in detail.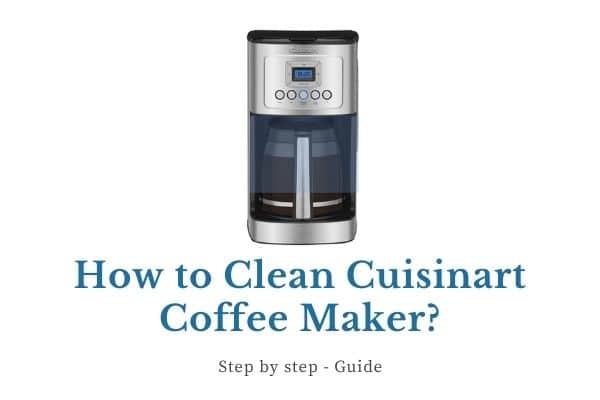 Like any other coffee maker, the Cuisinart coffee maker produces better taste if kept clean. It doesn't matter whether your Cuisinart coffee maker has a self-cleaning option; you should clean it regularly by either decalcifying the water reservoir with vinegar or cleaning some internal and external parts with warm, soapy water.
Change your charcoal filter once every three months to maintain your Cuisinart coffee maker in good condition providing you service of tasty brew for a more extended period.
Cleaning process can be carried out at any Cuisinart coffee maker (do check manual instruction given by manufacturer), but not limited to the case of
DCC-500 12 Cup Programmable Coffee Maker
DCC-1200 Brew Central 12 Cup Programmable Coffee Maker
DDC-2800 Perfect Temp 14 Cup Programmable Coffee Maker
Read more: How To Use Cuisinart Coffee Maker-Complete Step By Step Guide
How does the Cuisinart Coffee maker work?
Cuisinart coffee maker makes two types of brew-either drip coffee or single-serve K cup. But some models offer both kinds of brew.
It is perfect for the coffee maker to have both types of brew having in one model because both taste differently, sort of like pour-over vs. French press coffee machines.
Read more:10 Best Portable Espresso Makers
How to Clean Cuisinart Coffee Maker
One should maintain the Cuisinart coffee maker in good condition because a neat and clean maker brews tastier coffee than an unclean machine. You can make a more delicious brew than a messy machine by removing the oil from the coffee and the lime from the water.
In case if you are brewing coffee on a percolator, you must know the importance of cleaning because percolator coffee tastes terrible if the machine is unclean. You can descale or clean your Cuisinart coffee maker with vinegar or use a specific method.
How to Clean a Cuisinart Single-Serve Brewer
As described earlier, cleaning is most important keep maker in good condition. Here we can explain a step-by-step guide on how to clean Cuisinart single-serve brewer.
1)Clean the outside
Cleaning the exterior portion of the coffee maker seems not to be too easy as it looks like, as it is more than what you wash in your kitchen sink.
Depending upon the material of the Cuisinart coffee maker and what products do you have in your home for cleaning, you can use the following cleaning solutions
Warm water and soapy solution
Surface cleaning products
Warm water and white vinegar solution (1-2 cups of vinegar with 2-3 cups of water)
Use of glass cleaner
Warm water or vinegar could be the best choice, but you can also opt for surface cleaning products if a stains spot appears on the surface.
2)Start Descaling
Now start descaling the maker because many a time, calcium deposits build up inside the coffee maker for continuous usage. Descaling removes any limestone build-up in the machine. Make sure to empty the water tank and remove the filter.
3)Add vinegar and run the machine.
Add approximately 10oz of vinegar solution into the tank. Put a larger mug to collect all vinegar through the coffee outlet. Plug in the maker to power supply and raise the brew head the way you want to add k cup. Wait until vinegar is pulled into the boiler.
As soon as the hot water button is illuminated, indicating that brew is ready. Vinegar runs through the machine, and you must discard the vinegar. Repeat this twice.
4)Descale twice and finalize Descaling
Now add another 10 ounces of vinegar to the water tank, raise the brew head to suck the vinegar into the boiler, and wait for the hot water button to light up. Press the hot water button again, only this time, as soon as the vinegar has started to brew, turn off the machine. We will let the vinegar stand and do its homework for 30 minutes.
On 30 minutes completion, lift and lower the brew head and start the brewing process by pressing a button. Discard all vinegar once the descaling process is complete. All we need is to rinse the coffee maker.
5)Rinse the Coffee Machine
Add 10 ounces of water to the tank. Raise the brew head to allow water to be sucked into the boiler, lower the brew head, and press the hot water button. Entirely distributed, throw it away. Repeat this rinsing process two more times.
Read more: How To Make Espresso Without A Machine In 5 Easy method
How to clean Cuisinart coffee maker-Auto cleaning
Programmable Cuisinart coffee maker is a great blessing for the Coffee maker as it has a built-in feature of self-cleaning option.
If you have a Cuisinart coffee maker auto cleaning function, you need a plain white Vinegar solution.
1)Removing the charcoal filter
When cleaning the coffee maker, you should replace the water filter, take out the old filter from the reservoir and discard it, put the new charcoal filter in a bowl filled with water, and soak it for 10-15 minutes.
2)Mix the vinegar solution
Now fill the reservoir with enough vinegar solution to proceed cleaning procedure. The standard solution should be 1/3 parts vinegar and 2/3 parts water for better results.
Now similarly assemble the decenter as you did in the brewing method. Now place the clean filter inside the coffee filter basket. Now press the clean button to start Cuisinart self-cleaning process.
Note: Self-cleaning process in Cuisinart take a longer time to proceed than the brewing process
4)Run cold water cycle
Now get rid of hot water and allow decenter to cool down before filling in cold water in it. Fill with hot water and again run another cleaning process by reassembling the decenter.
Add charcoal filter to the reservoir, rinse it again with cold water and drain for a few minutes before sliding the holder back into the machine. Besides cleaning the inside part of the machine, make sure to clean up the filter to keep the basket free of wet brown residue.
Now wipe the body of the coffee maker with a damp cloth.
How to clean Grind and Brew Coffee Cuisinart Coffee Maker
The essential requirement of a good coffee cup is the presence of freshly ground coffee beans because fresh coffee beans contain all aromatics and vibrant flavors required in making a great cup of coffee. Unfortunately, some of the fulvous disappear within no time as you brew the beans.
There are many methods available for grinding the beans. You can choose a manual Cuisinart coffee maker named Cuisinart Grind and Brew Coffee maker. The Grind and Brew is a combination of grinder and drips coffee brewer that is convenient and easy to use and provides you with the availability of loads of flavors.
To keep the machine in good condition and working properly, and have good-tasting coffee, it becomes necessary to clean the coffee maker.
Let now take a look at how to clean a Cuisinart Grind and Brew coffee maker!
1)Remove grinder and clean up Exterior.
The first step is to clean up the grinder. Remove the grinder chamber from the lid of the machine. Carefully wash the grinding chamber with soapy water, thoroughly rinse it, dry it, and fit it back into the machine.
With the help of a damp cloth, wipe down the Exterior of the grind and brew. Make sure to Check out the basket area and clean up any remaining sticky grounds. Wipe again to get rid of any coffee stains.
2)Descale
Descaling helps the machine remove any mineral deposits left behind by water that has built up within the machine. Prepare water/vinegar solution by mixing approximately 1 cup of plain white vinegar and 2 cups of filtered water. Fill the decanter and reassemble the maker.
3)Clean cycle
Turn off the grind function, and start the brew cycle on the coffee maker as you are brewing a pot of coffee. Turn on the appliance and run the cleaning solution (water and vinegar solution) through the machine; this will wash out unwanted minerals and coffee particles.
Turn the machine off, discard away the hot solution and allow decenter to reach room temperature.
4)Rinse the coffee maker
Run another rinse cycle. Discard the vinegar solution. Fill it with fresh, clean water, add it to the water tank and run another cycle through. This will rinse away any lingering vinegar leftover and make your machine clean
now Replace the old water filter, and your machine is ready to brew a cup of coffee for you!
Unfortunately, some Cuisinart coffee maker that has no built-in feature of self-cleaning. This may look complex but is overrated and is accomplished in a pretty easy way.
All you need is to mix vinegar and water solution as you would do for a self-cleaning machine, pour this solution mixture into the reservoir, and run a cycle as if you are brewing a cup of brew. On completion of the brewing cycle, run a water cycle not to leftover any traces of vinegar or the vinegar smell left in your carafe after completing the process.
Tips and tricks for cleaning Cuisinart coffee maker.
Always use filtered water with vinegar because direct tap water may add other mineral deposits inside the machine to further complex the cleaning process.
After Descaling, allow the decenter to reach room temperature before filling it with cold water because sudden adding cold water cause drastic temperature change that can cause the carafe glass to crack or shatter.
Get rid of coffee residue from the basket before wiping the machine because the remaining residue may complex the cleaning.
Make sure not to use concentrated vinegar solution (use dilute solution) because it further creates a problem in neutralizing the smell of vinegar.
Maintenance and prevention of Cuisinart coffee maker
According to Dutch philosopher, Desiderius Erasmus 'prevention is better than cure".It also applies to the Cuisinart coffee maker. It doesn't matter whether your machine has a self-cleaning feature or not descaling process always requires some time and effort.
In order to keep your machine functioning properly and to have a lasting coffee taste, maintenance of the coffee maker becomes necessary. Here are some tips for Maintainance and prevention of Cuisinart coffee maker.
Regular cleaning is better than cleaning once a week. Make a habit of cleaning the coffee maker with soapy water and wipe every time you brew coffee. Dry inside of the machine with a clean cloth to keep the minerals from the water sticking.
If you can invest at the start, then a proper filtration system for cleaning indeed minimizes your effort and saves your investment a lot for a longer period. It is advisable to invest in such a filtration system at some point.
Do & don'ts in cleaning Cuisinart Coffee Maker
Do descale machine regularly usually every 2-3 months is ideally preferred.
Do remove the water filter from your machine before cleaning.
Do clean out the filter thoroughly after each time you brew coffee.
Don't rinse clean cycle! Without the rinse cycle, the brew will not taste delicious.
Don't use tap water; make sure to use filter water to avoid deposits of minerals.
Don't use a concentrated vinegar solution; use a simple diluted vinegar solution to avoid smelling.
Read more: How To Use Keurig Coffee Maker-Complete Guide Step By Step
Conclusion
Cleaning your brewing machine becomes necessary if you want to amuse your day with a delicious cup of coffee. If you don't clean the machine, then you must be ready to brew muddy tasting coffee.
I hope that this article on how to clean Cuisinart coffee makers helps you find the perfect cleaning technique to keep coffee makers in their best condition.
Anything you want to share, do comment.
Frequently Asked Question
How to turn off the clean light on my Cuisinart coffee maker?
It is mainly present in the Cuisinart SS series; you must press the 8oz and 6oz buttons at the same time to dispense the water. It is a common solution for cleaning the light. It works because it circulates water through the machine, removing any vinegar residue or dirt from inside the machine.
How to clean Cuisinart coffee maker 12 cups?
Fill the water tank with a mixture of ¹⁄³ white vinegar and ²⁄³ water. Press the Clean button. When the Clean LED lights up, turn on the coffee machine by pressing the Brew / Off button. The Clean LED will light up continuously.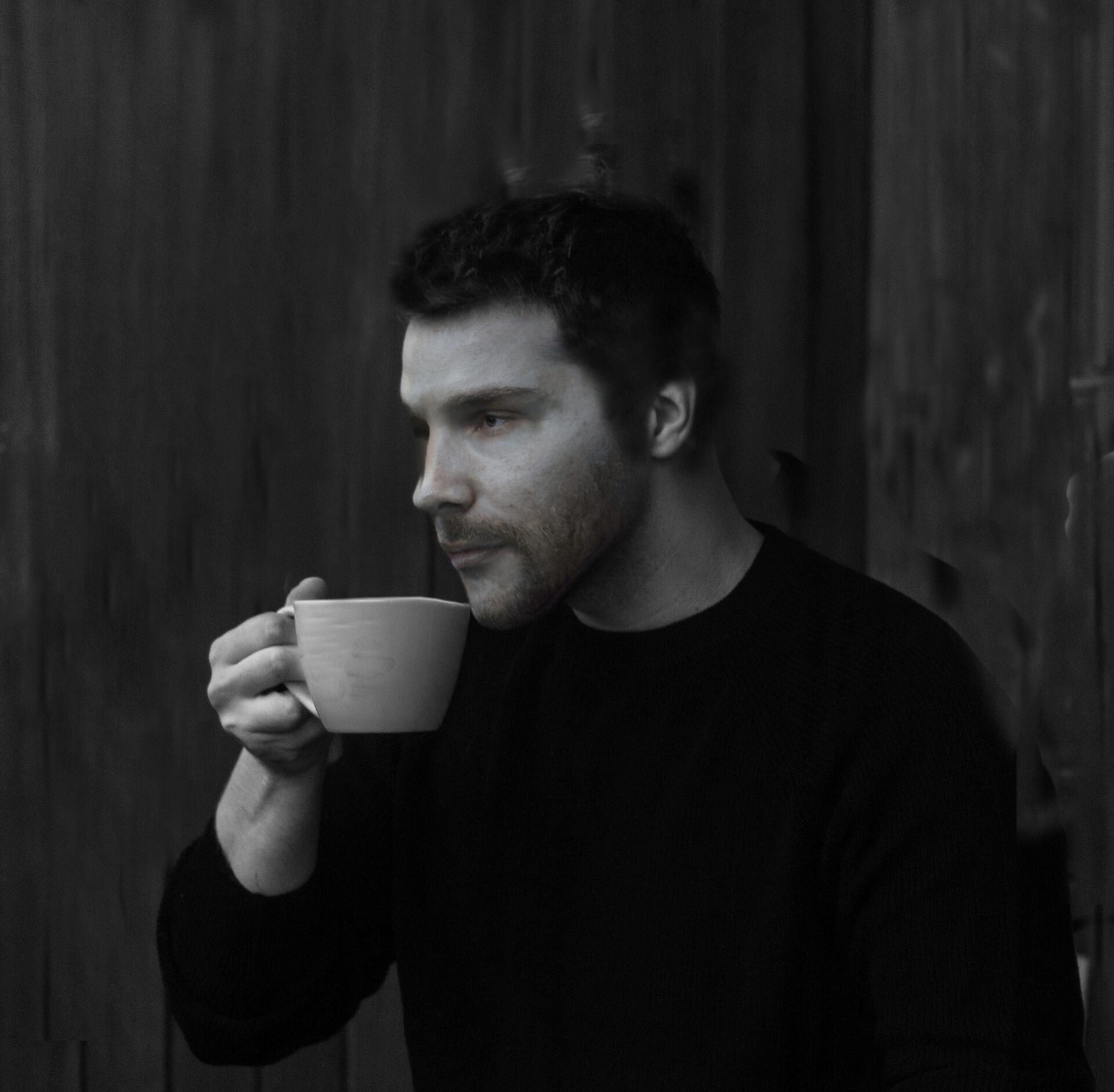 Hey,
I am Johny Morrisson! Founder of CoffeeAbout
My love for coffee dates back to my childhood. I love trying out different coffee machines and recipes.
As a coffee enthusiast, I decided to start my blog last year to provide users with useful information on brewing methods.
During this journey, I have discovered many new things and facts about coffee that I will share with you here.