Tired of scrubbing dried coffee residue out of your brewer? A self-cleaning coffee maker takes the hassle out of maintenance.
From integrated descaling alerts to must-have cleaning cycles and removable, dishwasher-safe parts, we've got your shortcut to a sparkling clean coffee maker with the best self-cleaning designs.
Best Self Cleaning Coffee Makers | Our Verdict
Ninja CE251 Programmable Brewer (Best Drip coffee maker)
12-cup coffee maker with 24-hour programmable settings
Advanced boiler for a perfectly hot cup of coffee.
Cleaning and Descaling at the touch of a button
Special Warming Plate keeps coffee fresh and hot.
Ninja CP307 (Best Hot and Cold Brew System)
Choose 5 different brew styles and 6 different brew sizes at the touch of a button
Turn hot or cold milk into silky and foamy milk with the built-in frother
Easiest to Clean and Separate baskets for tea and coffee
Mr. Coffee (Best self cleaning Espresso Machine)
In this guide, I'll highlight the top self-cleaning models that handle the dirty work for you. We'll break down how auto-cleaning functions work and explore the benefits of self-care coffee machines.
How Does Self-Cleaning Coffee Maker Work?
Self-cleaning coffee makers use automated programs to handle cleaning internally.
1. Cleaning Cycles
Typically there is a cleaning cycle that circulates water to wash away residue. After you've brewed a delicious cup of java, add some water to the reservoir and press the clean button and your machine will clean itself automatically.
2. Descaling Alerts
Descaling is essential for removing mineral deposits that accumulate over time inside the coffee maker. The machine will prompt you to run a descaling cycle periodically. It's a super important alert because a descaled coffee maker brews better coffee and lasts longer.
3. Auto Cleaning Milk Frother
Milk frother auto-cleaning in coffee makers typically involves a brief steam purge. After frothing milk, the machine expels a burst of hot steam through the frothing wand. This process helps remove any milk residue, preventing clogs and ensuring consistent frothing quality
4. Removable and Dishwasher Safe parts
In Self Cleaning Coffee Makers, components like filters, carafes, and water tanks are usually removable and dishwasher safe too for easy cleaning.
Why should you buy a self cleaning coffee maker?
There are two main reasons to buy a coffee maker with a self-cleaning feature.
Convenience: Self-cleaning coffee makers save you precious time and effort. Just press a button, and your coffee maker takes care of the mess, leaving you with more time to savor your brew.
Necessary Alerts: Since Regular descaling is crucial to keep your coffee maker in top shape. These machines remind you when it's time to descale, so you don't have to keep track.
Dishwasher safe: All the components like drip tray, filters, etc. of these machines are easily removable and completely dishwasher safe.
Consistency: When your coffee maker is consistently clean, your coffee tastes consistently great.
7 best self-cleaning coffee makers
We researched and reviewed the different types of coffee makers, all having one common feature. Of course, the self-cleaning one. You can easily find a coffee maker with all your desired features in this list.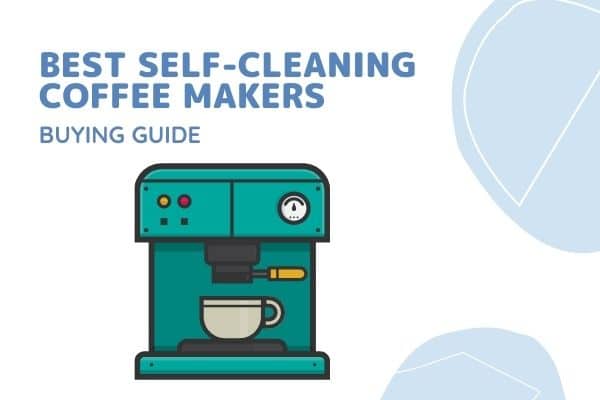 1. Cuisinart DGB-450
(Best Self-cleaning coffee maker with grinder)
The Cuisinart DGB-450 Automatic Grind & Brew 10-Cup is a fully automatic coffee maker that grinds whole beans and brews your coffee at once with the simple push of a button.
Cleaning Feature: This coffee maker is a breeze to clean, with a convenient descaling alert after a month or two of use. However, the grinder requires cleaning after each brew, which may be a chore.
Thermal Carafe: Coffee remains hot and fresh for 2 hours in a specially designed double-walled thermal Carafe, which has a capacity of 10 cups.
Easy to use: This machine has a very simple interface which makes brewing very easy.
Brew pause feature: You can easily pause the process of brewing at any time without interrupting the process. The feature is a great way to customize your coffee to your liking. If you prefer a stronger cup of coffee, you can simply pause the brewing process later in the cycle. If you prefer a milder cup of coffee, you can pause the brewing process earlier.
Auto Shut off: This feature automatically turns off your device after 2 hours to conserve electricity and protect the machine.
Blade grinder: This machine has a powerful blade grinder that can quickly grind the whole bean coffee just before brewing. Although blade grinders work fine, but they are not ideal for grinding coffee beans.
Pros
✔️ Built-in grinder
✔️ Keeps coffee hot for a long time
✔️ Simple Interface
✔️ Programmable Feature
Cons
❌ Blade grinders are not best for grinding coffee beans as they grind coffee with inconsistent size.
Also read: How to clean Cuisinart coffee maker
2. Ninja CP307 Hot and Cold Brewed System
(Auto-IQ Tea and Coffee Maker)
Ninja CP307 coffee bar system is the ultimate kitchen appliance for any coffee and tea lover. This high-quality machine has a simple design with top-of-the-line features. You can easily brew 5 different types of coffee with a single touch along with the self-cleaning feature.
Multiple Drink Options: Along with hot and cold coffee, you can also brew different types of teas in this machine simply with a touch of a button.
Separate Baskets: This machine has different baskets for tea and coffee, so both tastes don't get intermixed.
Different brew sizes: Easily brew coffee according to your requirements, whether one cup, half carafe, or full carafe.
Thermal Carafe: It has a specially designed thermal carafe that keeps your tea or coffee hot for up to two hours.
Fold-away frother: This machine has a Built-in fold-away Milk Frother to foam milk for delicious cappuccino, latte, or milk tea.
Easy Clean Coffee Maker: It has a very friendly design and you can use it for both coffee and tea back to back without any extensive cleaning as both have separate brew baskets. All the removable parts are completely dishwasher safe and there is a light-based alert for descaling.
Pros
✔️ You can brew both coffee and tea on the same machine
✔️ Can brew both hot and cold coffee
✔️ Insulated Carafe for keeping drinks hot for 2 hours
✔️ Convenient Milk Frother
Cons
❌ Leakages may develop if not used properly
❌ No water filters
❌ The Milk frother doesn't make the best foam

3. Suripow Single Serve Coffee Tea Maker Brewers
(Self-cleaning single-serve coffee maker)
If you're looking for a single-serve brewer that is both easy to use and clean, the Suripow is a great option. It features two brewing methods, so you can make the perfect cup of coffee or tea to your taste. And its sleek, compact design makes it a great fit for any kitchen counter.
Fast and fresh: This machine is very quick and convenient. It heats up in only 30 to 40 seconds and brews a cup of coffee in under 2 minutes.
Auto-off function: This machine automatically turns off after brewing.
Compact design: This machine's elegant and minimalist design adds a touch of sophistication to any space.
2 brewing methods: You can use both the coffee grounds or k cup pods to brew coffee. For tea, you can use both tea bags and tea K cups. This makes this machine super user-friendly.
Self-Cleaning Function: After brewing coffee, add 6 ounces of water to the water tank and press two buttons "capsule" and "ground" on the side of the coffeemaker at the same time. Your machine will start the Auto-cleaning cycle.
Pros
✔️ Brews very fast
✔️ Multiple cup sizes
✔️ Compatible with both K cups and Coffee grounds
✔️ Compact and sleek machine
✔️ Can brew both coffee and tea
Cons
❌ Leakages may develop if not used properly
❌ Only Suitable for single person use
4. Cuisinart DCC-3200P1 Perfectemp Coffee Maker
The Cuisinart DCC-3200P1 Perfectemp Coffee Maker is the perfect coffee maker for any busy person. It's fully programmable, so you can set it to brew your coffee at any time you want. Plus, it's very easy to clean, so you can spend less time on maintenance and more time enjoying your coffee.
Auto Cleaning: The cleaning light will turn red when it's time to clean the machine. To clean the machine, remove the water filter and fill the reservoir with a cleaning solution. Then, press the Auto Clean button.
Perfect temperature: Its modern state-of-the-art technology brews coffee at an ideal brewing temperature, enhancing the freshness and aroma of coffee. Also, you have the option to adjust the temperature from low to high.
Programmable: This machine's programmable feature allows you to schedule your brew up to 24 hours in advance, and its special heating technology will keep your coffee hot and fresh.
Modern filters: It comes with a gold-tone mesh filter so you can easily brew coffee with the mess of paper filters. It also includes a special charcoal water filter to remove impurities from water
Easy to use: This machine has a very simple interface. Even beginners can brew a great cup of coffee with this machine. Also, it features a bold button for making a stronger cup of coffee.
Brew pause: You can easily pause the brewing process at any time to take out a brew of your choice.
Pros
✔️ Special heating technology with adjustable settings
✔️ You can program your drink 24 hours in advance
✔️ Include gold tone mesh filter
✔️ Bold Button for making a stronger cup of coffee
Cons
❌ The design of Carafe is not good for pouring
❌ The brew pause feature does not work well.
5. Ninja CE251 Programmable Brewer
If you're looking for an affordable and easy-to-use programmable coffee maker, the Ninja Coffee CE251 is a great option. It brews a delicious cup of coffee, and it's very easy to clean.
Easy Cleaning: This coffee maker has a convenient descale alert and one-touch descaling function. It also features an easily removable water reservoir for effortless cleaning.
Strong Brew: This machine has a bold button that extends the brewing time, resulting in a stronger cup of coffee.
Warming plate: The warming plate can keep your coffee hot and fresh for up to four hours without any burnt flavor.
Brew pause: Pause the brewing process and pour yourself a cup if you want a milder coffee.
Programmable Feature: With its programmable feature, this machine lets you schedule your brew time up to 24 hours ahead, so you can wake up to a fresh cup of coffee.
Pros
✔️ Keeps coffee hot for a longer period with the warming plate
✔️ Have a bold brew feature for a stronger drink
✔️ Allows you to program drink 24 hours in advance
✔️ Descaling alerts and easy-to-clean design.
Cons
❌ Carafe is very fragile
❌ The coffee maker takes up a lot of space on your counter
❌ Makes a lot of noise while brewing coffee

6. Mr Coffee Espresso and cappuccino Machine
The Mr. Coffee One-Touch Espresso Maker and Cappuccino Machine is a fully automatic coffee maker that makes it easy to enjoy a delicious cup of espresso or cappuccino at home. Simply press a button and the machine will do the rest. Plus, the self-cleaning frother makes cleanup a breeze.
Auto Clean: For easy cleanup, the milk frother features a self-cleaning function. Simply turn the knob to the cleaning setting and run a cleaning cycle after each use. This will remove all milk residue and keep the frother in good condition.
High pressure: A specialized Italian pump generates 19 bars of pressure, resulting in a superior espresso shot.
Easy to use: It is a fully automatic espresso machine with a very simple interface. Even beginners can brew a perfect shot of Espresso or Latte with this machine.
Thermocouple heating system: This special heating system evenly distributes the heat throughout the water.
Milk Frother: This automatic milk frother whips up creamy froth for cappuccinos and lattes with ease. It features a removable milk reservoir that makes it easy to fill and store milk in the fridge.
Pros
✔️ Creates high pressure up to 19 bars for a perfect espresso shot
✔️ Very simple and beginner-friendly Interface
✔️ Integrated Milk frother for cappuccino or latte
✔️ You can manually control the volume of your drink
✔️ Auto cleaning milk frother
Cons
❌ Spare parts are not available easily
❌ The drip tray isn't adjustable – so it won't fit larger Latte cups
❌ The frother is very loud

7. Chefman 6-in-1 Espresso Machine
The Chefman 6-in-1 Fully Automatic Espresso Machine is a barista-quality machine that lets you make 6 different types of espresso drinks at the touch of a button. It's also super easy to use and has a self-cleaning function for added convenience.
Self-Cleaning Function: This espresso maker's auto-clean function makes cleanup a breeze. With just a push of a button, you can remove all milk residue from the machine.
Easy to use: With six pre-programmed buttons, this machine takes the guesswork out of brewing espresso, cappuccino, and latte. Simply press the button for your desired beverage and the machine will do the rest.
Milk frother: The fully automatic milk frother on this coffee machine whips up a delicious froth to top off your latte or cappuccino, and the removable milk reservoir can be placed in the fridge for convenient storage.
Affordable and Compact: This espresso and latte maker is both affordable and stylish, making it a great choice for coffee lovers on a budget.
Automatic pump: This machine's powerful pump produces up to 15 bars of pressure, essential for brewing authentic espresso with a thick and velvety crema.
Pros
✔️ Prepares a perfect creamy froth for Cappuccino or Latte
✔️ Automatic pump delivers a pressure of 15 bars
✔️ Very simple interface
✔️ Very budget-friendly machine
✔️ Compact and Modern Design
Cons
❌ The Milk Frother makes a very loud noise while frothing
❌ Sometimes gets very inconsistent in volume and taste
❌ Tall latte cups doesn't fit on the drip tray

Also Read: Capresso EC100 Review: Perfect Espresso Machine For Beginners
Tips for Buying Best self-cleaning coffee maker
Here are a few features to look out for while buying a coffee maker
Dishwasher safe
All removable parts of a coffee maker should be made of dishwasher-safe materials.
This will make cleanup much easier and prevent damage to the machine.
When choosing a coffee maker, be sure to check the materials used in the removable parts to ensure that they are dishwasher-safe.
Brewing Features
Coffee makers vary in their brewing features.
Some can brew both tea and coffee, while others are limited to coffee.
Some can brew with both coffee grounds and K-cups, while others are only compatible with one or the other.
Some can brew espresso shots and lattes, while others are only designed to brew full pots of drip coffee.
It is important to consider your needs when choosing a coffee maker to ensure that you get the features you want.
Brand
If you are looking for a high-quality coffee maker with excellent customer support, consider buying a model from a well-known brand.
Reputable brands have a track record of producing quality products and are more likely to be able to help you resolve any issues that you may encounter.
Additionally, be sure to check the product reviews and ratings before making a purchase. This will give you insights into the experiences of other customers who have used the product.
Final Thoughts
There you have it – everything you need to pick the Best Self Cleaning Coffee Maker!
With the top models handling descaling, rinsing, and easy part removal, you can spend less time scrubbing and more time sipping.
Have any tips for keeping your coffee maker sparkling clean? Let me know in the comments! I'd love to hear your favorite self-cleaning models and any DIY cleaning hacks