Coffee is definitely served as a source of fuel to energize a morning routine. Being a college student, there's nothing like a good cup of coffee to get you through those late-night study sessions. Therefore in this article, we will discuss 6 Best Coffee Makers for College Students.
Having your own coffee maker in college is an excellent option because it saves a lot of money to buy coffee from shops. Also, you can make your favorite cup of brew without creating a mess with much ease.
Choosing the Right coffee maker in this vast market seems to be quite complex for the student. The coffee maker should be simple to operate, have great functionality, have great innovative design, right size because of limited space, easy to clean, quick to brew, and most importantly, budget-friendly.
Definitely a variety of great options available in the market that meet these expectations, but we have done the proper research and compiled a list that our experts found worthy for consumers. In this article, we list out 6 best coffee makers for college students in detail, breaking down the pros and cons of each coffee maker in a short review.
To provide a detailed guide, we've included a comparison table, a product-review section, and a buying guide.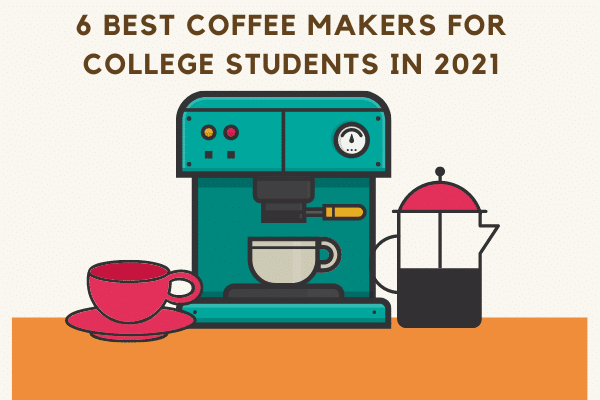 Nespresso Vertuo Coffee is a single-serve coffee maker and has considered being the most versatile coffee maker for students; make perfect brew despite the fact whether you need a shot of espresso or cup of coffee.
Design: Nespresso Vertuo coffee maker blessed with the feature of small footprint, making it easier to adjust in any dorm room, which coffee lover loves the most.
Time: having a built-in feature of a fast heat-up time of 15 sec, is considered ideal. The Nespresso coffee maker also has an auto shut-off feature if there is no activity for almost 9 minutes.
Variety: Brew 4 different cup sizes at the touch of a button – 5oz and 7.77 oz. You can make various drinks ranging from espresso, double espresso, and iced coffee and latte drinks to alto-sized coffee with just one push of a button, making it much easier for time-conscious students without creating a mess.

Water Reservoir: Nespresso Vertuo coffee maker has a capacity of 54 oz. Water tank to store enough water to brew coffee if you have visitors in your home and also has significantly larger 17 counts used capsule container.

Dimension:  Having a smaller footprint consisting of height 12.2″, 9″ wide, and 12.3″ deep, ideal for a more minor kitchen bench.
Unfortunately, Nespresso Vertuo has no built-in milk frother feature, so making a latte is entirely out of the window. But fortunately, you can buy separate Milk frother to amuse with the latte.
Related post:9 Best Self-Cleaning Coffee Maker | Ultimate Buying Guide
Keurig K-Cafe is a pod-style, single-serve espresso machine. It is considered reliable, has an innovative design, is simple to operate, and is a high-quality machine. This machine is easy to use and has a convenient design. Coffee lovers select a k-cup, manage their custom settings, and enjoy a genuinely good cup of coffee, tea, or hot chocolate in less than a minute.
Related post: Keurig K575 Review -Single Brew Cup Complete Guide In 2021
Design: Keurig K-mini is relatively slender, with a standing height of 12.1″ and a width of 4.5 ". This means you need to have a tall overhead kitchen cupboard.
K-cup pods: Keurig K mini has a built-in feature of using K-cup, which provides you variety of beverages options ranging from latte, hot chocolate, cappuccino, or other milk-based espresso drinks to plain tea. Keurig k-mini is also compatible with ground coffee beans using a k cup reusable coffee filter. This led to brewing really-tasting coffee. Furthermore, k-pods used in coffee makers are widely available, cheap, and purchased from third-party sellers.
Coffee size: Brew any cup size between 6-12 oz. This is ideal for those who love Americano or long black coffee.
Energy Efficient: Keurig K mini is highly energy efficient. The auto shut-off feature enables you to turn off the coffee maker after 90 sec you brew your coffee. This feature helps you save a lot of energy.
Removable drip tray: Keurig k mini has a built-in feature of a removable drip tray to make the cleaning process much more manageable. Furthermore, Drip tray remover helps to accommodate travel mugs up to 7.0 inches tall. It holds the remaining brew for easy cleanup.
Related post: Keurig Supreme Vs Supreme Plus Vs Supreme Plus Smart | A Detailed Comparison
This amazon choice product is also a single-serve coffee maker that has been a good choice for students who love traditional drip coffee. Hamilton Beach Scoop coffee maker Designed with durable, easy-to-clean stainless steel to ensure longevity. Built-in stand for coffee mugs.
Design: Designed with stainless steel having a dimension of 13.5″ tall, 9.8″ wide, and 7.6″ deep, although the design is quite simple and friendly coffee maker is relatively more significant to fit in the kitchen cupboard.
Water Reservoir: The water reservoir is quite larger to store enough water to prepare a full cup mug. The coffee machine has a scoop filter if you are using ground beans. It is pretty fast and Brews an 8-ounce cup in less than 90 seconds and brews a 14-ounce cup in under 2.5 minutes.
Flexibility: Hamilton beach scoop comes with two options to brew coffee. Bold and regular (automatic drip) options are available to brew beverages, providing extra flexibility to brew your favorite cup of brew.
Awards: Good Housekeeping Very Innovated Products (VIP) Awarded to Hamilton beach scoop by Good Housekeeping Research Institute. It is an amazon choice product and also achieved a high ranking for its ability to use ground beans instead of pods.
Related post: Capresso EC100 Review: Perfect Espresso Machine For Beginners
Pod coffee maker along with espresso brewing option then Nespresso Inissia would be an ideal choice for students. Nespresso Inissia is a single-serve coffee maker that delivers barista single-serve coffee each time your brew has a built-in feature of excellent extraction process which delivers 19 bar of pressure (ideal for brewing).
Design: semiautomatic espresso machine consisting of Simple and innovative design with a standing height of 12.6, width 4.7, and depth of 9.
Speed: Nespresso Inissia brew your favorite cup of coffee in no time. As soon as you touch the button, the standard brewing temperature reaches 25 seconds, and you can brew 9 single-serve cups of coffee.
Cup sizes: Nespresso Inissia allows you to brew two different cups that are programmable Espresso (1. 35 oz.) and Lungo (5 oz.)
Energy Efficient: Nespresso Inissia is energy efficient. Smart energy-saving mode auto switch off coffee maker if not working right after only 9 minutes.
Like the Keurig model, the Nespresso uses specialized coffee capsules, making the brewing easy to operate and quickly. Water Reservoir of Nespresso holds 24 ounces of water and has a removable tank to make refilling a bit easier.
Nescafé Dolce Gusto is a small, single-serve, easy to operate and capsule-based coffee machine. It is an excellent choice for making espressos, cappuccino, lattes, or any other kind of drink by just choosing a different k pod. Nescafe Dolce Gusto can produce 15 bars of pressure and make your favorite brew by just pressing the button and creating a frothy crema in your beverages.
Design: Nescafe Dolce Gusto processing simple, unique, and good looking design has a round, curvy, and unique penguin-shaped having dimension of 17 x 30 x 26 cm processing smaller footprint that can fit in the corner of your kitchen. In addition, lightweight features make it easy to lift and move around.
Eco-friendly mode: No one can imagine that this small-looking machine can draw up to 1500W of electricity when heating or cooling water. But fortunately, Nescafe comes with an auto shut-off built-in feature that shuts down the machine if not working for 5 minutes, so you should not worry about getting your electricity bills going through the roof.
User Interface: Nescafe Dolce Gusto's convenient user interface is quite popular because of its patented toggle switch feature. You can control the flow of water by simply moving the dial in one direction or another. LED display shows 8 level bar, which indicates how strong your coffee will taste.
Thermo block Technology: Nescafe Dolce Gusto makes use of Thermo black Technology by which you can control temperature, pressure, steam function, and water flow. Nescafe can make either hot or cold drink that is full of aroma and flavor. With the help of Technology, you can make a cup of hot drink in less than 30 seconds.
Simple operation: Nescafe Dolce Gusto is very easy to operate; no rocket science is involved in brewing your beverage. Drip trays are adjustable to avoid splashing water that could damage the internals. You can fit any size of cup or glass and set the number of bars that how strong will the coffee taste of your choice. The auto shut-off feature will shut off the machine after 5 minutes.
One of the best semiautomatic coffee makers for college students who like to drink lattes and other espresso drinks that require foamed milk. It is similar to having your own barista in your room. It makes various drinks ranging from espressos, lattes drinks, cappuccinos, and even macchiato by just pressing the button.
Design: Simple, sleek, but modern-looking design having a dimension of 12.6 x 8.86 x 11.22 in, the smaller footprint that can fit in your kitchen. Each part is labeled to provide convince to beginners plus all aspects are removable for easy cleaning and refilling. The body machine is mainly plastic, with brushed metal accents, Comes in three different colors: silver, red and white And weighs about 10.37 lb
Components: water Reservoir is removable and comes with a capacity of 54oz. The water reservoir is removed by just pulling it out. The machine comes with two different filter baskets: one for single shots and one for double shots. The machine is made for 120 V and is used in the United States and Canada only.
Automatic Milk Frother: One of the most distinctive features of Mr. Coffee Espresso is automatic milk frother (machine froths milk by itself). Without creating any complications, this coffee maker lets you pull the perfect shot of espresso. You need to fill up the water tank, add your coffee to the port filter, tamp your coffee, and pour in the milk. The machine will froth the milk first and pour it into the cup for cappuccino, and the espresso shots will follow. The order remains the same for a latte, but the milk quantity poured into the cup will be more significant.
Light indicator: Mr. Coffee Espresso comes with different light buttons and icons that indicate the stage of your brewing cycle. This shows what you need to do and warns you in case if anything goes wrong.

Performance: Overall performance is on the positive side, according to our expert. Brewing time is quite fast and depends upon the type of drink you want to brew (cappuccinos take a longer time than espresso).
The machine does not have any kind of pressure gauge. But the presence of an electric pump creates about 15 bars of pressure. Control Operation is relatively easy and is perfect for a beginner. The machine works on a thermal block heating system having brewing Temperatures between 180 to 195 F degrees. (Temperature of frothed milk need to adjust). The noise level is acceptable.
Related post:10 Best Coffee Maker With Auto Shut Off – Ultimate Guide
Things to consider while choosing a coffee maker
So far, we have discussed our 6 best single-served brewed coffee makers. Our editors consider the most suitable and have all ideal features that can be convenient to college students by breaking down the pros and cons of each coffee maker in a short review. To make this guide is as detailed as possible, we've included a comparison table, a product-review section, and a buying guide.
But you should also consider some other parameters while choosing a coffee maker for yourself-not only for college or universities students but for every coffee lover who wants to amuse their daily morning routine with a great cup of coffee.
1)Dimension of the coffee maker
Dimension of coffee machine is definitely one of the most important factors ones can't be ignored. The coffee machine should be of a compact size so that you can maximize the limited space in your room that can easily be fitted in your dorm room.
2)Water Reservoir size
One of the most important features that should be considered is the size of your machine, water reservoir size, and can brew multiple cups, one right after the other, with no worry to refill it again and again.
3)Cup size
Since single-served coffee makers are not supposed to brew multiple cups at once, they should have a built-in feature of providing different cup sizes. Suppose you want to drink espresso, then the model you might require is that which can brew four to five ounces. But if you want something more than coffee, you should consider a unit capable of brewing up to twelve ounces.
4)Water filter
Suppose you want to fully enjoy the flavor of the coffee. In that case, you must need a water filter because in the absence of a water filter, using tap water may deposit containments on the interior of the coffee machine, making the cleaning process somehow difficult and affecting the flavors of coffee beans.
Coffee machines with water filters cost expensive, and effort is also needed in cleaning and removing water filters, so you should take it into considerations whether you need a water filter or not.
5)Types of coffee
There are varieties of coffee machines in the market available to brew coffee beans. The difference among them indeed depends on the coffee they are capable of brewing. Keurig, Tassimo, and Nespresso are some of the most popular brands. You must consider what kind of model you want to use depending upon what type of coffee you want to drink.
Some coffee machine models are single scoop; you can utilize them with normal ground coffee or feature pods, K-cups, or capsules. The model you use depends on the beverages you intend to brew since some models have cups or pods available for tea, coffee, and hot chocolate.
6)Need of Carafe
To fully enjoy the aroma and extract the full flavors of coffee beans, you must use the coffee machine with a carafe. Carafe usually comes in two major types- a glass carafe or a thermal carafe. Glass carafe is less expensive on the positive side, but brewing over a hot plate may over-extract the oils, making coffee a bit bitterer.
In addition, hot plates need to be constantly warmed by a continuous supply of energy which is too very energy-consuming.
A thermal carafe on the other side keeps your coffee at the optimum temperature of 195 to 205 degrees for about one to two hours. According to experts, this helps maintain a better flavor. Also, it is energy efficient. However, unfortunately, thermal carafes are more expensive than glass carafe.
7)Additional Features
Warranty is no doubt one of the best factors that should be taken into consideration. A lifetime warranty with a budget-friendly coffee model seems to sound great. So you should buy a coffee model that provides a warranty in case of any damage. Cuisinart DCC-3400 is the best model on the warranty list by providing a three-year warranty plan.
Varieties of different features range from different model colors to auto shut off features, from providing you drinks ranging from espresso, double espresso, and iced coffee and latte drinks to alto-sized coffee.
Related post: How To Make Espresso Without A Machine In 5 Easy Method
Frequently asked question
So far, you have discussed some essential facts and features that you must consider while buying a coffee maker for yourself. Still, it seems that this raises a lot of questions in your mind. So we figured out some of the most common questions frequently asked by customers.
Does Nespresso Make Good Lattes?
Nespresso is no doubt one of the most popular brands and are equally good at making good lattes. One of the products of this brand Nespresso Vertuo automatic coffee maker makes the perfect latte and heat it up in almost 25 sec.
How do Loud Do Single-Serve Coffee Machines operate?
Single-serve coffee machines are not noisy at all. But noise may distract your concentration from your work. If you cants live with this noise, check the model with an inbuilt noise reduction system, as they are usually the most minor noise generators
Does Nespresso coffee taste better than Keurig?
Nespresso, according to our experts, make more favoured coffee than Keurig. But on the negative side Nespresso are pretty expensive than Keurig.
Final Thoughts
So finally, we figure out our 6 Best Coffee Makers for College Students that are single served and have a smaller footprint to fit in your dorm room.
Although almost every model has some shortcomings that need to be addressed, our experts find Nespresso Vertuo Coffee and Espresso Machine their 1st choice, which not only makes good espresso but also is easy to clean and simple to operate,budget-friendly, and has the most innovative and good looking design.
It almost ticks all the boxes for a college student! Well, according to us. If there's anything that wasn't covered off in this article, please reach out. We try out best to update our post and answer your queries.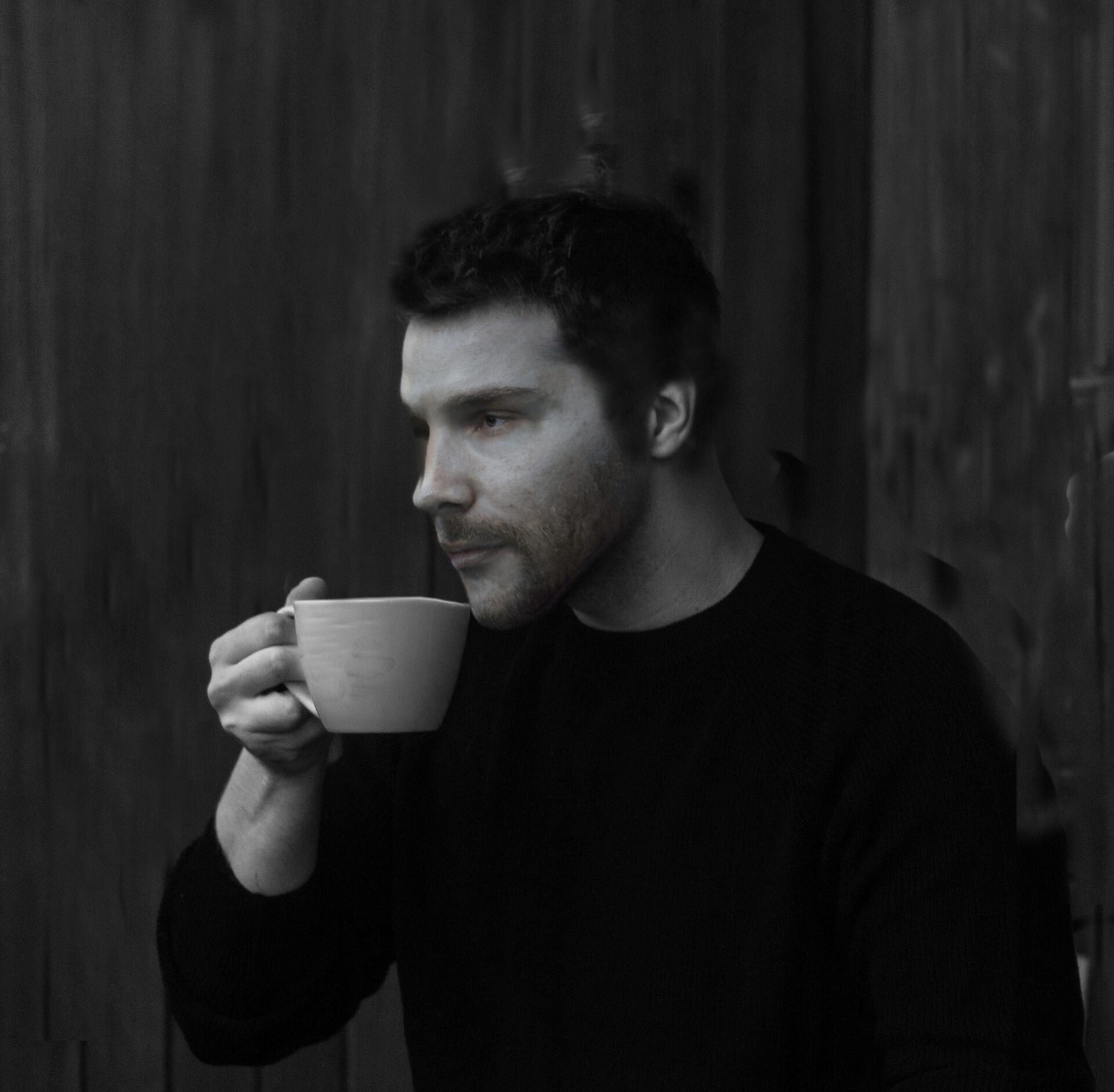 Hey,
I am Johny Morrisson! Founder of CoffeeAbout
My love for coffee dates back to my childhood. I love trying out different coffee machines and recipes.
As a coffee enthusiast, I decided to start my blog last year to provide users with useful information on brewing methods.
During this journey, I have discovered many new things and facts about coffee that I will share with you here.